The Khawaneej Mosque in Dubai, United Arab Emirates, was brought to life with a radiant glow thanks to Digital Projection's TITAN and M-Vision laser projectors during one of the country's most significant cultural and religious events.
Throughout the month of Ramadan, after the sunset, a warm ambiance and special shine filled the bustling city of Dubai. Every night between 8pm and 2am from 27th March to 10th April, the Khawaneej Mosque captivated audiences with a mesmerising video mapping projection loop animation by Digital Projection's partner Artabesk. This show was a part of Ramadan In Dubai Reflection, which was organised by Dubai Tourism and ran until 23rd April. The event featured impressive projection mapping shows, accompanied by lantern-lit streets.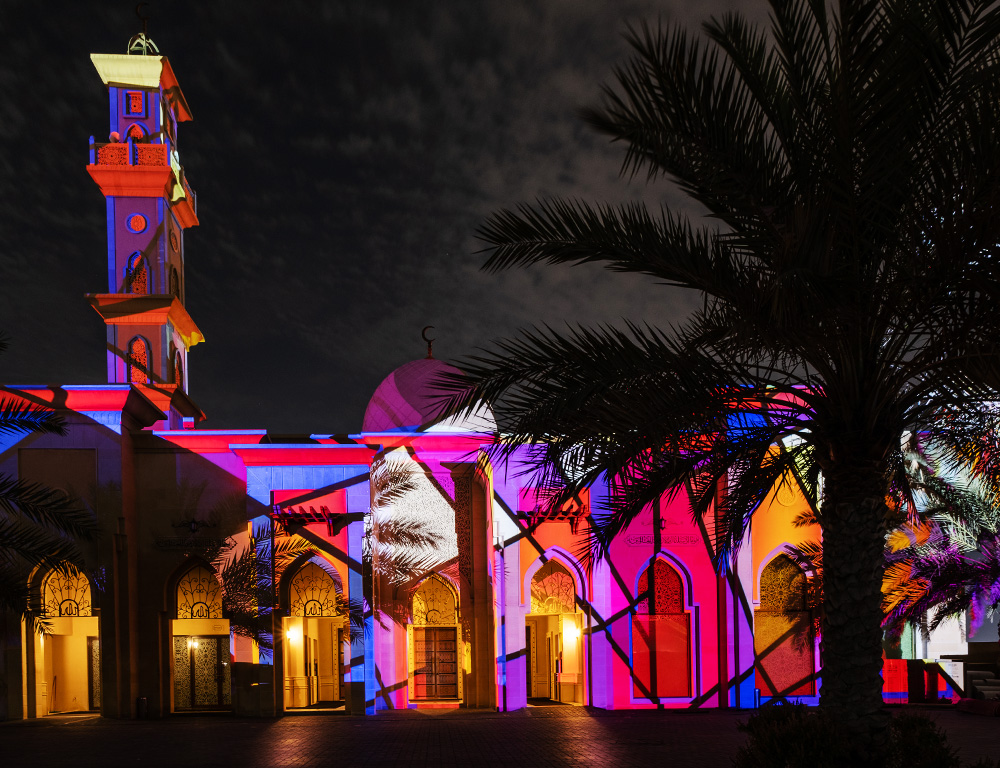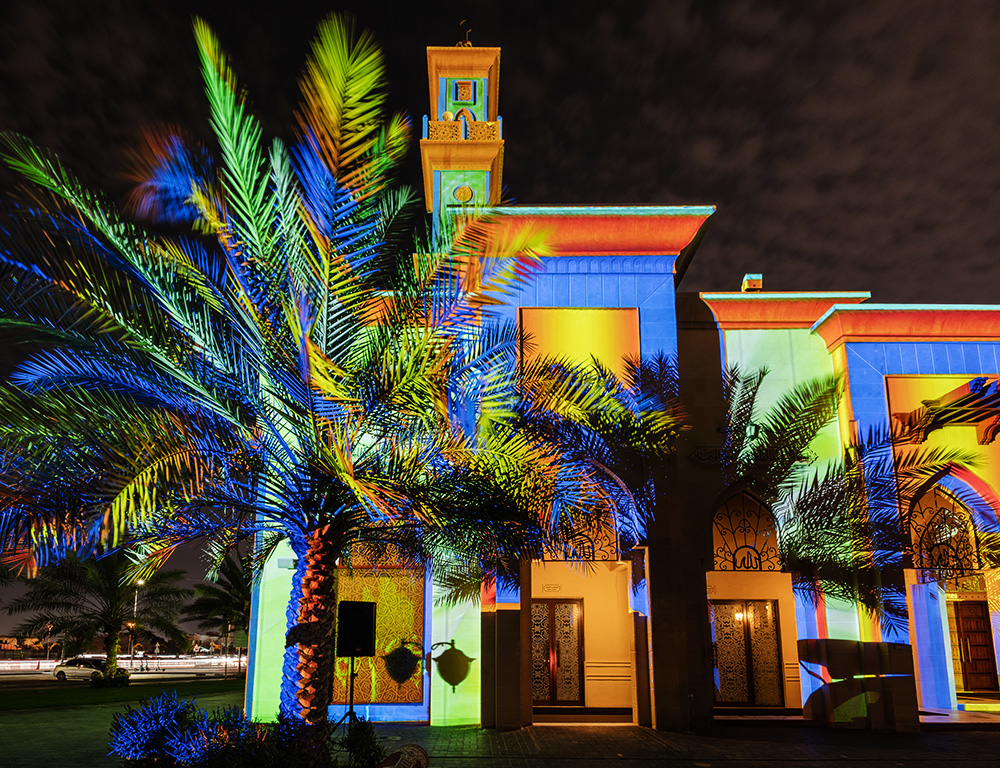 The Khawaneej Mosque video mapping projection show aimed to enhance the atmosphere of Ramadan by creating a visually impressive experience. Overcoming the challenges posed by Dubai's light pollution, the installation required high brightness levels alongside high resolution capabilities without compromising colour accuracy. To achieve this, Artabesk turned to Digital Projection's esteemed TITAN and M-Vision laser projector ranges.
Artabesk used three TITAN Laser 37000 WU projectors. A class-leading 3-Chip DLP projector that delivers up to 37000 (WUXGA) or up to 31000 (4K-UHD) lumens, the TITAN Laser 37000 is an ideal projector for large outdoor applications. It was complemented by seven M-Vision 23000 WU, a remarkably powerful 1-DLP laser projector with 23,000 lumens output.
"One of the most crucial part for us was to ensure the mapping was perfectly aligned, and the brightness was high enough," states Mounir Harbaoui, architectural projection designer and founder of Artabesk. "In order to create a stunning visual experience for the audience, the projectors needed to boast impressive brightness levels. This is the reason we chose these specific models from Digital Projection."
The Khawaneej Mosque mapping installation featured a strategic placement of seven projectors positioned all around the holy place. Artabesk placed two projectors in a portrait position to project to the minaret, with the remaining projectors set in landscape mode.
To deliver content for images under 20 metres wide, the M Vision 23000 WU projectors, boasting a 10,000:1 contrast ratio, were deployed. The TITAN Laser 37000 WU projectors were used for larger images over 20 metres wide, immersing the audience in a beautiful visual experience.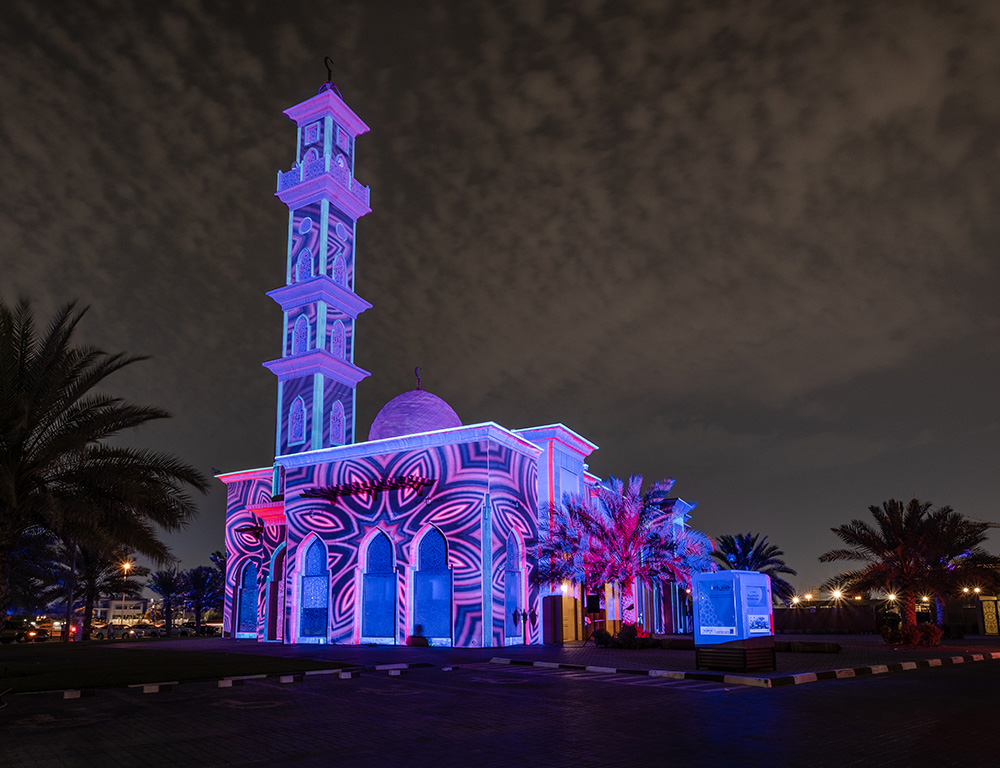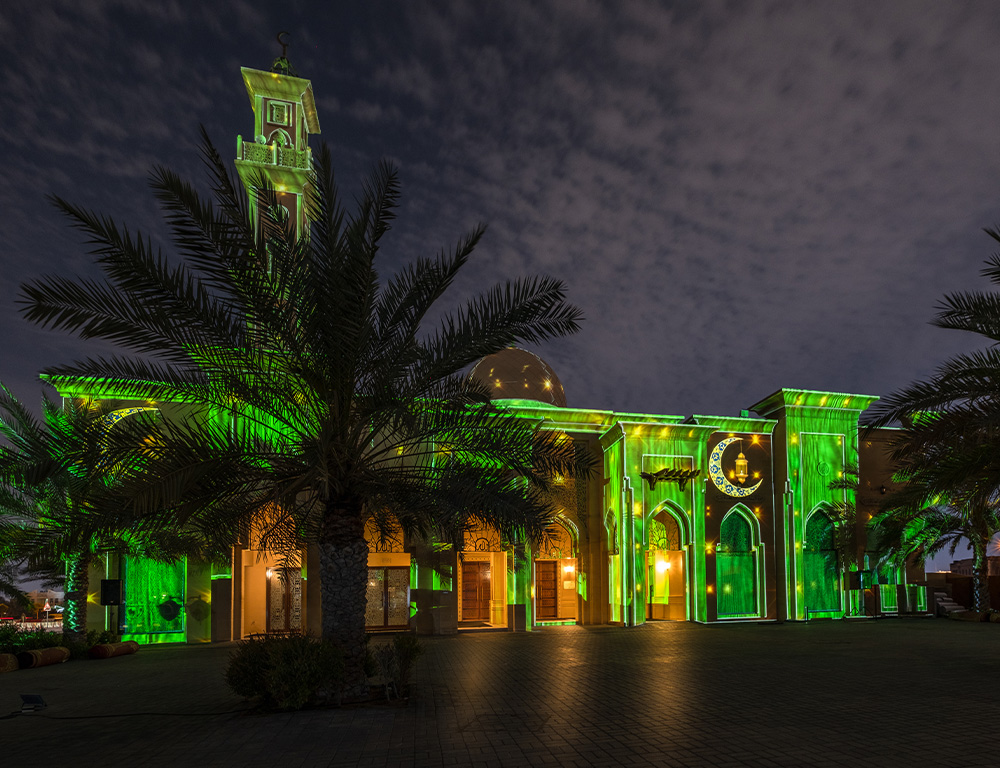 The projected content, created by Artabesk, was a blend of vibrant colours, geometric patterns and outlines of architectural details, all carefully choreographed with precision. Harbaoui emphasises the importance of the projectors to the creation process, which demanded a great attention to detail: "The key was in the intricate elements, which is why we needed to have high resolution visuals."
Artabesk mapped the Khawaneej Mosque using very small layers of images, resulting in intricate and captivating animations of various colours and patterns. A Dataton WATCHOUT media server, capable of handling high-resolution media files, enabled each projected image to cover an area of approximately 20 x 13 metres. Given the sanctity of Ramadan and the mosque, Artabesk decided against accompanying music, focusing only on the imagery.
The audience was amazed by the captivating video mapping show delivered by Digital Projection's projection technology. "We are really proud of the result and the positive feedback we got from the spectators," concludes Harbaoui. "The stunning projection and colourful, animated patterns truly brought the Khawaneej Mosque to life."
Photo credits: Artabesk
Product mentioned in this case study: TITAN Laser
20,000 hours illumination
The TITAN Laser – A Legend is Reborn!
Unbelievably bright and powerful 3-Chip Laser Projector delivering with a surprisingly affordable price tag. The Titan Laser 37000 delivers up to 37,000 (WUXGA) or up to 31,000 (4K-UHD) Lumens from a relatively compact chassis, making it the ideal projector for the most demanding of large-venue applications.
Where bright, pin sharp images are required there should be no compromise.
Find out more