Digital Projection créent une solution collaborative pour l'université de Liverpool
Le nouveau centre de recherche universitaire en technologies émergentes de l'université de Liverpool dédié aux systèmes autonomes, à la robotique, à l'analyse de données et à l'intelligence artificielle, s'est doté d'un équipement de projection 3D de pointe grâce à ST Engineering Antycip.Intégré à l'Institute for Digital Engineering and Autonomous Systems (IDEAS), le Digital Innovation Facility (DIF), d'une superficie de 1500 m² et d'un coût de €15,2 millions, regroupe plusieurs laboratoires de recherche, des installations de visualisation immersive, ainsi que des espaces de travail et de détente pour les chercheurs. Engagé pour construire deux laboratoires du DIF, Target3D, spécialiste de la capture de mouvement, a fait appel à ST Engineering Antycip, fournisseur mondial desolutions de simulation, d'analyse, de modélisation, d'affichage et de réalité virtuelle, pour livrer et configurer un système de projection de pointe pour le laboratoire de réalité mixte : Ce dernier accueille désormais le premier système de projection stéréo actif du Royaume-Uni capable d'effectuer le rendu de contenu en 3D par rapport à de multiples points de vue.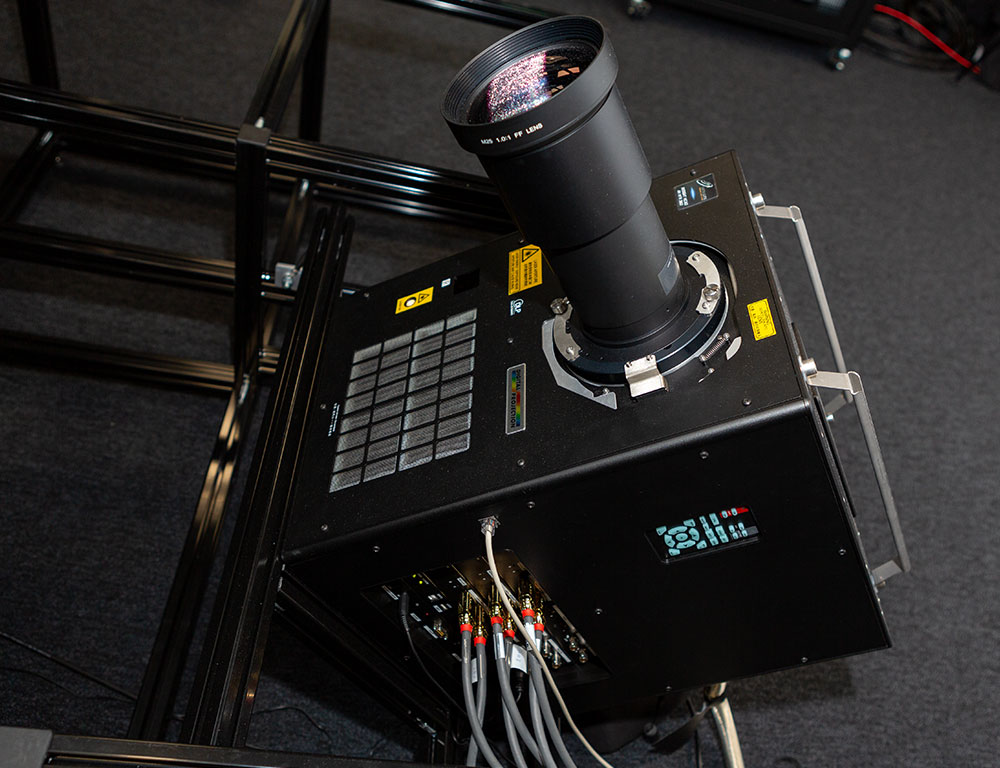 Selon Robert Jeffries, directeur commercial de Target3D, l'intégrateur a choisi de s'associer à ST Engineering Antycip sur ce projet en raison de son « excellente connaissance des installations complexes de projection et CAVE [environnement virtuel automatique de cave] ».
Afin que les utilisateurs du laboratoire puissent visualiser leur propre contenu depuis trois perspectives différentes sur un écran 3D immersif pleine hauteur, ST Engineering Antycip a opté pour un projecteur INSIGHT 4K HFR 360 de la gamme Satellite MLS (système laser modulaire Satellite) de Digital Projection doté de la technologie MultiView.
Selon John Mould, responsable du développement commercial chez ST Engineering Antycip, la gamme Satellite MLS « offre une capacité que les solutions d'affichage de réalité virtuelle recherchent depuis leur apparition : la capacité de supporter une véritable collaboration au cœur du monde virtuel. La capacité pour trois personnes d'être immergées dans un même contenu 3D et de naviguer librement en observant le contenu visuel par rapport à leurs propres positions, permet à chaque utilisateur d'observer et d'interagir autour d'un endroit précis dans l'espace sans avoir à partager un point de vue commun et à suivre l'utilisateur principal ».
three individuals to be immersed within the same 3D content, and to navigate freely perceiving the visual corrected to their own eyes, means each user is able to point to the same exact location in space and no longer has to share and follow a primary single user."
Other ST Engineering Antycip-supplied equipment installed in the mixed-reality lab, which also houses haptic gloves, VR headsets and a purpose-built spatial sound stage, includes two rack-based, 10,000-lumen Satellite MLS modules; three PC-based image generators featuring NVIDIA Quadro RTX 6000 GPUs; a bespoke 5m × 2.63m rear-projection screen; and 30 pairs of Volfoni high-speed 3D glasses.
Le matériel supplémentaire fourni par ST Engineering Antycip pour le laboratoire de réalité mixte, qui est également équipé de gants tactiles, de casques de réalité virtuelle et d'une sonorisation spatiale sur mesure, comprend deux modules Satellite MLS superposés de 10 000 lumens, trois générateurs d'images sur PC dotés de cartes graphiques NVIDIA Quadro RTX 6000, un écran de rétroprojection sur mesure de 5m × 2,63 m, ainsi que 30 paires de lunettes 3D à haute vitesse de Volfoni.Selon Matt Horwood de Digital Projection, la conception unique du projecteur INSIGHT Satellite MLS 4K HFR 360, qui se traduit par une taille compacte, un bruit faible et une grandeflexibilité d'utilisation, a notamment permis de résoudre les difficultés logistiques que posait l'espace limité de la salle
John Mould explique son fonctionnement : « Le Satellite MLS offre l'opportunité unique de faire fonctionner un projecteur laser 4K natif très lumineux sans qu'une alimentation monophasée de 32 ampères soit nécessaire pour le système de projection. Ceci est rendu possible grâce à une approche novatrice qui consiste à dissocier la source de lumière laser du châssis du projecteur afinde pouvoir alimenter les deux séparément, ce qui permet d'utiliser des prises de courant standard pour alimenter l'unité de la tête de projection et les modules de lumière laser distincts situés et gérés au sein du rack. »
« Cela permet ainsi de réduire le bruit généré par le système de projection en éliminant également la majeure partie de la chaleur générée qui doit être gérée. Grâce à cette configuration, les dimensions physiques de la tête de projection sont bien plus compactes, permettant différents montages et une orientation totalement flexible. »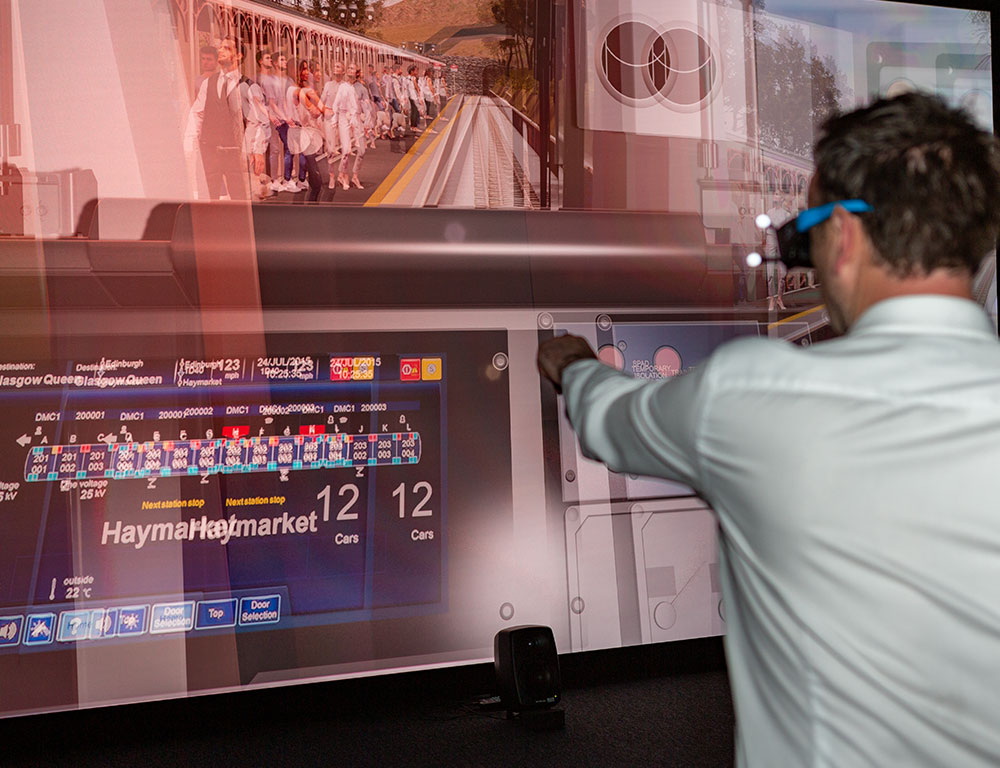 En plus de ce travail sur l'espace, l'équipe de ST Engineering Antycip a également dû résoudre le problème lié à l'installation du laboratoire au premier étage : « L'installation devait être réalisée dans une salle qui n'était pas au rez-de-chaussée, ce qui compliquait la tâche pour le déchargement de grands matériaux solides », précise John Mould. « L'emplacement final de la salle a imposé le choix d'une surface d'écran flexible qui pouvait être transportée au niveau du sol. Le client final a décidé qu'il était nécessaire de séparer physiquement l'espace de rétroprojection de l'espace de visualisation principal, une décision prise après l'octroi du contrat pour intégrer plus efficacement l'écran. En collaboration avec toutes les parties, nous sommes parvenus à trouver une solution en étendant les structures mécaniques et les substrats pour obtenir ce cloisonnement. »
Selon Matt Horwood, le succès de ce projet démontre la polyvalence du système Satellite MLS, qui s'avère parfait pour les installations où l'espace est limité, ainsi que pour les CAVE à plusieurs façades : « De nombreux projets peuvent bénéficier de notre système Satellite MLS, en particulier les installations CAVE à trois ou quatre façades (avec MultiView ou en stéréo standard). La source laser RGB améliore également l'expérience utilisateur grâce à une meilleure saturation et une meilleure uniformité des couleurs. »
John Mould se dit également « sincèrement enthousiasmé par les possibilités que ce type de technologie nouvelle implique car elle offre de nouvelles opportunités pour des marchés différents : vous pourriez utiliser le même dispositif d'affichage pour de multiples applications différentes ce qui augmenterait la productivité, ou proposer de nouvelles expériences comme la création de trois prototypes ou conceptions virtuels que vous pourriez échanger aussi simplement que des techniciens changent de lunettes. »
Il précise que « pour le divertissement et l'enseignement, on pourrait imaginer de créer des survols virtuels d'un lieu existant, mais en générant trois ensembles de données différents, à différents points dans le temps, et le public pourrait choisir les lunettes à mettre pour voir instantanément le passé ou le présent, ou bien entrer dans un futur possible, alors que ces expériencesseraient délivrées simultanément sur la surface d'affichage.
Ashley Keeler, directeur technique de Target3D commente : « Nous sommes ravis d'avoir participé à la création du nouveau DIF de l'université de Liverpool. Ce qu'il a à offrir est exceptionnelen termes de technologie, en plus de sa capacité à générer une recherche collaborative pour l'université. Nous avons hâte de découvrir comment les chercheurs utilisent les laboratoires. »
« Ce fut un plaisir de travailler à nouveau avec l'équipe d'Antycip», conclut Robert Jeffries de Target3D. « Leur volonté à se surpasser dans ce processus d'approvisionnement qui s'est avéré complexe a été exceptionnelle. »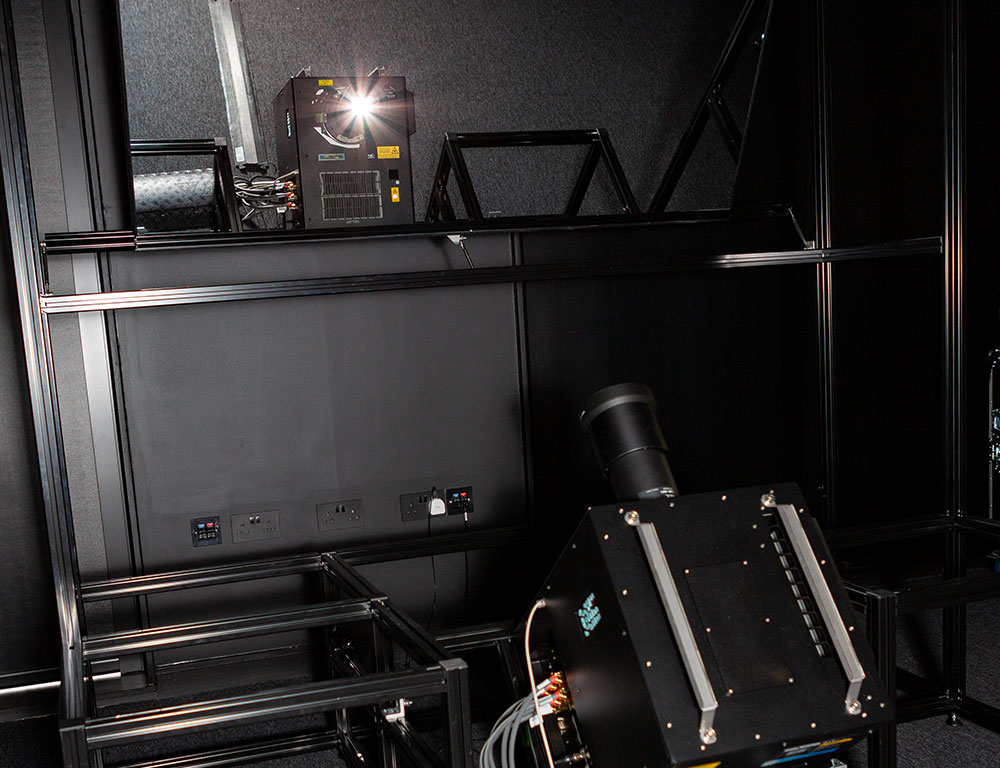 Product mentioned in this case study: Satellite MLS
Sources lumineuse Laser RGB Modulaire
Têtes de Projection compactes
Fibre optique Satellite jusqu'à 100m
Satellite Modular Laser System
Le Satellite MLS offre un petit nombre de systèmes modulaires qui permettent aux utilisateurs de prendre en charge un large éventail d'applications, allant des installations mono-projecteur à celles plus complexes des dômes, caves 3D immersive et simulateurs multicanaux. Alors que les vidéoprojecteurs laser RVB étaient jusqu'ici réservés aux applications de pointe, le système Satellite MLS de Digital Projection rend cette technologie accessible au marché de l'audiovisuel et à un prix abordable.
Plus d'infos