La projection numérique redonne vie à une époque révolue du Japon
Plus de 30 projecteurs E-Vision Laser reproduisent des œuvres d'art emblématiques du 19e siècle, dans une célébration immersive de la culture japonaise.
Danny Rose Studio, le collectif à l'origine de l'actuelle exposition d'art « Spirit of Japan » au musée de la culture Kadokawa, a déployé plus de 30 projecteurs Digital Projection E-Vision Laser 10K pour illuminer les sols, les plafonds et les murs de ce lieu spectaculaire.
Le titre non traduit de l'exposition « Spirit of Japan » est « Ukiyo-e Theatre ». Les « ukiyo-e » sont de petites œuvres d'art créées au Japon entre le 17e et le 19e siècles, qui représentent la vie quotidienne telle qu'elle était. Ces œuvres ont gagné en popularité lorsqu'elles ont circulé dans le monde occidental, forgeant un mouvement artistique impressionniste. Des éventails colorés, des lanternes incandescentes, des cerisiers en fleurs qui se balancent au vent : la nostalgie du passé a trouvé un nouveau souffle dans l'exposition « The Spirit of Japan », qui plongera les visiteurs dans l'histoire colorée du Japon jusqu'au printemps prochain.
Le Danny Rose Studio a déjà produit une exposition en France, intitulée « Japon rêvé, images du monde flottant », qui a attiré plus de deux millions de visiteurs. Au vu de sa popularité, la visite a été réimaginée pour « Spirit of Japan ».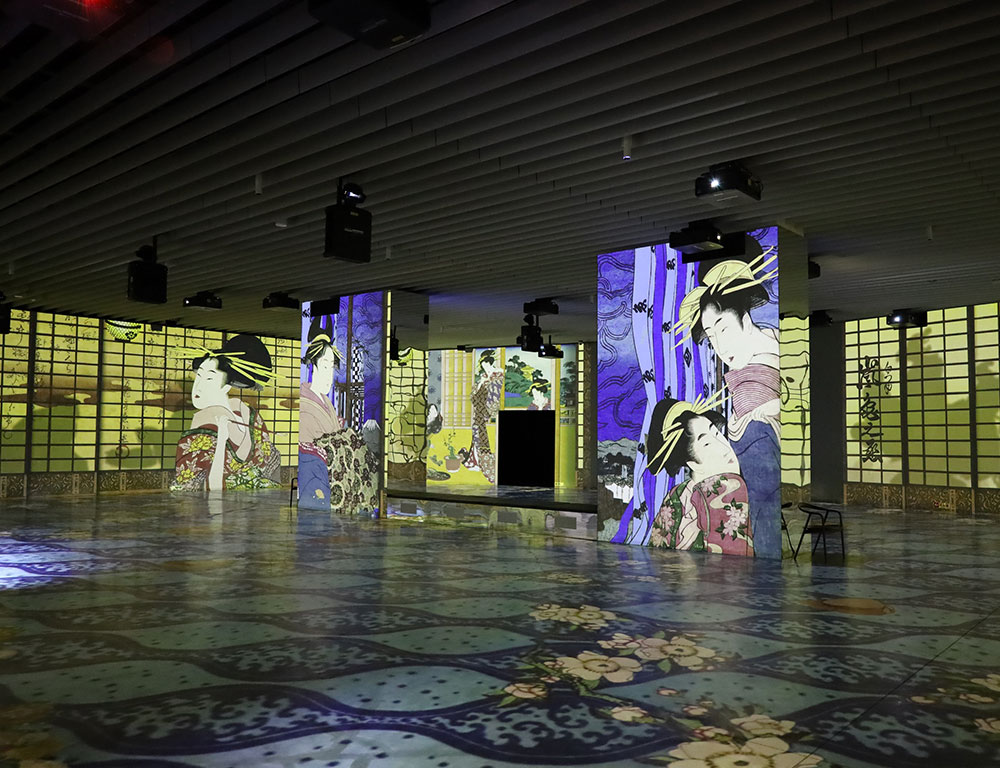 Utilisant des technologies de projection vidéo avancées, le Danny Rose Studio crée des environnements totalement immersifs et souvent surréalistes. Des créateurs issus de divers domaines, dont des artistes numériques, des programmeurs et des musiciens, s'efforcent de combiner des œuvres d'art historiques – dans ce cas, du Japon du 19e siècle – avec des technologies et des récits contemporains pour créer un type entièrement nouveau d'installation visuelle/spatiale à grande échelle.
Pour réaliser une installation de cette ampleur dans le cadre de « Spirit of Japan », le lieu a été divisé en trois zones principales afin de recevoir une projection à 360 degrés sur toutes les surfaces. La projection au sol et le mappage par projection cylindrique contribuent également à créer une expérience totalement immersive avec des visuels à 360 degrés.
En plus de la technologie laser de Digital Projection, un contrôleur de mur vidéo VNS GeoBox a été choisi pour contrôler la sortie de la fusion des bords à partir de plusieurs projecteurs, associé à un lecteur multimédia BrightSign pour diffuser le contenu vidéo.
Aarson Hsu, de Digital Projection Japan, explique que le fait de disposer d'un si grand nombre de projecteurs dans une même salle crée un ensemble unique de défis : « En raison de la limitation de la hauteur du plafond du hall d'exposition, la projection au sol nécessitait un plus grand nombre de projecteurs pour réussir à afficher l'ensemble de l'image ; nous avions besoin d'une solution créative pour y parvenir. Alors que, traditionnellement, on oriente les projecteurs vers le sol, nous les avons en fait orientés vers le haut, mais en utilisant l'objectif du périscope UST, ce qui nous a permis d'obtenir une hauteur et une couverture supplémentaires. » L'utilisation d'un trop grand nombre de projecteurs au sol aurait entraîné une dispersion de la lumière et aurait eu un effet négatif sur la qualité de l'image sur les murs. Cette solution consistant à utiliser des lentilles UST a permis d'obtenir des performances optimales pour toutes les toiles.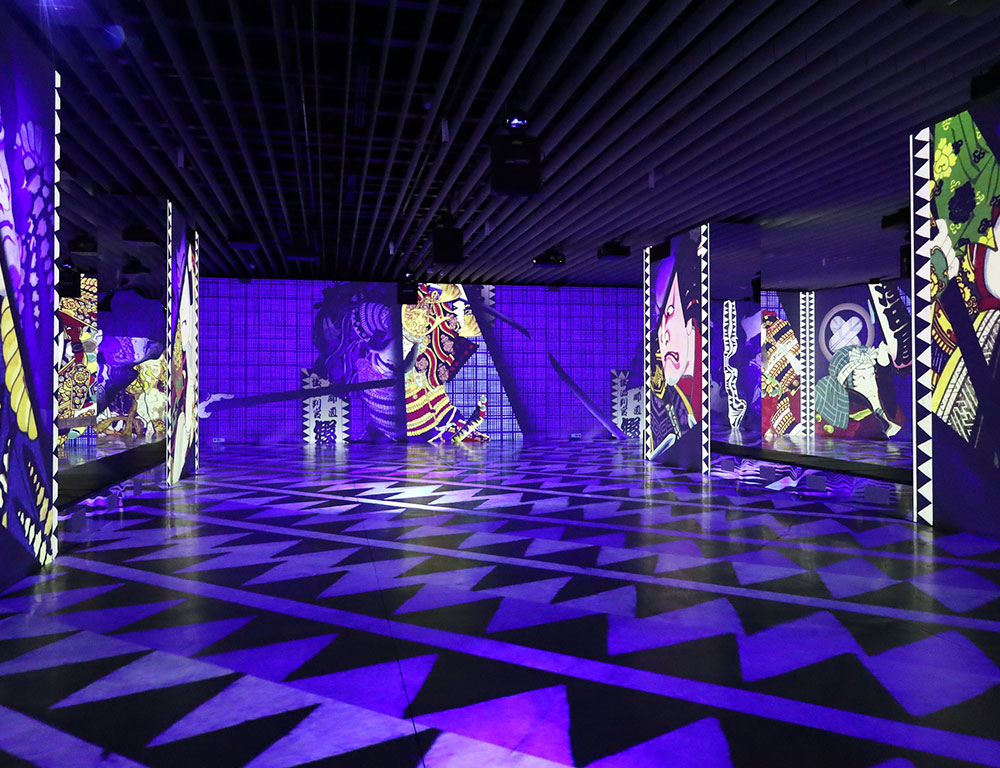 Le laser compact E-Vision était un choix évident, car il est capable de rivaliser avec des niveaux élevés de lumière ambiante, fournissant 11 250 lumens à partir d'une source de lumière laser à semi-conducteurs.
Pour une exposition de cette envergure, il était important de choisir une technologie flexible et fiable. Les projecteurs E-Vision Laser 10K de Digital Projection fournissent une source lumineuse stable et prévisible pendant 20 000 heures et offrent des capacités intégrées de fusion des bords, garantissant la création d'une image homogène à partir de plusieurs projecteurs.
Mark Wadsworth, de Digital Projection, est ravi que les produits de la société aient été choisis dans un projet de cette importance : « Pour une exposition de cette envergure et de cette complexité, il est impératif que la technologie soit adaptée à l'objectif final », a-t-il déclaré. « Cette exposition d'art nécessite des visuels à 360 degrés, ce qui implique une énorme quantité de fusion de bords sans compromettre la qualité de l'image. L'exposition est incroyable, nous sommes vraiment fiers de faire partie d'un projet aussi impressionnant visuellement – cela montre clairement ce dont les lasers E-Vision sont capables. »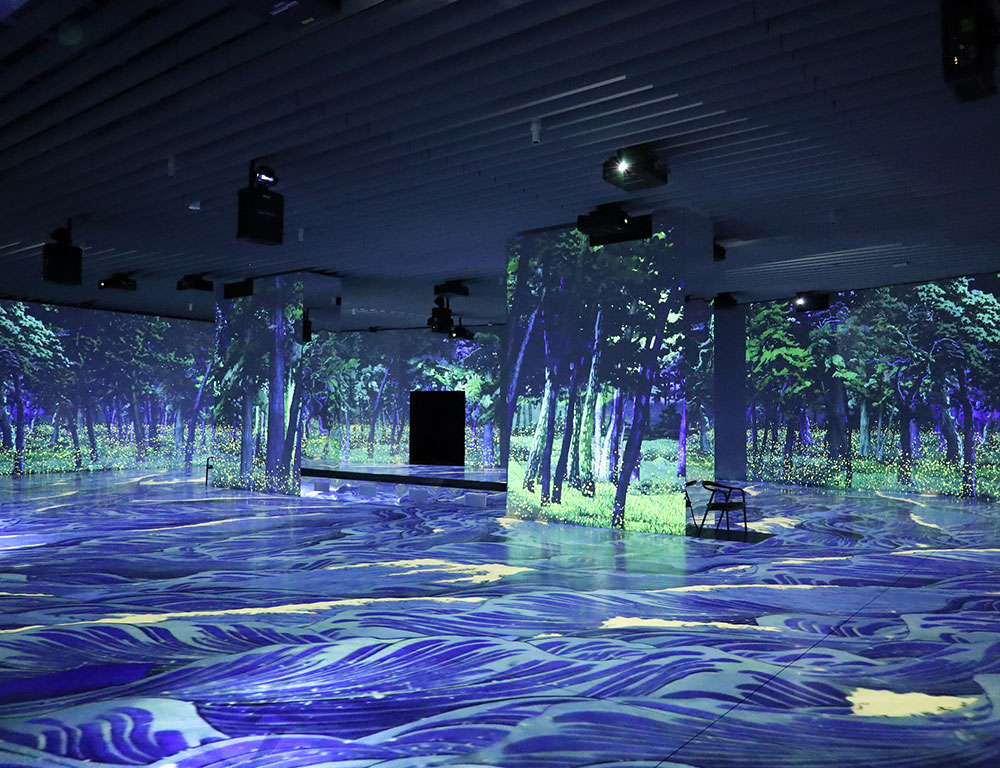 Projecteur: E-Vision Laser 10K
Contraste dynamic de 20,000:1
20 000 heures de projection
E-Vision Laser 10K
Grâce à sa source lumineuse Laser stable capable de produire plus de 20 000 heures de projection, le vidéoprojecteur mono-DLP E-Vision Laser 10K offre une luminosité impressionnante de 10 500 lumens. Dans les lieux professionnels tels que les auditoriums et les attractions touristiques qui sont régulièrement confrontés à des niveaux de lumière ambiante élevés, la luminosité de l'E-Vision Laser 10K permet de transmettre des messages impactant au public grâce à une bonne saturation des couleurs, à sa luminosité et sa netteté des images que vous ou votre client recherchez.
Plus d'infos