MPM Chooses Digital Projection for Innovative CAVE
Le spécialiste de l'intégration MPM Equipement a choisi le projecteur E-Vision Laser 10K de Digital Projection pour l'installation d'un CAVE temporaire dans l'un des laboratoires de CEA Tech, le pôle « recherche technologique » du Commissariat à l'Energie Atomique (CEA).
Situé à Grenoble, et occupant surface de plus de 3 300 m2, le laboratoire du CEA – appelé Y.SPOT – est ce que l'on appelle un centre d'innovation ouverte, utilisé notamment pour le développement d'un large portefeuille de technologies dans les domaines du numérique, de l'énergie et de la santé, ainsi que pour la transmission de nouvelles technologies à l'industrie, reliant ainsi les deux mondes de la recherche et des affaires. Grâce au centre Y.SPOT (qui encourage les collaborations avec l'industrie, les PME, les étudiants, les architectes et les concepteurs), CEA Tech est également en mesure de fournir aux entreprises un accès aux technologies clés habilitantes ainsi qu'aux technologies développées par d'autres divisions du CEA.
A l'instar de CEA Tech, MPM Equipement s'intéresse à des domaines très divers ; l'entreprise a commencé avec des projets pour les théâtres, les salles de concert et les musées, avant de travailler sur des installations pour des halls de conférence, des salles de réunion et des événements sportifs MICE.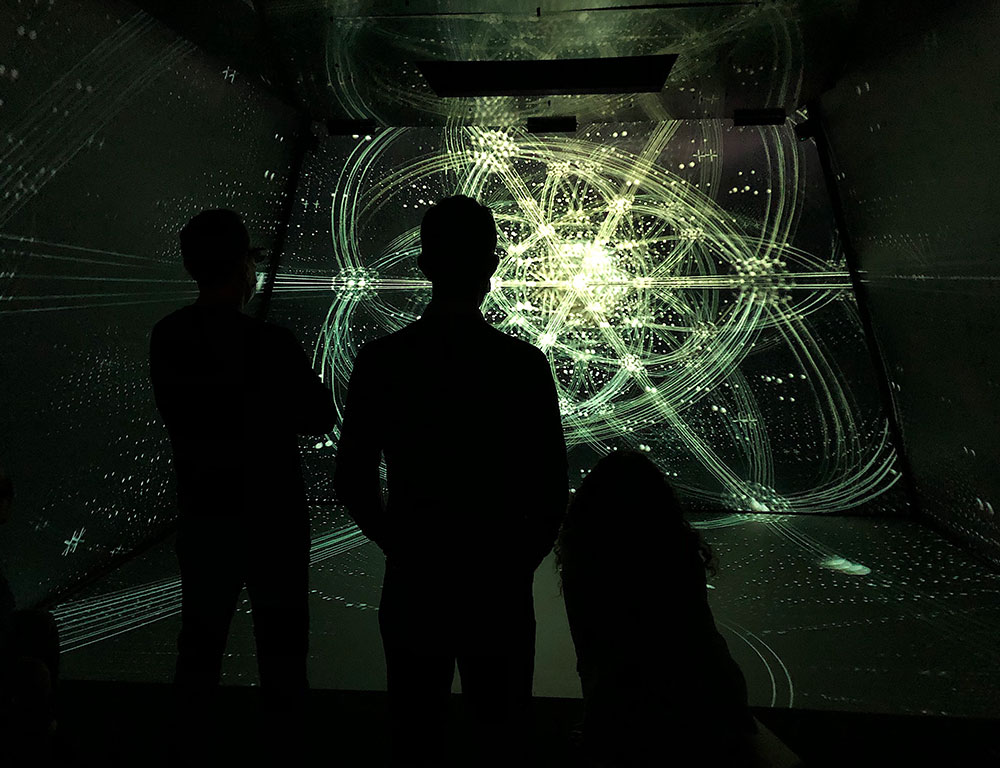 « Nous aidons également nos clients dans la numérisation de leur offre avec de nouveaux outils de communication utilisant le BYOD (Bring Your Own Device, ou AVEC) ou l'automatisation », indique Nicolas Jeanselle, chef de projet chez MPM Equipement. « Nous sommes fiers de notre expertise qui consiste à faire travailler et communiquer ensemble toutes sortes de dispositifs audiovisuels. Bien que les environnements CAVE ne soient pas dans le quotidien de notre activité, ce projet offre des perspectives beaucoup plus larges. »
L'installation – appelée SIRCÉ (Smart Immersive Room for Circular-vision Experiment) – a été conçue par l'ingénieur et scénographe Frédéric Ravatin de CREATIME sous la forme de trois pyramides tronquées, d'une base de 5 m2 (variable +/- 10 % selon les prototypes et la configuration de l'espace). À l'intérieur, le sol ainsi que trois des faces servent d'écrans en relief qui peuvent être utilisés pour recréer des environnements et des objets, et même accueillir des vidéoconférences en 3D.
Le CAVE est généralement utilisé par cinq à dix personnes bien qu'il ait été conçu pour permettre d'en accueillir jusqu'à 25. Les visiteurs sont invités à porter des lunettes actives XPAND 3D, lesquelles donnent la sensation d'une immersion totale lorsque le contenu stéréoscopique est projeté sur les quatre écrans synchrones et alignés.
Comme les faces de SIRCÉ sont inclinées vers l'intérieur à un angle de 26°, des distorsions de perspective significatives peuvent être induites et exagérées en stéréoscopie, donnant l'impression d'un environnement virtuel beaucoup plus grand qu'il ne l'est en réalité. L'utilisateur a alors l'impression de voir « au-delà » des frontières du CAVE, recréant un monde plus grand dont les dimensions et l'espace apparaissent toujours « normaux » (un phénomène connu sous le nom d '« orthostéréoscopie »)
Projection de la perception
« Le scénographe du projet a remporté l'appel d'offres pour la rénovation du centre Y.SPOT du CEA où le CAVE est installé » explique Nicolas Jeanselle. « L'idée était de créer un environnement virtuel où tous les médias et contenus pourraient être présentés de manière immersive. » MPM a travaillé dans le passé avec Frédéric Ravatin sur plusieurs projets, notamment Aquatis en Suisse, le plus grand aquarium-vivarium d'eau douce d'Europe.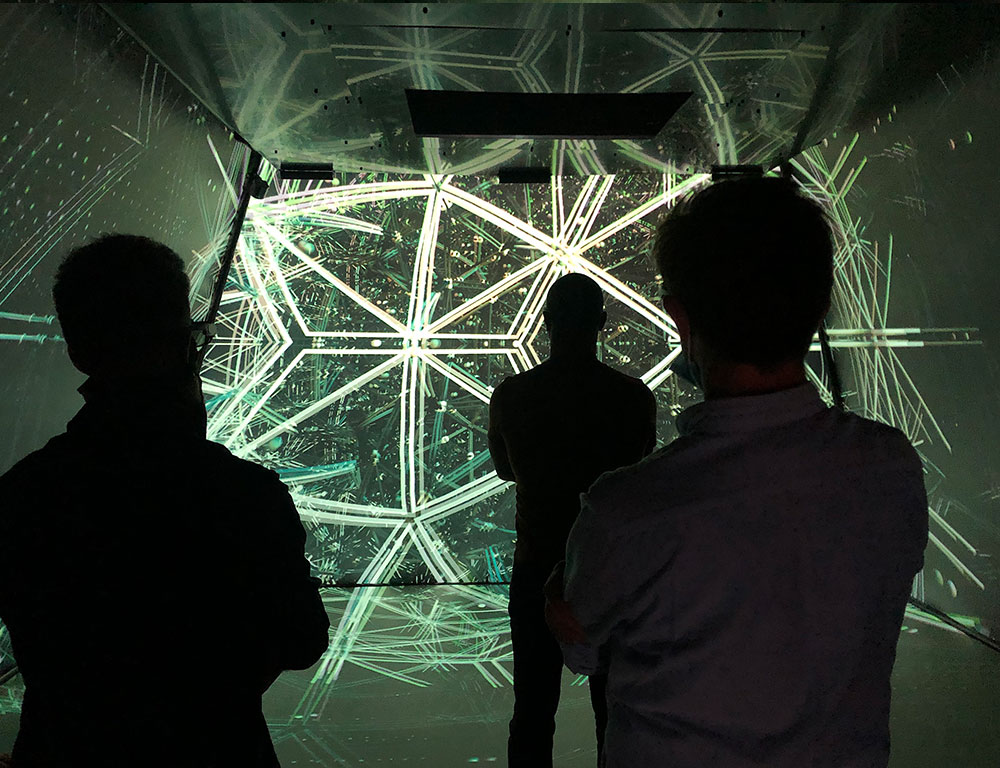 Après une longue période de test, MPM a conclu que la seule possibilité permettant de compenser les déformations induites par les écrans inclinés était de recréer le chemin emprunté par la lumière, de l'objet observé aux yeux du spectateur, en simulant sur les écrans, au pixel près, où le faisceau lumineux devrait passer si le spectateur était réellement présent dans cet environnement virtuel.
Nicolas Jeanselle résume succinctement : « en fait, nous projetons la perception visuelle des utilisateurs. »
Pour chaque écran, l'équipe MPM a placé deux caméras virtuelles au niveau des yeux du spectateur (à environ 1,6 m du sol, dans ce cas), l'une en rouge pour l'œil gauche et l'autre en bleu pour l'œil droit. Chacune des quatre surfaces de projection (frontale, latérales gauche et droite, et au sol) a nécessité deux caméras, soit un total de huit, groupées en quatre « plateformes » de deux. Les caméras '' œil gauche'' et ''œil droit'' de chaque plateforme ont été espacées de 6,5 cm, soit la distance moyenne entre les yeux humains, et sont parfaitement parallèles, sans convergence.
« Les informations sont enregistrées, ce qui nous permet de créer un modèle synthétique de SIRCÉ à la bonne échelle, avec des dimensions et des angles enregistrés au télémètre laser », explique Nicolas Jeanselle. « Nous utilisons ensuite les mêmes caméras comme si elles étaient des projecteurs, texturant les faces intérieures du CAVE. »
Les informations enregistrées sont diffusées en temps réel – à l'aide du TouchDesigner de Derivative – à cinq projecteurs numériques E-Vision Laser 10K pour la projection à l'intérieur de SIRCÉ.
"We needed a low maintenance unit capable of delivering 10,000 lumens, with a very short throw lens, which could be on axis with the centre of the CAVE," said Jeanselle. "Laser was also compulsory from an environmental perspective, as well as guaranteeing low noise and heat generation in the relatively small tent. Digital Projection projectors fulfilled all of these criteria and more, while being very well priced for their performance and quality. It also gave us a partner who could accompany us during the whole concept phase and beyond."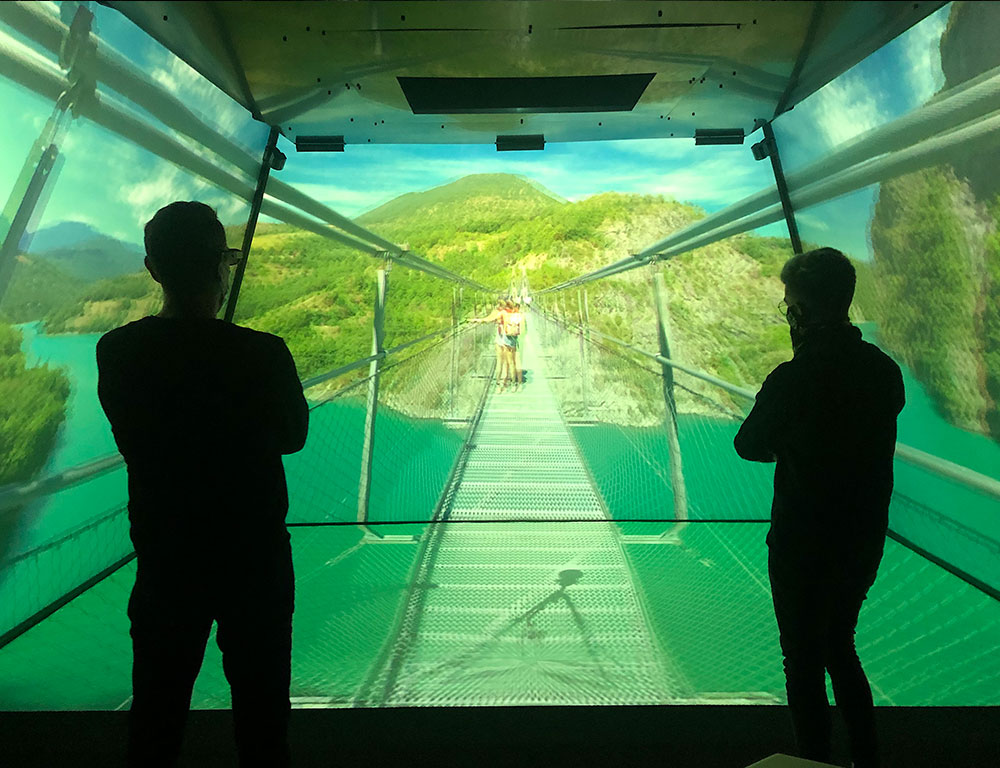 For this application, two 120Hz video streams would have to be fed to the video projector (a connection mode called Dual Pipe), so as to allow each unit to alternate very quickly according to a precise frequency between two video sources – in this case, the left and right eyes. This issue – combined with the fact that the projectors had to be able to handle many different types of 3D – gave rise to a complex calibration period for the team.
"It was a long process, but the quality of industrial calibration that had been done before we received the projectors was very impressive," said Jeanselle. "There was no discrepancy between each unit, even if they were not from the exact same batch."
« Nous avions besoin d'un dispositif nécessitant peu d'entretien, capable de fournir 10 000 lumens, avec un objectif à très courte focale, pouvant s'aligner sur le centre du CAVE », indique Nicolas Jeanselle.
« L'utilisation de la technologie laser était également impérative d'un point de vue environnemental et afin de réduire au maximum le bruit et la génération de chaleur dans la tente. Les projecteurs de Digital Projection ont rempli tous ces critères et plus encore, tout en offrant un prix abordable compte tenu des performances et de la qualité. Nous avons aussi trouvé en Digital Projection un partenaire désireux de nous accompagner pendant toute la phase de conception et au-delà. »
Pictures courtesy of ©CEA Grenoble / Y.SPOT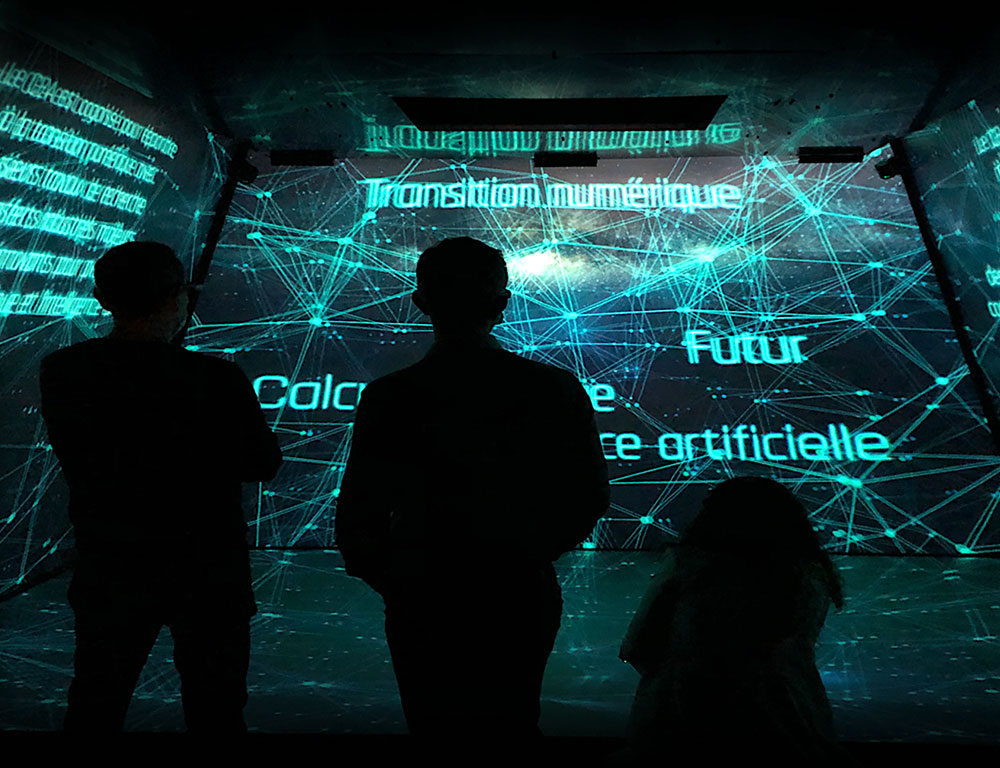 Projecteur: E-Vision Laser 10K
20 000 heures de projection
E-Vision Laser 10K
Grâce à sa source lumineuse Laser stable capable de produire plus de 20 000 heures de projection, le vidéoprojecteur mono-DLP E-Vision Laser 10K offre une luminosité impressionnante de 10 500 lumens. Dans les lieux professionnels tels que les auditoriums et les attractions touristiques qui sont régulièrement confrontés à des niveaux de lumière ambiante élevés, la luminosité de l'E-Vision Laser 10K permet de transmettre des messages impactant au public grâce à une bonne saturation des couleurs, à sa luminosité et sa netteté des images que vous ou votre client recherchez.
Plus d'infos