Une production spectaculaire au Musée de la Tour de David
La plus grande installation au monde de projecteurs M-Vision Laser mono-puce de 18 K lumens
La Tour de David, l'un des sites historiques les plus marquants de Jérusalem, abrite un musée magnifique qui retrace l'histoire de la ville. Symbole de la ville au cœur de l'ancienne citadelle, la Tour de David a été un palais royal pendant des milliers d'années. De nos jours, ce musée accueille des expositions, des œuvres d'art, des concerts et des performances, ainsi que 400 000 visiteurs chaque année. Mais, l'un des événements les plus appréciés se déroule lorsque la nuit tombe : le public vient en masse regarder l'histoire de Jérusalem dans un flot d'images projetées sur les murs, les ruines archéologiques et les chemins de la citadelle. Captivant les regards et les sens dans une véritable expérience d'immersion, la production « The Night Spectacular » (le spectacle nocturne) est mise en scène par les excellents projecteurs primés de Digital Projection (notamment le fameux M-Vision Laser 18K) après une modernisation complète.
Le directeur du projet lumineux de la Tour de David, Yehuda Vaknin, précise : « Lorsque nous avons commencé il y a 10 ans, Jérusalem ne proposait rien la nuit. Le spectacle The Night Spectacular a rencontré un tel succès dès son lancement qu'il ne s'est jamais arrêté depuis et que nous faisons le plein tous les soirs. Maintenant, le spectacle est connu dans le monde entier et complète non seulement la visite du musée, mais également la visite de la ville de Jérusalem. Après neuf ans, il était temps de remplacer l'équipement AV et de passer à la technologie la plus moderne du marché pour franchir une nouvelle étape. Nous avons donc fait appel à Showlogix pour la conception technique du spectacle. »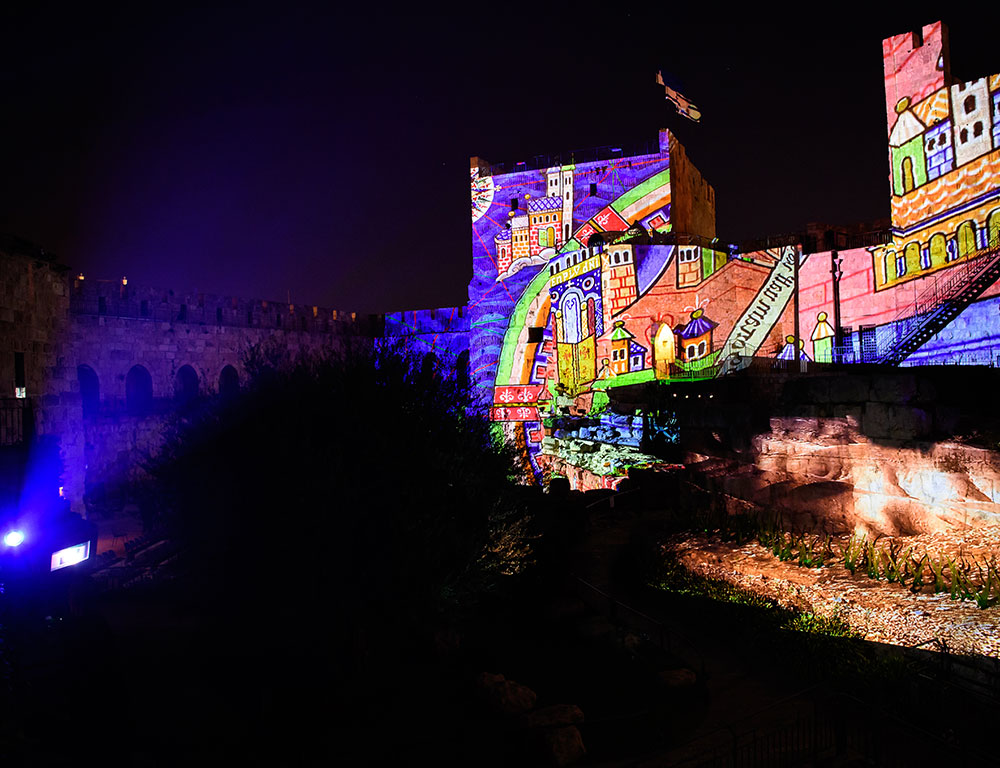 En fait, l'ancien système AV a fait preuve d'une excellente robustesse et le musée n'a jamais annulé aucun spectacle. Le nouvel équipement devait donc atteindre, voire dépasser, les mêmes niveaux de performance étant donné les exigences de la fréquentation toujours grandissante, les changements climatiques marqués tout au long de l'année, et les exigences physiques et esthétiques complexes. Un projet d'une telle ampleur et d'une telle importance a inévitablement soulevé quelques défis, mais aucun que les dernières technologies de projection novatrices du fabricant britannique Digital Projection n'aurait pu relever.
Au total, ce sont 15 projecteurs Digital Projection qui sont déployés sur le site : 13 de la toute nouvelle gamme M-Vision Laser 18K et deux E-Vision Laser 8500 qui éclairent les murs de la citadelle de 250 000 lumens et 35 millions de pixels, soit un investissement matériel proche de 500 000 dollars US. Avec une puissance d'éclairage laser extraordinaire de 18 000 lumens, le dernier modèle de la série M-Vision de Digital Projection offre des niveaux de luminosité qui sont généralement réservés à des projecteurs 3-Chip DLP® bien plus chers, mais le M-Vision Laser 18K offre une solution d'imagerie à grande échelle avec des performances proches du projecteur tri-puces au prix du mono-puce.
« L'an dernier, Eli Geffen de la société Showlogix nous a fait rencontrer M. Yehuda au salon ISE. En dépit de notre incapacité à leur livrer à ce stade le nombre de projecteurs dont ils avaient besoin, il était convaincu que ce projecteur valait la peine de patienter. Nous avons fait une démonstration d'une version à lampe à l'équipe de la Tour de David afin qu'ils puissent juger de la qualité de l'image dans l'environnement final. Eli est ensuite reparti avec le M-Vision Laser et l'a comparé à d'autres modèles. Après avoir vérifié de multiples projets similaires que nous avions équipés dans le monde entier, l'équipe de la Tour de David nous a choisis pour notre plus grand plaisir », poursuit David Close, le responsable produits et applications de Digital Projection.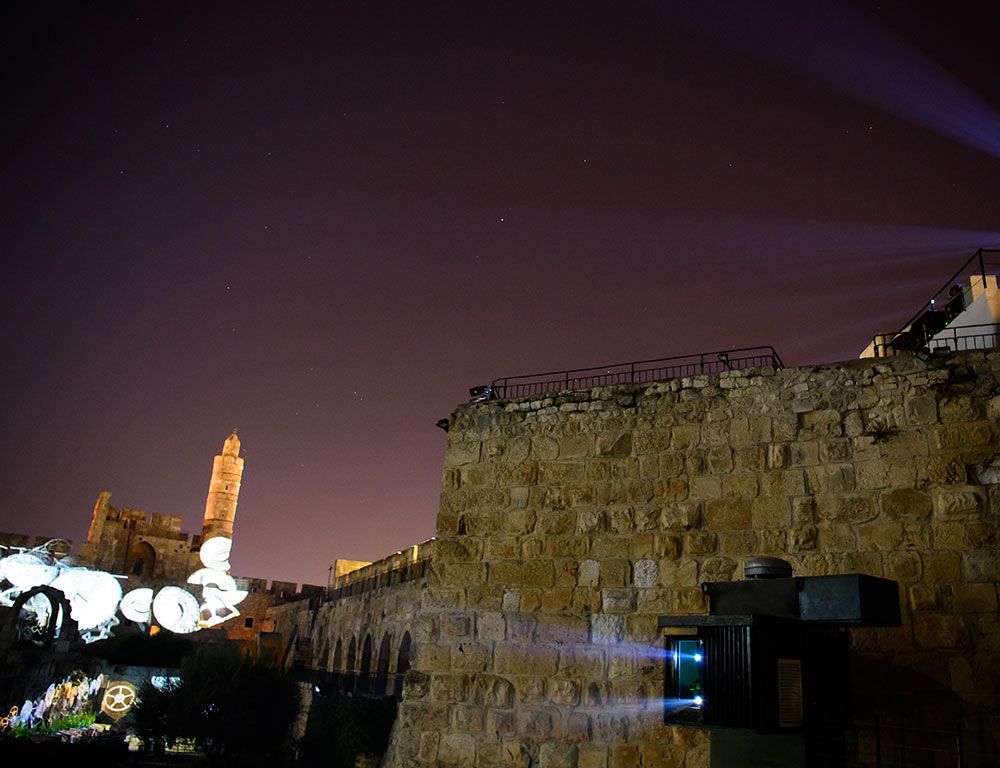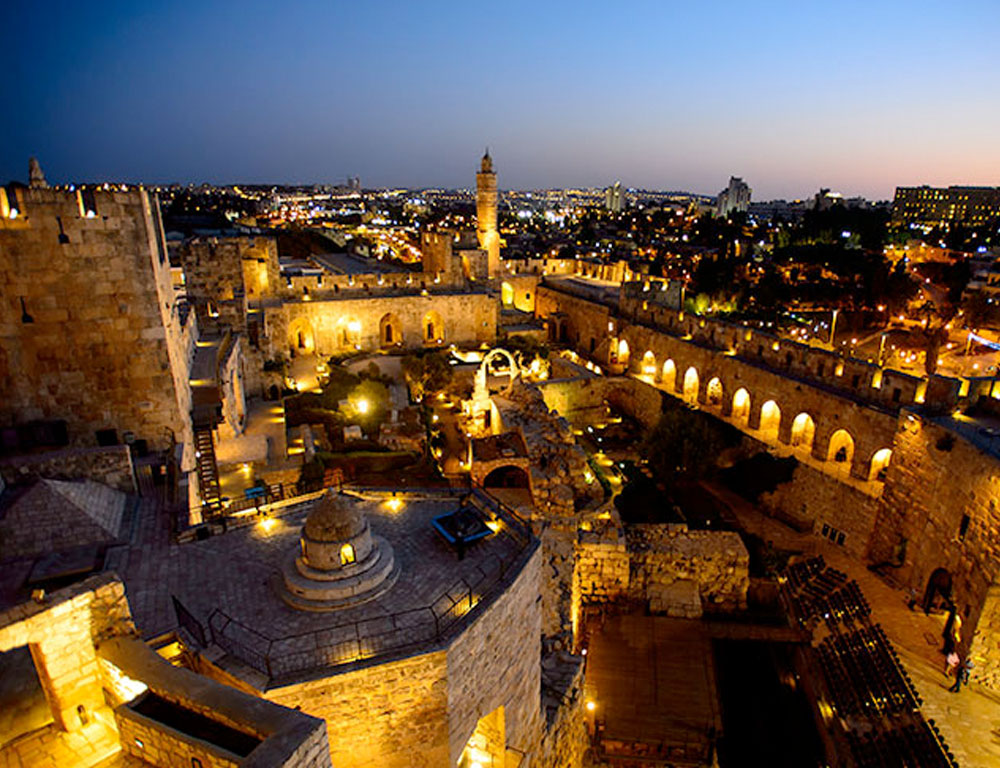 En raison du traitement intelligent qui découle de sa technologie intégrée de l'amplification de la couleur, le M-Vision Laser 18K projette des couleurs réalistes et saturées, qui se rapprochent normalement des performances d'un projecteur DLP plus cher. En ajoutant un taux de contraste de 10 000:1, le spectacle franchit une nouvelle dimension grâce à la cinématographie à haute résolution, aux couleurs vives et aux lignes nettes. Grâce à la technologie puissante et intégrée ColorMax, il est possible d'étalonner tous les projecteurs selon un espace colorimétrique identique, ce qui assure une meilleure répartition sur de multiples canaux et offre une image fluide aux couleurs mieux équilibrées sur ce vaste site.
La possibilité d'installer le M-Vision Laser 18K dans n'importe quel sens a également influé sur la décision finale ; cette souplesse d'installation ne trouve pas son pareil parmi les projecteurs concurrents. Cette caractéristique était essentielle pour assurer le succès du projet étant donné que le spectacle The Night Spectacular est projeté sur une façade complexe, à savoir les murs anciens de la magnifique Citadelle de Jérusalem. De plus, la Tour de David est un héritage national et un site archéologique dont les pierres retracent l'histoire de Jérusalem sur 2 800 ans. Il est donc nécessaire de respecter des règles et règlements stricts pour installer le matériel.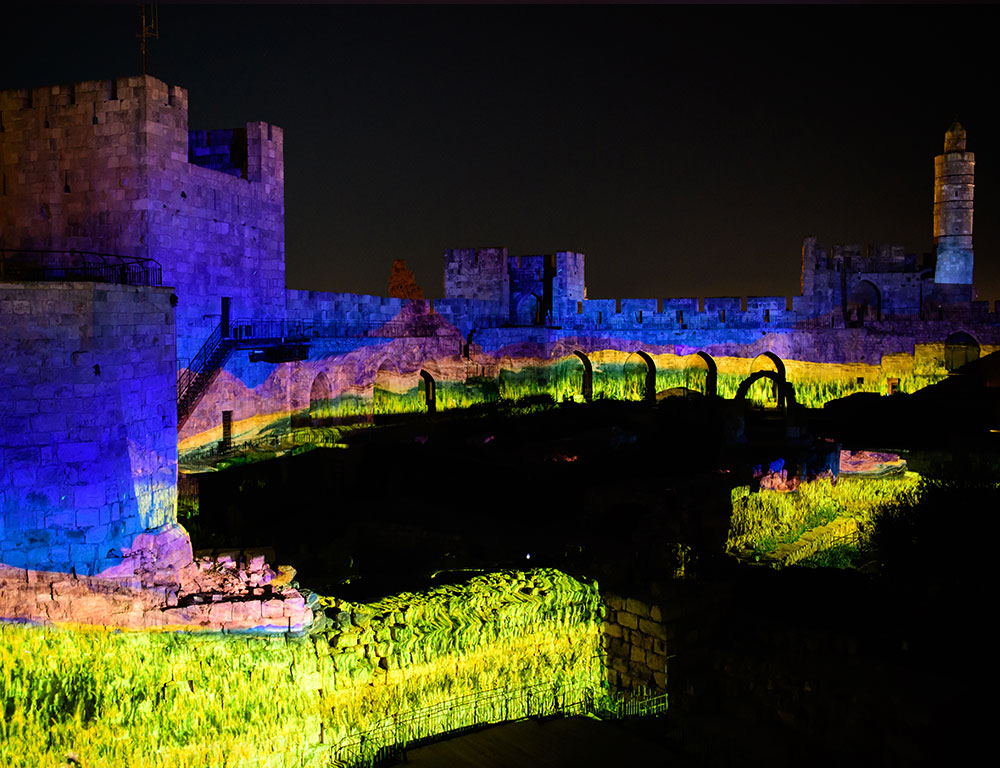 Le projecteur dernier-né de Digital Projection a été proposé tout d'abord pour sa technologie laser avancée. Contrairement aux projecteurs traditionnels à lampe, le M-Vision Laser 18K affiche une durée de projection de 20 000 heures ou plus, soit 10 à 40 fois (en fonction du type et de la puissance de la lampe) plus longue que les projecteurs à lampes traditionnels. Désormais, les installations comme The Night Spectacular bénéficient d'un système d'éclairage à vie sans aucun remplacement coûteux et chronophage des lampes toutes les milles heures environ.
L'équipe de la Tour de David a particulièrement apprécié la longévité, le faible coût de fonctionnement, le coût total de propriété réduit et la garantie de 5 ans. En outre, le programme de formation sur site (assuré par Digital Projection grâce à son centre de service local certifié) permet au musée d'être totalement autonome sur le plan technique. Comme tous les projecteurs laser de Digital Projection, le M-Vision Laser 18K a été développé en gardant à l'esprit le principe « une fois installés, on les oublie », ce qui assure à l'équipe de la Tour de David le déploiement d'une imagerie qui est à la fois sensationnelle et ne nécessite qu'un entretien minimal tout au long de sa durée de vie.
M. Close ajoute en conclusion : « Nous sommes particulièrement fiers que nos produits aient été choisis face à la concurrence pour cette production époustouflante d'une importance capitale dont des centaines de milliers de visiteurs internationaux profiteront. La qualité de la projection haute définition du M-Vision Laser 18K, sa capacité à projeter des images sur des édifices historiques fragiles, sa fiabilité, sa facilité d'entretien et son prix incomparable en font la solution idéale pour une installation d'une telle ampleur et d'une telle complexité. La production encore plus colossale et spectaculaire de The Night Spectacular démontre les capacités d'innovation et d'amélioration constantes de Digital Projection dans l'univers de la projection.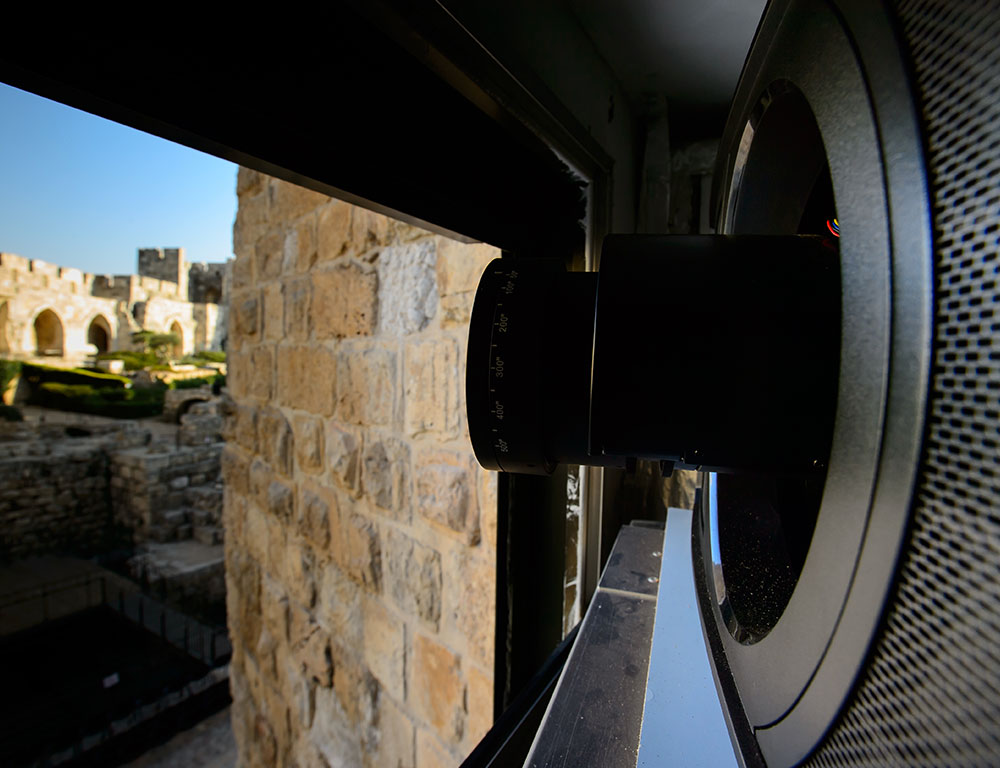 Projecteur: M-Vision Laser 18K
20 000 heures de projection
Le M-Vision Laser 18K est un projecteur mono-DLP d'une puissance impressionnante de 18 000 lumens avec un rapport de contraste de 10 000:1. Disponible au prix d'un vidéoprojecteur mono-DLP, le M-Vision Laser 18k offre aux budgets serrés une solution d'imagerie pour grand écran et avec les performances d'un projecteur tri-DLP. Les lieux confrontés à des niveaux élevés de lumière ambiante ainsi que les budgets serrés qui recherchent une solution d'imagerie puissante sur grand écran profiteront immédiatement de la puissance lumineuse du projecteur M-Vision 18K.
Plus d'infos