Digital Projection ermöglicht spektakuläre Inszenierung am Davidsturm-Museum in Jerusalem
Die weltweit größte Installation mit 18 T Lumen M-Vision Einzelchip-Laserprojektoren
Der Davidsturm – einer der wichtigsten historischen Orte in Jerusalem – beherbergt ein atemberaubendes Museum, das die Geschichte der Stadt erzählt. Ein Symbol der Stadt im Herzen der historischen Zitadelle – der Davidsturm war für viele tausend Jahre ein königlicher Palast, bevor er für Ausstellungen, Kunstobjekte, Konzerte und Vorführungen verwendet wurde, die jedes Jahr von 400.000 Gästen besucht werden. Eines der erfolgreichsten dieser Events findet jede Nacht statt, wenn Besucher in Scharen angezogen werden, um die Geschichte Jerusalems in einer Reihe an Bildern erzählt zu bekommen, die an die Wände, archäologischen Ruinen und Gassen der Zitadelle projiziert werden. Die "The Night Spectacular"-Produktion ist eine wahrhaftig eindringliche Erfahrung, die Augen und Sinne berauscht und die seit einer umfangreichen Überholung der gesamten Erfahrung mittlerweile durch die preisgekrönten Projektoren von Digital Projection ermöglicht wird – darunter auch der beliebte M-Vision Laser 18K.
Der Projektmanager der Davidsturm-Show, Yehuda Vaknin, erzählt die Geschichte. "Als wir vor 10 Jahren begannen, gab es in Jerusalem bei Nacht nichts zu tun. Wir begannen mit der The Night Spectacular und der Erfolg war derartig groß, dass die Show seitdem ununterbrochen läuft und fast jede Nacht ausgebucht ist. Mittlerweile ist die Show weltweit bekannt und rundet nicht nur den Besuch des Museums, sondern den Besuch Jerusalems ab. Nach neun Jahren war es an der Zeit, die AV-Ausrüstung zu ersetzen und die aktuellste Technologie auf dem Markt zu integrieren, um die Show auf die nächste Ebene zu bringen – aus diesem Grund involvierten wird Showlogix für das Design der technischen Aspekte dieser Erfahrung."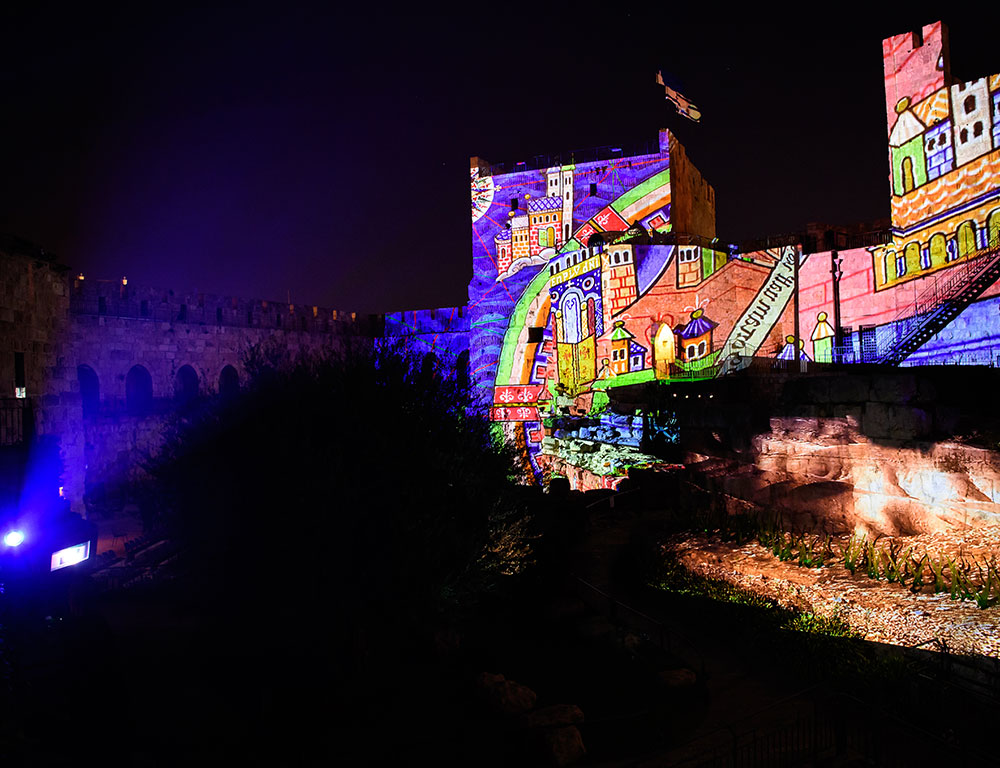 Da sich das bisherige AV-System als äußerst robust erwiesen hatte und das Museum bisher keine Shows absagen musste, sollte die neue Ausrüstung eine gleichwertig überzeugende oder sogar noch bessere Leistung bieten, um den erhöhten Vibration aufgrund der Besucherscharen, den erheblichen klimatischen Veränderungen über das Jahr hinweg sowie den komplexen physikalischen und ästhetischen Anforderungen gerecht zu werden. Ein hochkarätiges Projekt dieser Größe und Bedeutung kam zwangsläufig auch mit Herausforderungen, die aber alle mithilfe der neuesten innovativen Projektionstechnologien des britischen Herstellers Digital Projection überwunden werden konnten.
Insgesamt wurden am Standort 15 Projektoren von Digital Projections installiert – 13 davon nagelneue M-Vision Laser 18K sowie zwei E-Vision Laser 8500, um die Wände der Zitadelle mit 250.000 Lumen und 35 Millionen Pixeln zu beleuchten. Die Hardware-Investition betrug dabei nahezu 500.000 USD. Mit beeindruckenden 18.000 Lumen und lasergestützter Helligkeit bietet die jüngste Nutzung der M-Vision-Serie von Digital Projection eine Helligkeitsstufe, die traditionell für deutlich kostspieligere 3-Chip DLP® Projektoren vorbehalten war. Der M-Vision Laser 18K ermöglicht eine Bildgebungslösung in großem Maßstab mit einer Leistung, die der 3-Chip-Leistung in kaum etwas nachsteht, zu einem günstigeren Kostenpunkt.
"Eli Geffen von Showlogix brachte Yehuda letztes Jahr an unseren Stand bei der ISE-Messe und obwohl wir noch einige Monate benötigen würden, um die erforderliche Menge an Einheiten auszuliefern, war Yehuda überzeugt, dass sich die Wartezeit lohnen würde. Wir demonstrierten dem Team des Davidsturms eine lampenbasierte Version, um die Qualität der Bilder in der endgültigen Umgebung zu präsentieren. Eli reiste mit dem M-Vision Laser zurück und machte einen direkten Vergleich mit anderen Produkten. Nachdem das Projektteam des Davidsturms die mehreren bereitgestellten globalen Referenzen von ähnlichen Projekten, die wir abgeschlossen haben, geprüft hatte, waren wir hocherfreut, als Partner ausgewählt worden zu sein", ergänzt David Close, Products and Applications Manager bei Digital Projection.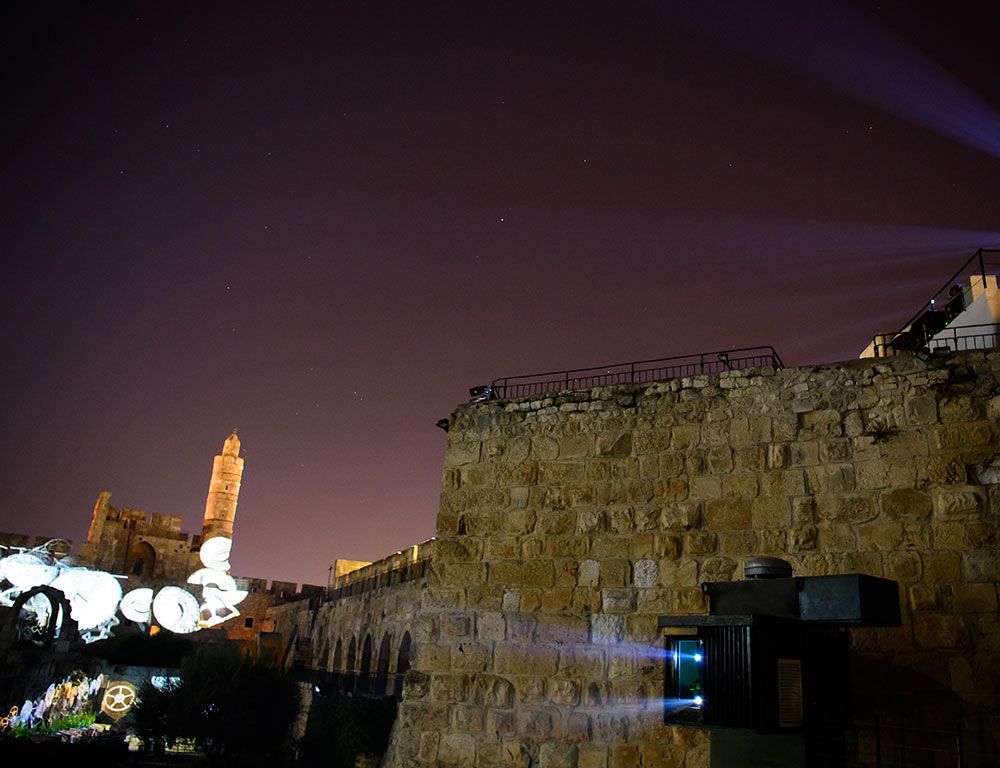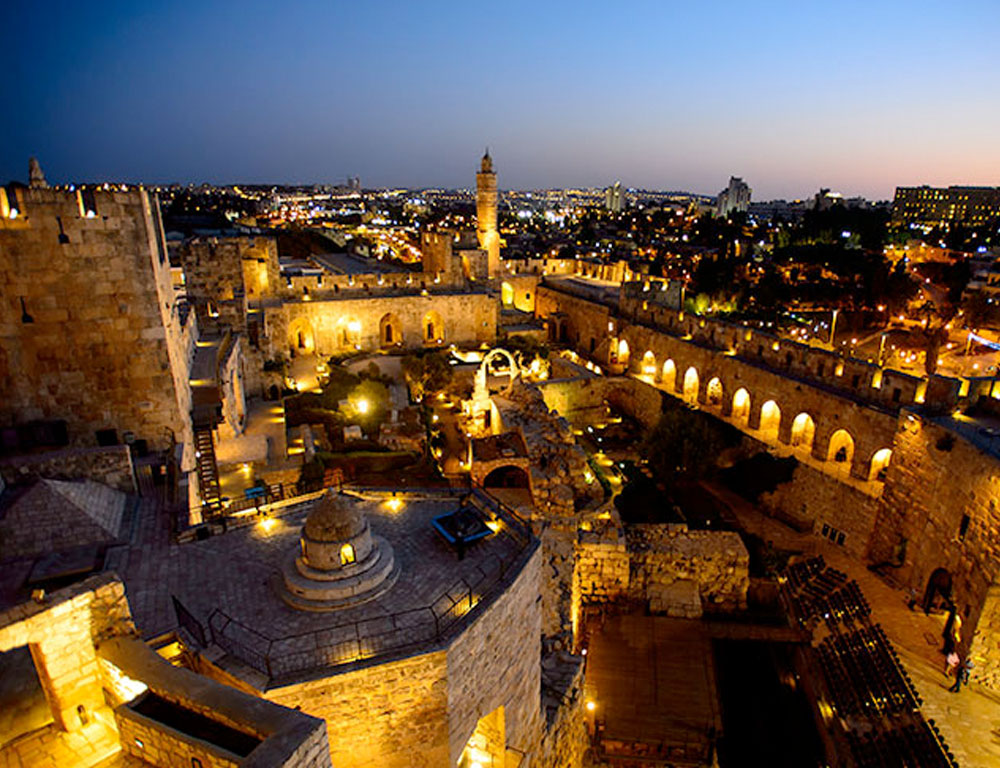 Dank der intelligenten Verarbeitung durch die integrierte Colour-Boost-Technologie, projiziert der M-Vision Laser 18K echte und gesättigte Farben, die bisher nur mit deutlich teureren DLP-Projektoren erreicht werden konnten. In Kombination mit dem 10.000:1 Kontrastverhältnis können in den Show-Becken neue Dimensionen erzielt werden, um die hochauflösende Kinematografie, leuchtenden Farben und scharfen Linien weiter zu verbessern. Dank der leistungsstarken, integrierten ColorMax-Technologie können alle Projektoren auf den genau gleichen Farbraum kalibriert werden, für einen nahtlosen Übergang zwischen verschiedenen Kanälen und ein weiches, farbig abgestimmtes Bild über diese große Fläche.
Ein weiterer wesentlicher Faktor für die Verwendung des M-Vision Laser 18K bestand darin, dass dieser in alle Richtungen montiert werden kann – für eine Installationsflexibilität, die die meisten lampenbasierten Projektoren nicht bieten können. Diese Funktion war wesentlich für den Erfolg des Projektes, da The Night Spectacular auf eine komplexe Fassade projiziert wird, die auch die historischen Wände der beeindruckenden Zitadelle Jerusalems umfasst. Darüber hinaus ist der Davidsturm auch ein nationales Erbe sowie ein archäologischer Standort mit Bauelementen, die rund 2.800 Jahre in die Geschichte Jerusalems zurückreichen – das bedeutete, dass strikte Regeln und Bestimmungen bei der Installation der Ausrüstung eingehalten werden mussten.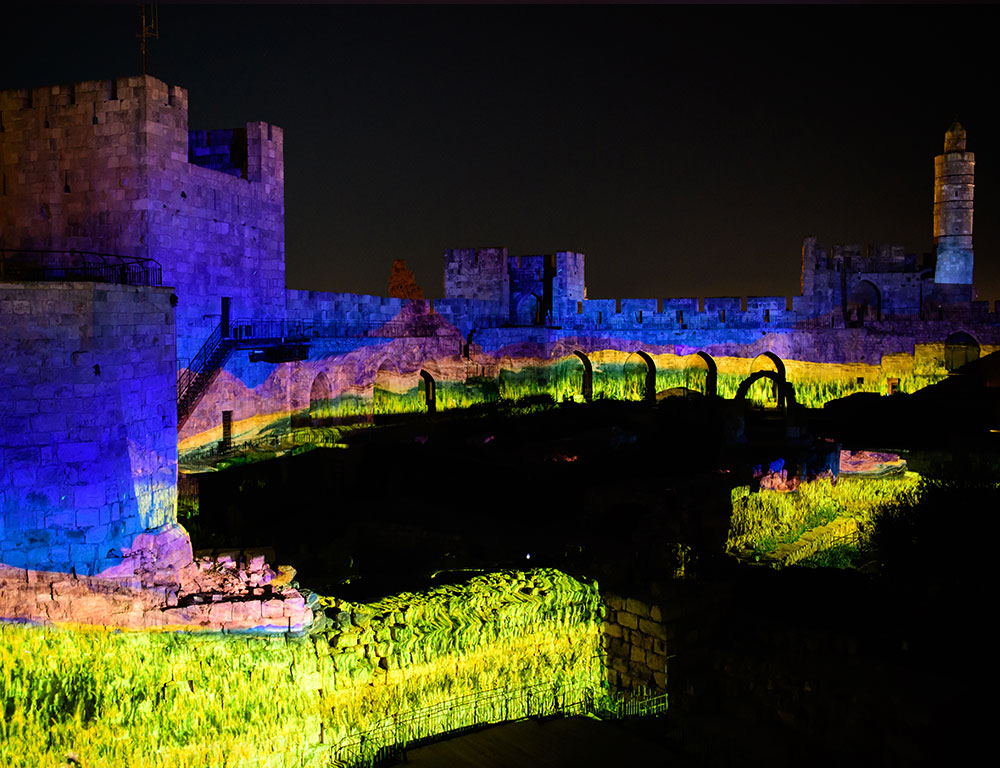 Der aktuellste Projektor von Digital Projection wurde vor allem aufgrund der hochmodernen Lasertechnologie ausgewählt. Im Vergleich zu herkömmlichen lampenbasierten Projektoren bietet der M-Vision Laser 18K eine Lebensdauer von mindestens 20.000 Stunden – das entspricht 10 bis 40 mal mehr (je nach Art und Wattleistung der Lampe) als herkömmliche lampenbasierte Projektoren. Installationen, wie The Night Spectacular, profitieren erheblich von einem Beleuchtungssystem mit langer Lebensdauer, ohne kostspielige und zeitaufwendige Auswechselungen der Lampen alle tausend Stunden.
Die Langlebigkeit, niedrigen Betriebskosten, reduzierten Gesamtkosten sowie eine 5-jährige Garantie waren besonders überzeugend für das Team des Davidsturms. Gleichzeitig sorgte das Programm zur Standortschulung, das von Digital Projections angeboten und durch das zertifizierte Servicezentrum vor Ort unterstützt wird, für eine vollständig unabhängige Verwaltung der Museumsanlage in allen technischen Aspekten der Installation. Wie auch alle anderen Laserprojektoren von Digital Projection wurde auch der M-Vision Laser 18K nach dem "Fit and Forget"-Prinzip (Einbauen und Vergessen) entwickelt, für eine leistungsstarke Bildgebungslösung, die das Team des Davidsturms mit minimalem Wartungsaufwand über die gesamte Lebensdauer der Anlage.
Abschließend kommentierte Herr Close: "Wir sind unglaublich stolz, dass unsere Produkte der Konkurrenz vorgezogen wurden, um an dieser atemberaubenden Produktion mit derartigem Stellenwert beteiligt zu sein, die von hunderttausenden an internationalen Besuchern gesehen wird. Die Qualität der hochauflösenden Projektion des M-Vision Laser 18K machen ihn zusammen mit der Fähigkeit zur Abbildung von Bildern auf empfindliche historische Oberflächen, einer hohen Zuverlässigkeit sowie einfachster Wartung und unvergleichlichem Kostenpunkt zur perfekten Lösung für Installationen dieser Komplexität und Größenordnung. Die jetzt sogar noch größere und bessere The Night Spectacular-Produktion stellt die kontinuierlichen Innovationen und zunehmend anspruchsvolleren Funktionalitäten im Bereich der Projektion von Digital Projections unter Beweis."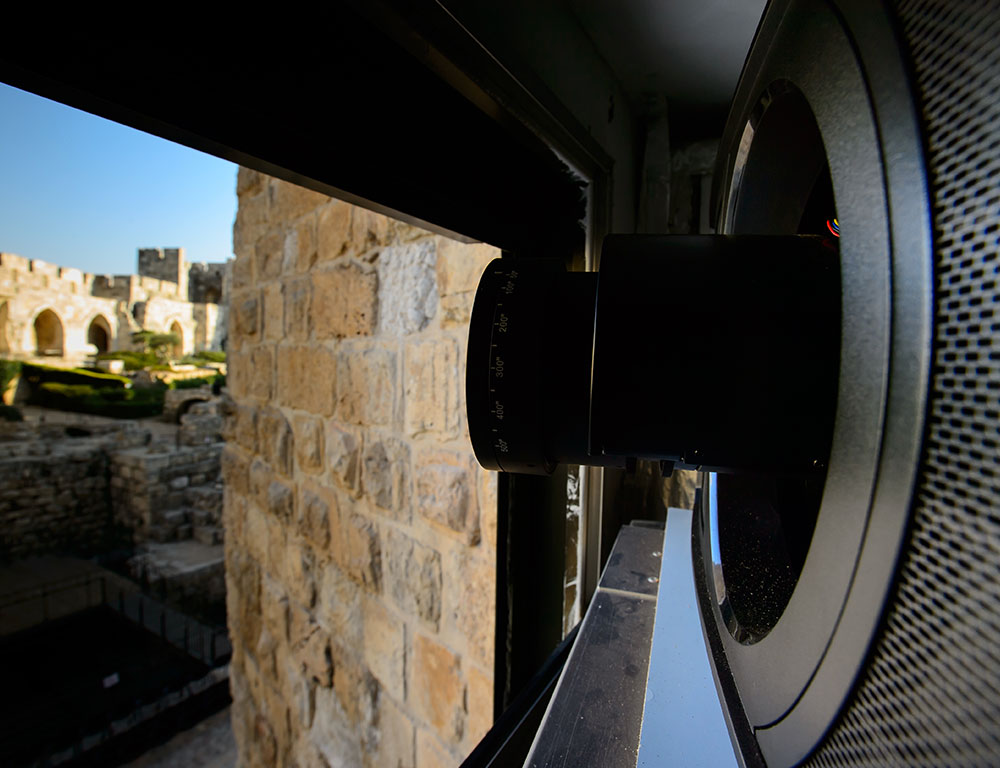 Projektor: M-Vision Laser 18K
20.000 Stunden Beleuchtung
Der M-Vision Laser 18K ist ein leistungsstarker Einzel-Chip-DLP-Projektor mit einer beeindruckenden Lichtausgabe von 18.000 Lumen und 10.000:1 Kontrastverhältnis. Der neue M-Vision Laser 18k ist eine budgetfreundliche Lösung für Großbildschirmanwendungen mit einer dem 3-Chip-Projektor vergleichbaren Leistung zu einem 1-Chip-Projektor-Preis. Veranstaltungsorte, die mit Umgebungslicht zu kämpfen haben, sowie Anwendungen, die eine leistungsstarke aber dennoch wirtschaftliche Bildgebungslösung für große Bildschirme benötigen, werden direkt von der hohen Lichtleistung des M-Vision 18K profitieren.
Mehr Infos