Nichée dans le quartier Jordaan d'Amsterdam, se trouve l'église Noorderkerk, une remarquable église protestante du XVIIe siècle réputée pour sa beauté architecturale et sa conception. L'atmosphère habituellement neutre de cette église a été transformée cette annéé en un monde de couleurs à 360 degrés : Grâce à 38 projecteurs de Digital Projection, elle raconte désormais comment les peintures de Rembrandt van Rijn ont inspiré les plus grandes œuvres de Vincent van Gogh.
Vincent meets Rembrandt: The Untold Story, une exposition qui a ouvert ses portes en 2022, enchantera les visiteurs jusqu'en 2027 avec cet impressionnant spectacle audiovisuel. En associant  un contenu visuel époustouflant avec une narration audio captivante des lettres de van Gogh à son frère Theo, l'exposition révèle l'influence de Rembrandt sur le parcours artistique de van Gogh.
L'idée de créer une expérience immersive sur le rôle prépondérant de Rembrandt dans le processus artistique de Vincent est venue de Hennie Jaspers & Marcel Vos. Bart van Bokhoven, propriétaire et directeur créatif del'intégrateur audiovisuel néerlandais Pronorm, a pris la direction de ce projet avec enthousiasme : « Tout a commencé par un concept il y a environ six ans », explique-t-il. « Nous avons parcouru les notes personnelles de van Gogh et les lettres adressées à son frère Theo, dans lesquelles il explique son admiration pour le travail de Rembrandt, la lumière et les couleurs utilisées par l'artiste, ainsi que sa façon de peindre. C'est ce qui a inspiré la narration ».
Afin de créer une expérience complète, Pronorm a choisi l'église Noorderkerk, van Gogh et Rembrandt, tous deux pratiquants, l'ayant fréquentée à 200 ans d'intervalle. L'objectif était de guider les visiteurs à travers l'histoire à l'aide de contenu visuel et sonore immersif. Les projecteurs de Digital Projection ont joué un rôle déterminant dans cette entreprise, en reproduisant fidèlement les peintures et esquisses de van Gogh et Rembrandt, tandis qu'une voix off donne vie aux lettres de van Gogh.
Pour retranscrire visuellement les liens entre les deux artistes, l'intégrateur avait besoin de projecteurs fiables et sans maintenance, en raison de la longévité du projet et de l'absence de technicien sur place. Van Bokhoven avait déjà eu l'occasion d'utiliser du matériel de Digital Projection et a été impressionné par sa durabilité et sa fiabilité : « J'ai déjà réalisé plusieurs installations avec du matériel de Digital Projection et je n'ai jamais eu à déplorer de défaillance sur l'un d'entre eux », abonde-t-il. « Pour une installation d'une telle échelle, j'avais besoin de projecteurs sur lesquels nous pouvions compter ». C'est la raison principale pour laquelle l'intégrateur a déployé les projecteurs laser monoDLP E-Vision Laser 11000 4K-UHD, E-Vision Laser 10K, E-Vision Laser 8500 et M-Vision Laser 21000 WU de Digital Projection, tous réputés pour leur fiabilité exceptionnelle et leurs absence virtuelle de maintenance.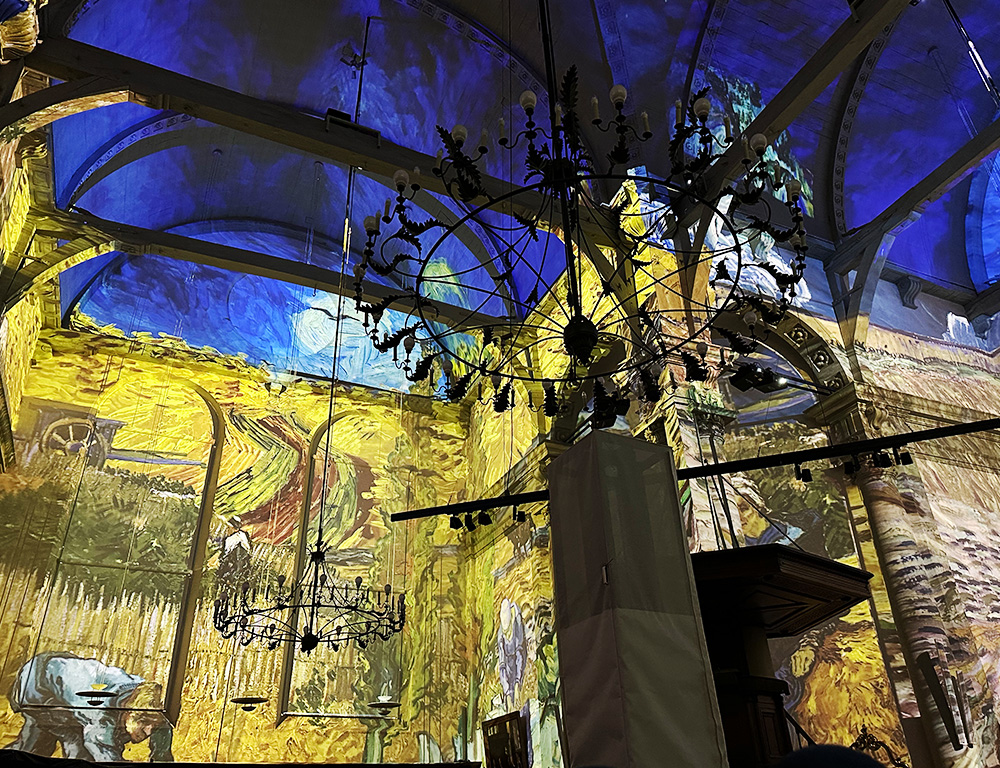 Le choix a été renforcé par la qualité d'image et la luminosité sans équivalents des projecteurs, ainsi que par la nécessité pour Pronorm d'obtenir une sortie homogène sur tous les projecteurs, afin de garantir une expérience cohérente et percutante pour chaque visiteur. Van Bokhoven ajoute : « Nous devions également nous assurer que les tailles de pixels et la puissance lumineuse de l'ensemble des projecteurs étaient quasiment identiques afin que chaque visiteur puisse découvrir l'histoire inédite de van Gogh et Rembrandt de la même manière. »
Fred Meijer, directeur régional des ventes pour le Benelux chez Digital Projection, attribue également l'efficacité des échanges entre le fabricant et l'intégrateur comme l'une des raisons qui ont poussées Pronorm à faire confiance à Digital Projection sur ce projet : « Bart nous a contacté directement, sans intermédiaire », explique Fred Mejier. « Pour des clients comme Bart, il est très important de communiquer le plus simplement possible, car lorsque nos clients ont des questions, ils ont besoin de réponses rapides. »
« Nous devions également nous assurer que les tailles de pixels et la puissance lumineuse de l'ensemble des projecteurs étaient quasiment identiques afin que chaque visiteur puisse découvrir l'histoire inédite de van Gogh et Rembrandt de la même manière. »
Bart van Bokhoven, propriétaire et directeur créatif del'intégrateur audiovisuel néerlandais Pronorm
En complément des 38 projecteurs laser Digital Projection projettant des contenus captivants sur le plafond, les murs et le sol, Pronorm a intégré 12 enceintes colonnes actives Fohhn Audio DLI-130 à orientation de faisceau, cinq caissons de basse Fohhn AS-ss ASX et 7 serveurs multimédias VIOSO Anystation Media 4K. MP Studios, la société de création de contenu, a également joué un rôle essentiel en élaborant un scénario unique et en le traduisant en images visuellement époustouflantes. MP Studios a produit sept films distincts, chacun projeté sur une zone spécifique de l'église. Pour ce faire, une prévisualisation complète du contenu a été créée pour l'ensemble du scénario avant de le diviser en sept segments, qui ont envoyés aux projecteurs par l'intermédiaire des serveurs media VIOSO.
La majeure partie du contenu est projetée sur les vastes murs de l'église. Cependant, la présence de poteaux, de colonnes et de détails architecturaux complexes a posé un défi unique. Pour surmonter cet obstacle, Pronorm a choisi de projeter le contenu vidéo principal sur les murs, le plafond et le sol, tout en intégrant les colonnes pour créer un effet d'ambiance. Van Bokhoven souligne l'importance de cette approche : « L'effet d'ambiance sur ces détails contribue grandement à parfaire l'expérience immersive. »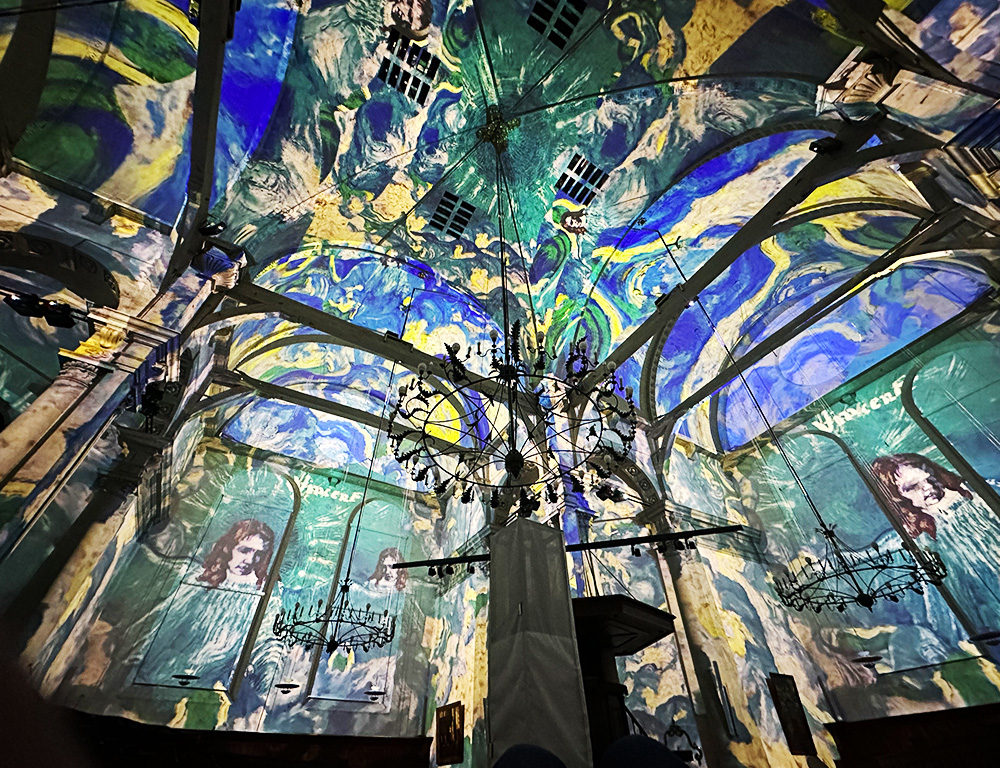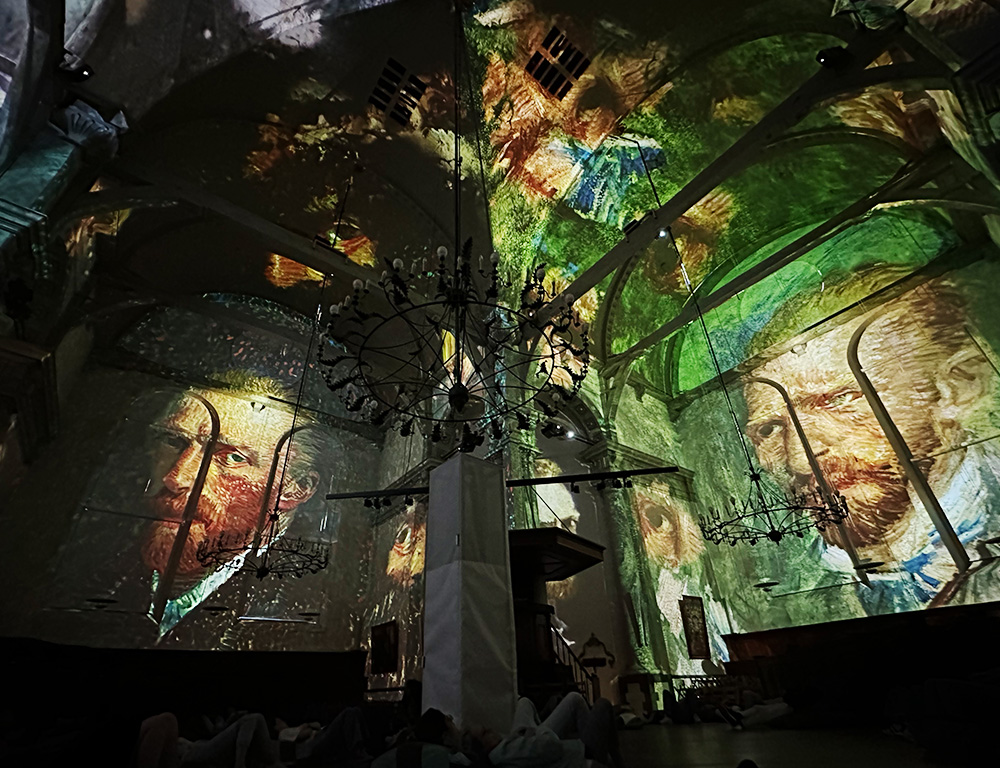 Un autre défi intéressant auquel les intégrateurs ont été confrontés résidait dans l'intégration discrète de l'équipement audiovisuel afin de préserver le caractère sacré de l'église Noorderkerk, qui  continue d'accueillir des mariages et des services le week-end. « Nous avons dû positionner l'équipement de manière stratégique afin qu'il reste caché à la vue des fidèles », explique Bart van Bokhoven. « Cet aspect s'est avéré difficile car nous devions créer une installation semi-mobile qui respecterait les normes établies par le conseil d'administration de l'église. »
Pour relever ce défi, l'équipement technique a été installé dans le grenier de l'église à 23 mètres de hauteur, en passant par un escalier étroit de 60 cm de large. Douze projecteurs ont été installés au sol, tandis que les 26 autres ont été placés au plafond. Les câbles, invisibles, vont du grenier au sol et aux points d'accroche des projecteurs, garantissant ainsi une installation discrète.
Van Bokhoven est extrêmement satisfait du résultat final : « Grâce au soutien de nos partenaires, nous avons réalisé un travail formidable ; tout fonctionne parfaitement. Lorsque je lis les commentaires des visiteurs, il est évident que les gens s'identifient vraiment à l'histoire et sont captivés par cette expérience visuelle à couper le souffle, rendue possible de manière discrèteet fiable par les incroyables projecteurs laser de Digital Projection. »
Product mentioned in this case study: M-Vision Laser 21000 WU
21 000 ISO / 18 600 ANSI Lumens
Technologie COLORBOOST + Red Laser
Contraste dynamic de 10 000:1
The M-Vision Laser 21000 is the first of a new breed of Single Chip DLP Laser projectors from Digital Projection. This lamp-free, laser-phosphor projector utilises new Colorboost+Red Laser technology to bring you the most realistic and saturated colours at previously unimaginable luminance levels. Such power and accuracy, combined with all-new intelligent processing brings the overall performance ever closer to that of a 3-Chip DLP projector – at a much more affordable price.
Boasting an unprecedented 21,000 lumens output and a 10,000:1 contrast ratio, the new M-Vision Laser 21000 brings budget-sensitive applications a large-screen imaging solution and near 3-Chip performance at a 1-Chip price point.
Find out more