Mitten im Amsterdamer Viertel Jordaan liegt die Noorderkerk, eine bemerkenswerte protestantische Kirche aus dem 17. Jahrhundert, die für ihre architektonische Schönheit und ihr Design bekannt ist. Im Laufe des vergangenen Jahres hat sich die neutrale Atmosphäre dieser Kirche in eine betörende 360-Grad-Welt der Farben verwandelt. Mithilfe von 38 Projektoren von Digital Projection erzählt sie jetzt die Geschichte, wie die Gemälde von Rembrandt van Rijn Vincent van Goghs großartigsten Werke inspiriert haben.
Vincent meets Rembrandt: The Untold Story wurde 2022 eröffnet und wird die Besucher bis 2027 mit diesem eindrucksvollen audiovisuellen Spektakel beeindrucken. Mit der nahtlosen Kombination von beeindruckendem Bildermaterial und einer fesselnden Audioaufnahme von van Goghs Briefen an seinen Bruder Theo enthüllt die Ausstellung, welchen Einfluss Rembrandt auf den künstlerischen Werdegang von van Gogh hatte.
Die Idee, die wichtige Rolle Rembrands bei Vincents künstlerischem Prozess zu einem immersiven Erlebnis zu machen, stammt von Hennie Jaspers und Marcel Vos. Die Leitung dieses Projekts übernahm Bart van Bokhoven, Eigentümer und kreativer Leiter von Pronorm, einem niederländischen Unternehmen für audiovisuelle Integration, der sich von ganzem Herzen der Initiative widmete. "Vor etwa sechs Jahren haben wir mit einem Konzept begonnen", sagt van Bokhoven. "Wir sind die Tagebücher von van Gogh und die Briefe an seinen Bruder Theo durchgegangen, in denen er erklärte, wie er Rembrandts Werk wirklich bewunderte, welches Licht und welche Farben der Künstler einsetzte und seine Art zu malen. Dies inspirierte den Erzählstoff."
Um ein umfassendes Erlebnis zu schaffen, wählte Pronorm die Noorderkerk als Veranstaltungsort, da sowohl van Gogh als auch Rembrandt dort seinen Glauben praktizierte, auch wenn 200 Jahre dazwischen liegen. Das Ziel war, die Besucher mithilfe von immersivem Bild- und Audiomaterial durch die Geschichte zu führen, wozu die Projektoren von Digital Projection entscheidend beitragen, indem sie die Gemälde und Skizzen von van Gogh und Rembrandt gekonnt in Szene setzen, während mit einer Audioaufnahme die Briefe van Goghs zum Leben erweckt werden.
Um die Verbindung zwischen den Künstlern visuell zu vermitteln, benötigte der Integrator Projektoren, die zuverlässig und wartungsfrei sind, da das Projekt lange laufen soll und kein Techniker vor Ort ist. Van Bokhoven hatte bereits Erfahrungen mit Geräten von Digital Projection und war von deren Robustheit und minimaler Ausfallrate beeindruckt: "Ich habe schon einmal Geräte von Digital Projection installiert und noch nie erlebt, dass eines davon ausfiel.", sagt van Bokhoven.  "Für eine große Installation wie diese brauchte ich Projektoren, auf die wir uns verlassen können." Dies, fügt er hinzu, sei der Hauptgrund, warum der Integrator sich für den E-Vision Laser 11000 4K-UHD, E-Vision Laser 10K, E-Vision Laser 8500 und M-Vision Laser 21000 WU 1-DLP von Digital Projection entschied, da sie alle für ihre außergewöhnliche Zuverlässigkeit und ihren minimalen Wartungsbedarf bekannt sind.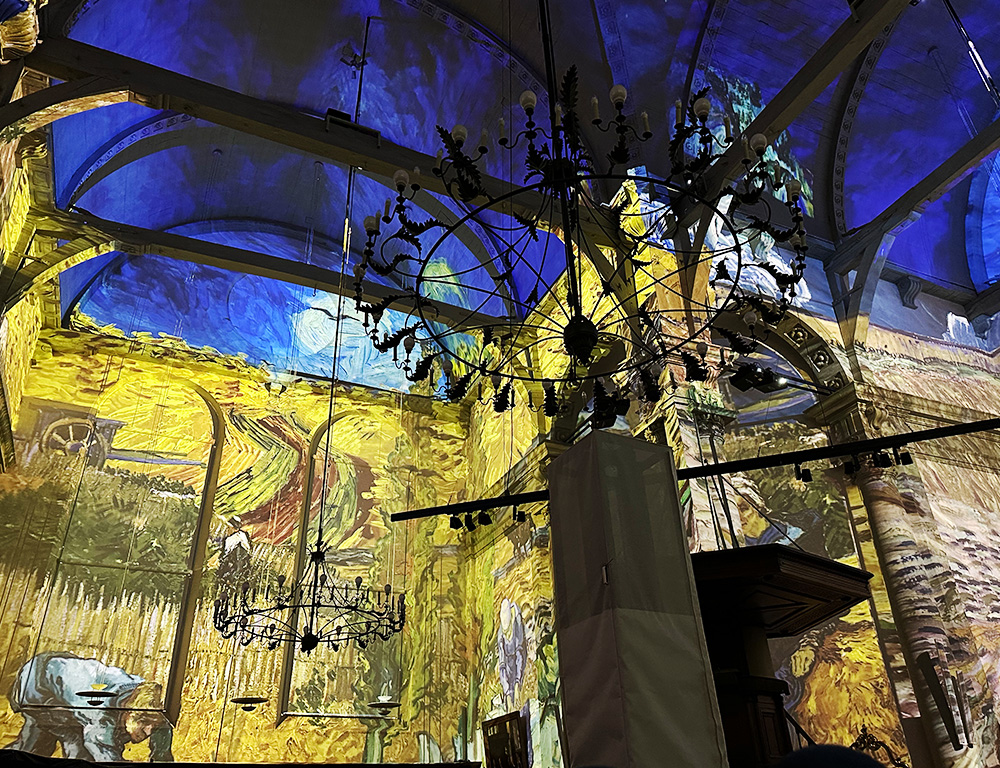 Ebenfalls für die Wahl sprachen die hervorragende Bildqualität und Helligkeit der Projektoren sowie Pronorms Erfordernis, über alle Projektoren hinweg einen gleichmäßigen Output zu haben, damit jeder Besucher in den Genuss eines einheitlich eindrucksvollen Erlebnisses kommt. Van Bokhoven fügt hinzu: "Wir mussten außerdem sicherstellen, dass alle Pixelgrößen und die Lichtausgabe bei allen Projektoren nahezu gleich ist, so dass jeder Besucher die nicht erzählte Geschichte von van Gogh und Rembrandt auf die gleiche Weise erlebt."
Fred Meijer, regionaler Verkaufsleiter für die Benelux-Länder bei Digital Projection, zählt auch die effektive Kommunikation zwischen Hersteller und Integrator als einen der vielen Gründe dazu, warum die Laserprojektoren von Digital Projection für dieses Projekt ausgewählt wurden: "Bart hat uns direkt kontaktiert, ohne eine Kontaktperson dazwischen.", sagt Mejer. "Für Kunden wie Bart ist es sehr wichtig, dass wir kurze Kommunikationswege haben, denn wenn unsere Kunden Fragen haben, brauchen sie schnell Antworten."
"Wir mussten außerdem sicherstellen, dass alle Pixelgrößen und die Lichtausgabe bei allen Projektoren nahezu gleich ist, so dass jeder Besucher die nicht erzählte Geschichte von van Gogh und Rembrandt auf die gleiche Weise erlebt."
Bart van Bokhoven, Eigentümer und kreativer Leiter von Pronorm
Zusätzlich zu den 38 Laserprojektoren von Digital Projection, die spannende Inhalte auf Decke, Wände und Fußboden projizieren, hat Pronorm 12 aktive Fohhn Audio DLI-130 Beam-Steering-Säulenlautsprecher, fünf Fohhn AS-ss ASX Subwoofer und 7 VIOSO Anystation Media 4K Medienserver installiert. Eine zentrale Rolle bei der Ausarbeitung der einzigartigen Storyline und deren Umsetzung in optisch beeindruckende Bilder spielte auch MP Studios, das Content-Creation-Unternehmen.  Sieben verschiedene Filme wurden dazu von MP Studios produziert, von denen jeder auf einen bestimmten Bereich der Kirche projiziert wird. Um dies umzusetzen, erstellte das Unternehmen eine vollständige Inhaltsvorschau für die gesamte Geschichte, bevor es sie in sieben Segmente aufteilte, die dann über die VIOSO-Medienserver an die Projektoren weitergeleitet wurden.
Der Großteil der Inhalte wird auf die ausgedehnten Wände der Kirche projiziert. Die Pfosten, Säulen und komplexen Details in der Kirche stellten jedoch eine einzigartige Herausforderung dar. Um dieses Hindernis zu überwinden, entschied sich Pronorm dafür, die Hauptvideoinhalte auf die Wände, die Decke und den Boden zu projizieren und die Säulen dafür zu nutzen, einen Ambilight-Effekt zu erzielen. "Der Ambilight-Effekt auf diesen Details trägt wesentlich zur Verbesserung des immersiven Erlebnisses bei.", so Van Bokhoven zur Bedeutung dieses Vorgehens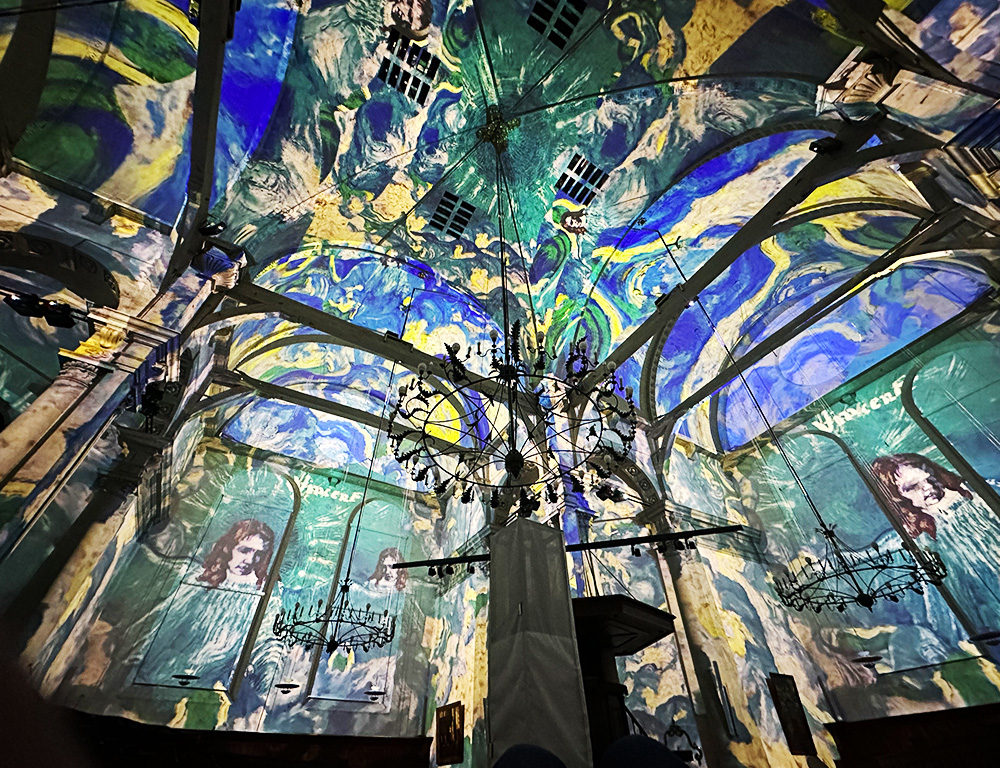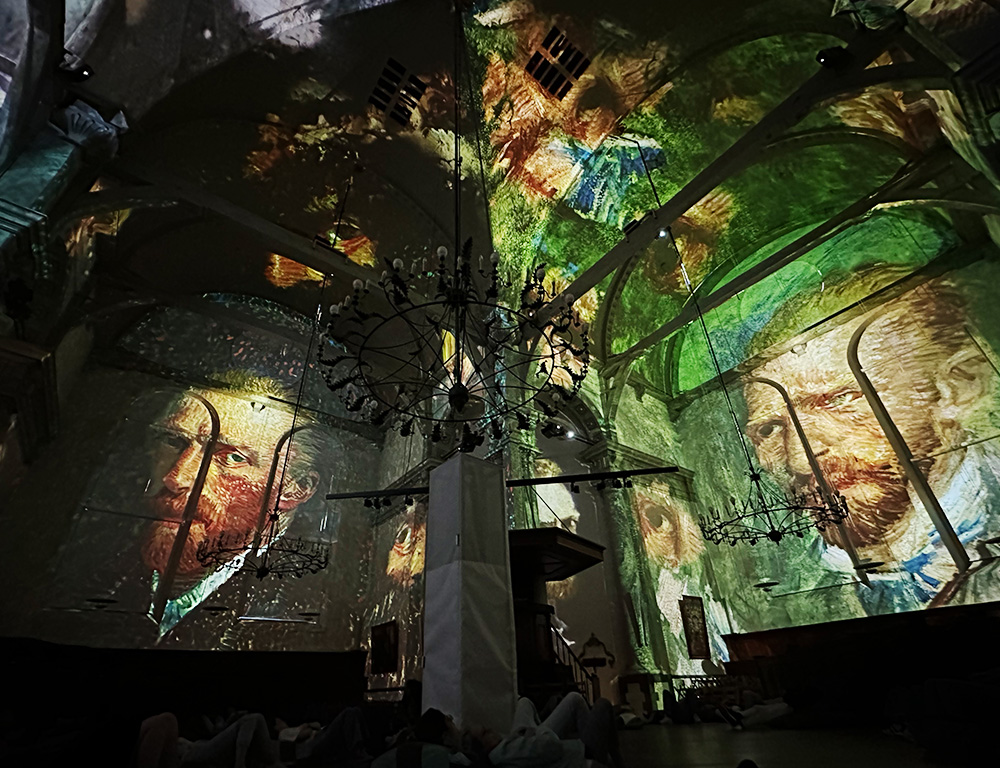 Eine weitere interessante Herausforderung für die Integratoren bestand darin, eine Möglichkeit zu finden, die Geräte unauffällig zu installieren, um die Heiligkeit der Noorderkerk zu wahren, die nach wie vor aktiv als Gotteshaus genutzt wird und wo an den Wochenenden Trauungen und Gottesdienste stattfinden. "Wir mussten die Geräte strategisch positionieren, und zwar so, dass sie außer Sicht der Kirchgänger sind.", erklärt Bart van Bokhoven. "Dieser Aspekt erwies sich als herausfordernd, da wir eine semi-mobile Installation schaffen mussten, die den vom Kirchenvorstand festgelegten Standards entsprach."
Um diese Herausforderung zu meistern, wurde die technische Ausrüstung über eine schmale 60 x 60 cm enge Treppe 23 Meter nach oben gebracht und im Dachraum der Kirche installiert. Die 12 Projektoren installierte man auf dem Boden, während 26 an der Decke positioniert wurden. Die Kabel verlaufen außer Sicht vom Dachraum zum Boden und zu den Projektor-Aufhängungen, um so eine makellose, unauffällige Installation zu gewährleisten.
Van Bokhoven ist extrem glücklich über das Endergebnis: "Mit der Unterstützung unserer Partner haben wir richtig tolle Arbeit geleistet. Alles funktioniert perfekt. Wenn ich die Bewertungen der Besucher lese, wird deutlich, dass sie sich wirklich mit der Geschichte identifizieren können und von dem atemberaubenden visuellen Erlebnis hingerissen sind, das von den leistungsstarken Laser-Projektoren von Digital Projection unauffällig und zuverlässig erzeugt wird."
Product mentioned in this case study: M-Vision Laser 21000 WU
21,000 ISO / 18,600 ANSI Lumens
10,000:1 Dynamic Contrast
The M-Vision Laser 21000 is the first of a new breed of Single Chip DLP Laser projectors from Digital Projection. This lamp-free, laser-phosphor projector utilises new Colorboost+Red Laser technology to bring you the most realistic and saturated colours at previously unimaginable luminance levels. Such power and accuracy, combined with all-new intelligent processing brings the overall performance ever closer to that of a 3-Chip DLP projector – at a much more affordable price.
Boasting an unprecedented 21,000 lumens output and a 10,000:1 contrast ratio, the new M-Vision Laser 21000 brings budget-sensitive applications a large-screen imaging solution and near 3-Chip performance at a 1-Chip price point.
Find out more