Digital Projection erweckt mit bahnbrechender 3D-Technologie die Ausstellung "Deep Fakes" zum Leben
Zusätzlich zu den 21 ausgestellten Hightech-Kunstwerken und virtuellen Erlebnissen werden die Besucher einer zukunftsweisenden neuen Ausstellung in der Schweiz in der vordersten Sitzreihe eine weitere technologische Premiere miterleben: das Zusammenwirken des Satellite MLS-Systems von Digital Projection mit der Multi-View 3D-Projektionstechnologie, die entscheidend dazu beitragen wird, die 1.000 Jahre alte Benediktinerkirche der Abtei Michaelsberg im UNESCO-Weltkulturerbe Bamberg, Deutschland, zu rekonstruieren.
Deepfakes: Art and its Double (Kunst und ihr Doppelgänger), die noch bis April 2022 läuft, sorgt in den EPFL-Pavillons in Lausanne mit einer einzigartigen Präsentation der aufkommenden digitalen Kultur, die die Kunstwelt erschüttert, für Furore. Von künstlicher Intelligenz über Computer Vision, interaktiven und eindringlichen Medien bis hin zum 3D- und 5D-Druck revolutioniert die Technologie die Art und Weise, wie Kunst erdacht, geschaffen und erlebt wird, und Deep Fakes ist die erste Ausstellung, die sich mit dieser technologischen Transformation in großem Maßstab und intensiv auseinandersetzt.
Die 1.000 m² große Ausstellung ist "der Höhepunkt mehrerer Jahre neuer kreativer Praktiken, die aus der Welt der Informatik hervorgegangen sind", erklärt die Kuratorin der Ausstellung, die Direktorin der EPFL-Pavillons, Sarah Kenderdine, die diese neuen Artefakte, die sich an bestehende Kunstwerke anlehnen oder auf ihnen aufbauen, als "kulturelle Deepfakes" bezeichnet hat. "Erst in jüngster Zeit begannen Künstler und Produzenten, das Potenzial der computergestützten Produktion und neuer Kunstformen vollständig zu begreifen", fügt Kenderdine hinzu, die als Professorin für Museologie über mehr als 20 Jahre Erfahrung verfügt, große immersive und interaktive Ausstellungen für Museen sowie für Weltkulturerbestätten in Asien, wie Angkor in Kambodscha und das griechische Olympia in Europa zu entwickeln und zu produzieren.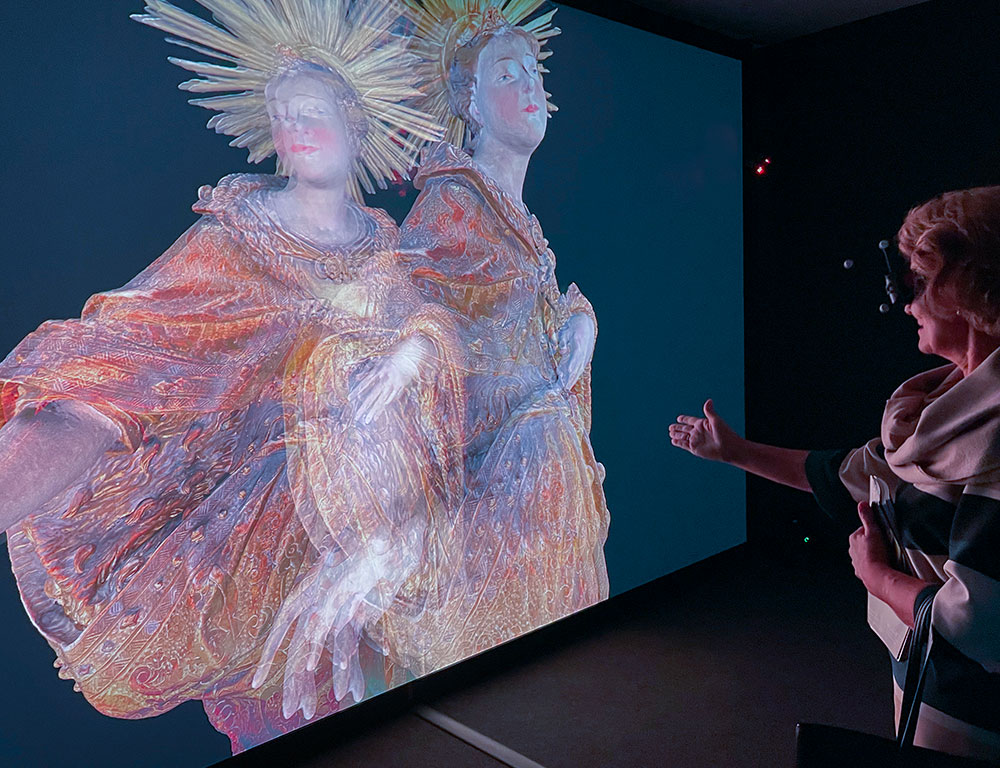 Unter den "kulturellen Deepfakes", die in den EPFL-Pavillons auf dem Campus der Eidgenössischen Technischen Hochschule Lausanne (EPFL) ausgestellt sind, befinden sich The Next Rembrandt, das mit Hilfe künstlicher Intelligenz als "neues" Werk des niederländischen Meisters geschaffen wurde, der im 17. Jahrhundert lebte und starb; The Golden Calf, des bahnbrechenden Medienkünstlers Jeffrey Shaw, das sich dem Besucher erst dann offenbart, wenn er den Sockel in einem "Tanz der Verehrung" umkreist hat; und Abbey Saint Michel, Bamberg, eine vollständige digitale Rekonstruktion des Innenraums des 1.000 Jahre alten Klosters.
Die tatsächliche Abtei Michaelsberg ist seit 2012 wegen Renovierungsarbeiten geschlossen, als Bauschäden entdeckt worden waren. Im Rahmen der Restaurierung wurde das auf 3D-Laserscanning spezialisierte Unternehmen ArcTron von der Stadt Bamberg beauftragt, eine hochauflösende, fotorealistische Nachbildung des Kircheninneren zu schaffen, in dem sich bedeutende Werke der Kunst, Skulptur und Architektur der Spätrenaissance und des Rokoko befinden.
Für die Ausstellung Deep Fakes entwickelten die Forschungsgruppe für Virtuelle Realität und Visualisierung der Bauhaus-Universität Weimar und die Spin-off-Gesellschaft Consensive für die 3D-Modelle von ArcTron Echtzeit-Rendering-Techniken, die es ermöglichen, sie mit Multi-View, der Multi-User-3D-Projektionstechnologie von Digital Projection, in eindringlicher virtueller Realität zu präsentieren.
Das System von Digital Projection in Lausanne, das ebenfalls von der Bauhaus-Universität installiert wurde, besteht aus einem Insight 4K HFR 360-Projektor und sechs von Volfoni hergestellten Brillen. Durch die ultraschnellen Bildwechselfrequenzen (360 fps), die einzigartig für Multi-View sind, kann dieser einzelne Projektor ein echtes 3D-Erlebnis für mehrere Betrachter bieten, von denen jeder einen Blick auf das Exponat hat, das ihrer sich verändernden Position entspricht. Dadurch können die Benutzer sich gegenseitig sehen und miteinander in einer wirklich gemeinsamen, kollaborativen Weise interagieren.
"Anstatt 120 Bilder pro Sekunde zu liefern, die gerade einmal für Einzelnutzer-3D ausreichen, liefert INSIGHT Satellite MLS 4K HFR 360 konkurrenzlose 360 Bilder", bestätigt Kenderdine und erklärt, dass die Technologie für Experten auf dem Gebiet des Kulturerbes schlichtweg revolutionär ist, da sie jedem, der ein digitales Kunstwerk betrachtet, ein gemeinsames Erlebnis bieten kann. "Indem wir jedem Nutzer eine eigene Perspektive auf ein Objekt geben, eröffnen sich uns ungeahnte Möglichkeiten der Zusammenarbeit", schwärmt sie.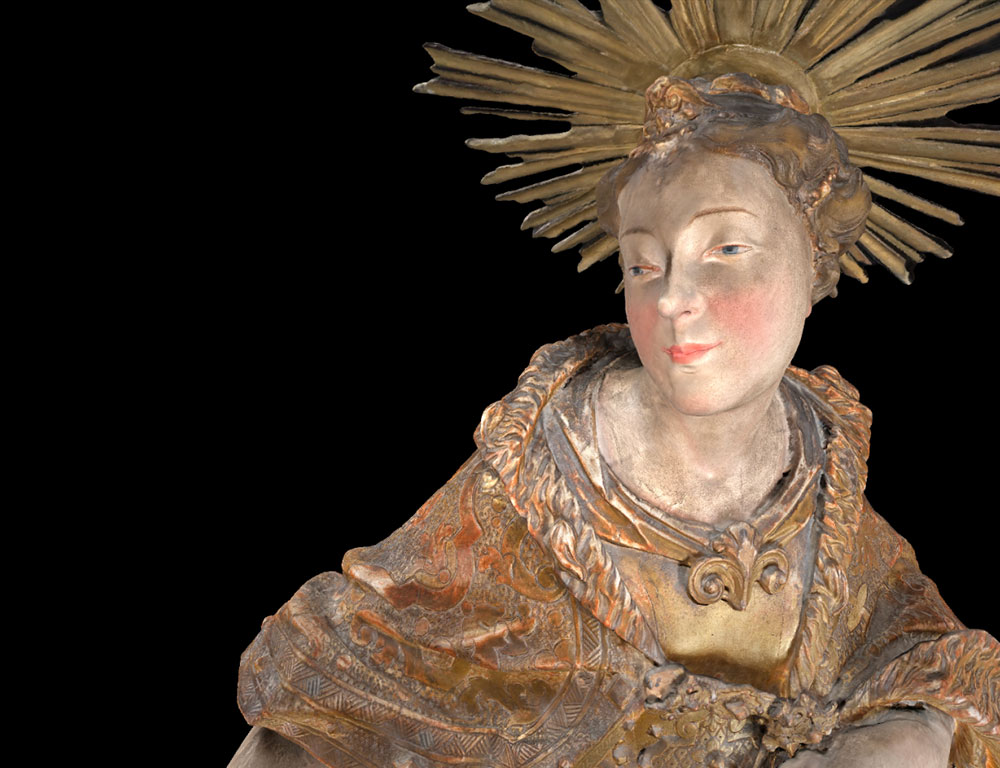 In der Spezifikation Satellite MLS (Modulares Lasersystem) bietet der INSIGHT Satellite MLS 4K HFR 360 den Museumsexperten eine noch überzeugendere Lösung für moderne multimediale Ausstellungen, erklärt Thierry Ollivier von Digital Projection, der die Beteiligung des Unternehmens am Deep Fakes-Projekt leitet. Bei Satellite MLS ist der kleine, leichte Projektorkopf von der Lichtquelle getrennt, was eine helle 4K-Projektion mit einer kompakten Stellfläche und minimaler Geräusch- und Wärmeentwicklung in der Nähe der Exponate selbst ermöglicht. Dieses einzigartige Design, so Ollivier, macht Satellite MLS für Theater und Opernhäuser, historische Gebäude und andere Anwendungen mit Wärme- und Raumbeschränkungen zur perfekten Lösung.
Technologien wie Multi-View und Satellite MLS werden bei zukünftigen Kunst- und Museumsausstellungen eine immer wichtigere Rolle spielen, da AV dazu beiträgt, die Besucher in immer interaktivere Erlebnisse einzubinden, schließt Kenderdine. Auf Museumsebene, bieten diese Werkzeuge neue Möglichkeiten, Geschichten zu erzählen: Geschichten, die nicht notwendigerweise didaktisch sein müssen, Geschichten, die entstehen und auf die Interaktion der Benutzer reagieren, und Geschichten, die die Besucher nachempfinden und miterleben können. AV öffnet das Archiv und gibt ihm so viel mehr Potenzial für die Wiederverwendung. Es gibt Künstlern, kreativ Schaffenden und Kuratoren eine neue Leinwand, um ästhetische Rahmen zu schaffen, die wir noch nie zuvor gesehen haben, und Modalitäten des Engagements, die die Besucher mitreißen und begeistern."
Was die Lösung von Digital Projection betrifft, könnte EPFL Pavilions nicht zufriedener sein, fügt sie hinzu. "Die Anlage funktionierte wie ein Traum – mit der Fernunterstützung von Digital Projection war sie in einem halben Tag einsatzbereit.
"Auch das Publikum ist davon begeistert Sie erkennen den Unterschied; es ist etwas, was sie noch nie zuvor gesehen haben. Und auch die Wissenschaftler der EPFL haben die Ausstellung mehrfach besucht, um sich von den neuen Möglichkeiten der Technologien ein Bild zu machen."
"Während der Zusammenarbeit mit Professor Kenderdine in den vergangenen zehn Jahren bei Projekten mit Projektion und virtueller Realität habe ich ihr Talent und ihre Bemühungen bewundert, die Kluft zwischen Technologie und Kunst zu überbrücken", fügt Ollivier hinzu. Mit Deep Fakes haben Sarah und ihr Team einem breiten Publikum von weltweit führenden Kulturbehörden bis hin zu lokalen Studenten gezeigt, wie ein Erlebnis in virtueller Realität aussehen sollte, indem sie das Fachwissen von Digital Projection, Consensive und Volfoni zusammengeführt haben. Sehen heißt glauben."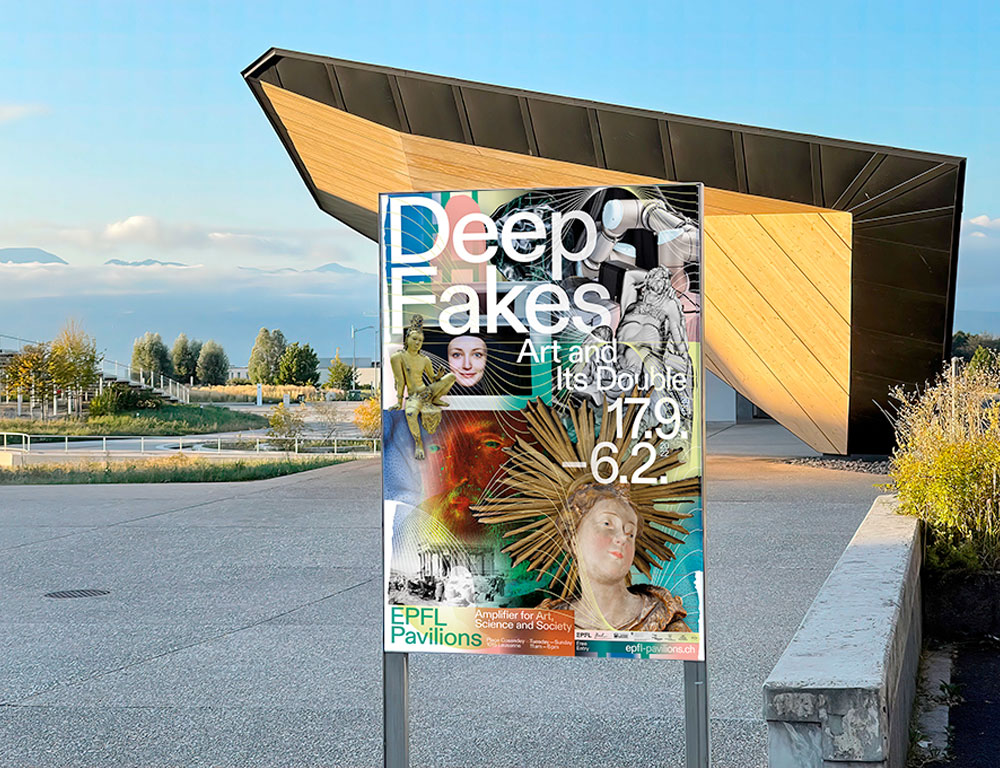 Projektor: Satellite MLS
Modulare RGB Laserlichtquellen
Kompakte Projektionsköpfe
Native 4K, 8K & WUXGA Auflösung
Satellite MLS
Das neue Satellite Modular Laser System (MLS) ermöglicht mit nur wenigen diskreten Basiskomponenten eine Vielzahl an Anwendungen zu bedienen – von der Installation einzelner Projektoren bis zu komplexen Mehrkanal-Kuppel- oder Visualisierungs- bzw. Simulationsanwendungen. Der Einsatz von diskreter RGB-Lasertechnik war zudem bisher nur sehr anspruchsvollen Einsatzzwecken vorbehalten, dank des MLS-Systems von Digital Projection werden RGB-Laser nun aber auch für einen breiteren AV-Markt zu einem kostengünstigen Preis zugänglich.
Mehr Infos