Digital Projection unterstützt Jubiläumsshow im Herzen der Alpen
In Tirol / Österreich liegt die legendäre Sportstadt Kitzbühel welche mit dem weltbekannten Hahnenkammrennen Berühmtheit erlangte und als Luxusort mit jährlich 1,16 Mio Nächtigungen ein wahrer Tourismus-Hotspot ist.
Am Sonntag 6. Juni 1271 erfolgte jener historische Akt, mit dem durch Herzog Ludwig II. von Bayern das Stadtrecht verliehen und damit die Entwicklung von Kitzbühel entscheidend geprägt wurde. Anlässlich des Jubiläumsjahres "750 Jahre Kitzbühel" wurden viele Ideen für Feierlichkeiten, Veranstaltungen, Kunst – und Kulturprojekte gesammelt.
Auch wenn ein großer Teil der Programmpunkte in Zeiten wie diesen nicht umgesetzt werden konnten wurden doch einige der geplanten Programmpunkte angepasst und in Form nachhaltiger Projekte das ganze Jahr über realisiert.
Als Ort für die Projektion wurde das älteste Gebäude der Stadt gewählt. Die 37m breite und 12m hohe Fassade – ein Teil davon wurde vor über 750 Jahren schon als Getreidespeicher und Außenbefestigung der Stadt genutzt, beinhaltet heute das Städtische Museum und die lokalen Behörden. Direkt angrenzend ist der städtische Park, dieser bietet viel Platz für Zuseher und wurde schon im November für die Dauer der Weihnachtszeit durch die Künstler von MK Illumination in einen durch Lichterlebnisse geschaffenen Ort der Magie verwandelt. Tausende präzise verteilte Lichter und eigens gebaute Lichtkugeln an den Bäumen schafften somit eine dem Anlass entsprechend festliche Atmosphäre.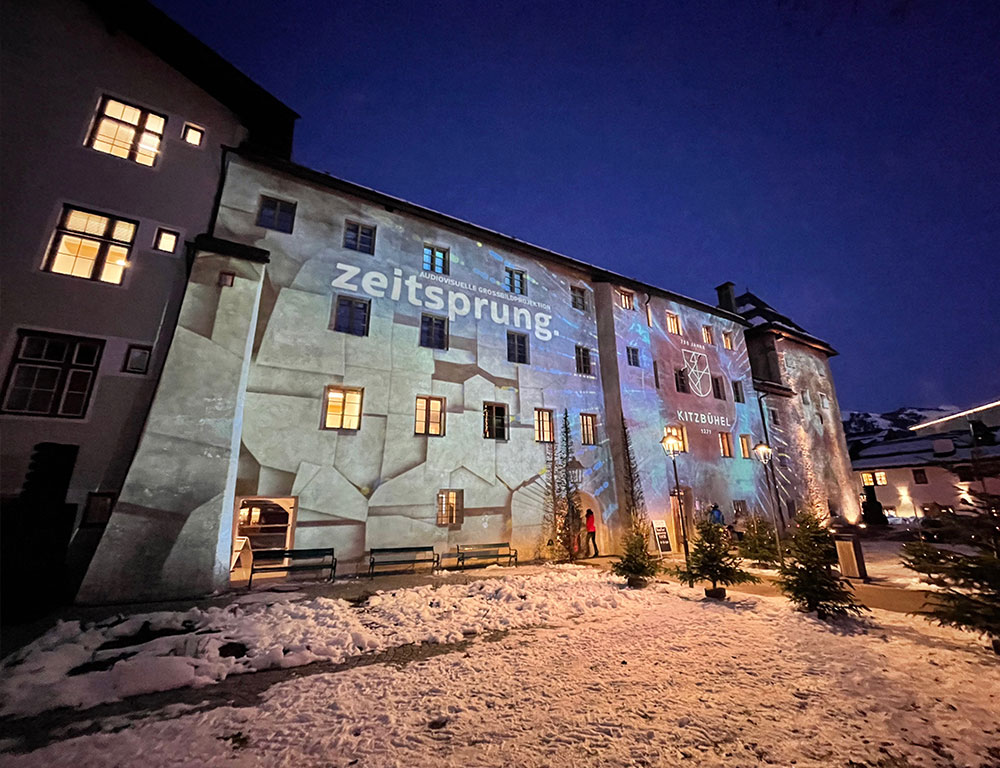 Die letzten 2 Wochen des Jahres 2021 war es dann so weit: die Mappingshow, welche eigentlich schon für Anfang des Jahres durch Videokünstler Johannes Menneweger und sein Team MODULUX produziert wurde, konnte nach mehrmaligen Verschiebungen aufgrund der immer wieder schwierigen Covid Situation endlich stattfinden und wurde somit zum abschließendem Highlight des Jubiläumsjahres der Stadt Kitzbühel
Horst Söllner, der technische Projektleiter und Geschäftsführer von FRAMEDROP MEDIA kam 2017 erstmalig mit dem Vertriebspartner ETHA International GmbH und somit Projektoren von Digital Projection in Kontakt und ist seit dem von der Zuverlässigkeit und dem außerordentlichen Preis/Leistungsverhältnis, insbesondere im Hochleistungsbereich für Großbildprojektionen überzeugt.
Die größte Herausforderung für die Umsetzung war die schwierige Situation der Positionierung. Von der zu bespielenden Fassade Richtung Park / Zuseherraum gab es nur 16m ungehinderte Sicht und zusätzlich mehrere Feuerwehrzufahrten zur Stadt was eine Weitwinkelprojektion mit fixen 0,7er Optiken erforderlich machte. Hierbei musste die Entfernung exakt berechnet werden, um später keine Pixel bzw. Helligkeit zu verlieren, oder gegenteilig die Fassade nicht ausfüllen zu können. Als Unterstützung für eine solch genau Planung eignete sich das kostenlose Lens Calculator Tool von Digital Projection hervorragend. Die Wahl der Projektoren fiel eindeutig auf TITAN, mit den 37.000 Ansilumen und der robusten Bauweise reichten schon 2 Geräte aus um die erforderliche Helligkeit auf das alte Mauerwerk zu bringen und die Verlässlichkeit zu garantieren, auch im Outdoorbereich fehlerfrei 2 Wochen zu funktionieren.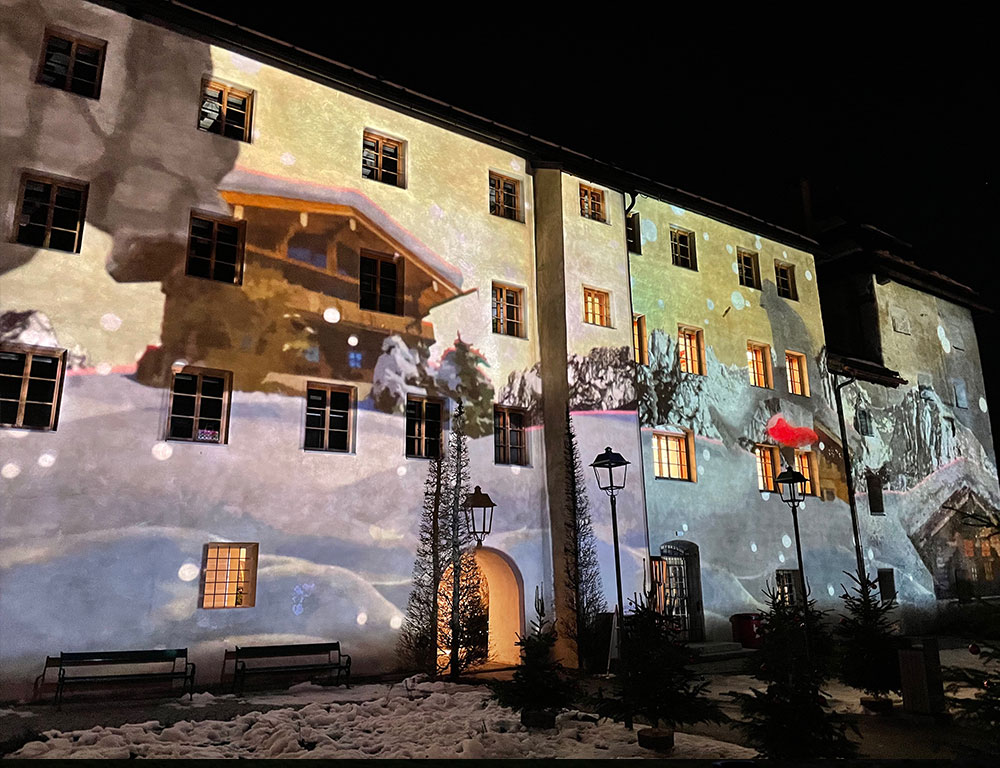 Die beiden TITAN wurden jeweils in einen Layher Tower verbaut, dieser wurde doppelt Wasserdicht bespannt und im vorderen Bereich durch eine Glasscheibe verschlossen. Um den optischen Ansprüchen der Stadt gerecht zu werden wurde anschließend noch bedrucktes Brandingangebracht. Nach Einbau der Projektoren und je einer elektrischen Heizung sowie wireless  Feuchte- und Temparaturfühler zur Überwachung wurden die Projektoren bis nach Ende der Eventtage nicht mehr angefasst, sämtliche Einstellarbeiten und Fernsteuerbefehle liefen problemlos über die ebenso kostenlose Control App von Digital Projection was dem Team von FRAMEDROP MEDIA das Operating sehr stark vereinfachte.
Für die Bespielung verwendet FRAMEDROP MEDIA eigens zusammengestellte Resolume Server, da es sich nur um 2 HD Outputs handelte wurde pro Server 1x4k ausgegeben, über einen Analogway VIO4k wurden in weiterer Folge der Main- und Backupserver zusammengeführt und das  Signal via Quadsplit-Ausgangskarte als je 1 HD SDI auf die beiden Projektoren verteilt. Am Beginn jeder Show – welche drei mal pro Abend zu jeder vollen Stunde startete – erschien ein Countdown , gegen Ende wurden die Gebäudebeleuchtungen, die Lichtkunstinstallationen im Park und die Straßenlaternen via ART-NET über Relaiskarten automatisch deaktiviert, die technischen Umbauten hierzu wurden von FRAMEDORP MEDIA entwickelt. Die von Sounddesigner Matthias Jakisic eigens komponierte Musik und gezielt gesetzte Soundeffekte konnten über Focusrite DI Karten an das für perfekt funktionierenden Stereo Effekt breit aufgestellte L'Acoustics Kiva System ausgegeben werden und erzeugten einen eindrucksvolle akustische Untermalung der 13 minütigen Show.
Pro Abendveranstaltung konnten reduziert durch Covid Auflagen immerhin bis zu 400 Gäste die Shows sehen und die Erzählung der Kitzbüheler Stadtgeschichte auf eindrucksvolle Weise erleben.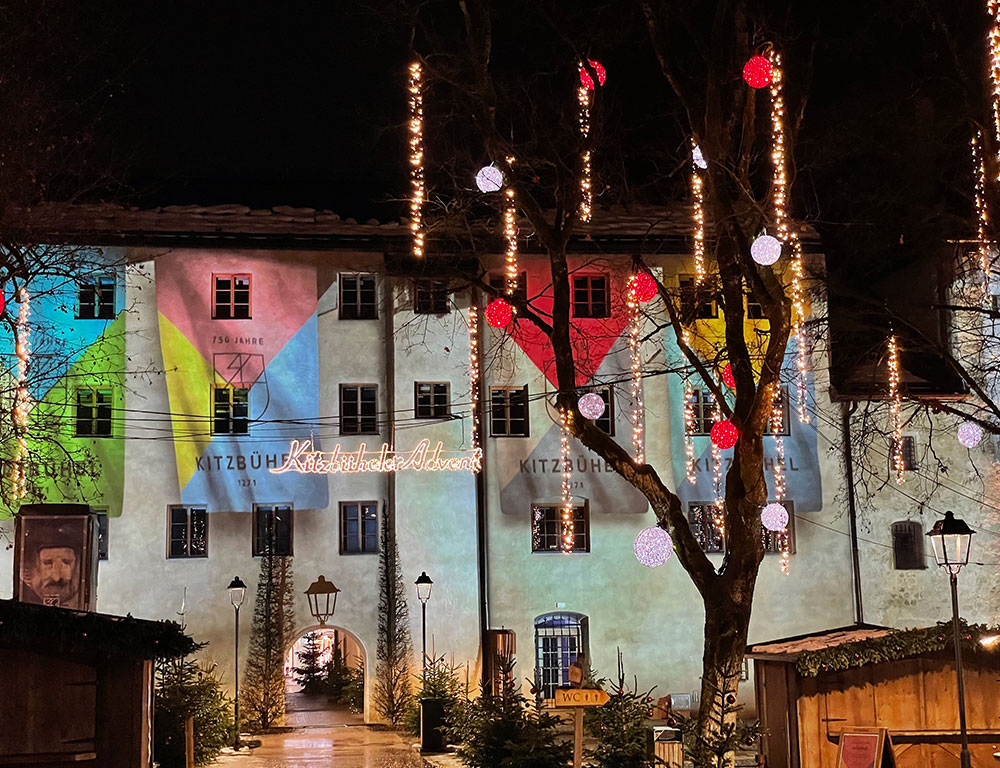 Product mentioned in this case study: TITAN Laser
20.000 Stunden Beleuchtung
TITAN Laser
The Titan Laser delivers up to 37,000 (WUXGA) or up to 31,000 (4K-UHD) Lumens from a relatively compact chassis, making it the ideal projector for the most demanding of large-venue applications. Where bright, pin sharp images are required there should be no compromise.
Mehr Infos