Titan Laser Projectors illuminate The Kunstareal
Fin 2020, la ville de Munich a souhaité organiser un spectacle de mapping vidéo pour la soirée du nouvel an, mais en raison des restrictions liées au coronavirus, les plans ont dû changer. La ville a décidé qu'une installation semi-permanente serait plus appropriée, afin de permettre au plus grand nombre de personnes de voir le spectacle dans le temps tout en maintenant une distance sociale adéquate. Le choix s'est porté sur le Kunstareal, un quartier culturel du centre-ville de Munich qui abrite de nombreux musées, institutions et universités.
WE ARE VIDEO est une agence spécialisée dans les arts visuels, dirigée par trois artistes : Betty Mü, Raphael Kurig et Christian Gasteiger. Betty Mü et ses collègues ont remporté l'appel d'offre lancé par la ville sur le thème « The Kunstareal Connects ». La société, forte de sa compétence dans le domaine de l'audiovisuel et de l'économie de l'expérience, associe art et technologies de pointe pour créer des événements qui éveillent l'intérêt, hypnotisent et fascinent le public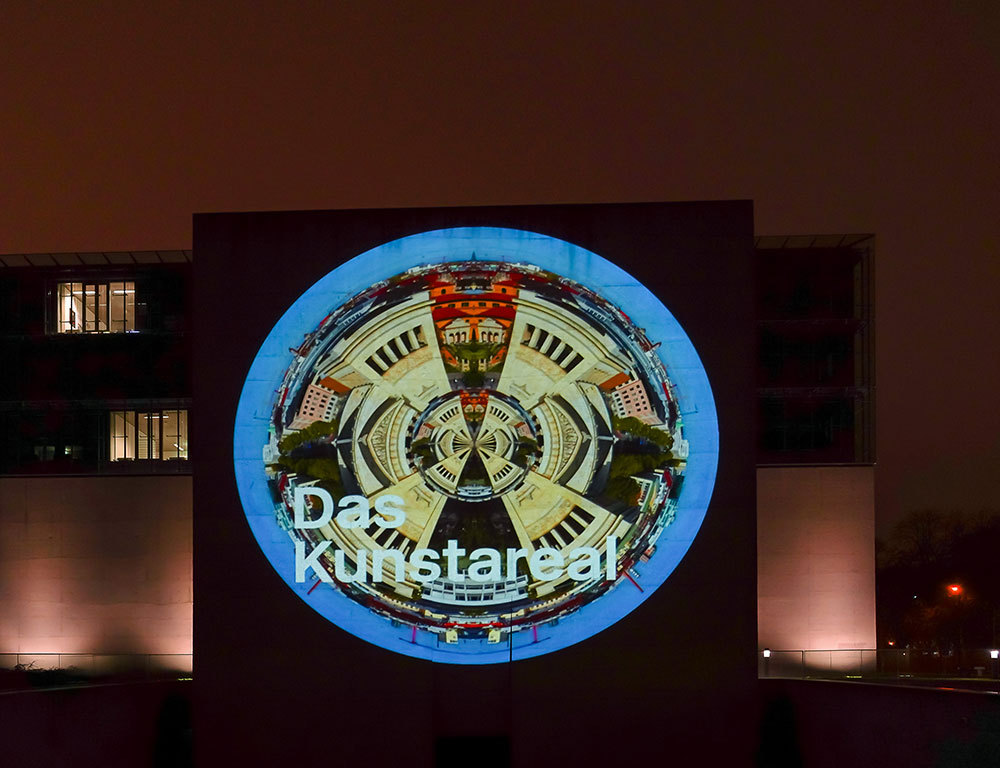 Compte tenu du grand nombre d'édifices, une chose était claire pour Raphael Kurig : « Pour cartographier sur une toile de cette taille, il nous fallait beaucoup de puissance. Les projecteurs Titan Laser se sont imposés comme la solution parfaite avec une puissance de 37 000 lumens et un design compact leur permettant d'être installés facilement. »
Avec un spectacle prévu chaque soir de 17h à 21h jusqu'au 14 février, les projecteurs devaient être fiables, la présence d'une équipe sur place quotidiennement n'étant pas envisageable.
L'agence WE ARE VIDEO s'est tournée vers Magic Event & Media Technology pour la réalisation de leur projet ainsi qu'ETHA International GmbH partenaire de Digital Projection, pour fournirles projecteurs. Florian Kroiss, chef de projet chez Magic Event & Media Technology apporte plus de détails sur l'installation : « nous avons utilisé trois projecteurs Titan Laser 37000 pour donner vie à ce concept. La largeur dune des images était de 25 m avec une distance de projection de 55 m, tandis que la seconde s'étendait sur deux fois 20 m de large, projetée à une distance de 78 m. »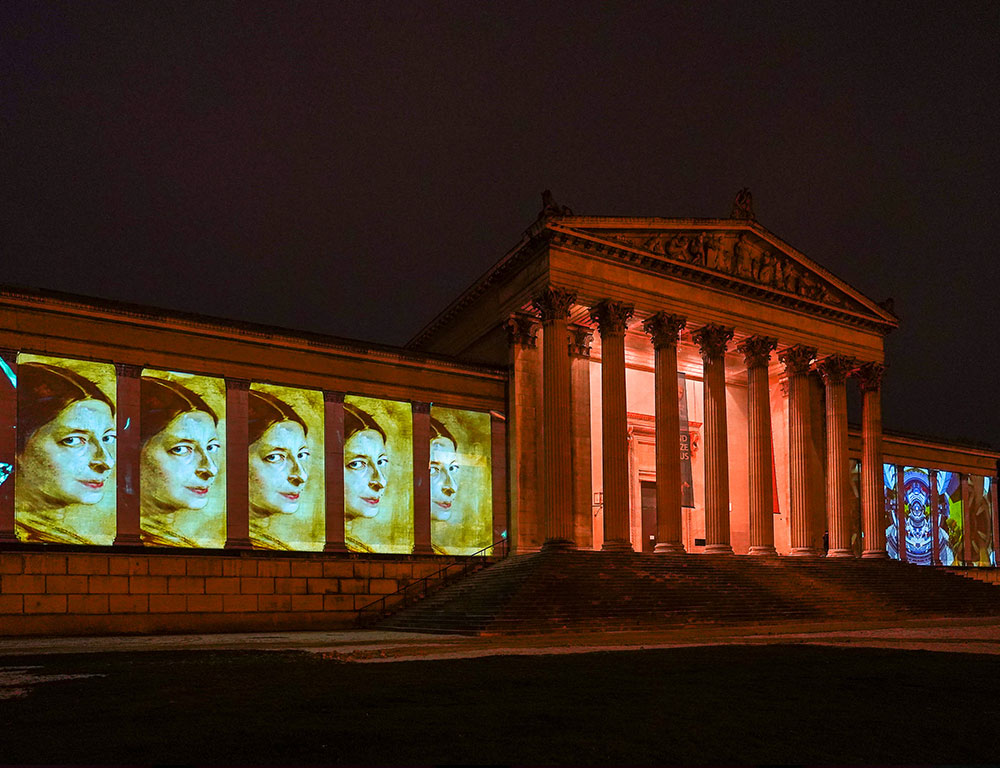 C'était la première fois que la société travaillait avec des projecteurs laser Titan et elle s'est déclarée particulièrement impressionnée par leur faible taille et poids par rapport à leur capacité lumineuse aussi élevée. Florian Kroiss ajoute ce commentaire élogieux : « Le rapport prix-performance est tout simplement imbattable dans cette catégorie. »
La distribution du contenu vers les projecteurs était assuré par des serveurs médias personnalisés, équipés de cartes graphiques Quadro RTX 4000 et entièrement contrôlés à distance via Internet. Ce système était couplé au logiciel flexible « Projector Control » de Digital Projection  qui permettait à l'ensemble des projecteurs d'être gérés et surveillés à partir d'un point central.  Le logiciel MadMapper de Garage Cube a également été utilisé et les postes de travail ont été configurés pour redémarrer toutes les 24 heures, garantissant ainsi chaque jour le bon déroulement du spectacle.
Dirk Siedle, responsable ventes et marketing de Digital Projection pour la région EMEA, a ajouté : « nous travaillons avec Thorsten et l'équipe d'ETHA International depuis de nombreuses années et nous sommes toujours ravis lorsqu'ils demandent nos projecteurs pour un événement. Nous savons qu'ils vont être utilisés pour quelque chose de spectaculaire et ce mapping n'a pas fait exception. »
La diffusion de l'événement sur une période prolongée a permis au plus grand nombre possible de personnes de profiter de l'expérience, attirant même l'attention de la chaîne de télévision nationale allemande ARD, laquelle a couvert chaque jour le spectacle, apportant ainsi une touche réjouissante aux fêtes de fin d'année par rapport à une actualité bien morne en cette période difficile.
Photos © Sara Kurig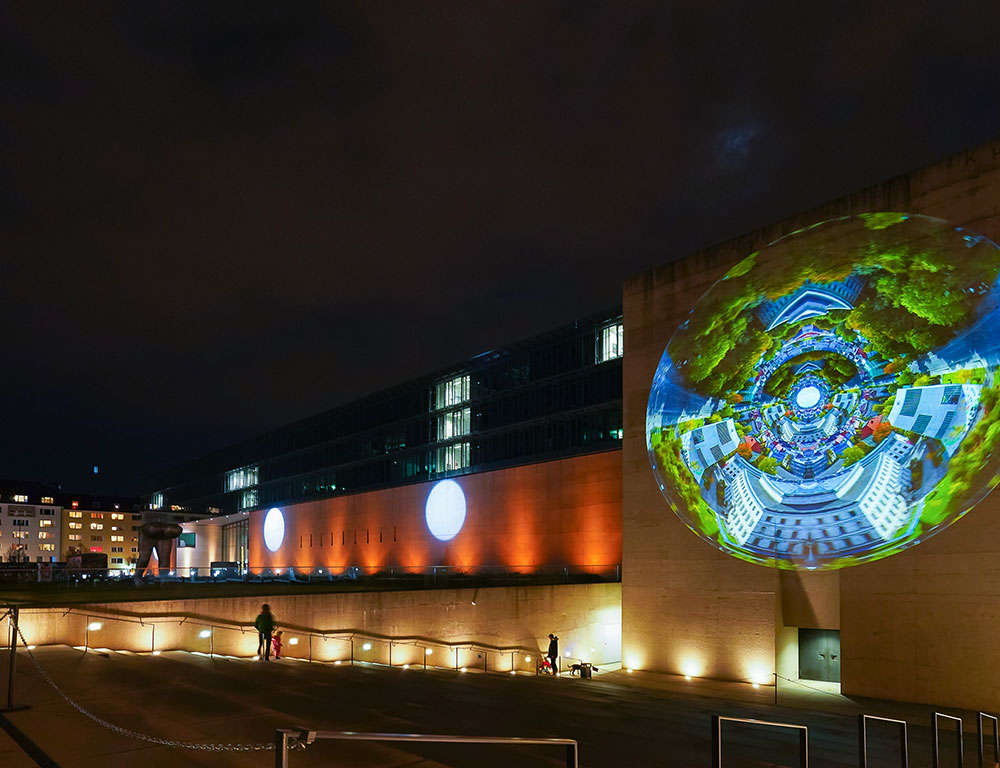 Projecteur: TITAN Laser
Contraste dynamic de 18,000:1
20 000 heures de projection
TITAN Laser
The Titan Laser delivers up to 37,000 (WUXGA) or up to 31,000 (4K-UHD) Lumens from a relatively compact chassis, making it the ideal projector for the most demanding of large-venue applications. Where bright, pin sharp images are required there should be no compromise.
Plus d'infos