Titan Laser Projektoren beleuchten Das Kunstareal
Ende 2020 hatte die Stadt München eine Projektionsmapping-Show für Silvester geplant, doch wegen der  Coronavirus-Beschränkungen mussten die Pläne umdisponiert werden. So hielt man eine über mehrere Wochen laufende Installation anstatt dessen für geeigneter, denn auf diese Weise konnten möglichst viele Menschen die Attraktion sehen, während auch die Abstandsregeln angemessen eingehalten werden konnten. Der gewählte Standort war das Kunstareal, ein Museumsviertel in der Münchner Innenstadt, wo zahlreiche kulturelle Einrichtungen, Universitäten und Museen ansässig sind.
WE ARE VIDEO ist eine Agentur für visuelle Kunst, die von drei Künstlern geführt wird: Betty Mü, Raphael Kurig und Christian Gasteiger. Betty Mü hatte sich zusammen mit ihren Kollegen an einer Ausschreibung beteiligt und war mit dem Konzept "Das Kunstareal verbindet" als Siegerin hervorgegangen. Mit langjähriger Erfahrung auf dem Gebiet des Audio-Visuellen und der Erlebniswirtschaft verbindet das Unternehmen Kunst mit der neuesten Technologie, um Erlebnisse zu kreieren, die die Zuschauer erstaunen, faszinieren und bezaubern.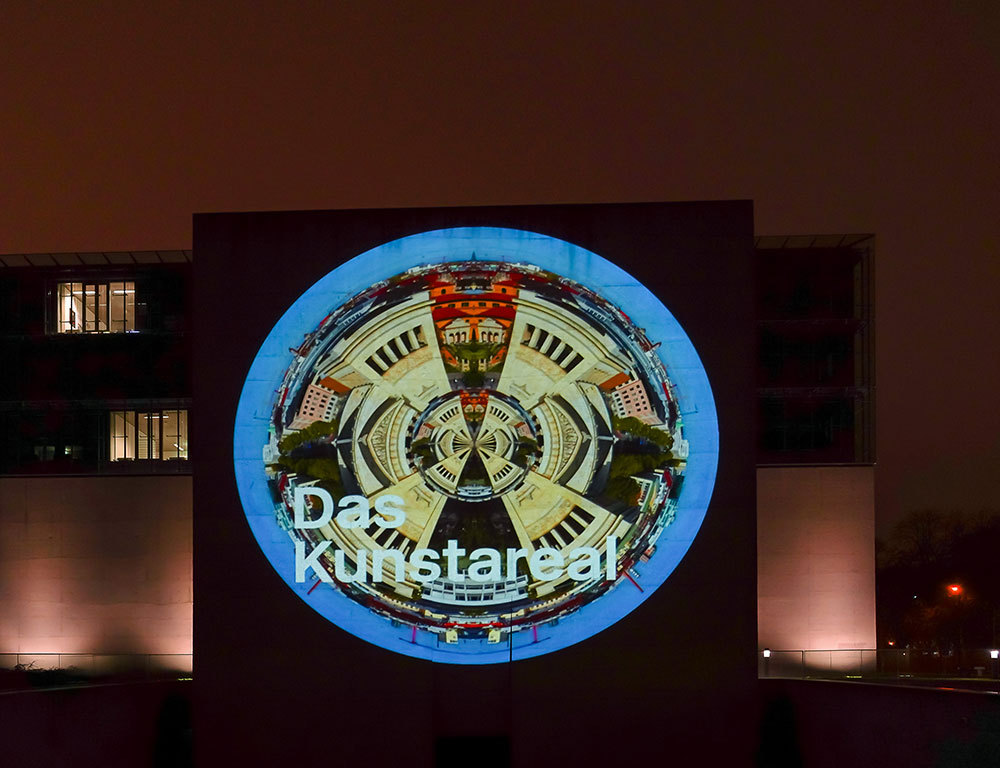 In Anbetracht der riesigen Fläche der Gebäude war eines klar: "Für ein Projektionsmapping auf einer Leinwand von dieser Größe benötigten wir eine außerordentliche Leistung" erklärte Kurig und fuhr fort, "die Titan-Laserprojektoren waren die perfekte Wahl, denn sie bieten 37.000 Lumen und sind kompakt genug, um einfach installiert zu werden"
Die Show lief bis 14. Februar jeden Abend von 17.00 Uhr bis 21.00 Uhr. Daher war ein bewährter, zuverlässiger Projektor erforderlich, denn es würde keine Crew täglich vor Ort verfügbar sein.
WE ARE VIDEO beauftragte Magic Event & Media Technology zur Unterstützung bei der Umsetzung seiner Vision, und die ETHA International GmbH, einen Partner von Digital Projection, für die tatsächliche Bereitstellung der Projektoren. Florian Kroiss, Projektleiter bei Magic Event & Media Technology, berichtete ausführlicher über die Installation: "Wir haben drei TITAN-Laserprojektoren mit jeweils 37.000 Lumen eingesetzt, um das Projekt zu realisieren. Eine der Projektionen hatte eine Breite von 25 m; das Bild wurde aus einer Entfernung von 55 m projiziert; die zweite Projektion hatte eine Breite von 2x 20 m und sie wurde aus einer Entfernung von 78 m projiziert."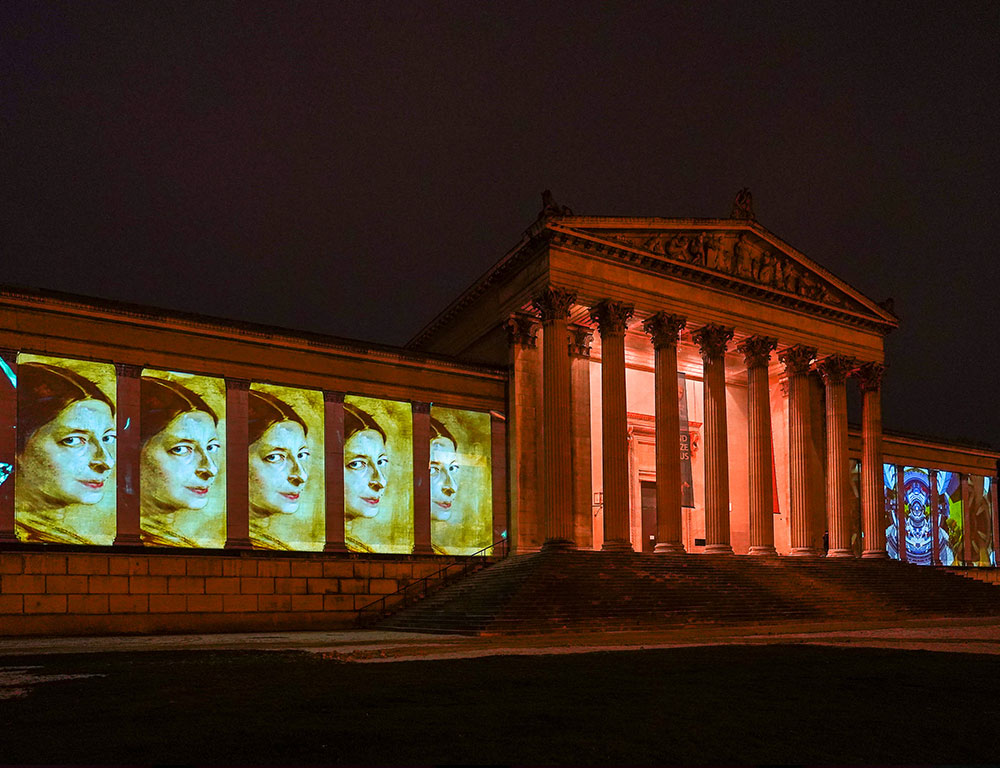 This was the first time that the company had used the TITAN Laser projectors, and commented they were particularly impressed by the low weight and size for such a high brightness output. Continuing their glowing report, he added "The price-performance ratio is just unbeatable in its class"
Bei dieser Kunst-Installation hatte das Unternehmen die TITAN-Laserprojektoren erstmals eingesetzt, und es sei ganz besonders von dem leichten Gewicht und der kompakten Größe der Projektoren für eine solche Lichtleistung beeindruckt gewesen. Kroiss setzte seinen glänzenden Bericht weiter mit dem Kommentar fort: "Das Preis-/Leistungsverhältnis ist in seiner Klasse einfach unschlagbar!"
Die Inhalte wurden aus speziellen Medienservern mit Grafikkarten des Typs RTX 4000 Quadro, die per Internet voll ferngesteuert werden konnten, in die Projektoren eingespeist. Die flexible "Projector Control"-Software von Digital Projection bildete eine ausgezeichnete Ergänzung, denn diese ermöglichte das Management und die Überwachung aller Projektoren von einem zentralen Standort aus. Auf ihnen lief auch MadMapper von Garage Cube, und die Arbeitsstationen wurden so eingestellt, dass sie alle 24 Stunden wieder neu starten würden. Auf diese Weise wurde gewährleistet, dass die Show problemlos täglich laufen würde.
Dirk Siedle, Leiter Vertrieb und Marketing für EMEA bei Digital Projection, fügte hinzu: "Wir arbeiten bereits seit Jahren mit Thorsten und dem Team von ETHA International zusammen, und wir sind immer gespannt, wenn sie unsere Projektoren bei einem Ereignis einsetzen. Wir wissen, dass sie für etwas Spektakuläres verwendet werden, und diese Mapping-Show war keine Ausnahme!"
Dadurch, dass die Show über einen längeren Zeitraum lief, wurde gewährleistet, dass möglichst viele Zuschauer das Erlebnis genießen konnten, und sie zog sogar die Aufmerksamkeit des Fernsehsenders ARD auf sich, der die tägliche Show in seine Berichterstattung aufnahm – was übrigens die einzige positive Nachricht in diesen Abendnachrichten war!
Photos © Sara Kurig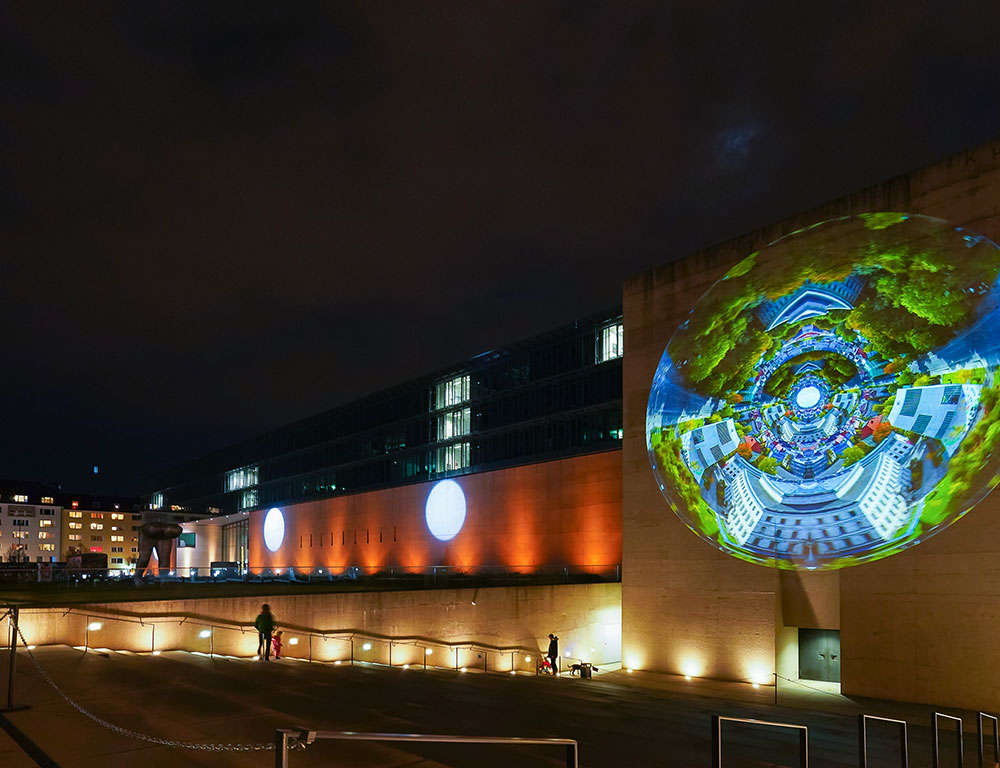 Product mentioned in this case study: TITAN Laser
20.000 Stunden Beleuchtung
TITAN Laser
The Titan Laser delivers up to 37,000 (WUXGA) or up to 31,000 (4K-UHD) Lumens from a relatively compact chassis, making it the ideal projector for the most demanding of large-venue applications. Where bright, pin sharp images are required there should be no compromise.
Mehr Infos