Digital Projection lässt Londons Mail Rail-Vermächtnis im Postmuseum lebendig werden
Für über 75 Jahre stellte Londons U-Bahn für Postbeförderung – Mail Rail – einen zentralen, uneinsehbaren Bestandteil des Kommunikationsnetzwerks Großbritanniens dar. Mittlerweile wurde Mail Rail dank des preisgekrönten Projektionssystems aus dem Hause Digital Projection zu einer außergewöhnlichen und einzigartigen Besucherattraktion umgestaltet, die diesen bedeutenden Teil britischer Geschichte bewahrt und ihn im Rahmen einer mitreißenden, innovativen sowie eindrucksvollen Ausstellung nachfolgenden Generationen zugänglich macht.
Als Mail Rail im Jahr 2003 ihren Betrieb aufgrund von Postfilialschließungen sowie günstigerer Straßenbeförderung einstellte, hielten eine Hand voll Ingenieure das Netz fortlaufend in Schuss, für den Fall, dass es jemals wieder benötigt werden würde. Im Jahr 2015 hat das Postmuseum, von der Vision eines außergewöhnlichen Vermächtnisses geleitet, ein Teil des Streckennetzes übernommen, mit dem Ziel, Rail Mail in ein besonderes Museum umzuwandeln, das den Besucher auf eine Zeitreise mitnimmt.
Die Attraktion, Londons erste Museumsneueröffnung seit einem Jahrzehnt, öffnete im September 2017 seine Tore für die Öffentlichkeit und konnte allein im Oktober 2017 15.500 Besucher verzeichnen. Besucher können eine Miniatur-Eisenbahn besteigen, die sie in den ehemaligen, für Wartungszwecke verwendeten Betriebsbahnhof hinunter transportiert, Tropfsteintunnel durchquert und sie nach einem 20 Minuten dauernden audiovisuellen Spektakel wieder am Startpunkt absetzt – ermöglicht durch die preisgekrönte Projektionstechnik aus dem Hause Digital Projection.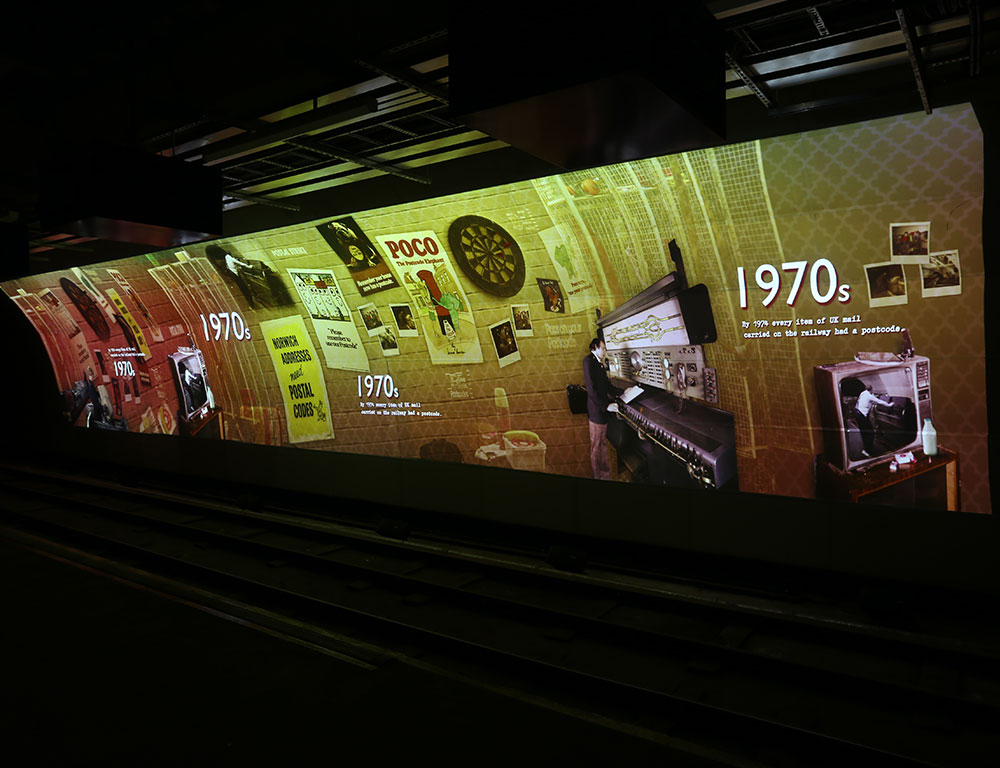 Die Zusammenarbeit mit Digital Projection ist auf AV-Integrationsspezialist, DJ Willrich (DJW) zurückzuführen, der mit den AV-Hardware-Anforderungen für die Installation betraut war. In der anfänglichen Planungsphase legte DJW, die Durchführung von Projektionstests fest, um sicherzugehen, dass das Konzept den Anforderungen einer sämtliche Sinne ansprechenden, fesselnden sowie informativen Besuchererfahrung gerecht wird. Josh Miller, Projektleiter bei DJW erklärt: "Aufgrund der besonderen Eigenschaften dieser Attraktion kam der Minimierung von Wartungsarbeiten bei der Auswahl des Laserprojektionssystems eine wesentliche Rolle zu. In dieser frühen Phase luden wir Digital Projection dazu ein, uns seine Bandreite an Laserprojektoren vorzustellen und nach einigen erfolgreich absolvierten Tests stellte sich der E-Vision Laser 8500hinsichtlich Bildqualität, Helligkeitsstufen, Langlebigkeit sowie Preis-Leistungs-Verhältnis als ideale Lösung für die Anforderungen dieses Projekts heraus."
Mit dieser visuellen Zeitreise zurück in die Vergangenheit, hindurch durch die ursprünglichen Tunnel und vorbei an den alten Bahnsteigen, führt Mail Rail seine Besucher tief unter die Sortierstelle Mount Pleasent der Royal Mail, um die original erhaltenen, weitestgehend unveränderten Bahnsteige zu entdecken. Vor dem Besteigen des Zuges wird dem Besucher anhand eines 4-m-breiten Projektionsfilms – erzeugt von einem Digital Projection E-Version Laser 8500 Projektor – die Geschichte der Mail Rail näher gebracht. Die 240 m² große Freifläche wird außerdem als Veranstaltungsort für Unternehmensveranstaltungen genutzt, wobei der Projektor bei solchen Anlässen bedarfsweise an zusätzliche Quellen angeschlossen werden kann.
Im Anschluss besteigen die Besucher den Zug und begeben sich auf eine 15-minütige Fahrt durch die Tunnel inkl. Bordkommentaren zur Geschichte der Mail Rail, während sie hinunter zum ersten Bahnsteig gebracht werden, der Sie in die Glanzzeit dieses U-Bahn-Netzes zurückversetzt. Durch die Mischung von Archivmaterial, animierten Grafiken sowie einer charakteristischen Voice-Performance zur Schaffung eines wahrlich fesselnden Reiseerlebnisses, erfasst diese 18-m-Projektion nicht nur den besonderen Ort sowie das unvergleichliche Wesen dieser Mail Rail, sondern auch deren einzigartige Geschichte. Die Projektion besticht durch eine 7.000 x 1.200-Auflösung sowie ein verzerrtes, vermischtes Bild, greift auf ein 7th Sense Delta Infinity Server zurück und wird von fünf Digital Projection E-Version Laser 8500 Projektoren generiert.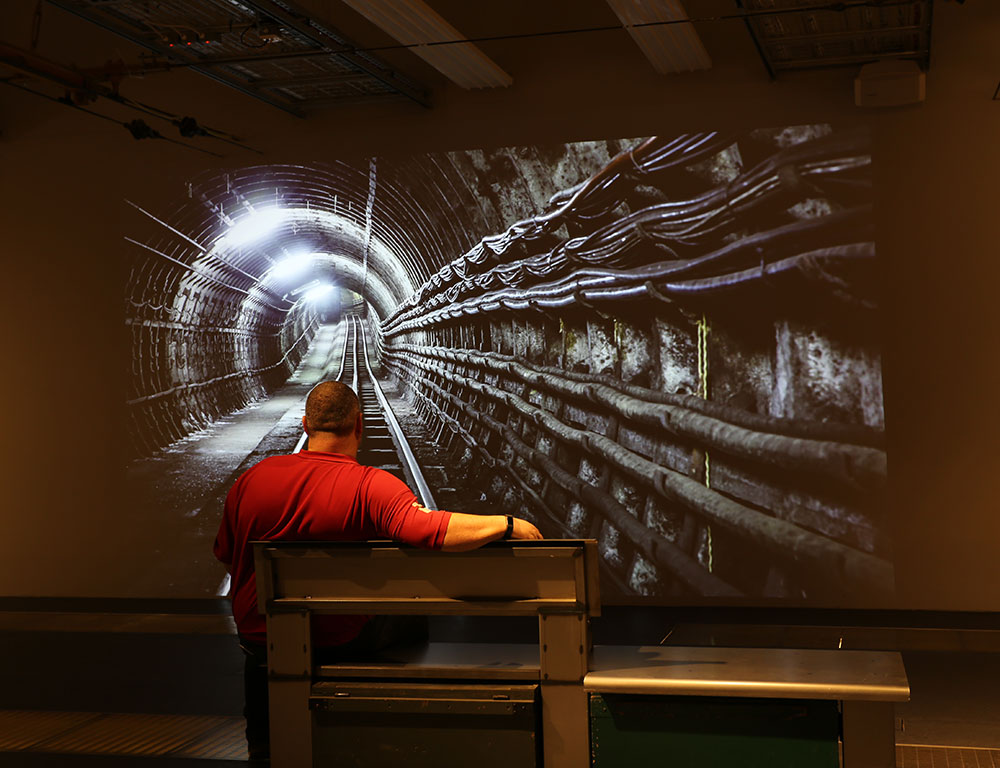 Weiter geht es für die Besucher bei dieser Zeitreise im Untergrund zu einem zweiten Bahnsteig, der über die Reise dreier Briefe im London der 1930er Jahre informiert. Die 22-m-Projektion in Lebensgröße besticht durch eine 8.920 x 1.200-Auflösung sowie ein verzerrtes, vermischtes Bild, greift auf ein 7th Sense Delta Infinity Server zurück und wird in diesem Fall von sieben Digital Projection E-Version Laser 8500 Projektoren generiert.
Mark Wadsworth von Digital Projection merkt an: "Zusätzlich zur herausragenden Bildqualität, Performance und Zuverlässigkeit bietet die Wahl von Halbleiter-Laserprojektoren, wie dem E-Version Laserprojektor 8500, dem Kunden entscheidende Vorteile. Der Dominoeffekt von durch Wartungsarbeiten verursachten Stillstandzeiten am Ort einer Attraktion wie dieser kann gewaltig sein, da jedoch der Austausch von Lampen sowie das damit einhergehende Nachrichten der Projektoren bei unseren Geräten weg fällt, bieten diese eine insgesamt passendere und zugleich nachhaltigere Lösung. Zudem stellen der geringere Stromverbrauch sowie die reduzierte Wärmeentwicklung dieser Lasereinheiten wichtige Eigenschaften für eine belebte Touristenattraktion wie diese dar, abgesehen vom positiven Effekt, den sie auf die Umwelt haben."
Die Installation verlief aufgrund der Arbeit im Untergrund nicht komplett reibungslos und ohne Herausforderungen – die Arbeitsumgebung machte besonders robuste Systeme erforderlich. Da die Ausrüstung stets eventuellen Gefahren durch Staub, Luftfeuchtigkeit sowie Temperaturschwankungen ausgesetzt war, mussten diesen Bedingungen entsprechend maßgefertigte Gehäuseeinheiten von VizBox entwickelt werden, um den Gefahren entgegenzuwirken, wobei sich die Vorerfahrung seitens Digital Projection mit Projektorgehäusen für die London Underground während der Planungsphase als äußerst hilfreich erwies.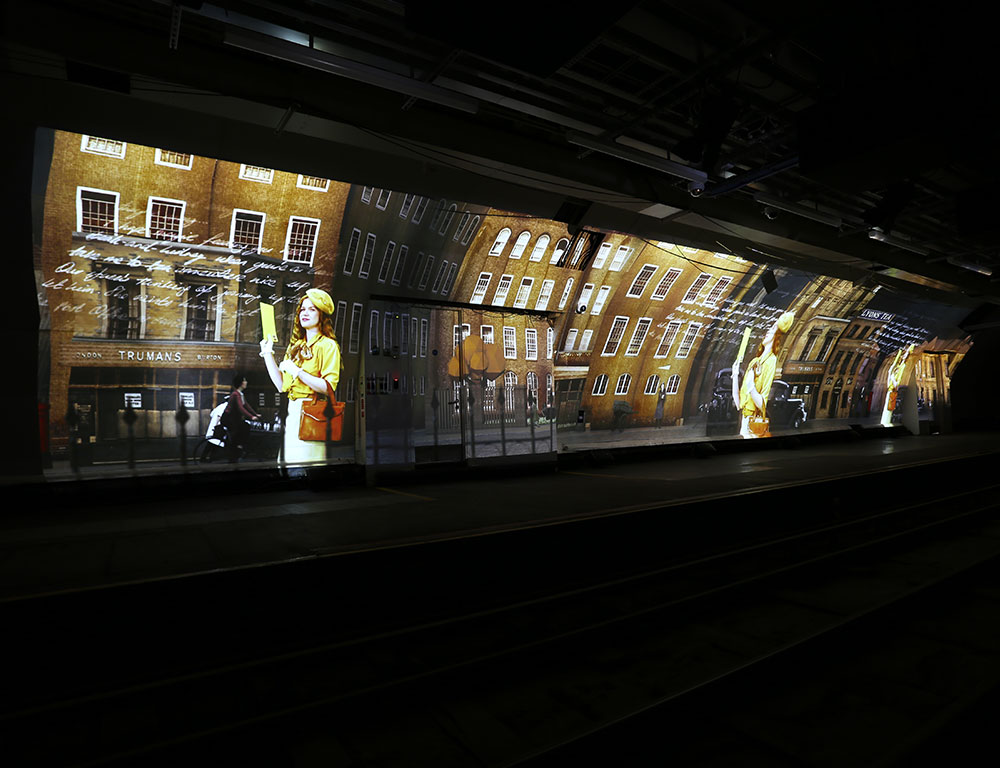 Emma Harper, Ausstellungsleiterin im Postmuseum, erläutert, in wie weit die Produkte aus dem Hause Digital Projection zur einzigartigen Rail Mail-Erfahrung beigetragen haben: "Die AV-Hardware war erfolgsentscheidend für dieses Projekt, da sie das Grundgerüst der gesamten Ausstellung sowie des Fahrerlebnisses lieferte. Unser Hauptbestreben lag in der Schaffung einer Verbindung zwischen den Menschen mithilfe der sich stetig weiterentwickelnden Geschichte der Kommunikation von der Vergangenheit bis in die Gegenwart, um zu zeigen, dass das historische Erbe der Post auch heute noch für jedermann von Interesse und Relevanz ist. Die Mail Rail-Bahnsteige wieder zum Leben zu erwecken spielte hierbei eine wichtige Rolle, insbesondere deswegen, da die Zahl erhaltener Artefakte des früher als Betriebsbahnhof genutzten Geländes mittlerweile sehr begrenzt ist. Dank 3D Projektions-Mapping konnten wir diesen Wunsch jedoch realisieren.
"Ohne die herausragenden Produkte von Digital Projection, welche sämtliche Anforderungen erfüllten und uns bei der Überwindung einiger Herausforderungen hinsichtlich Umgebungsbedingungen unterstützten, hätten wir all dies nicht bewältigen können. Das Feedback von Seiten der Besucher war unglaublich, wobei viele den Stellenwert der zu dieser Erfahrung beitragenden innovativen Technik anerkannten."
Mark Wadsworth fasst zusammen: Wir sind begeistert, dass DJW im Rahmen des Mail Rail Projekts auf unsere E-Vision Laser 8500 Projektoren zurückgegriffen hat und wir Teil einer solch beeindruckenden Touristenattraktion sein durften, die ein so wichtiges Stück Geschichte zu neuem Leben erweckt. Dieses Projekt demonstriert auf eindrucksvolle Weise, in welch kreativer Form unsere innovative Technologie zum Einsatz kommen kann und dazu beiträgt, Geschichten zu erzählen, die andernfalls gänzlich in Vergessenheit geraten wären. Wir hoffen, dass in Zukunft noch zahlreiche Besucher dieses Museumserlebnis genießen werden."
Product mentioned in this case study: E-Vision Laser 8500
20,000 hours illumination
E-Vision Laser 8500
The E-Vision Laser 8500 Laser delivers a stunning 8,500 lumens from a stable solid-state light source, capable of producing over 20,000 hours of illumination. This single chip projector was developed with Fit and Forget' directive, ensuring it needs only minimal maintenance throughout the lifetime of the display.
Finde mehr heraus