IBM Watson Center erhält massives Radiance-LED-Upgrade
Technologieriese realisiert umfangreiche Modernisierung mit neuer Radiance LED-Videowand
Mit großen Markennamen ist ein hohes Ansehen assoziiert. Über viele Jahre entwickelt, bilden sie den Kern ihrer Markenidentität und helfen, die Werte des Unternehmens zu prägen. Als der Technologieriese IBM sein Hauptauditorium im Thomas J. Watson Research Center modernisieren wollte, benötigte er daher eine Lösung mit einer Qualität von Weltklasse und einer Leistung der Superlative.
IBM hat als eine der größten industriellen Forschungsorganisationen der Welt bahnbrechende wissenschaftliche Entwicklungen in einer Reihe von zukunftsweisenden Technologien, die die Welt verändern sollten, hervorgebracht. Das Unternehmen hatte den ersten Personal Computer entwickelt und die erste Festplatte gebaut; auch die Entwicklung der Magnetstreifen für Kreditkarten und der Praxis des Barcode-Scannens sind IMB zu verdanken; dieses sind nur einige Beispiele. Heute spielt das Unternehmen eine führende Rolle in der Forschung in Spitzentechnologiebereichen, wie künstlicher Intelligenz, Blockchain-Technologie und Quantenrechnung. Dies umfasst auch IBM Watson, die vom Unternehmen entwickelte Suite von einsatzbereiten Diensten, Anwendungen und Tools im Bereich der künstlichen Intelligenz.
Industriedesign von Weltklasse mit dynamischen LED-Anzeigelösungen
Ein führender Standort im Bereich dieser Innovationen ist das Thomas J. Watson Research Center, die Zentrale der Forschungsabteilung von IBM. Die in dem Zentrum tätigen Forscher müssen Ergebnisse oft in Sitzungen mit Führungskreisen und Sitzungen zur Förderung der Kundenbeziehungen präsentieren; diese Sitzungen finden in dem beeindruckenden Auditorium des Forschungszentrums mit 240 Sitzplätzen, das von dem neo-futuristischen Industriedesigner Eero Saarinen entworfen wurde, statt. IBM behandelt einige der komplexesten Probleme und Chancen mit Potenzial für die Zukunft auf der ganzen Welt. Daher benötigt das Unternehmen effektive und inspirierende Anzeigelösungen für die Präsentation, um die Bedeutung seiner Projekte wahrhaft zu unterstreichen. Dazu hat IBM sich für eine Radiance LED-Videowand von Digital Projection als Hauptanzeigewand entschieden.
Die perfekte Lösung für eine umfassende Modernisierung
Die bisher in dem Auditorium verwendete Anzeigetechnologie war ein Projektor der TITAN Pro-Serie von Digital Projection mit einer motorisierten Anzeigetafel. Der Kunde beabsichtigte im Rahmen der Modernisierung auch ein Upgrade zur Direktansicht-LED-Technologie, um einen helleren und dynamischeren Präsentationsbereich mit einer intensiveren Leuchtkraft der Farben zu schaffen, die nicht durch das Umgebungslicht beeinträchtigt würden; zudem sollte das neue System in der Lage sein, eine ultrahohe Auflösung von bis zu 8K Pixel zu liefern. Die modulare Radiance LED-Lösung ermöglichte IBM außerdem ein vollkommen nahtloses Bild über die gesamte Frontwand hinweg.
Um die gewünschte Auflösung zu erreichen und ein ausgezeichnetes Bilderlebnis von jedem Platz im Auditorium aus zu gewährleisten, wurde die Radiance LED-Lösung der Performance-Serie mit einem Pixelabstand von 1,2 mm gewählt. Da die Anzeigewand so konzipiert ist, dass sie komplett von vorne her gewartet werden kann und sie nur wenige Zoll Tiefe hat, erforderte das Radiance LED-System nur eine sehr geringfügige Veränderung der Wandinfrastruktur des Auditoriums. Die tatsächlichen LED-Anzeigetafeln passen perfekt in die Hohlräume der ursprünglichen Holzvertäfelungen.
Das Ergebnis ist eine dynamische und beeindruckende LED-Anzeigewand mit einer Größe von ca. 10,30 m Breite und knapp 5 m Höhe, die so installiert wurde, dass sie an eine architektonisch bedeutende gebogene Wand angepasst ist, denn dies war für das Erscheinungsbild des Auditoriums sehr wichtig. In Partnerschaft mit HB Communications lieferte Digital Projection die Design-Entwicklung und die Installation der gebogenen Wand und gewährleistete somit eine erfolgreiche Umsetzung der enormen Anzeigewand mit einer Auflösung von nahezu 8K.
Lorraine Herger, ehemalige Direktorin des Bereichs Forschung für Integrierte Lösungen (Integrated Solutions) bei IBM, kommentierte das Projekt wie folgt:
"Wir sind davon überzeugt, dass tiefgreifende, bahnbrechende Innovationen herbeigeführt werden, wenn Unternehmen, Regierungen, wissenschaftliche Einrichtungen und andere Akteure zusammenarbeiten, um sich unterschiedliche Perspektiven und Erkenntnisse zunutze zu machen. Unsere Vision war es, eine beeindruckende, 'atemberaubende' Bildqualität zu liefern, durch die unsere Präsentationen sich tiefer ins Gedächtnis des Publikums einprägen würden. Das Vollbild mit seiner enormen Größe (34'x16') ist erstaunlich lebensecht und beeindruckt das Publikum."
"Es war eine geniale Lösung erforderlich…"
In Zusammenarbeit mit HB Communications wurde ein neues Präsentations- und Produktionssystem der Spitzentechnologie entwickelt, um die Fine-Pitch-LED-Videowand zu ergänzen. Tim Hutton, Senior Account Executive bei HB Communications, beschreibt den Integrationsprozess als sehr tiefgreifend: "Wir haben einen Multilayer-Seamless-Switcher der Premium-Klasse von Analog Way, ein Routingsystem von Ross SDI, ein Verschlüsselungs-/Entschlüsselungssystem für audiovisuelle Netzwerke von Crestron NVX , Beamforming-Deckenmikrofone von Shure MXA910, eine Surround-Sound-Lautsprecheranlage von Meyer Sound und ein Kamerasystem des Typs HD PTZ von Panasonic, eingebaut, um nur einige der Komponenten zu nennen."
Was die Raumgestaltung selbst betrifft, fährt Hutton fort: "Eine der größten Herausforderungen bei diesem Projekt bestand darin, die Technologieanforderungen des Kunden zu erfüllen und die architektonische Integrität des Auditoriums gleichzeitig zu erhalten. Die Vorderwand des Auditoriums bestand aus einer Holzvertäfelung, die IBM erhalten wollte; daher war eine geniale Lösung erforderlich. So wurden mehrere Bilder in hoher Auflösung von der Vorderwand gemacht und zu einem Hintergrundbild zusammengefügt, das bei der Projektion auf die Radiance LED-Videowand eine perfekte Nachahmung der Holzvertäfelung war. Digital Projection war vom Anfang bis zum Ende des Projekts beteiligt. Die Teams der Technik- und Vertriebsabteilungen von Digital Projection arbeiteten nahtlos mit HB Communications und IBM am Design, an den strukturellen Anforderungen, der Installation sowie der Inbetriebnahme des Systems zusammen, um diese beeindruckende Installation zu realisieren."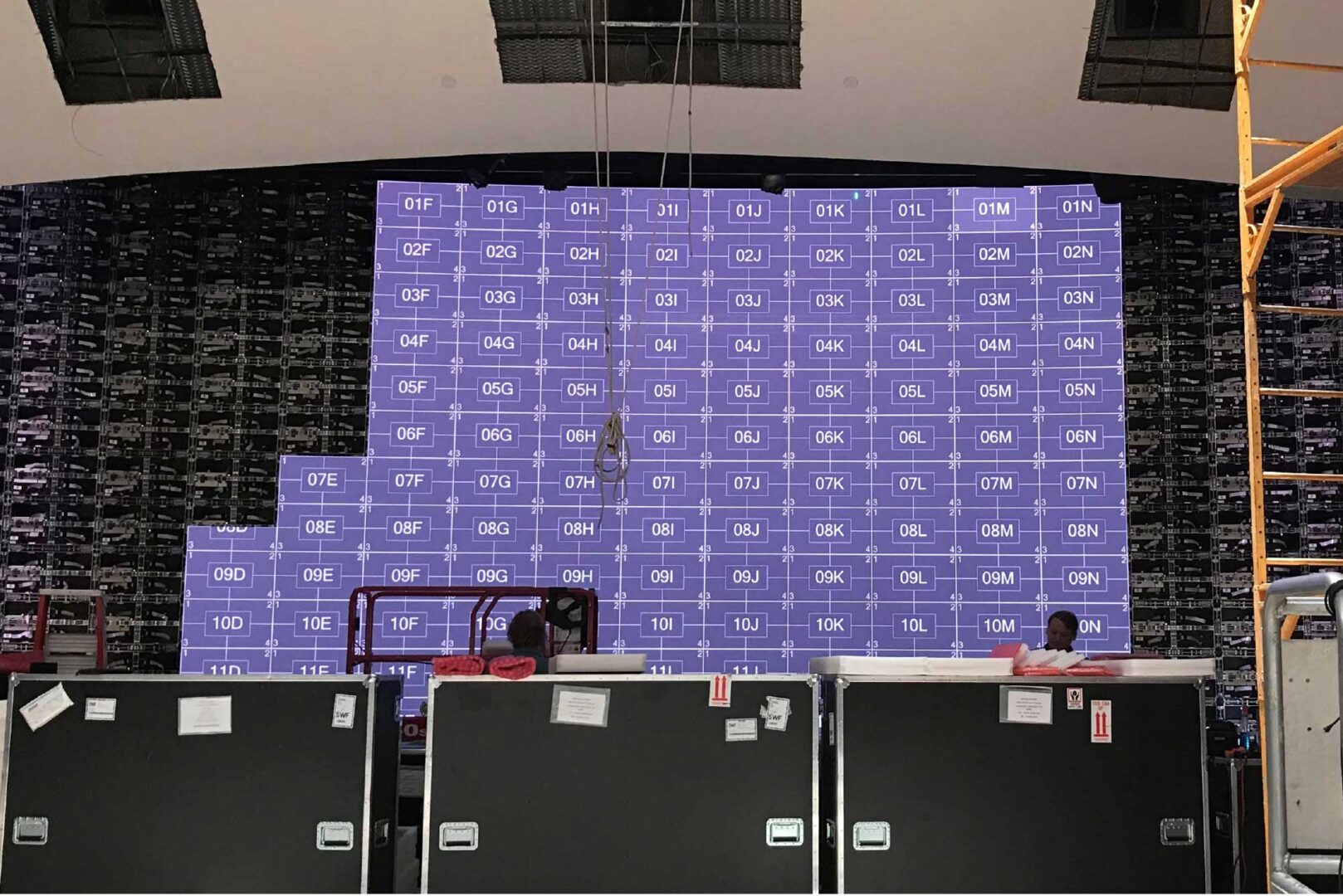 "Die Radiance LED-Wand hat unsere Vision zum Leben erweckt…"
Als die Installation fertig war, waren die Gäste und Mitarbeiter von IBM "vor Erstaunen sprachlos", wie Herger beschreibt. "Während unserer Einweihungsveranstaltung projezierten wir ein Bild von unserer ursprünglichen Wand in hoher Auflösung auf die LED-Wand, und unsere Gemeinschaft wusste gar nicht, dass die ursprüngliche Wand entfernt und durch ein Bild ersetzt worden war. Die Farben, die Leuchtkraft, die Klarheit und die Bildtiefe, die erreicht werden können, sind atemberaubend!" Herger fährt weiter fort, "Die Radiance LED-Wand hat unsere Vision mit einer Bildqualität, die unsere höchsten Erwartungen übertrifft, zum Leben erweckt!" Wir waren außerordentlich beeindruckt und sind sehr dankbar für das Niveau des Engagements und die Präzision, die das DPI-Montageteam gezeigt haben, um dieses fantastische LED-Erlebnis für uns zu realisieren."
"Digital Projection was engaged from project inception to completion." – Lorraine Herger, Former Director of Research Integrated Solutions at IBM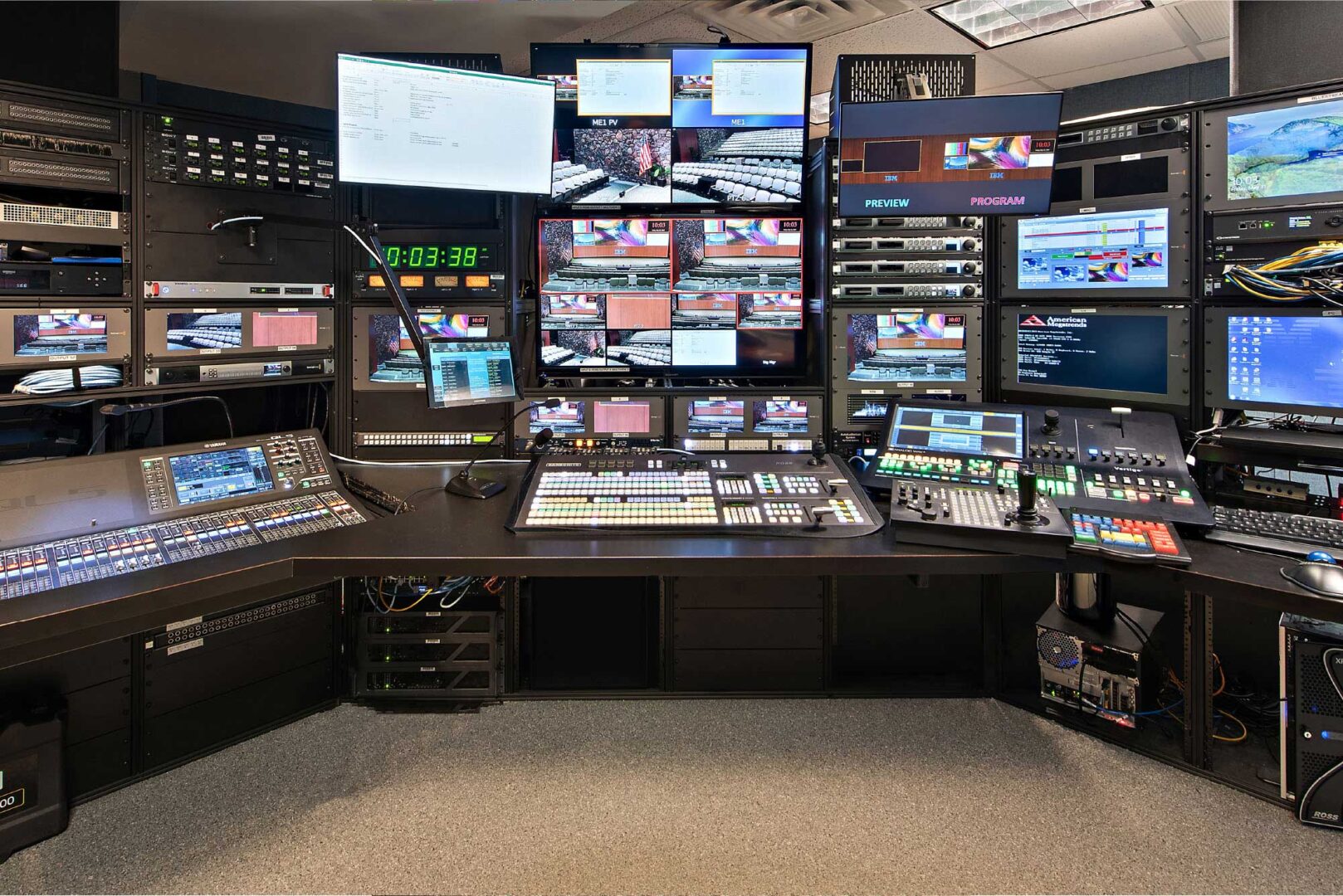 "The Radiance LED Wall Brought Our Vision to Life…"
When the installation was finished, IBM's guests and staff were "stunned", as Herger describes. "During our opening event, we displayed a high definition image of our original wall on the LED wall and our community did not know the original wall had been removed and replaced with an image. The colors, brightness, clarity, and depth of vision that can be achieved are amazing!" Herger goes on to say, "The Radiance LED wall brought our vision to life with image quality exceeding our highest expectations. We were extremely impressed and grateful with the level of dedication and meticulousness that the DPI installation team showed in order to provide us with this wonderful LED experience."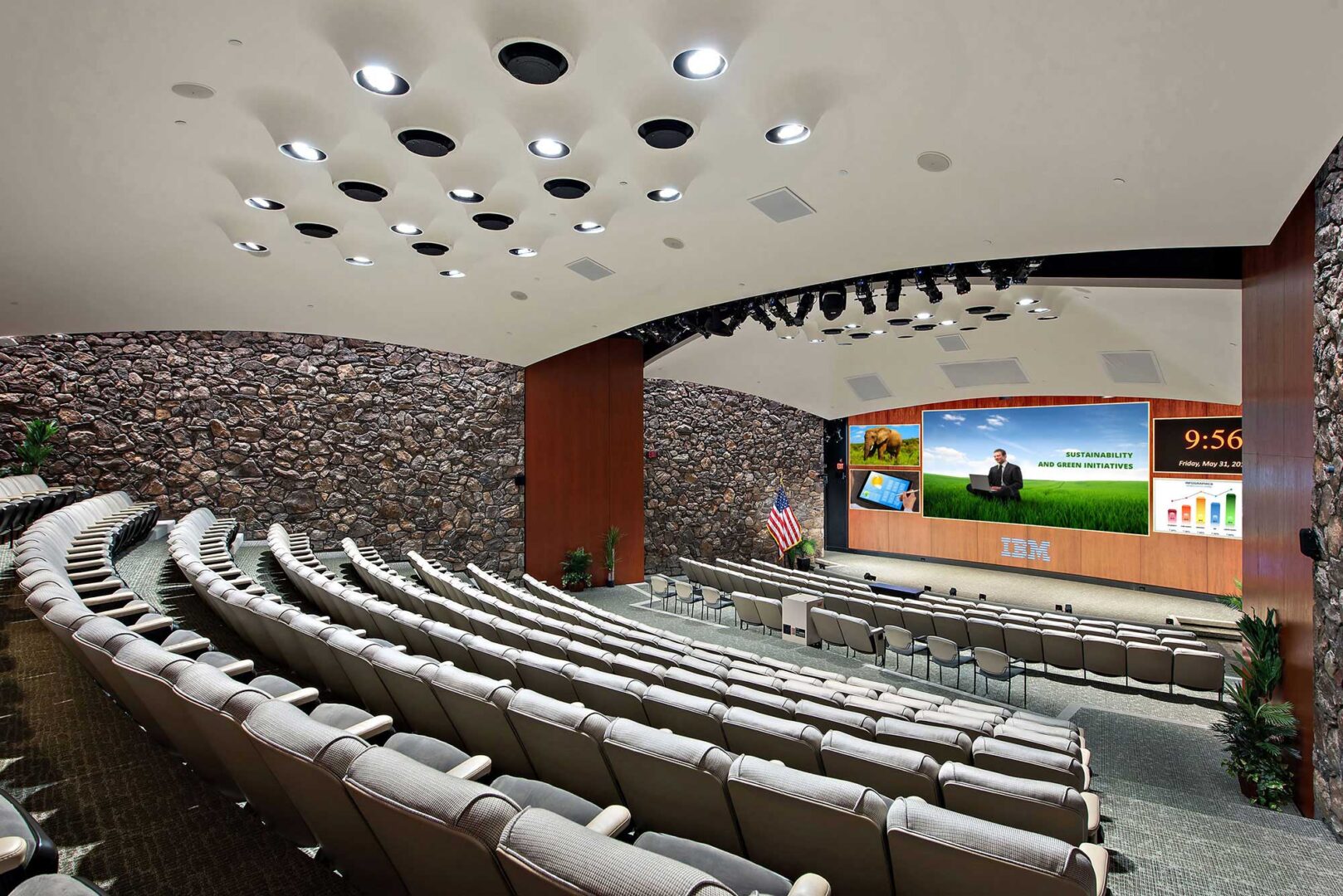 You can see more on IBM's Watson and the Thomas J. Watson Research Center at www.ibm.com/watson.
We would like to thank IBM for the use of images and content in this case study.
Radiance LED Performance Series
Peak LED Performance
Engineered to create the very best in direct-view LED user experiences, the Radiance LED Performance Series HDR delivers exceptional results for the most demanding projects. The Performance Series HDR features the highest-resolution pixel-densities (including Micro LED), broadest color gamut reproduction, and customization options for mission critical redundancy and stereoscopic 3D applications.
Finde mehr heraus
Key Features: Radiance LED Performance Series
Highest performance indoor solution
100% Front-installation and serviceability
Up to 1,500 nits brightness
Up to 100,000 hours LED lifetime
Countless integration options including flush-mount, ADA wall mount (3.75" depth), floor support, ceiling support
Widest viewing angles and color/contrast performance
Redundancy and 3D capable options available – Contact us for more information
Want to know more? Contact our team.
Looking for more information or guidance? Contact us.