Kontrollzentrum der Internationalen Raumstation
E-Vision-Laserprojektor von Digital Projection "hellster Stern" bei Ausschreibung für missionskritisches Kontrollzentrum der Internationalen Raumstation
Es gibt kaum kritischere Missionen als die Kontrolle der Internationalen Raumstation (ISS). Da die Projektoren im Columbus-Kontrollzentrum – welches für die Steuerung und Überwachung des europäischen Moduls der ISS zuständig ist – gegen Ende ihrer Lebensdauer zunehmend problematischer wurden, mussten vom Deutschen Zentrum für Luft- und Raumfahrt (DLR), dem deutschen Forschungszentrum für Luft- und Raumfahrt und der nationalen Raumfahrtbehörde, wesentliche Entscheidungen über die Nachfolge getroffen werden. Digital Projection übertraf die Konkurrenten bei der Ausschreibung, denn es war in der Lage, mit Laserprojektoren des Typs E-Vision Laser 8500 von Vier-Sterne-Qualität 'die besten technischen Eigenschaften zu dem Preis' anzubieten, mit einem Projektor als Standby-Gerät.
Der Projektor des Typs E-Vision Laser 8500 liefert eine außerordentliche Lichtleistung von 8.500 Lumen aus einer stabilen Solid-State-Lichtquelle. Das Solid-State-System bietet nicht nur eine außerordentlich helle Beleuchtungsquelle mit einer Lebensdauer von über 20.000 Stunden Beleuchtung; auch die regelmäßigen und kostenaufwendigen Lampenaustauschzyklen werden dank des Solid-State-Systems umgangen, sodass die Erfordernis für kritische Verfahren zum Austausch der Projektorlampen mit erheblichen Auszeiten wegfällt.
Durch diese wesentliche Betriebseigenschaft für kontinuierliche Laufzeit wird in Verbindung mit der für den E-Vision Laser 8500-Projektor (mit einem Chip) entwickelten 'Fit and Forget'-Richtlinie gewährleistet, dass während der gesamten Lebensdauer der Projektion nur eine minimale Wartung erforderlich ist. Der E-Vision Laser 8500 von Digital Projection ist perfekt für ein breites Spektrum professioneller Anwendungen geeignet – einschließlich solcher, bei denen die Projektoren alle Tage rund um die Uhr ohne Unterbrechung unter Hochdruckleistung im Einsatz sind, wie beispielsweise in missionskritischen Kontrollzentren.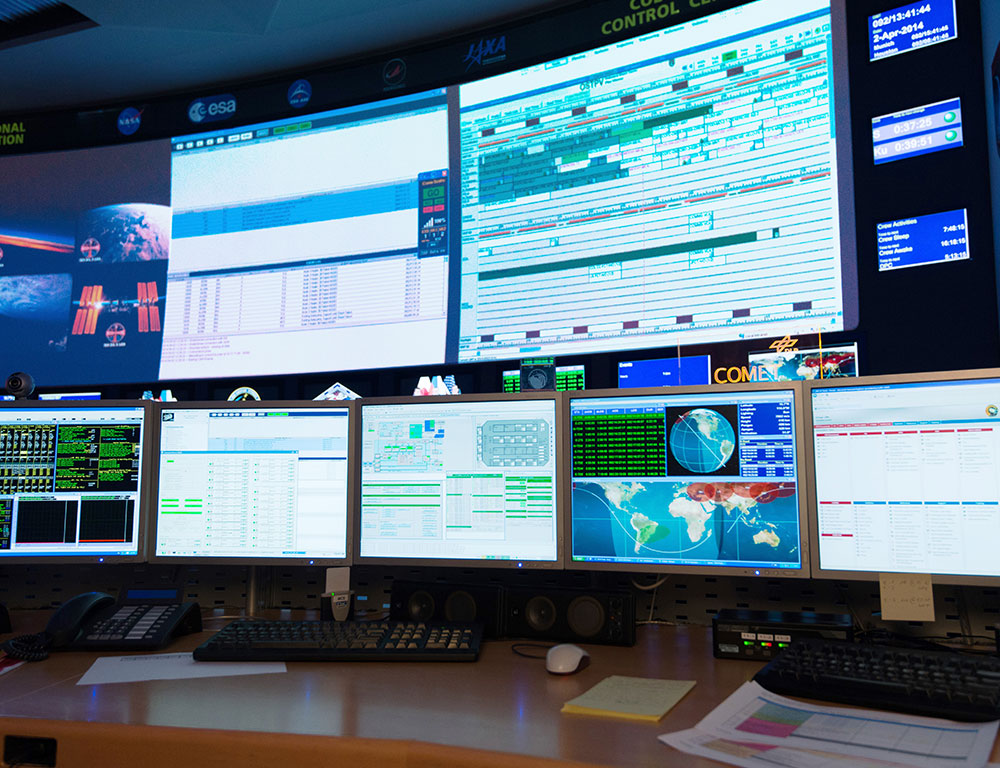 Jeremy Pierce Mayer, Video-Techniker, GMV-INSYEN AG, unter Vertrag beim DLR tätig, und leitender Projektleiter für den Projektoraustausch, erklärt "Digital Projection war unser gewünschter Anbieter, und diese Wahl wurde aufgrund einer Analyse der internen Finanzabteilung bewilligt. Schon im frühen Stadium des Ausschreibungsverfahrens war die Wahl auf Laserprojektoren gefallen. Da unsere Kontrollraum-Projektoren, wenn sie aktiv sind, 24 Stunden rund um die Uhr eingeschaltet sind, müssen die Lampen recht häufig ausgewechselt werden – und wenngleich ein Wechsel auch schnell vonstatten geht, so bedeutet jeder Austausch einer Projektorlampe dennoch eine Unterbrechung für das Columbus-Kontrollzentrum. Darüber hinaus habe ich aufgrund meiner Erfahrung mit Digital Projection aus deren Produktreihen für den Unterhaltungssektor niemals einen kritischen Ausfall gesehen."
Das Ansehen von Digital Projection für seine Zuverlässigkeit ist ein kluger Bestandteil seines Projektordesigns, worin sein Wettbewerbsvorteil liegt. Das Columbus-Kontrollzentrum (Col-CC) arbeitet eng mit NASA, RosCosmos und anderen Partnern des öffentlichen und privaten Sektors zur Unterstützung der Tätigkeiten der ISS zusammen. Das Columbus-Kontrollzentrum (Col-CC) ist Teil des Deutschen Raumfahrtkontrollzentrums (GSOC) im DLR. Das DLR, welches für alle DLR-Satellitenmissionen zuständig ist, hat einzelne Forschungsinstitute, die sich mit spezifischen Bereichen wie Radar, Funk, Robotik und Erdbeobachtung befassen.
Das Columbus-Kontrollzentrum besteht aus drei gegenseitig austauschbaren Kontrollräumen, und das Columbus-Flugteam führt alle Tage rund um die Uhr operative Vorgänge durch, wobei ein Raum für den Live-Betrieb, einer für den Standby-Betrieb und einer für Simulations- und/oder Upgrade-Tätigkeiten verwendet wird. Innerhalb des operativen Kontrollraums sind die Projektionsbildschirme in drei unabhängige Segmente geteilt, wovon jeder einzigartige und textreiche Inhalte anzeigt. Die Projektoren werden über ein größeres Kontrollsystem ferngesteuert, welches auch die Steuerung und Überwachung anderer Col-CC-Untersysteme ermöglicht.
Die Projektoren wurden, nachdem sie anfänglich von Mayer konfiguriert worden waren, vom Facilities-Team des GSOC installiert. Aufgrund des von Hochgeschwindigkeitsvorgängen geprägten Umfelds des Kontrollzentrums hielten die beteiligten Installationsteams es für angebracht, hochleistungsstarke Kommunikationsleitungen einzurichten, um es zu ermöglichen, etwaige Probleme wie Netzwerkkonfigurationen oder andere Hindernisse, schnellstens zu beseitigen. "Damit lief die Installation reibungslos", so Mayer. "Die anfängliche Installation der Projektoren fand statt, während der Kontrollraum im Betriebsraum eingerichtet war. Nach der anfänglichen Installation und Konfiguration, die etwa vier Stunden dauerte, wurden per Fernsteuerung weitere Feineinstellungen der Konfiguration vorgenommen, wobei wir uns auf das Videoüberwachungssystem (CCTV-System) unseres Kontrollraums stützten.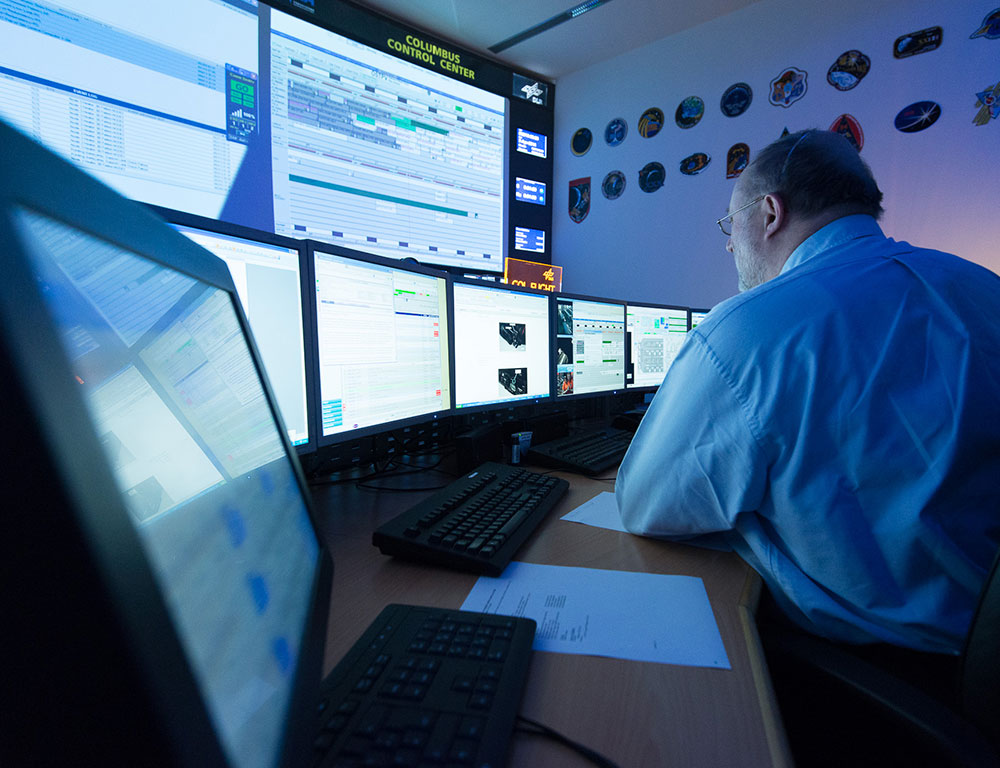 Wenngleich die Installation an sich reibungslos vonstatten ging, so gab es dennoch einige unerwartete Nebeneffekte. Aufgrund der textreichen Inhalte des Columbus-Kontrollzentrums haben wir aufgrund der Geometrie der Bildschirme früher immer versucht, Verzerrungseffekte zu ignorieren. Wie Mayer jedoch bestätigt: "Die Verzerrungsoptionen beim EV-8500 übertrafen meine Erwartungen. Der Verzerrungsmotor von Digital Projection hat die Aliasierung des Texts problemlos gemeistert; so konnten wir ihn integrieren, und das Endergebnis sieht beeindruckend aus." Im Namen des gesamten Flugteams sprechend, fügte er hinzu: "Tatsächlich ließ sich die erste Reaktion des Teams auf die aktivierten Projektoren – wenngleich ich es hier versuche zum umschreiben – nur in einem Ausdruck des Erstaunens zusammenfassen: '…WOW! Das ist ja hell!'"
Durch die anfängliche Suche des Col-CC nach einer neuen Lösung und aufgrund der mittlerweile engen Geschäftsbeziehung mit Digital Projection, so Mayer, waren wir vergewissert. "Digital Projection hatte einen Vorführprojektor bereitgestellt, mit dem wir alle gewählten Funktionen und Merkmale bestätigt haben. Wir hatten eine recht genaue Vorstellung dessen, was wir erhalten würden. Die Projektoren haben unsere Erwartungen erfüllt."
Jetzt wo das Columbus Control-Center aus dem Betriebsraum heraus gewechselt worden ist, hat die endgültige Konfiguration des Projektors stattgefunden, und wenngleich Mayer erklärt "Es ist noch ein wenig zu früh, um den Erfolg zu beurteilen", so hat er die feste Gewissheit, dass das Team "…sehr zufrieden darüber ist, nicht mehr alle paar Monate Lampen auswechseln zu müssen," wobei er hinzufügte: "Unsere Analyse hat ergeben, dass die anfänglichen Kosten für die Anschaffung der Projektoren schnell durch unsere allgemeinen Kosten für die Projektorlampen ausgeglichen würden."
Picture credits: Christian Ehrhardt, DLR, CC-BY 3.0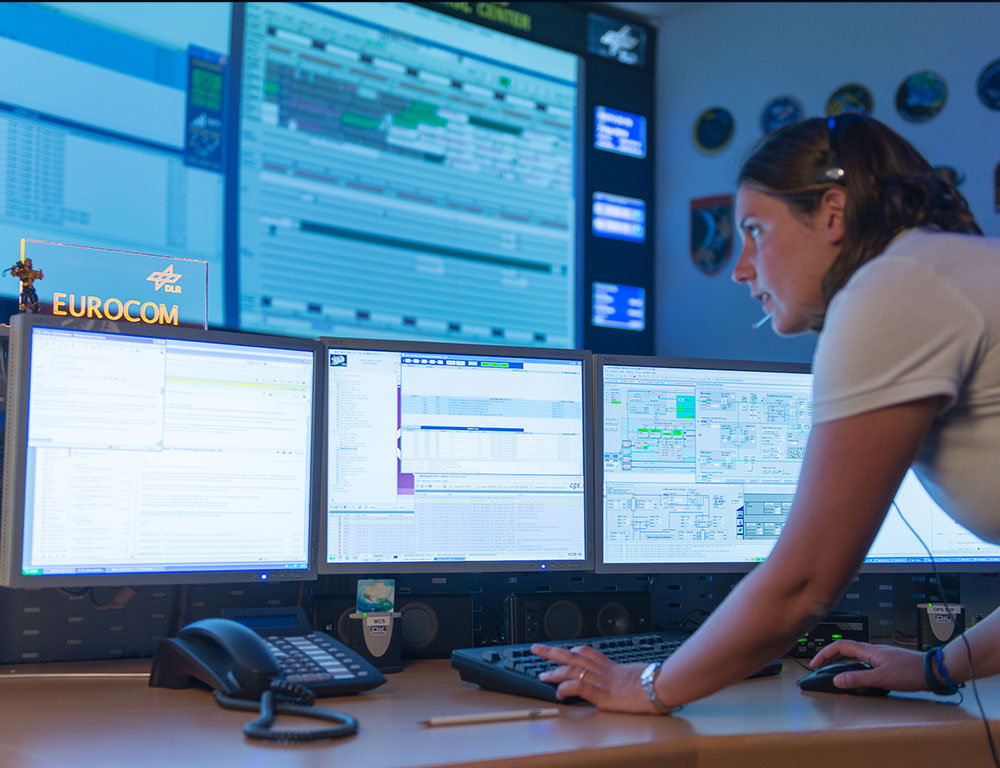 Product mentioned in this case study: E-Vision Laser 8500
20,000 hours illumination
E-Vision Laser 8500
rnThe E-Vision Laser 8500 Laser delivers a stunning 8,500 lumens from a stable solid-state light source, capable of producing over 20,000 hours of illumination. This single chip projector was developed with Fit and Forget' directive, ensuring it needs only minimal maintenance throughout the lifetime of the display.
Find out more