Digital Projection zeigt in Jhansi visuelle Stärke
Eine spektakuläre neue Ton- und Lichtshow ausgestattet acht Digital Projection TITAN Laser 33000 4K-UHD von Digital Projection lässt die Besucher im historischen Fort Jhansi in Nordindien in die Geschichte einer Nationalheldin eintauchen.
Das 30-minütige Erlebnis macht sich modernste Projektionstechnik zunutze, um das Leben und den Tod von Lakshmi Bai, der 22-jährigen Rani (Königin) von Jhansi, darzustellen, die während dem indischen Aufstand von 1857-1858 im Kampf gegen die Britische Ostindienkompanie starb. Für die neue Ton- und Lichtshow schuf der Systemintegrator PAN Intellecom Ltd. auf den Mauern des auf einem Hügel gelegenen Jhansi Fort, das ursprünglich im 17. Jahrhundert erbaut wurde und während der Rebellion schwer umkämpft war, eine beeindruckende  270°-Projektionsleinwand mit einer Breite von 83 Metern. PAN Intellecom schuf auch die Inhalte der Show, bei der eine Mischung aus Projektions-Mapping, Lasern, LED-Lichtern, Beleuchtungskörpern und einem Surround-Sound-System verwendet wurden, um Lakshmi Bais Mut während der Belagerung des Jhansi Forts lebendig werden zu lassen.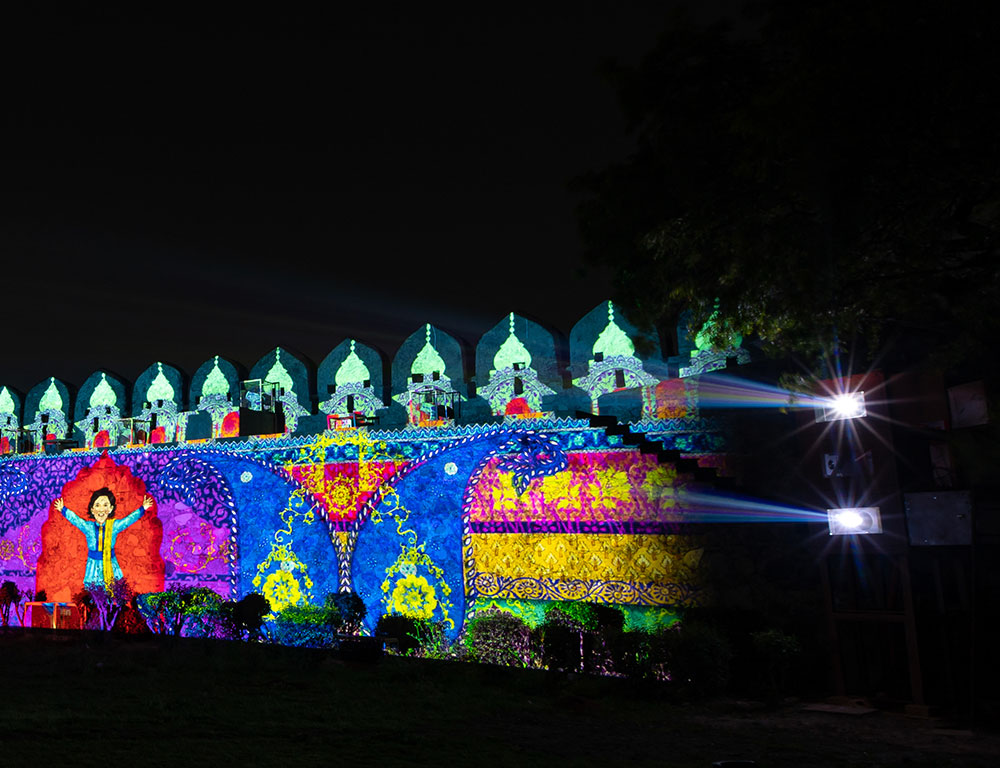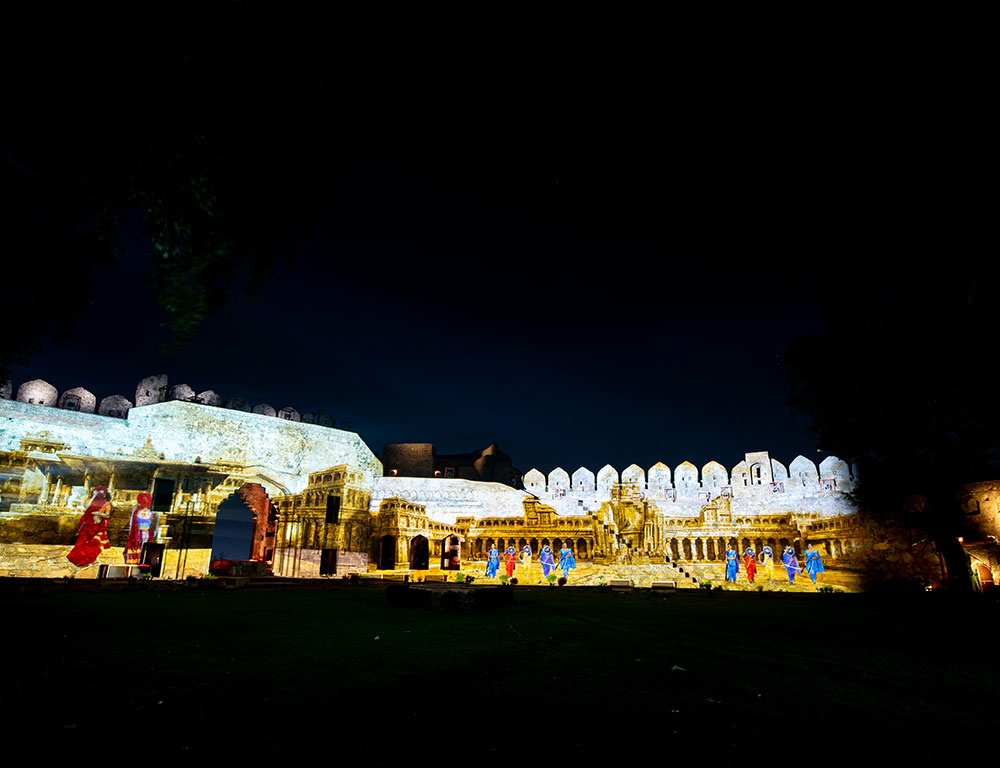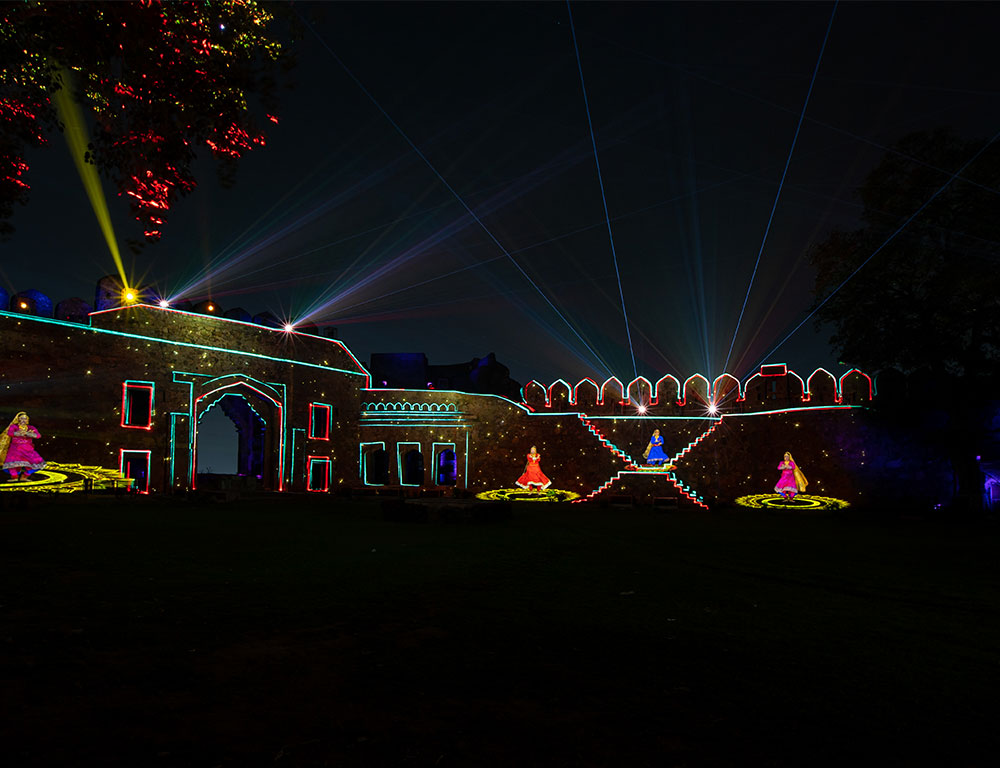 Avnish Rai, CEO von Jhansi Smart City Limited, erklärt, dass die Show zwei Monate vor dem ursprünglichen Zeitplan fertiggestellt sein musste, um rechtzeitig vor dem Besuch des indischen Premierministers Narendra Modi aufführungsreif zu sein. "Wir freuen uns sehr, dass die Show in Rekordzeit in Auftrag gegeben wurde", sagt Rai. "Wir hoffen, dass die hochmodernen Technologien, einschließlich der Laserprojektoren, die bei der Gestaltung dieser Show eingesetzt werden, nicht nur die Einwohner der Stadt, sondern auch Touristen aus dem In- und Ausland anziehen werden. Wir möchten PAN Intellecom zu der wunderbaren Arbeit gratulieren, die sie geleistet haben.
"Gemeinsam mit allen Beteiligten haben wir Tag und Nacht daran gearbeitet, dieses Ziel zu erreichen. Das Ergebnis war spektakulär, und der Applaus kam von allen Seiten."
Die Auswahl der digitalen Projektionsausrüstung beruht auf einem "qualitäts- und kostenorientierten" System, erklärt Harbir Singh, der Direktor von PAN Intellecom, wobei die TITAN-Laserprojektoren die beste Leistung zu einem wettbewerbsfähigen Preis bieten. "Den TITAN Laser 33000 4K-UHD-Projektor mit 33.000 Lumen haben wir wegen der großen Leinwand und der hohen Helligkeitsanforderungen eingesetzt", sagt er. "Da das Publikum nahe an der Projektionsfläche sitzt, war die 4K-UHD-Auflösung von vorrangiger Bedeutung, um ein großartiges Seherlebnis bieten zu können."
Neben der Größe des Forts mussten die Projektoren auch mit der schwierigen Fassade zurechtkommen, die in den letzten 400 Jahren beschädigt wurde und verwittert ist. "Da es sich bei dem Fort um ein denkmalgeschütztes Bauwerk handelt, das vor Hunderten von Jahren entstanden ist, sahen wir uns vor der Herausforderung, die Sicherheit und Integrität des Gebäudes zu gewährleisten und dennoch eine Show abzuliefern, die das Publikum fesseln konnte", fügt Singh hinzu.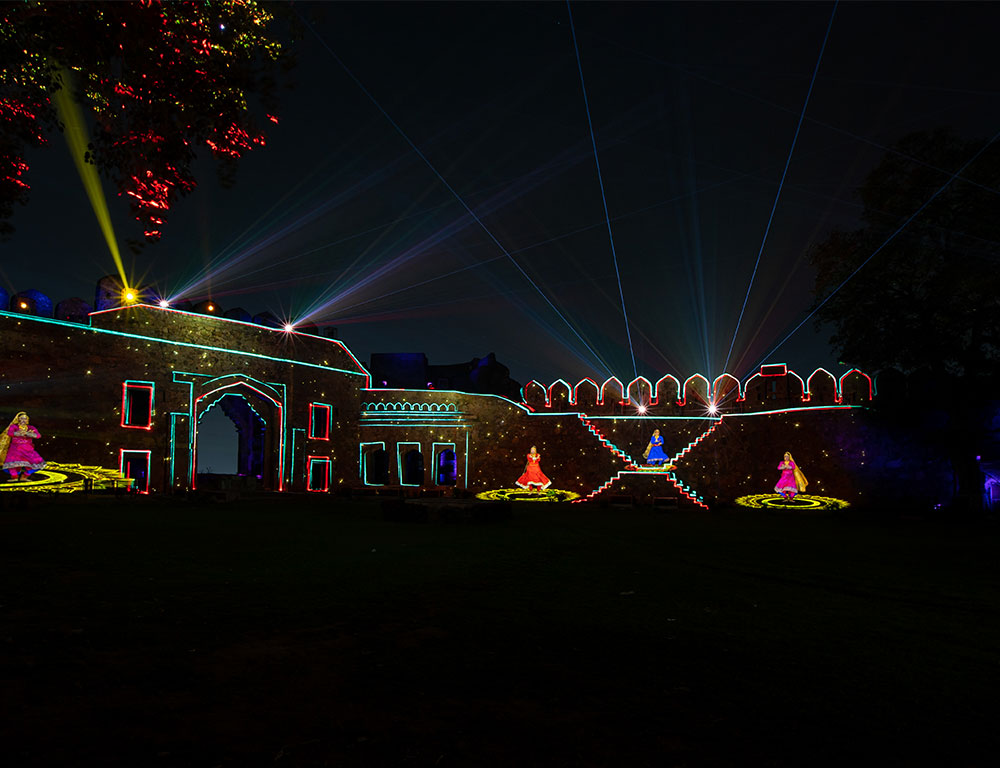 Bei der Installation im Jhansi Fort wurden drei TITAN-Laserprojektoren in der Mitte und drei auf der rechten Seite angebracht, während sich zwei weitere auf der linken Seite befinden. Ausgestattet mit dem 2,56-4,16:1-Zoomobjektiv von Digital Projection verfügen die Projektoren über eine große Projektionsdistanz, wodurch sie sehr flexibel sind.
Sankalp Srivastava, Projektleiter bei PAN Intellecom, sagt: "Die digitale Projektionsausrüstung passt perfekt zum Rest des AV-Systems, zu dem auch ein Xeon-Prozessor, die Dataton WATCHOUT-Software für Überblendung und Lichtaufzeichnung, ein Medialon-Server für die übergeordnete Show-Steuerung gehören, sowie ein Surround-Sound-Audiosystem mit 12 Dual-12-Zoll-Lautsprechern und vier Dual-15-Zoll-Subwoofern. Das Team von Digital Projection unterstützte PAN Intellecom während des gesamten Projekts, indem es in Bezug auf die Projektoren, Objektiven und deren Positionierung vor Ort sowie bei der Installation und Inbetriebnahme Beratung anbot. "Wir haben bei der Zusammenarbeit mit dem Team gute Erfahrungen gemacht – sie haben uns sowohl in der Ausschreibungs- als auch in der Ausführungsphase hervorragend unterstützt", kommentiert er.
"Für mich als Kreativdirektor ist es wie ein wahrgewordener Traum, die Geschichte von Rani Lakshmi Bai mittels einer 270°-Architekturprojektions-Mapping-Show zu erzählen, der ersten ihrer Art im Land", sagt Aman Arora, technischer und kreativer Leiter des Projekts. "Die originalgetreue Farbwiedergabe des TITAN Laser 33000 4K-UHD-Projektors von Digital Projection hat das Leben des Inhalts- und Kreativteams erleichtert, da es vor der großen Herausforderung stand, auf einer Fassade mit Steinen, die im Laufe der Zeit ihre Farbe völlig ungleichmäßig eingebüßt haben, einheitliche Farben aufzubringen."
"Mit Indiens größter Projektion-Mapping-Ton-und Licht-Show in einem Festungskomplex in Verbindung gebracht zu werden, erfüllt Digital Projection in der Tat mit großem Stolz, aber was noch mehr Freude macht, ist ein zufriedener Kunde, faszinierte Besucher und einen stolzen Partner von Digital Projection zu sehen – eine großartige Kombination, die Digital Projection in Indien in den kommenden Jahren noch größere Erfolge bescheren wird", schließt Hemant Agarwal, Leiter des Geschäftsbereichs Delta Display Solution bei Delta India.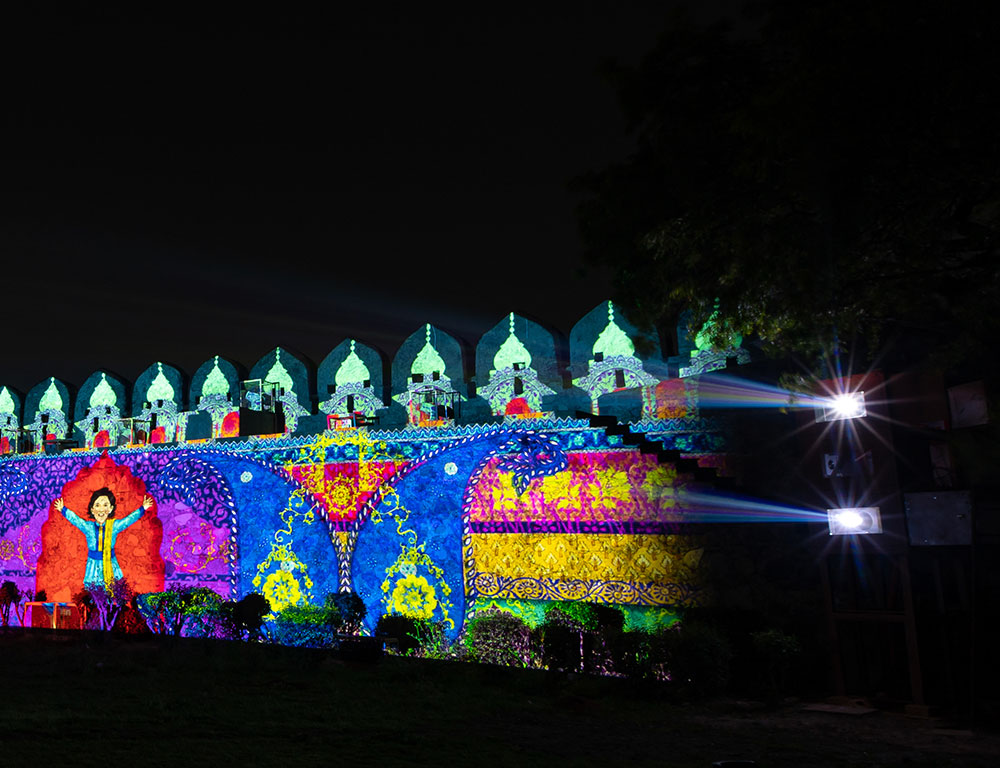 Projektor: TITAN Laser
20.000 Stunden Beleuchtung
TITAN Laser
The Titan Laser 37000 delivers up to 37,000 (WUXGA) or up to 31,000 (4K-UHD) Lumens from a relatively compact chassis, making it the ideal projector for the most demanding of large-venue applications. Where bright, pin sharp images are required there should be no compromise.
Mehr Infos