Gigant der Schönheitspflege beeindruckt mit nahtloser LED-Anzeigelösung
Die Henkel Corporation ist ein Gigant der Schönheitspflegebranche.  Das Unternehmen ist heute einer der drei größten Hersteller von Schönheitspflegeprodukten, die in über 150 Ländern weltweit vermarktet werden.  Nach Schätzungen werden jede Sekunde 20 Haartönungsmittel der Marke Henkel gekauft. In Anbetracht einer globalen Verantwortlichkeit von dieser Größenordnung sind zur Stützung des weltweiten Ansehens dieses renommierten Markenherstellers die bestmöglichen digitalen Anzeigelösungen in einer Reihe verschiedener Umgebungen erforderlich.  Daher fiel die Wahl des Unternehmens bei der Planung seines neuen Gebäudes in Los Angeles für die Vorführung seiner umfassenden Haarpflege-Produktreihe auf die Radiance LED-Videowand-Lösungen, um einen wahrhaft unvergleichlichen ersten Eindruck zu machen.
Überwältigender visueller Inhalt bei atemberaubenden Aussichten
Das neue Gebäude, das errichtet wurde, um sieben der professionellen Haarpflegeproduktmarken von Henkel unter einem Dach zusammenzulegen, ist auch der Sitz der neuen #AcademyofHair des Unternehmens.  Der beeindruckende Lernbereich, der für Schulungen, Vorführungen und Fortbildungen konzipiert ist, bietet Kunden, Frisören und besonderen Gästen die Gelegenheit, die neuesten Techniken und Anwendungen für Haarstylisten zu erleben.  Die Academy dient auch als lebendiger Veranstaltungsort für Produktneueinführungen für professionelle Haarstylisten, Saloninhaber und Medienpersonal mit 170 Sitzplätzen in einem Raum mit atemberaubenden Ausblicken auf den Pazifik durch bodentiefe Fenster.
In einer solchen Umgebung bestand die größte Herausforderung in der Planung einer audio-visuellen Infrastruktur, die in dem tageslichtdurchfluteten Raum  dennoch leuchtende, farbenkräftige visuelle Erlebnisse von höchster Bildqualität produzieren würde.  Das Vorhaben wurde in gemeinsamer Zusammenarbeit mit dem Integrator Cibola Systems umgesetzt, um sicherzustellen, dass die LED-Wand dem gewünschten Enderscheinungsbild, das Henkel verlangte, entsprach.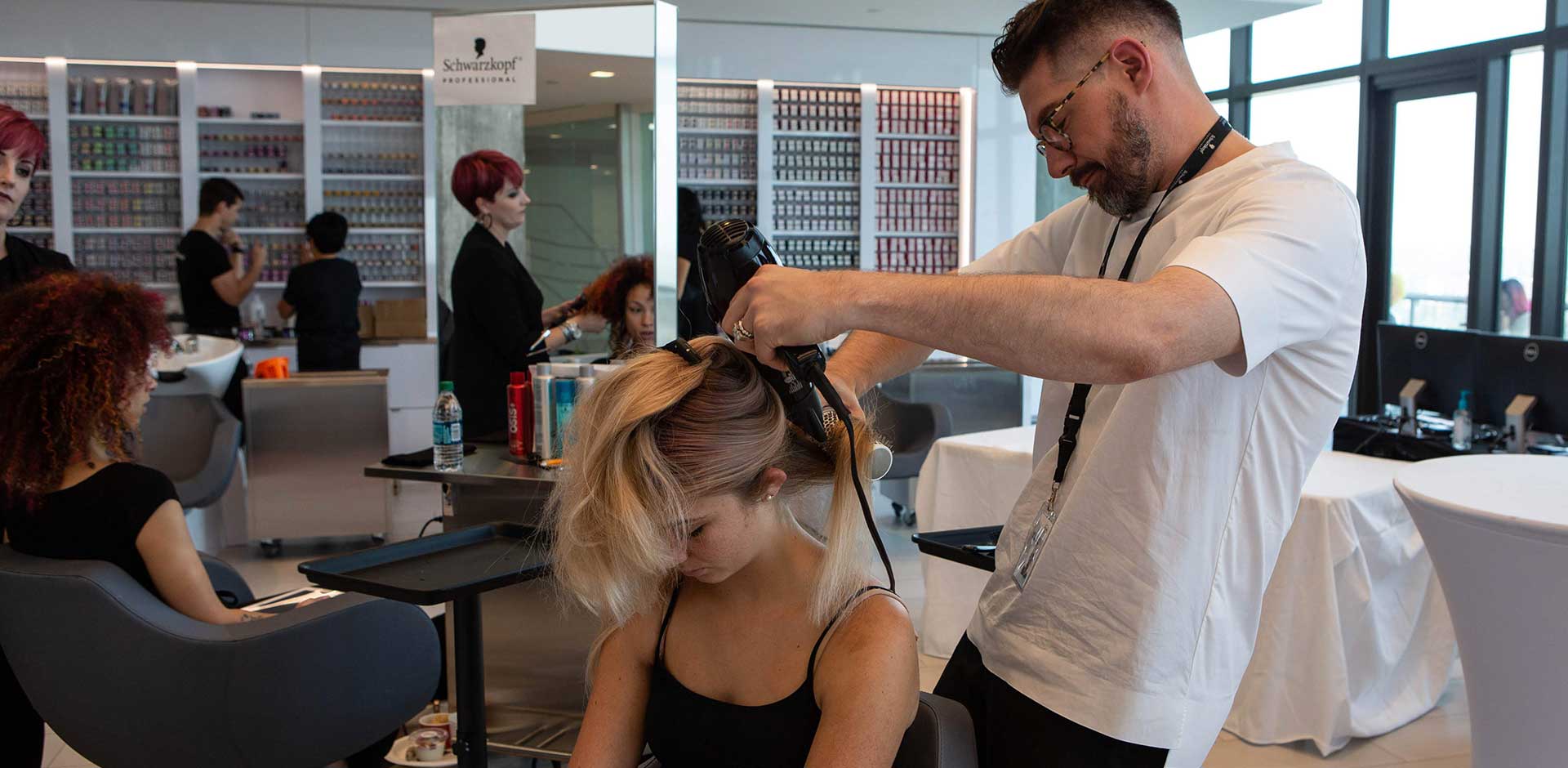 Der perfekte Look aus jedem Blickwinkel
Nach eingehenden Betrachtungen für die richtigen Blickwinkel und Entfernungen entschlossen sich die Teams für eine Videowand von knapp 5 m Breite und 2,75 m Höhe mit Radiance LED-Tafeln mit einem Pixelabstand von 2,5.  Neben der Anzeige von Produktinformationen und dem Streamen von Videos funktioniert die Radiance LED-Wand auch in Verbindung mit zwei Kameras, die die Verfolgung eines Moderators ermöglichen und mit denen Teilnehmer die Arbeit von Stylisten in hochfeiner HD-Auflösung sehen können.
Am entgegengesetzten Ende des Raumes, über einer Reihe von Frisierplätzen, steht ein einzigartiger Radiance LED-Ticker von 22 Zoll x 1 Zoll, der die Hauptanzeigewand mit Marken- und Produktinformationen ergänzt.  Die LED-Anzeige, die architektonisch bündig in die vorhandenen Wände integriert ist, präsentiert sich mit einem sauberen Erscheinungsbild mit hochmodernem Design, das sich nahtlos in das Ambiente einfügt.
Digital Projection an erster Stelle
Lisa Perrine Ed.D, Geschäftsführerin von Cibola, kommentierte die Wahl von Radiance LED wie folgt: "Wir wussten von Anfang an, dass die Direktsicht-LED-Technologie die richtige Wahl war, da Henkel den Wunsch hatte, die Akademie mit natürlichem Tageslicht zu durchfluten, aber ein System benötigte, das die akkurate Farbwiedergabe garantieren würde.  Bei der Empfehlung eines Partners stand Digital Projection an erster Stelle für seine Kundenservicequalität und seine breite Auswahl an Optionen in Bezug auf Größe und Auflösung.  Als das Team von Henkel die Radiance LED aus erster Hand sah, stimmten sie sofort zu."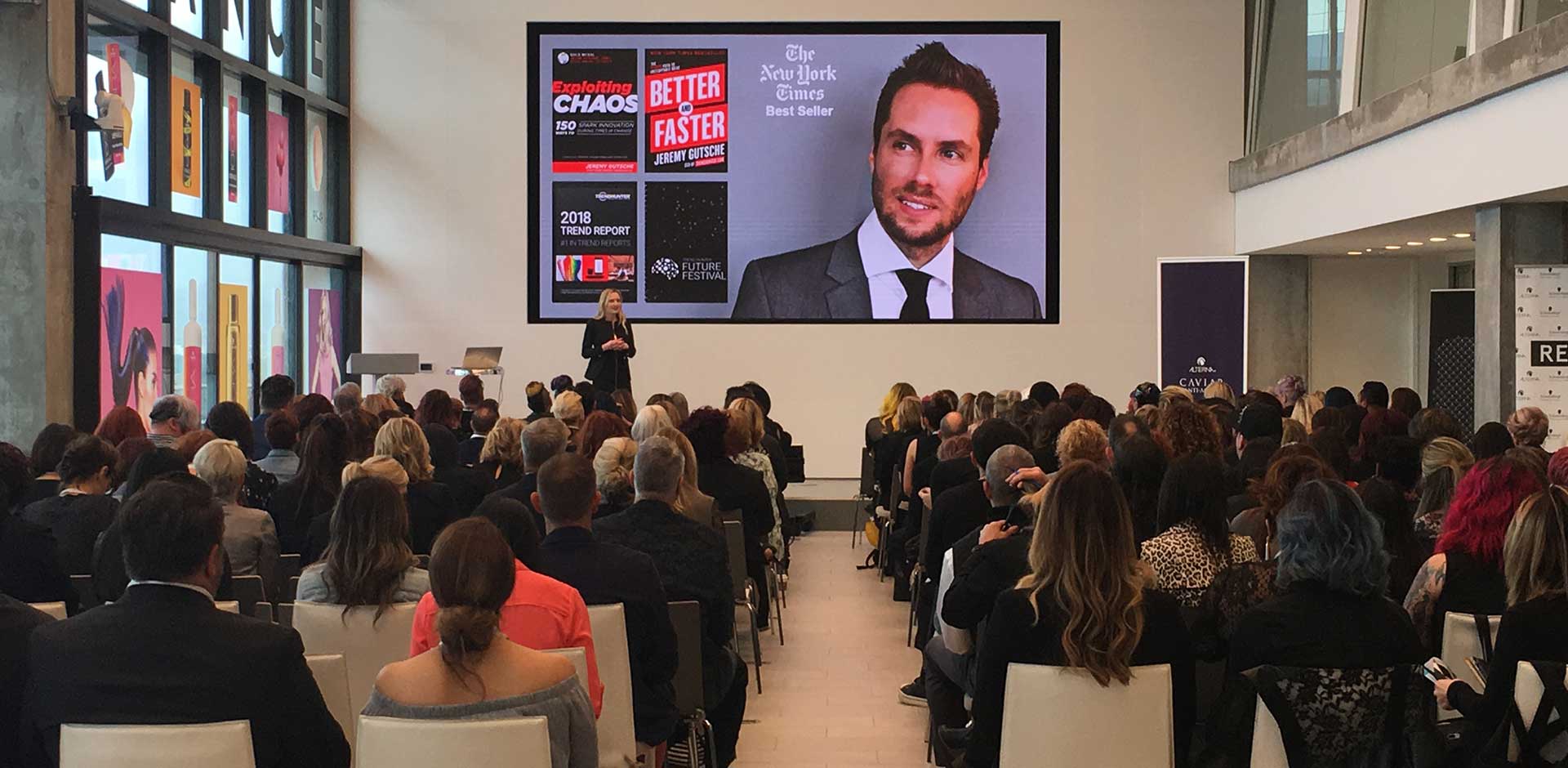 Photo Credit © Cibola Systems
Ein überwältigender erster Eindruck
Die LED-Videowand-Lösung wurde bei der großen Einweihungsfeier des Gebäudes vorgestellt; Teil der Feier war eine lebendige Laufsteg-Präsentation, bei der jede der sieben Marken ihre spektakulärsten neuen Produkte vorstellte.  Die Kapazitäten der audio-visuellen Ausstattung der neuen Akademie, einschließlich Deckenlautsprechern, einer DJ-Station und Uplight-System, standen der Technologige der atemberaubendsten Live-Unterhaltungsshows in nichts nach.  Die Kommentare von Teammitarbeitern, Kunden und Geschäftspartnern waren eine schlagkräftige Bestätigung für die Marke. Stefan L. Mund, Leiter für Schönheitspflege und professionelle Haarpflege in Nordamerika, teilte seine Vision für die #AcademyofHair mit folgendem Kommentar: "Wir sind stolz auf die Eröffnung der Akademie – ein einzigartiger, voll digital ausgestatteter Raum für eine Reihe von Marken, der ein wahrer Ausdruck von Henkels Selbstverpflichtung zur Innovation ist und für Haarstylisten einen Raum vom Modernsten bietet."
"When recommending a partner, Digital Projection rose to the top for their level of Client service and broad choice of size/resolution options."
– Lisa Perrine, Ed.D, CEO of Cibola
Radiance LED Performance Series
Peak LED Performance
Engineered to create the very best in direct-view LED user experiences, the Radiance LED Performance Series HDR delivers exceptional results for the most demanding projects. The Performance Series HDR features the highest-resolution pixel-densities (including Micro LED), broadest color gamut reproduction, and customization options for mission critical redundancy and stereoscopic 3D applications.
Finde mehr heraus
Key Features: Radiance LED Performance Series
Highest performance indoor solution
100% Front-installation and serviceability
Up to 1,500 nits brightness
Up to 100,000 hours LED lifetime
Countless integration options including flush-mount, ADA wall mount (3.75" depth), floor support, ceiling support
Widest viewing angles and color/contrast performance
Redundancy and 3D capable options available – Contact us for more information
Want to know more? Contact our team.
Looking for more information or guidance? Contact us.