Beauty Care Giant Turns Heads with Seamless LED Display
The Henkel Corporation is a titan in the beauty industry. One of the top 3 beauty care companies today, their products are available in over 150 countries worldwide. Estimates say that 20 Henkel brand hair colorants are purchased every second. With global responsibilities of that magnitude, maintaining their world-renowned reputation requires the very best appearances in a wide variety of environments. So, when they designed their new Los Angeles facility to showcase their comprehensive hair care product line, they chose Digital Projection's Radiance LED Video Wall solutions to make a truly stunning first impression.
Stunning Visual Content Amidst Breathtaking Views
Built to unify 7 of Henkel's professional haircare brands under one roof, the facility is also the home of the company's new #AcademyofHair. Designed for training, demonstrations, and educational purposes, the impressive learning space offers customers, hairdressers, and special guests the opportunity to experience the latest techniques and applications of hairstyle fashion. The Academy also functions as a vibrant venue for product launches for professional stylists, salon owners, and media personnel with seating for up to 170 people next to breathtaking views of the Pacific Ocean through floor-to-ceiling windows.
In such an environment, the biggest challenge was designing an audio-visual infrastructure to handle the large amounts of ambient light and still produce bright, colorful, and resolute visual experiences. Working with Integrator Cibola Systems, the project was collaboratively designed to ensure the LED wall matched the desired finished look that Henkel wanted.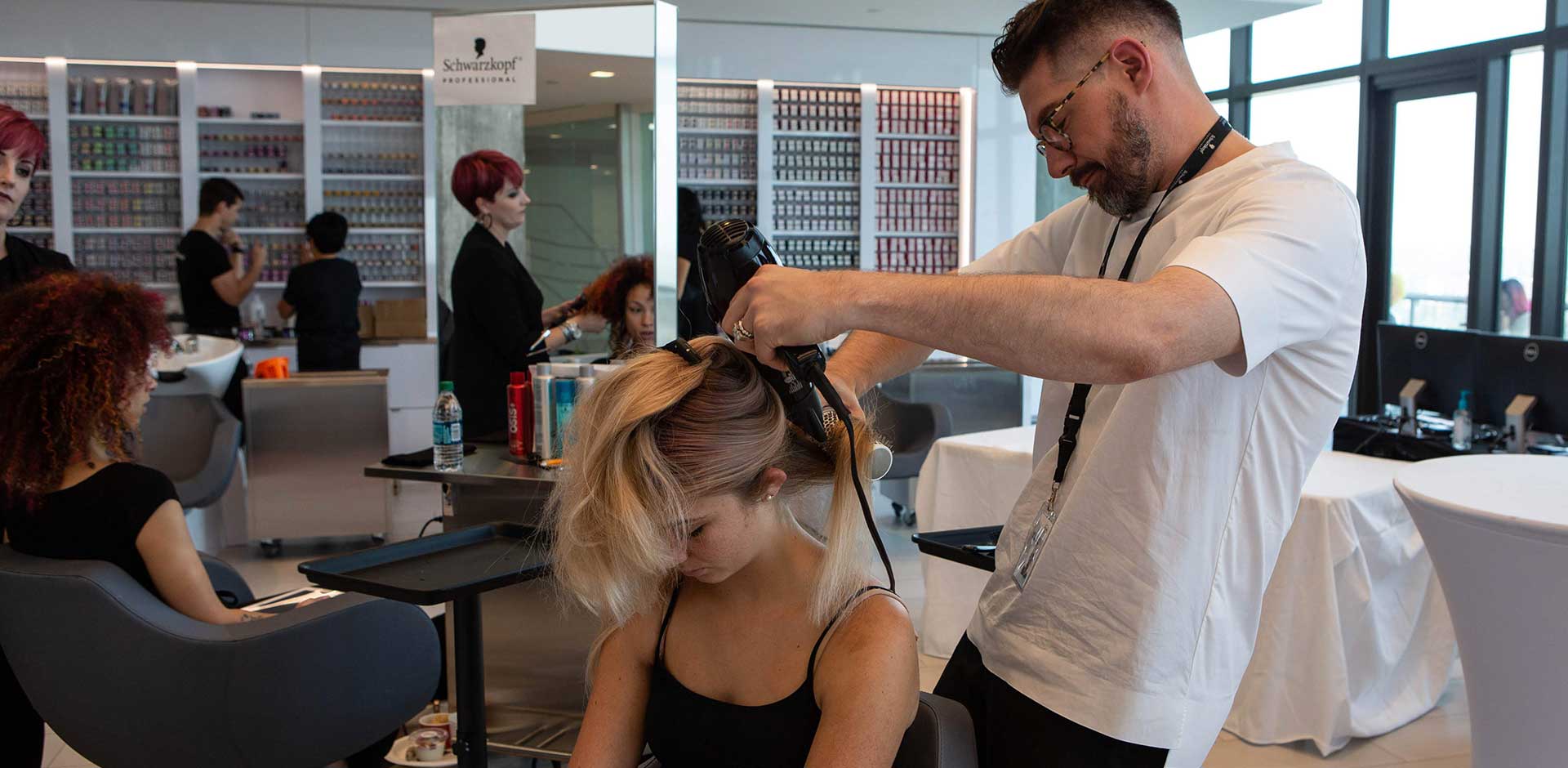 The Perfect Look From Every Angle
After careful consideration for proper viewing angles and distances, the teams decided on a 16' wide by 9' tall video wall with Radiance 2.5 pixel-pitch LED panels. Along with displaying product information and streaming video, the Radiance LED wall also works in conjunction with two presenter-tracking cameras, which allow participants to view stylists' work in fine-pitch HD resolution.
At the opposite end of the room, above an array of stylist stations stands a unique 22' x 1' Radiance LED ticker that compliments the main display with brand & product information. Architecturally flush mounted into the existing walls, the LED displays create a clean, highly contemporary look and feel that mirror the tone and energy of the environment.
Digital Projection Rose to the Top
Cibola's CEO, Lisa Perrine, Ed.D, had this to say about the choice of Radiance LED, "We knew from the beginning that direct-view LED technology was the right choice, given Henkel's desire to fill the Academy with natural light and their need for accurate color rendition. When recommending a partner, Digital Projection rose to the top for their level of Client service and broad choice of size/resolution options. Once Henkel's team saw the Radiance LED firsthand, they immediately agreed."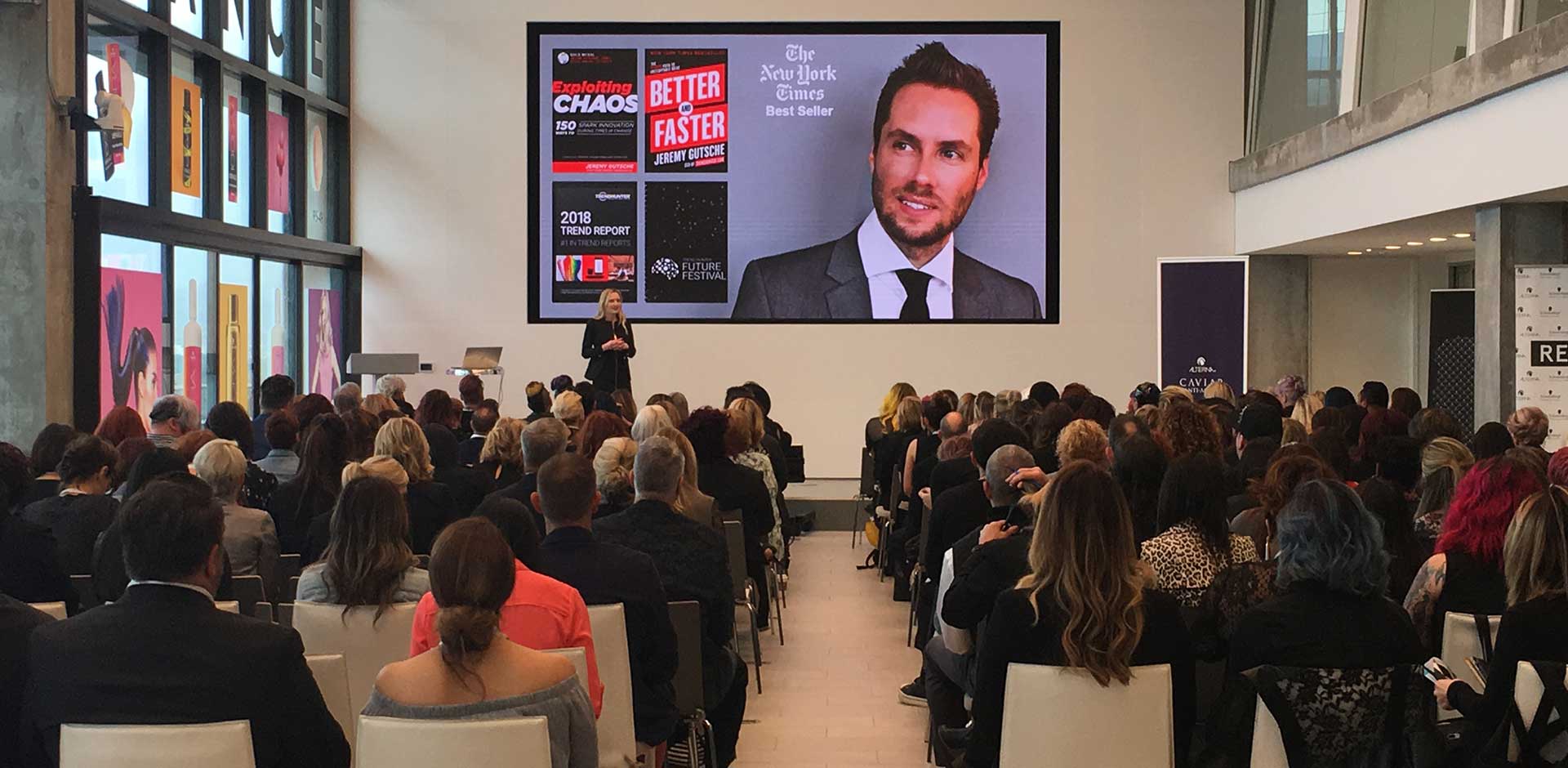 Photo Credit © Cibola Systems
A Stunning First Impression
The LED video wall solution was unveiled at the facility's grand opening celebration, which featured a high energy runway presentation with each of the seven brands showcasing their most exciting new products. Complete with ceiling speakers, a DJ station, and uplighting system, the visual and sound capabilities of the academy rivaled that of the most breathtaking live entertainment performances. Feedback from team members, clients, and partners has been resoundingly powerful for the brand. Stefan L. Mund, head of beauty care hair professional in North America, shared his vision for the #AcademyofHair saying, "We are proud to open the Academy, a one-of-a-kind multi-branded and fully digital space that embodies Henkel's commitment to innovation, offering a state-of-the-art space for stylists."
"When recommending a partner, Digital Projection rose to the top for their level of Client service and broad choice of size/resolution options."
– Lisa Perrine, Ed.D, CEO of Cibola
Radiance LED Performance Series
Peak LED Performance
Engineered to create the very best in direct-view LED user experiences, the Radiance LED Performance Series HDR delivers exceptional results for the most demanding projects. The Performance Series HDR features the highest-resolution pixel-densities (including Micro LED), broadest color gamut reproduction, and customization options for mission critical redundancy and stereoscopic 3D applications.
Finde mehr heraus
Key Features: Radiance LED Performance Series
Highest performance indoor solution
100% Front-installation and serviceability
Up to 1,500 nits brightness
Up to 100,000 hours LED lifetime
Countless integration options including flush-mount, ADA wall mount (3.75" depth), floor support, ceiling support
Widest viewing angles and color/contrast performance
Redundancy and 3D capable options available – Contact us for more information
Want to know more? Contact our team.
Looking for more information or guidance? Contact us.