Studio Series
Designed for Film Production & Broadcast
Designed exclusively with the needs of virtual production in mind, Studio Series panels offer a host of superior technical benefits for content creators in the film and television production industry.
Featuring a 500mm x 500mm cabinet size, Radiance LED Studio Series panels are engineered for creative implementations in any production environment. Easily deployable in flat or curved arrays, the Radiance LED Studio Series is compatible with wall-mounted, ground-stacked, overhead suspended, or truss supported installations. The panel design is engineered for the quickly changing needs of the working studio environment and employs easily-reconfigurable rigging hardware with front and rear serviceable component access.
Utilizing the powerful Tessera Series receiving cards and processors from Brompton Technology, the Radiance LED Studio Series provides video system engineers with precise control over color gamut, frame synchronization, grayscale performance, and dynamic range. A lightning-fast refresh rate of 7680Hz and camera-optimized scan modes allow for smooth image capture on all Radiance LED Studio Series panels.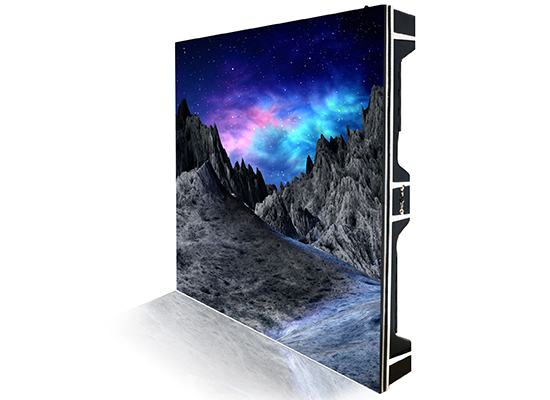 "We chose Digital Projection for two reasons; Radiance LED exceeded the technical specifications and improved the visual aesthetic of the original design, and the team at Digital Projection was able to quickly deliver and help us complete the project ahead of schedule. The end-result turned out even better than we had anticipated."
– Matthew Lien, DES Vice President of Sales
Technical Specifications
An LED lifetime rating of 100,000 hours ensures years of service in the production environment. With pixel-pitch options available in 1.9mm and 2.5mm resolution, the Radiance LED Studio Series enables limitless creation of vibrant and visually immersive landscapes for ultimate flexibility in virtual production, on any size stage.
Download
View PDF
Studio Series LED
High-quality visuals & ultra-high refresh rates for professional video recording
Ultra-high 7680Hz refresh rate with 15-bit processing
Up to 1,500 nits brightness
Up to 100,000 hours LED lifetime
Flexible integration options including wall-mounted, ground-stacked, overhead suspended, and truss supported setups.
Enhanced color performance and LUT customization
Ultra-low latency response
We think you'll also be interested in…
Offering 24/7 technical support, trust in Digital Projection for total peace-of-mind and a seamless visual experience. Visit our Support page for more information.