Radiance LED ergänzt Luxus der gehobenen Klasse mit Gastfreundschaft der Südstaaten
Das im Vorgebirge der Ozark Mountains gelegene Städtchen Fort Smith im US-Bundesstaat Arkansas bietet seinen Einwohnern die Möglichkeit, die Fusion neuer Trends mit dem klassischen Erbe der Americana-Kultur zu genießen. Diese Energie ist besonders auf der Garrison Avenue zu spüren, wo historische Stätten neben modernen Geschäften und Lokalen für das Nachtleben anzutreffen sind. Inmitten dieses Schmelztiegels befindet sich die 906 Lounge, eine Cocktail- und Zigarren-Lounge mit ausgeklügeltem Ambiente, in dem ihre Gäste sich in einer luxuriösen, aber dennoch einladenden Atmosphäre entspannen können. Ein wichtiger Schwerpunkt für die Inneneinrichtung dieser einzigartigen Lounge war der Bedarf nach einer großflächigen Bildanzeige, die in der ganzen Region nicht ihresgleichen finden würde. Für diese Aufgabe entschied die 906 Lounge sich für eine Radiance LED-Videowand der Performance-Serie von Digital Projection.
Ein Country-Club-Ambiente, in dem jeder willkommen ist
Die in einem über 80 Jahre alten, historischen Gebäude eingerichtete Lounge befindet sich in einer prominenten Lage für Fort Smith. Die mit großen, komfortablen Ledersesseln, Kronleuchtern, einer langen Bartheke mit Granitoberfläche und einem voll aufgestockten Humidor ausgestattete 906 Lounge bietet ein klassisches Ambiente, das an die Goldenen Zwanziger und Dreißiger erinnert. Sammy Fiori, Miteigentümer der Bar, beschrieb seine Vision für die Lounge wie folgt:
"Wir sind der Meinung, dass Fort Smith etwas Besonderes verdient, deshalb haben wir alles getan, um eine tolle, einzigartige Lounge zu kreieren, in der sich jeder willkommen fühlt und in der man sich wirklich entspannen kann. Wenn Sie bei uns an die Bar kommen und eine Bourbon oder Scotch Sorte nennen, werden wir diese mit großer Wahrscheinlichkeit haben. Wir verfügen über ein reichhaltiges Sortiment an Zigarren in jeder Preislage – von 8,00 USD bis zu einigen der teuersten und luxuriösesten Marken der Welt. Es gibt einen Lobby-Bereich, in dem man an Wochenenden Live-Blues und -Jazz hören kann, und wir haben auch einen schönen, komfortablen Theaterbereich mit einer großen LED-Anzeige. Es ist fast wie ein Country Club, aber man braucht keine Mitgliedschaft – jeder ist willkommen!"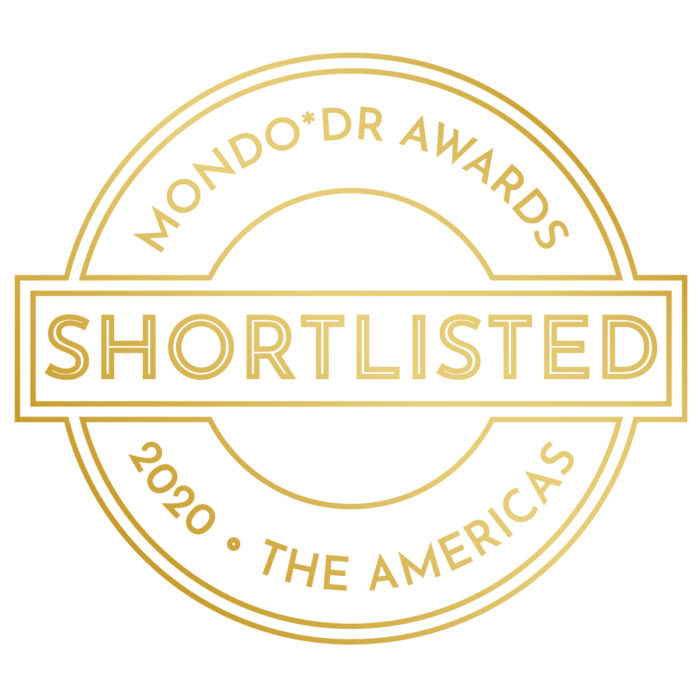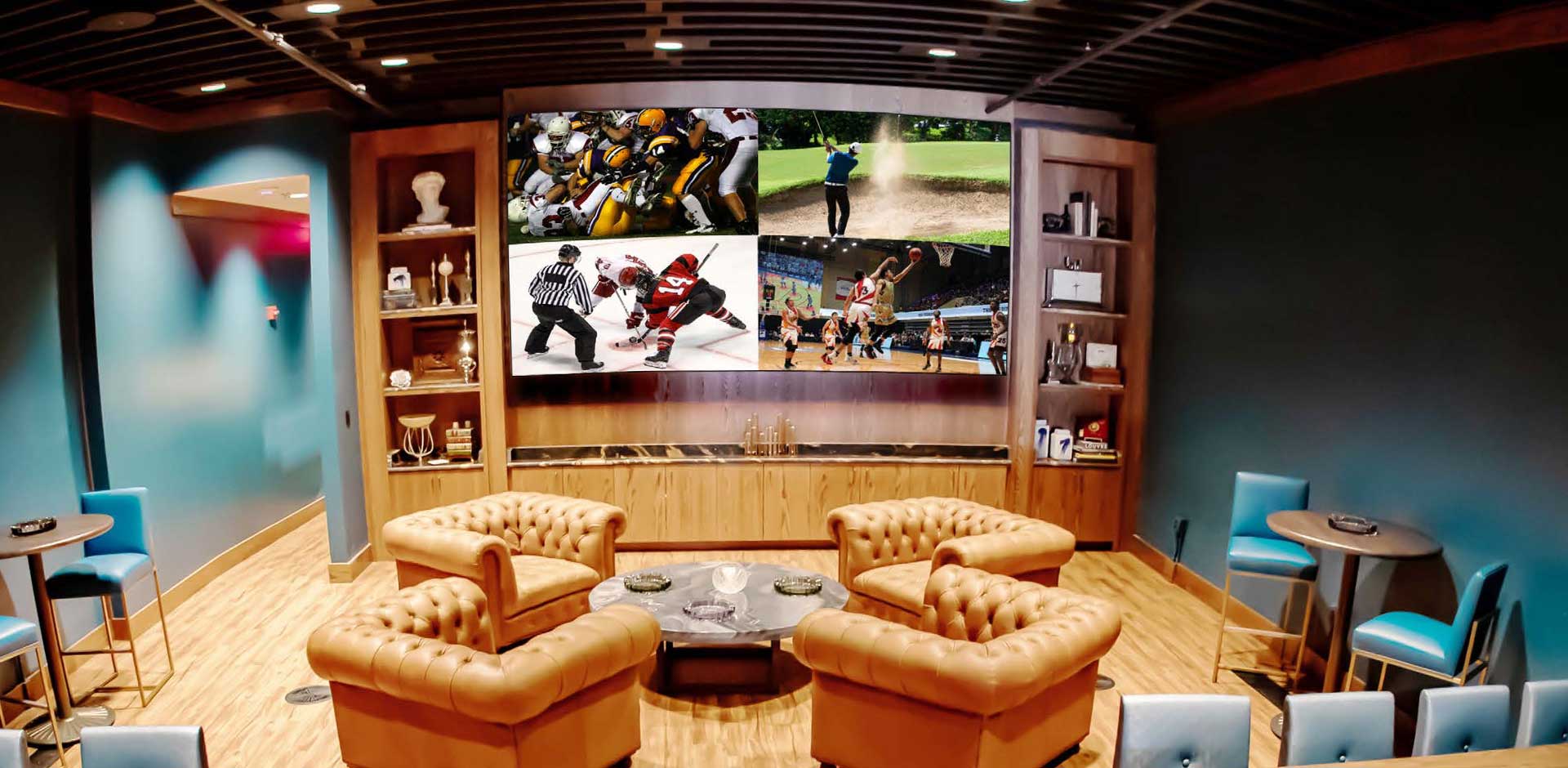 Eine High-End Lösung und außerordentlicher Service
Bei der Gestaltung des Layouts wollte Fiori seine einzigartige Kombination von elegantem Dekor und einer behaglichen Atmosphäre durch eine großflächige Anzeigewand der Spitzenklasse für den Theaterraum hinten in der Lounge ergänzen. Mit der Integration einer solchen Lösung beauftragt wurden die Technologieexperten von DES. Matthew Lien, Stellvertretender Vertriebsdirektor bei DES, beschrieb den Prozess wie folgt: "Als unser Team die Vision für die Lounge mit dem Auftraggeber besprach, wußten wir sofort, daß hier eine High-End Lösung gefragt war. Zwar ist die Lage an der Garrison Avenue nicht die Fifth Avenue in New York; dennoch sparten die Inhaber keine Kosten, um diese Lounge zu etwas ganz Besonderem zu machen: ihre Club-Sessel, der Humidor, die Getränke, und ganz gewiss die Technologie, alles trägt zu einem luxuriösen Ambiente bei." Das Team von DES entschied sich für eine Radiance LED-Videowand der Performance-Serie mit einem Pixelabstand von 1,2 als bevorzugte Lösung für dieses Vorhaben. Lien fährt fort:
Top LED-Qualität für ein hochwertiges visuelles Erlebnis
"Die ursprünglichen Architekturpläne verlangten nach einer Anzeige mit LCD-Videowand-Technologie. Wir entschieden uns anstatt dessen für Digital Projection, und das aus zwei Gründen: zum einen übertraf die Radiance LED-Videowand die technischen Spezifikationen und sie verbesserte darüber hinaus das visuelle Erscheinungsbild des ursprünglichen Designs; zum anderen war das Team von Digital Projection in der Lage, schnell zu liefern und uns zu helfen, das Projekt vor dem geplanten Abschlusstermin fertigzustellen. Das Endergebnis übertraf sogar noch unsere Erwartungen!" anticipated."
Die neue Videowand ist sowohl bei den Lounge-Inhabern selbst als auch bei ihren Gästen auf außerordentlich positive Resonanz gestoßen. Die in einer maßangefertigten Fassade wandmontierte diagonale LED-Wand von 165 Zoll ist eine dynamische Mehrzweck-Videowand, die die vielfältige Reihe an Veranstaltungen in der 906 Lounge ergänzt. Buddy Kell, Geschäftsführer der 906 Lounge, erklärt: "Die Radiance LED-Wand ist eine perfekte Ergänzung zur Lounge. Wir sagen Besuchern, die zum ersten Mal zu uns kommen, "sehen Sie sich unbedingt unseren kleinen Fernseher um die Ecke an" – dann fallen Sie meist aus allen Wolken!" Die Lounge berichtet, der hintere Theaterraum sei der neue Lieblingsplatz ihrer Gäste – und er sei auch bei Fans der Razorbacks-Sportteams der University of Arkansas sowie bei Fantasy-Sport-Begeisterten sehr beliebt. Kell fährt fort: "Wir haben die Möglichkeit, vier Bildschirme gleichzeitig auf der LED-Wand zu zeigen, so sind die Ausscheidungsspiele stets große Ereignisse. Sonntags zeigen wir meist drei Spiele gleichzeitig, und Sportnachrichten auf der übrigen Fläche, sodass die Gäste sich über ihre Fantasy-Sport-Ligas auf dem Laufenden halten können."
Am allerwichtigsten jedoch ist, dass die Radiance LED-Anzeigewand das Ambiente und den Geist der Lounge wiederspiegelt. Sammy Fiori beschreibt dies wie folgt:
"Das Besondere an der LED-Wand ist, daß sie großflächig, leuchtstark und übergangslos ist. Wir wollten vermeiden, dass der Inhalt durch Linien geteilt wird, so wie man dies auf LCD-Monitoren sehen würde. Alle LED-Kacheln zusammen bilden ein wunderschönes, großes Bild, und die Gäste haben einfach sehr viel Spaß damit. Die Wand hat eine solche Leuchtkraft, daß mancher Gast hier schon scherzhaft meinte, daß er sich beim Zuschauen einen Sonnenbrand holen könne!"
Fiori führt weiter aus: "Es macht tatsächlich einen Unterschied wenn man nicht mit kleineren Bildschirmen von minderer Qualität, wie in der typischen Sportbar, "bombardiert" wird. Man hat hier ein viel komfortableres und hochwertigeres Erlebnis – und wir könnten damit nicht glücklicher sein."
---
We would like to thank the 906 Lounge and DES for the content and use of images in this case study.
Learn more about the one-of-a-kind 906 Cocktail and Cigar Lounge at www.906lounge.com
See more of DES' cutting-edge audio-visual solutions at www.des3s.com
Radiance LED Performance Series
Peak LED Performance
Engineered to create the very best in direct-view LED user experiences, the Radiance LED Performance Series HDR delivers exceptional results for the most demanding projects. The Performance Series HDR features the highest-resolution pixel-densities (including Micro LED), broadest color gamut reproduction, and customization options for mission critical redundancy and stereoscopic 3D applications.
Finde mehr heraus
Key Features: Radiance LED Performance Series
Highest performance indoor solution
100% Front-installation and serviceability
Up to 1,500 nits brightness
Up to 100,000 hours LED lifetime
Countless integration options including flush-mount, ADA wall mount (3.75" depth), floor support, ceiling support
Widest viewing angles and color/contrast performance
Redundancy and 3D capable options available – Contact us for more information
Want to know more? Contact our team.
Want to know more? Contact our team.