Radiance LED Pairs High-Class Luxury With Southern Hospitality
Set in the foothills of the Ozark Mountains, the town of Fort Smith, Arkansas offers residents the opportunity to enjoy the merging of new trends with classic Americana heritage. This energy is particularly felt on the Garrison Avenue Strip where historic locations meet modern businesses and nightlife. Within this melting pot lies the 906 Cocktail and Cigar Lounge, a sophisticated locale offering patrons the chance to unwind in a luxurious, yet welcoming environment. A major focal point of design for the one-of-a-kind lounge was the need for a large-scale display that would be unlike anything in the area. For that task, the 906 Lounge chose a Radiance LED Performance Series Video Wall from Digital Projection.
A Country-Club Feel That's Open To Everyone
Set in a historic 80+ year-old building, the Lounge sits in a prime location for Fort Smith. Outfitted with large, comfortable leather chairs, chandeliers, a long, granite-top bar, and fully stocked humidor, the 906 Lounge is a classic environment reminiscent of the roaring 20's and 30's. Co-owner Sammy Fiori had this to say about his vision for the Lounge,
"We believe that Fort Smith deserves nice things, and so we tried hard to make this a great, unique place to come in and truly relax. In our bar area, if you can name the bourbon or scotch, we probably have it. We have cigars ranging from $8 to some of the highest-end brands in the world. There is a lobby area where you can hear some live blues and jazz on the weekends, and there's a nice, comfy theater area with a big LED display. It's almost like a country club, but you don't need a membership – everyone is welcome!"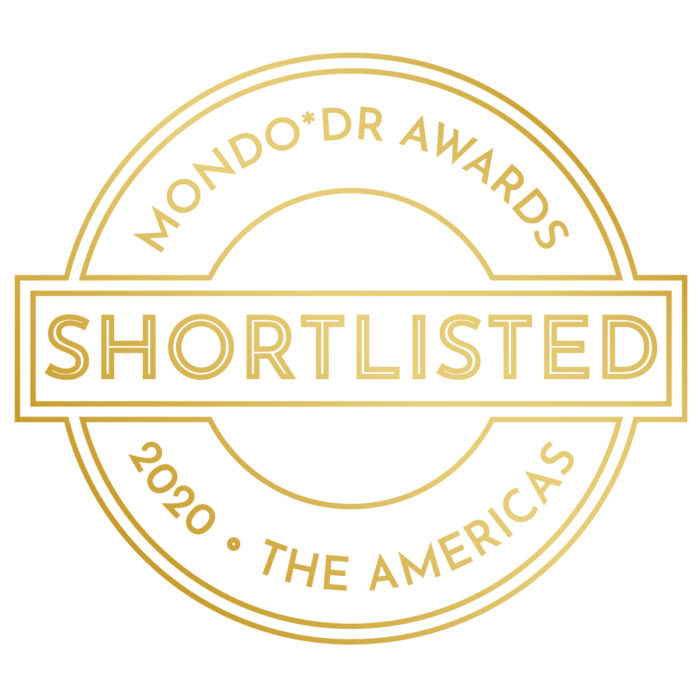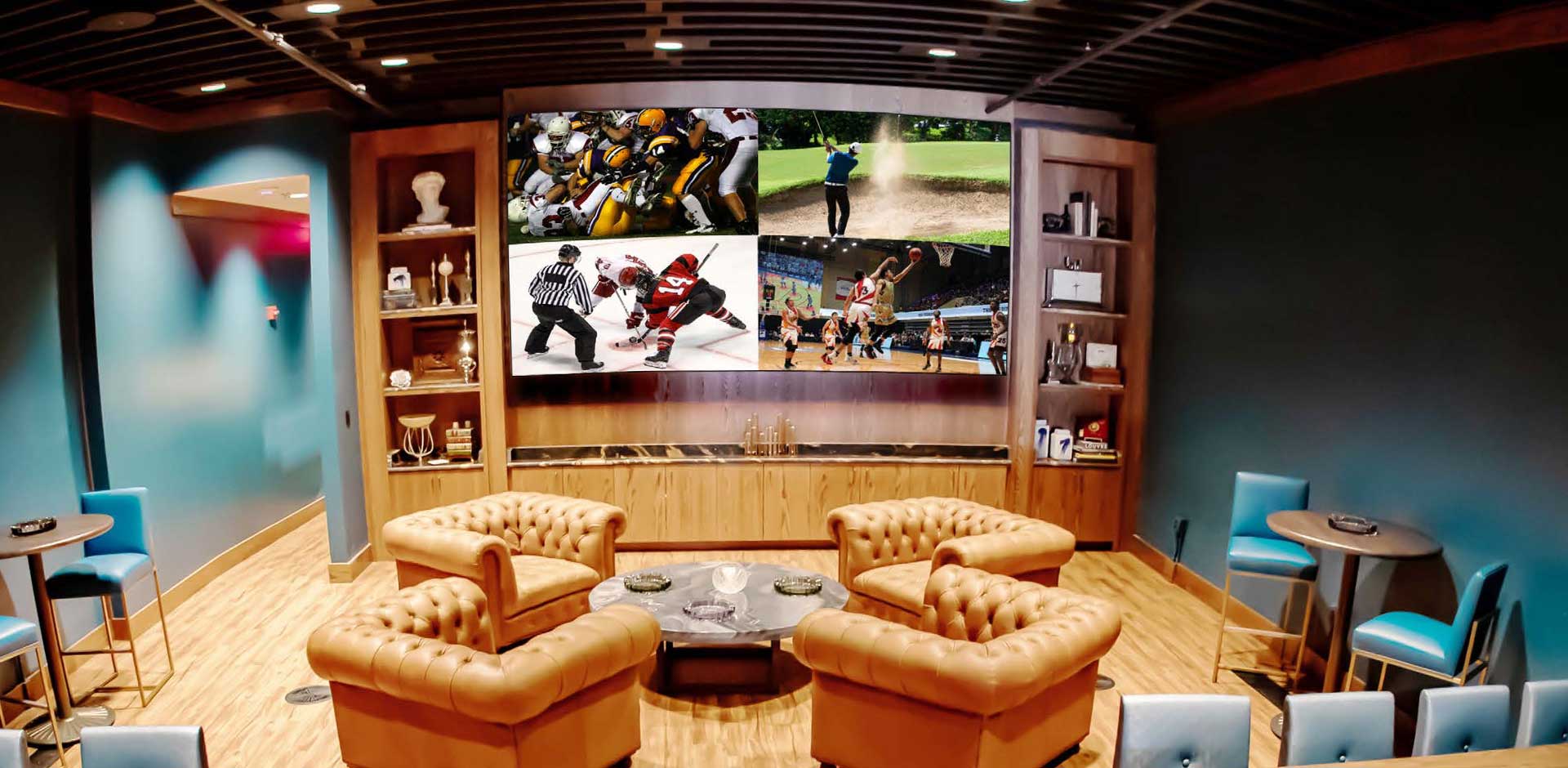 A Premier Solution And Exceptional Service
When designing the layout, Fiori wanted to expand his unique blend of elegant decor and cozy atmosphere by adding a large, high-end display for the Lounge's rear theater room. Tasked with integrating such a solution were the technology experts at DES. Matthew Lien, Vice President of Sales at DES, had this to say about the process, "When our team first discussed the client's vision for the Lounge, we knew they wanted a premier solution. The Garrison Avenue location isn't Fifth Avenue in NYC, but nevertheless, the owners spared no expense on making this place special; the chairs, the humidor, the beverages, and certainly the technology all resonate luxury." The team at DES chose a 1.2 pixel-pitch Performance Series Radiance LED Video Wall as the preferred solution for this project. Lien continues,
"The original architectural plans called for a display using LCD video wall technology. We instead chose Digital Projection for two reasons; Radiance LED exceeded the technical specifications and improved the visual aesthetic of the original design, and the team at Digital Projection was able to quickly deliver and help us complete the project ahead of schedule. The end-result turned out even better than we had anticipated."
"What's really special about the display is that it's bold, bright, and seamless… We couldn't be happier with it!" -Sammy Fiori, Co-Owner, 906 Lounge
High-End LED Visuals For An Elevated Experience
The reactions from the Lounge and their guests have been exceptionally positive. Wall-mounted in a custom facade, the 165'' diagonal LED wall is a multi-purpose, dynamic display that contributes to the myriad of events held at the 906 Lounge. Buddy Kell, general manager for the 906 Lounge explains, "The Radiance LED Wall is a perfect addition to the place. We like to tell first time visitors to 'be sure and check out our little TV around the corner' – and their initial reaction is always shock and awe." A new favorite spot for their clientele, the Lounge says the rear theater room is also a sought-after place for fans of the University of Arkansas Razorbacks sports teams and fantasy sports aficionados. Kell goes on to say, "We have the capability of showing 4 screens at once on the LED Wall, so playoff time is always a big deal. On Sundays we usually show 3 games at once and sports news on the remaining area so people can keep up with their fantasy sports leagues."
Most importantly however, the Radiance LED display compliments the feel and attitude of the Lounge. Sammy Fiori describes this in saying,
"What's really special about the display is that it's bold, bright, and seamless. We didn't want lines separating the content like you would see in LCD monitors. All those panels together make up one big, beautiful picture, and people just have a lot of fun with it. It's so bright, some people have joked that they are getting tans while watching it!"
Fiori goes on to explain, "It really makes a difference – here you're not inundated with smaller, lesser quality screens everywhere you look like at your normal sports-bar. Here you have a much more comfortable and elevated experience – and we couldn't be happier with it."
---
We would like to thank the 906 Lounge and DES for the content and use of images in this case study.
Learn more about the one-of-a-kind 906 Cocktail and Cigar Lounge at www.906lounge.com
See more of DES' cutting-edge audio-visual solutions at www.des3s.com
Radiance LED Performance Series
Peak LED Performance
Engineered to create the very best in direct-view LED user experiences, the Radiance LED Performance Series HDR delivers exceptional results for the most demanding projects. The Performance Series HDR features the highest-resolution pixel-densities (including Micro LED), broadest color gamut reproduction, and customization options for mission critical redundancy and stereoscopic 3D applications.
Find out more
Key Features: Radiance LED Performance Series
Highest performance indoor solution
100% Front-installation and serviceability
Up to 1,500 nits brightness
Up to 100,000 hours LED lifetime
Countless integration options including flush-mount, ADA wall mount (3.75" depth), floor support, ceiling support
Widest viewing angles and color/contrast performance
Redundancy and 3D capable options available – Contact us for more information