TITAN-Laserprojektoren sind der Schlüssel zu atemberaubenden Bildern der Open-Air-Oper
Nach dem durchschlagenden Erfolg der Produktion von Der fliegende Holländer im Sommer 2017 hat das Theater Regensburg mit seiner neuesten Aufführung – einer Version von Puccinis Tosca als Musikdrama in drei Akten – wieder neue Maßstäbe für Open-Air-Opern gesetzt.
Wie schon zuvor fand die Veranstaltung im Westhafen des Gewerbeparks bayernhafen statt, einem riesigen Güterverkehrsknotenpunkt im ostbayerischen Regensburg. Während sich die Bühne auf der Seite des historischen Stadtlagerhauses befand, saßen die fast 3.000 Zuschauer gegenüber am Nordkai. Die Seite des Lagerhauses selbst diente dabei als riesige Projektionsfläche, auf die mithilfe der TITAN-Laserprojektoren von Digital Projection eine Vielzahl spektakulärer Bilder projiziert wurden.
"Der Videoaspekt war der Hauptteil der Show", sagt Wolfgang Frauendienst, der die Projektoren bediente. "Die Schauspieler und das Publikum waren etwa 100 Meter voneinander entfernt, daher brauchten wir einen Projektor, der über eine große Distanz so viel Helligkeit wie möglich bietet. Also haben wir uns dazu entschlossen, 4 TITAN-Laserprojektoren einzusetzen die, jeweils zwei übereinander, je eine Hälfte des Gebäudes abdeckten."
Der Titan Laser 37000 erzeugt mit bis zu 37.000 (WUXGA) bzw. 31.000 (4K-UHD) Lumen und hat ein relativ kompaktes Gehäuse. Dadurch ist er der ideale Projektor für besonders anspruchsvolle Einsätze an großen Veranstaltungsorten.
"Wo helle, gestochen scharfe Bilder benötigt werden, sollte es keine Kompromisse geben", sagt Mark Wadsworth, Vice President of Global Marketing von Digital Projection. "Der TITAN Laser nutzt die neuesten Anschlussmöglichkeiten, darunter DisplayPort, HDMI 2.0 und HDBaseT. Die ausgereifte Elektronik sorgt auch bei Projektoren, die in größeren Veranstaltungsräumen zum Einsatz kommen, für eine optimale HDR-Verarbeitung und Funktionen wie eine konstante Helligkeitssteuerung oder DMX Art-Net-Kompatibilität. Dadurch ist er die ideale Lösung für hochkarätige Veranstaltungen wie diese."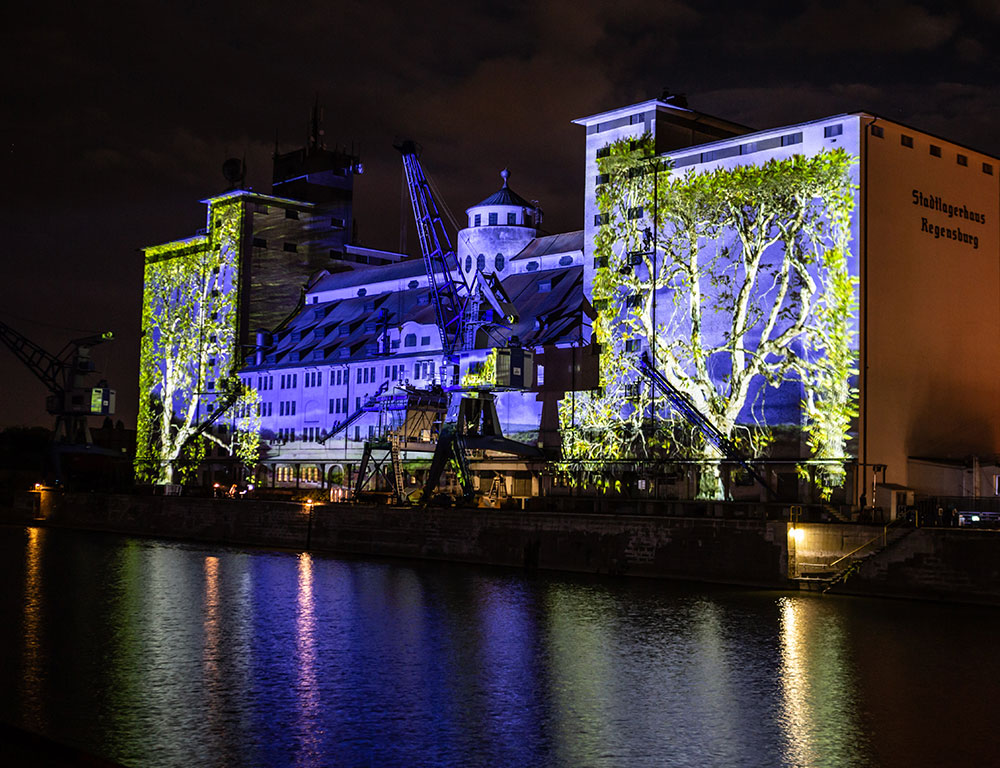 Die Projektoren wurden von Digital Projections Vertragshändler ETHA geliefert, während der Rest der Videoausstattung von der lokalen Firma Fingerprint Production kam. Unterstützt wurde Wolfgang Frauendienst beim Einsatz der TITAN-Laser-Projektoren von ETHAs Video-Experten, Heiko Hoffmann.
Frauendienst fügt hinzu: "Die Inhalte wurden mit der MadMapper-Software abgespielt und gingen über zwei HDBaseT-Links an die beiden Projektor-Stacks. Die Live-Inhalte wurden dann mit einem Blackmagic Design Switcher geschnitten und über SDI an den Content-PC weitergeleitet. Das gesamte Netzwerk wurde in 10 Glasfaserleitungen von über einem Kilometer zusammengefasst, damit Ton, Licht, Video und fünf Kameras miteinander kommunizieren konnten."
Für die Videoinhalte, darunter dreidimensionale Innenräume von Kathedralen und Folterkammern, war Clemens Rudolph zuständig, während Matthias Beck den Live-Videoschnitt übernahm. Sein Filmmaterial wurde anschließend in Rudolphs vorgefertigten Inhalt eingearbeitet.
Wie bei jedem Projekt dieser Größenordnung stieß das Videoteam während der Vorproduktion auf einige Herausforderungen. Allerdings war keine so groß, dass sie die herausragende Abendunterhaltung zum Scheitern brachte.
"Die Show war ein toller Erfolg", fügt Frauendienst abschließend hinzu. "Das Feedback von Presse und Publikum war großartig, und ich denke, die Crew hat gerne daran mitgewirkt, weil es ein so ungewöhnliches Event war."
Foto von: Christina Iberl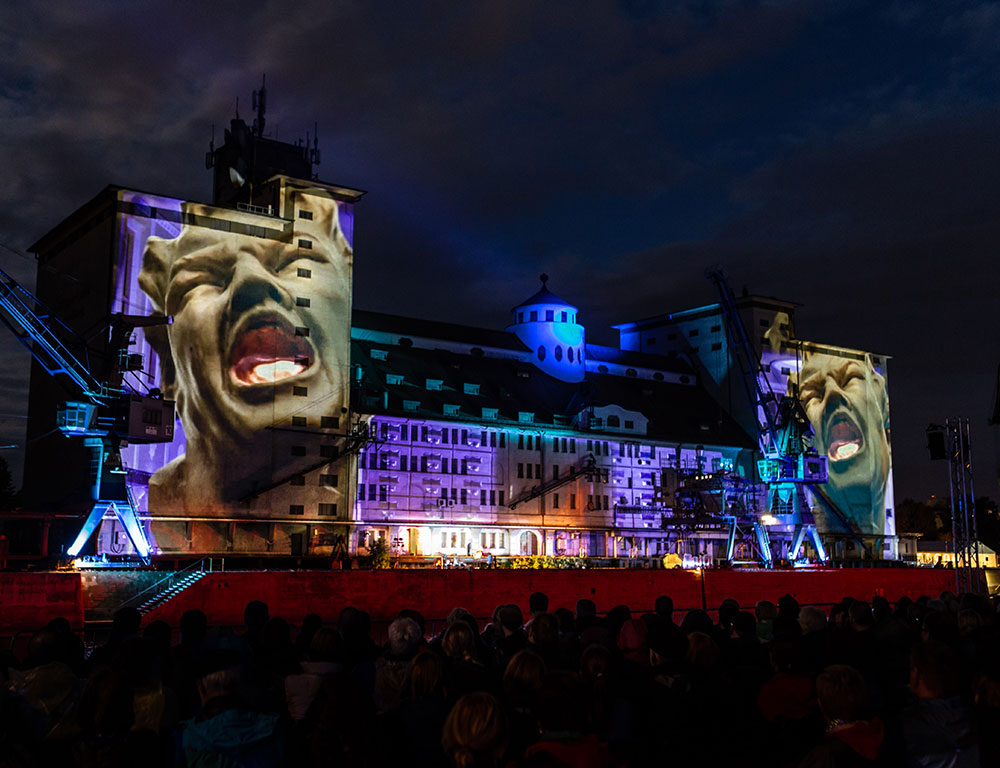 TITAN Laser Projektor
The Titan Laser 37000 delivers up to 37,000 (WUXGA) or up to 31,000 (4K-UHD) Lumens from a relatively compact chassis, making it the ideal projector for the most demanding of large-venue applications. Where bright, pin sharp images are required there should be no compromise.
Mehr Infos