Digital Projection E-Vision Laser hilft Magna Steyr dabei, die branchenweit erste Transformation der Produktion voranzutreiben
Mit einer jährlichen Produktionskapazität von über 200.000 Fahrzeugen seit 2018 ist Magna Steyr weltweit der größte Auftragshersteller von Automobilen. Das österreichische Automobilunternehmen hat großen Automobilherstellern wie Mercedes-Benz, BMW, Aston Martin, Audi und Land Rover geholfen, einige ihrer bekanntesten Autos zu entwickeln. Es hat erkannt, wie wichtig es ist, in einer Branche, die sich so schnell entwickelt, die Pole-Position zu halten. Aus diesem Grund hat es vor kurzem in seinen anhaltenden Erfolg investiert und seinen Produktionsprozess einer 4.0-Transformation unterzogen. Das Ergebnis lässt sich am besten als ein Minority-Report-ähnlicher, immersiver, intelligenter Besprechungsraum beschreiben, der das rund um die Uhr schlagende Herz von Magnas Produktionsumgebung bildet. Er befindet sich direkt in der Produktionshalle und setzt die lampenfreien "E-Vision Laser 6500"-Projektoren von Digital Projection ein, um eine gestochen scharfe und absolut zuverlässige Darstellung von Informationen zu gewährleisten.
Magna Steyrs "Meeting Space" ist ein wegweisendes Beispiel für die intelligente Industrie-4.0-Fabrik, in der cyber-physikalische Systeme physikalische Prozesse überwachen und eine virtuelle Kopie der physischen Welt erstellen, von der aus dezentrale Entscheidungen getroffen werden können. Über das Internet der Dinge kommunizieren und kooperieren diese cyber-physikalischen Systeme in Echtzeit mit Menschen und miteinander, sowohl intern als auch über Unternehmensgrenzen hinweg.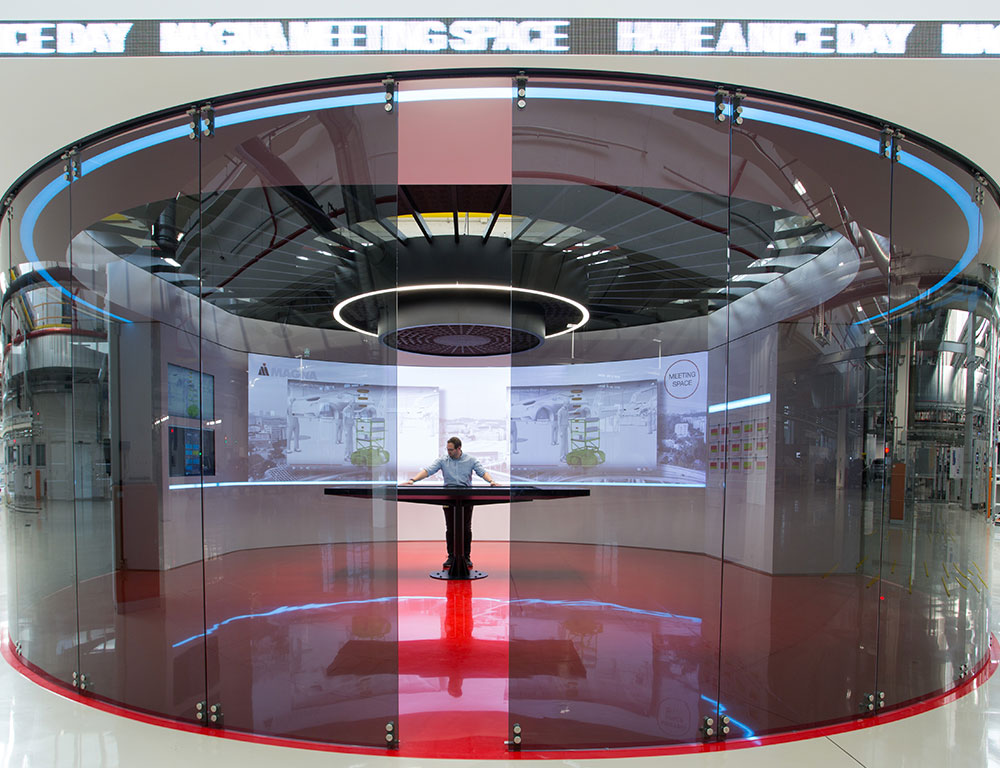 Um diese Branchenneuheit umzusetzen, wandte sich Magna Steyr an den Lösungsarchitekten ORTLOS Space Engineering, um eine wirklich einzigartige Lösung zu erhalten. Ivan Redi, Design Director von ORTLOS, konzentriert sich seit über 17 Jahren auf die Spezialisierung von Spitzentechnologie und deren Schnittstellen mit dem Architekturdesign. "Dies ist der erste Raum seiner Art, der direkt in der Produktionshalle umgesetzt wurde und als echtes Arbeitsinstrument für die Menschen genutzt wird, die direkt an der Autoproduktion beteiligt sind.", so Redi.
Im Meeting Space verwandelt sich die gekrümmte mit Corian überzogene Rückwand in eine riesige Projektionsfläche von 730cm x 200cm. Drei "E-Vision Laser 6500"-Projektoren von Digital Projection bilden dabei zusammen eine sichtbare Oberfläche und an der Seite der projizierten Fläche sind zwei 55-Zoll-LED-Anzeigen angebracht. Die gesamte Bild- und Kommunikationstechnik im Meeting Space wird über einen zentralen 84-Zoll-Touchtable bedient, der von einer einzigen dedizierten WINGS-VIOSO-Serverplattform gesteuert wird.
Redi betont, dass eine der größten Herausforderungen für Projekte dieser Art die Komplexität der Zusammenführung vieler Geschäftsfelder ist. Das Konzept war so zukunftsorientiert, dass ORTLOS mit einem Technologieexperten zusammenarbeiten musste, dem es vertrauen konnte, und so fand es nach langem Suchen VIOSO.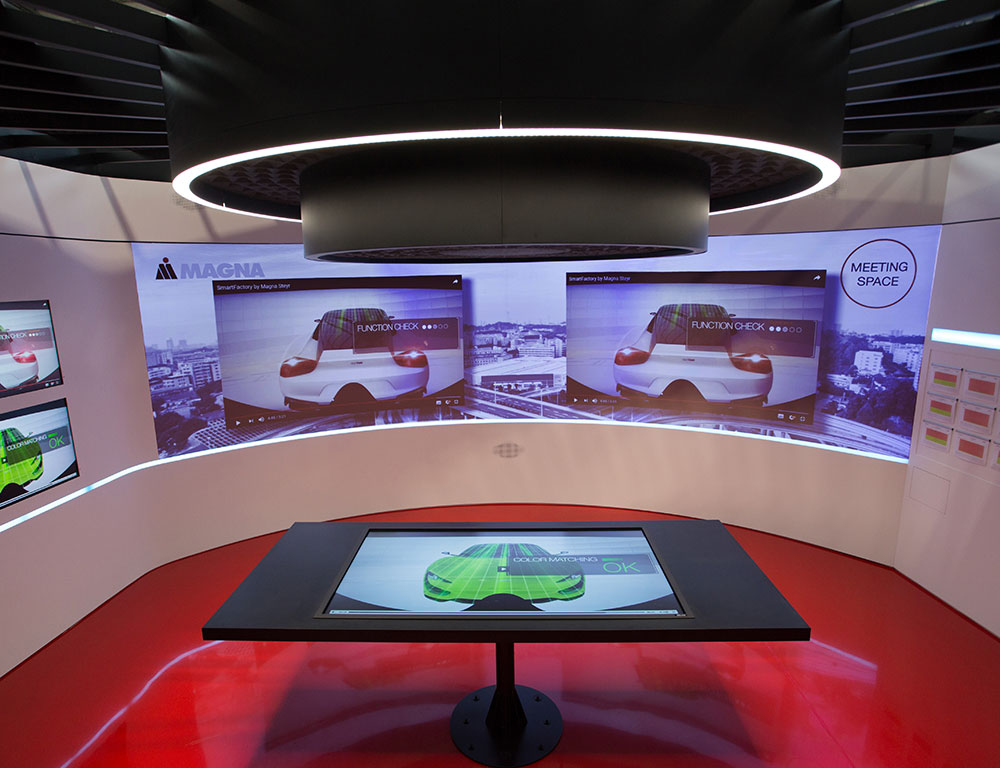 Redi erklärt: "Bei dieser Art der Unternehmenstransformation gibt es eine Menge Ungewissheit: Sie ist von ihrer Art her so neu, dass Entscheidungen nicht auf vergangenen Erfahrungen oder Anwendungen beruhend getroffen werden können. Der Klient hat eine Vision und dabei gibt es so viele Risiken und Herausforderungen unterschiedlicher Art. Wir wussten, dass wir ein sehr qualifiziertes und hoch technologisches Unternehmen brauchten, das über Sozialkompetenz verfügt. Ein Unternehmen, dem man vertrauen und auf das man sich verlassen kann, das keine Anstrengungen scheut, wenn Probleme auftreten, und VIOSO war dieser Partner."
Die physische Manifestation von Magnas Meeting Space ist daher bildlich gesprochen die Spitze eines riesigen Beratungs- und Planungseisbergs. VIOSO spezifizierte die physischen Eigenschaften der Installation, die Redi von ORTLOS akribisch aus den unzähligen Geschäftsanforderungen und -funktionen von Magna entwickelt hat.
Aufgrund der Art des Projekts hat sich der Entwurf in seinen Anfangsphasen stets verändert. Als die Anforderungen von Magna Gestalt annahmen, wuchs der Bedarf von einem Besprechungsraum mit ursprünglich 150 Sitzplätzen zu einem Bühnenbereich mit Platz für 300 Personen. Irgendwann umfasste der Entwurf 800 Zuschauer und Teilnehmer, die alle eine perfekte Sicht und perfekt dargestellte Inhalte benötigten. Glastüren vom Boden bis zur Decke begrenzen den Raum oder lassen sich nach Bedarf öffnen.
Er wird ständig vom gesamten Produktionsteam genutzt, vom Geschäftsführer bis zum Techniker. Die Arten von Besprechungen reichen von Skype-Anrufen, die innerhalb Europas stattfinden, um die Spezifikation von neuen Autoteilen inmitten von vielen anderen Arten von technischen Produktionsmeetings zu perfektionieren, bis zu Präsentationen für neue Kunden und Führungskräfte-Meetings. Jede Datenkombination, von produktionsspezifischen Daten bis hin zu Skype-Anrufen, kann auf den Bildschirm projiziert und alle gängigen Dateitypen können im Vollbildmodus oder im Bild-in-Bild-Format dargestellt werden.
Der Fokuspunkt der Rückwand des Meeting Space war schnell festgelegt. Redi erklärt: "Man muss den Raum verwalten und weil in einer Fabrik jeder Millimeter wertvoll ist, bietet ein gekrümmter Projektionsraum mehr Projektionsfläche, was es einfacher macht, die gesamten Produktionsdaten auf einmal zu projizieren."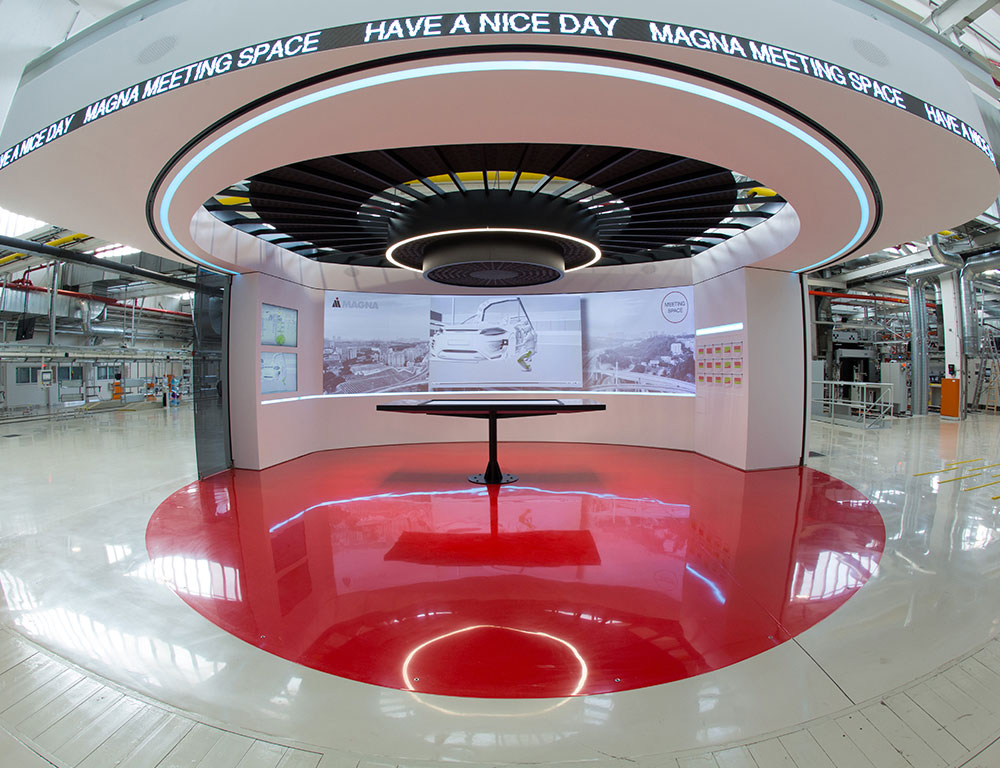 Raul Vandenberg, Verkaufsleiter von VIOSO, fügt hinzu: "Die geschwungene Leinwand passt zur modernen, runden Form des Raums und trägt durch die umgebende Form noch zum immersiven Erlebnis bei. Die weiße Wand wird anstelle einer dedizierten Projektionswand verwendet und durch ihre zurückhaltende Optik sind Form und Funktion auch bei Nichtgebrauch eine perfekte Kombination.
Vandenburg entschied sich für das Projektionssystem "E-Vision Laser 6500" von Digial Projection, denn, so sagt er: "Das Modell passte sowohl im Hinblick auf das Budget als auch in technologischer Hinsicht perfekt und ermöglichte dem Kunden den Zugang zu einer außergewöhnlichen Lasertechnologie, die leistungsstark, nahezu wartungsfrei, zukunftssicher und langlebig ist. Die Lasertechnologie von Digial Projection ist bei weitem die Beste in dieser Preisklasse."
Der E-Vision Laser 6500 WUXGA ist kompakt, hell und liefert farbgenaue Bilder sowie eine 20.000 Stunden stabile Ausleuchtung. Der in der Nähe positionierte WINGS-VIOSO-Server, auf dem das gesamte Daten- und Content-Management abgewickelt wird, ist in der Lage, die WUXGA-Signale (1920 x 1200) über eine hochwertige Kupfer-HDMI- und Display-Port-Verkabelung an die Digital-Projection-Projektoren zu übertragen.
Wings VIOSO kombiniert die leistungsstarke Funktionalität von AV Stumpfls Wings RX mit dem VIOSO Calibrator SW, der nicht nur die VIOSO-Anyblend-Software für eine einfache und zuverlässige Multiprojektor-Einrichtung integriert, sondern auch die patentierte, kamerabasierte Auto-Alignment-Technologie von VIOSO.
Da keine Lampen gewechselt werden müssen, wird die Ausfallzeit durch eine Fehlausrichtung des Projektors drastisch reduziert. Gerade in der Produktionsumgebung einer Fabrikhalle in der Größenordnung von Magnas muss eine Projektor-Fehlausrichtung berücksichtigt werden. Die Auto-Alignment-Technologie von VIOSO wirkt dem entgegen, indem sie im projizierten Bildbereich elektronisch eine virtuelle Leinwand misst und aufbaut. Überlappende Bereiche werden dann geometrisch korrigiert und nahtlos verbunden, unabhängig von der Anzahl der verwendeten Projektoren oder deren Ausrichtung.
VIOSO arbeitet aufgrund der Ausrichtung der Unternehmenswerte Hand in Hand mit Digital Projection. Vandenburg erklärt: "VIOSO und Digital Projection entwickeln beide erschwingliche, hochmoderne Projektionslösungen und sind beide bestrebt, dem Kunden das Allerbeste zu bieten. Für uns sind wir jetzt wie eine Familie."
Magna Steyr ist begeistert von der Produktionsumgestaltung, die ständig im Einsatz ist. Redi erklärt: "Sie funktioniert, und sie funktioniert auf die solideste und zuverlässigste Art und Weise, weil sie in einer weltweit führenden Automobilfabrik eingesetzt wird; und in einer Fabrik, in der alle drei Minuten ein neuer Jaguar F-Pace vom Fließband rollt, ist kein Platz für Fehler."
Bilder mit freundlicher Genehmigung von Mathias Kniepeiss
Product mentioned in this case study: E-Vision Laser 6500
20,000 hours illumination
E-Vision Laser 6500
This solid state E-Vision Laser 6500 II is a 6,500 ANSI Lumen projector, with a WUXGA resolution and an improved contrast ratio of up to 20,000:1. Like all other lamp-free projectors from Digital Projection, the E-Vision Laser 6500 also offers 20,000 hours of stable illumination and its compact chassis make it the ideal projector for applications where space is limited.
Find out more