Digital Projection E-Vision Laser Helps Drive Magna Steyr's First-of-its-kind Industry Production Transformation
With an annual production capacity of over 200,000 vehicles as of 2018, Magna Steyr is the largest contract manufacturer for automobiles worldwide. The Austrian automotive company has helped major car manufacturers such as Mercedes-Benz, BMW, Aston Martin, Audi and Land Rover develop some of their most iconic cars. Recognising the importance of maintaining pole position in such a fast-moving industry, Magna Steyr has recently invested in its continuing success by undergoing an Industry 4.0 digitalised production process transformation.
The result is best described as a Minority Report-style, immersive, smart meeting space positioned as the 24/7 beating heart of Magna's production environment. Situated directly on the shop floor, it uses Digital Projection's solid-state E-Vision Laser 6500 projectors to ensure the most clear, crisp and reliable display of information.
Magna Steyr's "Meeting Space" is a pioneering example of the Industry 4.0 'smart factory' where cyber-physical systems monitor physical processes and create a virtual copy of the physical world from where to make decentralised decisions. Over the Internet of Things, these cyber-physical systems communicate and cooperate with each other and with humans in real-time both internally and across organisational services.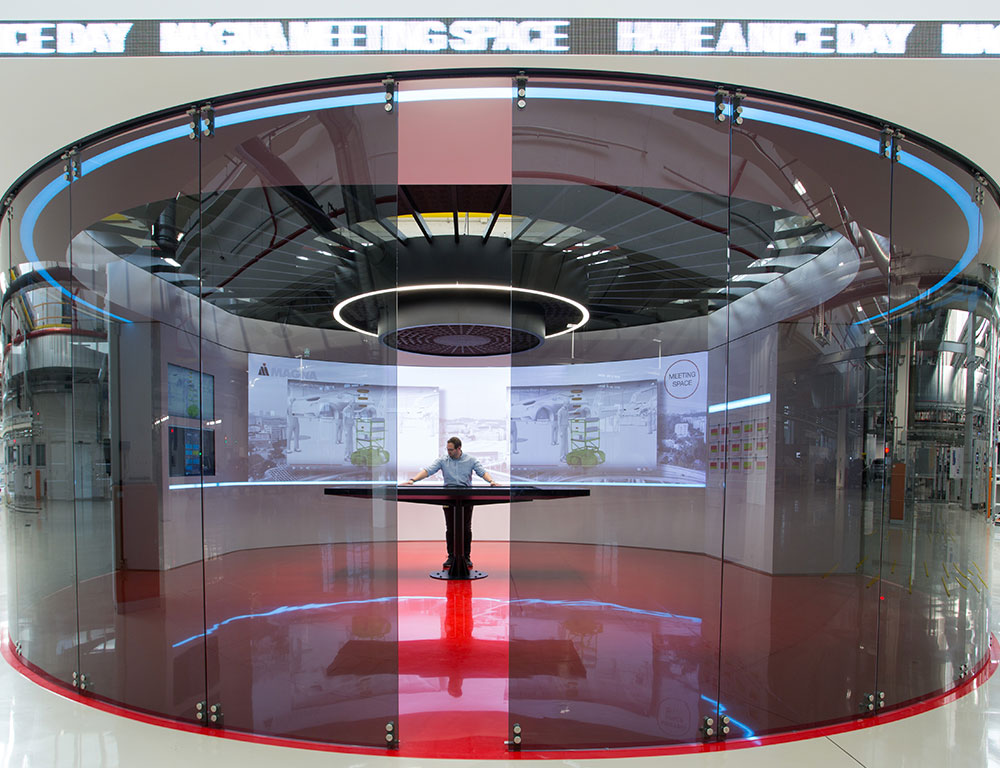 To achieve this industry first, Magna Steyr turned to solutions architect ORTLOS Space Engineering to deliver a truly unique solution. ORTLOS' design director, Ivan Redi, has focused on the specialisation of advanced technology and its interfaces into architectural design for over 17 years. He reveals, "This is the first space of its kind, implemented directly on the shop floor and used as a real working instrument for the people who are directly involved in the car production."
Within the Meeting Space, the 134˚ curved back wall, transforms into a vast 730cm long by 200cm high projection surface. Three Digital Projection E-Vision Laser 6500 projectors combine to create a viewable surface. To the side of the projected area, two 55-inch LED displays are mounted. All visual and communication technology operating within the Meeting Space is controlled via a central 84-inch touch table, driven by a single dedicated WINGS VIOSO server platform.
Redi exerts that one of the main challenges for projects of this nature is the complexity of pulling together many areas of the business. The concept was so forward-thinking that ORTLOS needed to partner with a technological expert it could trust, and after much searching, discovered VIOSO.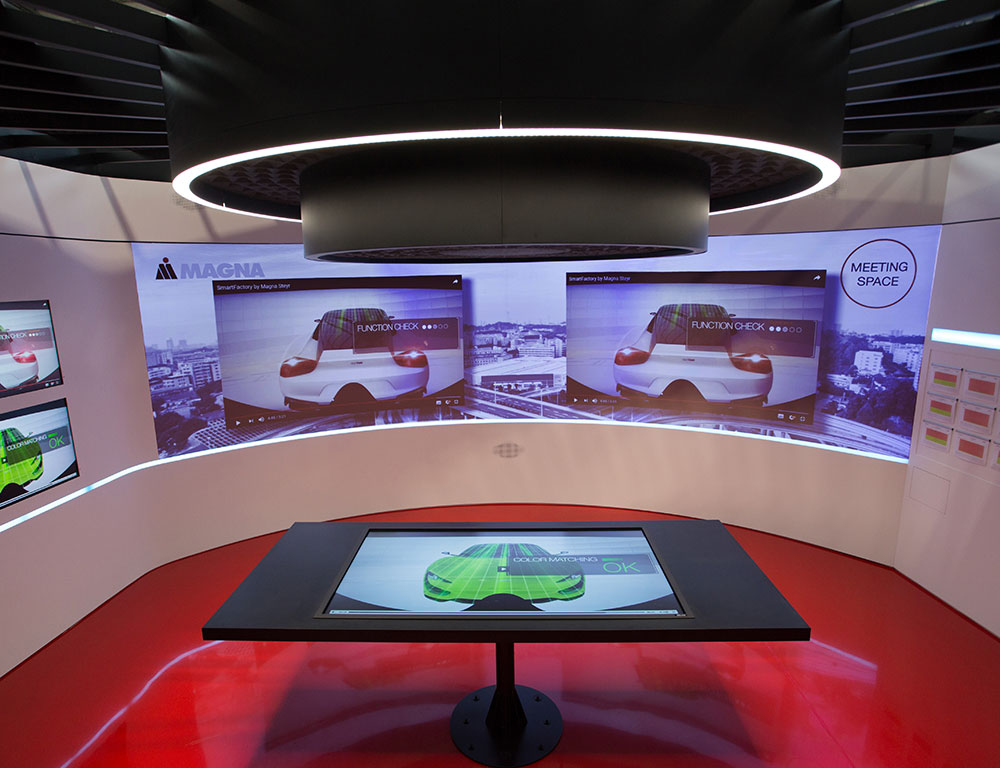 Redi explains, "There is a lot of uncertainty for this type of business transformation: It is so new, that, by the very nature of it, decisions can't be based on former experience or applications, the client has a vision, with so many risks and challenges of different kinds along the way. We knew we needed a highly knowledgeable and technological company that had soft skills. A company you can trust and rely on, that will go the extra mile when issues arise, and VIOSO was this partner."
The physical manifestation of Magna's Meeting Space, therefore, is metaphorically the tip of a vast consultancy and planning iceberg. VIOSO specified the physical attributes of the installation meticulously conjured from Magna's myriad business needs and functions by ORTLOS' Redi.
Due to the nature of the project, the design in its initial stages was an ever-moving feast. As the requirements of Magna took shape, the need grew from being a 150-seat meeting space originally, to a stage area that would host 300. Eventually, the design encompassed 800 viewers and participants, all needing a perfect view and a perfectly displayed content. Floor-to ceiling glass doors contain or throw open the space according to need.
The space is in constant use by the whole production team, from CEO to technician. The types of meeting range from Skype calls across Europe, to perfect the specification of new car parts, amongst many other styles of technical production meeting; to new customer presentations and meetings of the Executives. Any combination of data, ranging from production-specific data to Skype calls, can be projected onto the screen and all common file types, can be used to present in full-screen or as picture-in-picture formats.
The focal point of the back wall of the Meeting Space was quickly established. Redi explains, "You have to manage the space and because every millimetre in a factory is valuable, a curved projection space provides more surface to project on, making it easier to project the whole production data at once."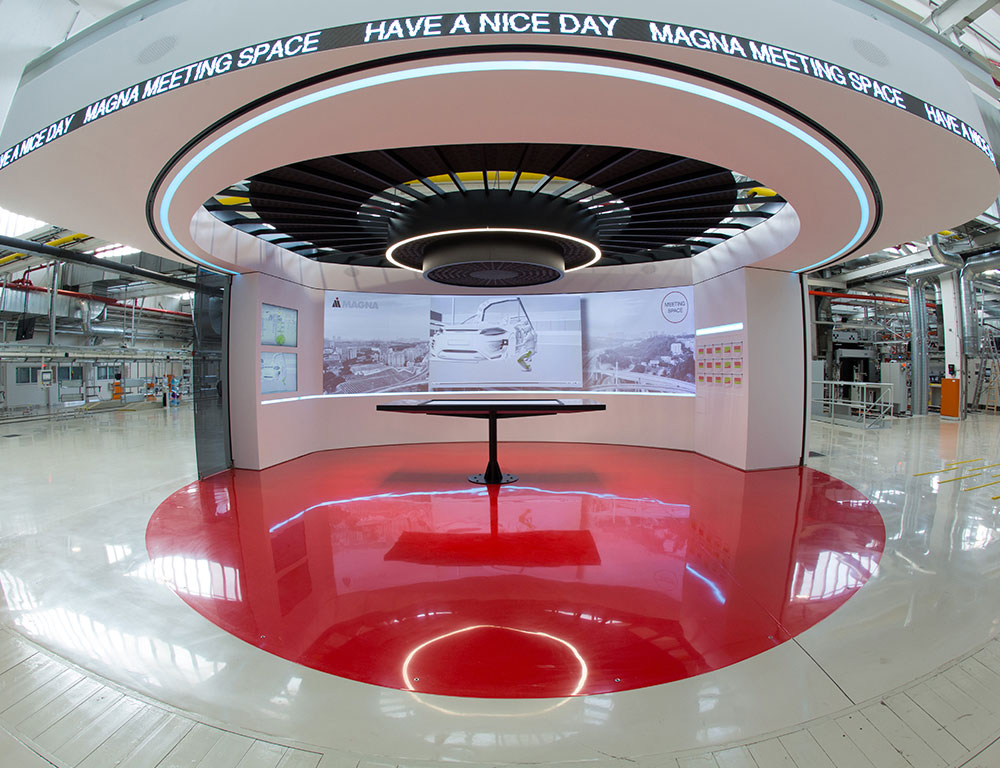 Raul Vandenberg, VIOSO's sales manager adds, "The curved screen fits to the modern, round-shaped outline of the room and also adds to the immersive experience by its surrounding shape. By using the white wall instead of a dedicated projection screen, its invisible nature makes form and function a perfect combination even when not in use."
Vandenburg specified the Digital Projection E-Vision Laser 6500 projection system because, he states, "The model was a perfect fit, both from a budget perspective and from a technological aspect, giving the client access to an extraordinary laser technology that is powerful, maintenance-free, future-proof and long-lasting. Digital Projection's laser technology is far and away the best in this price range"
The E-Vision Laser 6500 WUXGA is compact, bright and provides colour-accurate imagery alongside 20,000 hours of stable illumination. Handling all the data and content management, the WINGS VIOSO server, positioned in close proximity, is able to transmit the WUXGA (1920 x 1200) signals to the Digital Projection projectors using high quality copper HDMI and Display Port cabling.
Wings VIOSO combines powerful AV Stumpfl Wings RX functionality with VIOSO Calibrator SW, which not only integrates the VIOSO Anybend software for a simple and reliable multi-projector set up, but also VIOSO's patented, camera-based, auto-alignment technology.
With no lamps to change, downtime from projector misalignment is dramatically reduced. However, particularly in the production environment of a factory floor on the scale of Magna's projector misalignment must be factored in. VIOSO's auto-alignment technology counters this as it electronically measures and builds a virtual canvas within the projected image area. Overlapping regions are then geometrically corrected and blended seamlessly, regardless of the number of projectors used, or how they are aligned.
VIOSO works hand-in-glove with Digital Projection due to the alignment of company values. Vandenburg states, "VIOSO and Digital Projection both create affordable, state of the art projection solutions, both striving to offer the very best to the customer. For us, it's now like a family."
Magna Steyr is delighted with its production transformation, which is in constant use. As Redi states, "It works, and it works in the most robust and reliable way possible because it's used in a world leading automotive factory; and in a factory where a new Jaguar F-Pace comes out of the line every three minutes, there's no room for mistakes."
Pictures courtesy of Mathias Kniepeiss
Product mentioned in this case study: E-Vision Laser 6500
20,000 hours illumination
E-Vision Laser 6500
This solid state E-Vision Laser 6500 II is a 6,500 ANSI Lumen projector, with a WUXGA resolution and an improved contrast ratio of up to 20,000:1. Like all other lamp-free projectors from Digital Projection, the E-Vision Laser 6500 also offers 20,000 hours of stable illumination and its compact chassis make it the ideal projector for applications where space is limited.
Find out more