Digitale Projektion geht mit Mapping Pasteurviral
Dole, die Heimatstadt des Vaters der Mikrobiologie, Louis Pasteur, feierte den zweihundertsten Jahrestag seiner Geburt mit einem zweimonatigen Video-Mapping-Spektakel, das von Digital Projection unterstützt wurde.
Mapping Pasteur, das vom 9. Juli bis zum 21. August 2022 lief, verwandelte die Fassade des Hôtel-Dieu de Dole aus dem 17. Jahrhundert im ostfranzösischen Jura in ein beeindruckendes audiovisuelles Erlebnis, das die Lebensgeschichte des berühmtesten Sohnes von Dole in einer Kombination aus visuellem Spektakel und erzählerischem Drama erzählte.
Aufgeteilt in zwei Teile – "Si Pasteur m'était conté…" ("Wenn Pasteur mir erzählen würde…"), in dem die Fäden von Pasteurs beruflichem und privatem Leben mit Hilfe seiner Frau Marie verwoben werden, und dem kindgerechten "Du Rififi chez les Microbes" ("Ärger mit den Mikroben"), in dem die Abenteuer der 10-jährigen Alice, die mit Keimen sprechen kann, erzählt Denis Pageaux von der lokalen Firma IPS (Image Pro Service), die mit einem Drehbuchautor, Synchronsprechern, einem Tonstudio und zwei Grafikdesignern zusammengearbeitet hat, um das Projekt zum Leben zu erwecken, mehr als ein Jahr lang.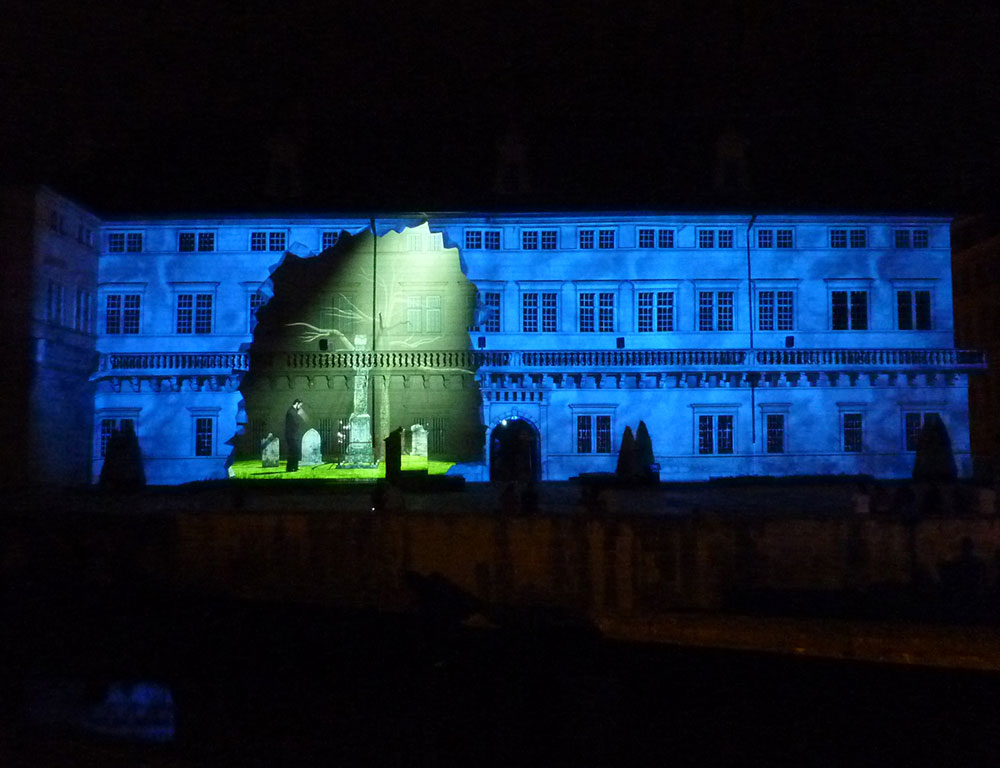 "In erster Linie wollten wir alle Zielgruppen ansprechen, vor allem die Familien, damit sich jede Generation dem Leben von Pasteur nähern kann", erläutert Alexandre Douzenel, stellvertretender Bürgermeister von Dole und Leiter der Veranstaltung, den Auftrag an IPS. "Zweitens gab es ein pädagogisches Ziel – wir wollten, dass die Menschen etwas über Louis Pasteur und seine Entdeckungen erfahren, und zwar mit absoluter historischer Genauigkeit. Schließlich wollten wir mit dieser Veranstaltung dazu beitragen, den Einfluss der Stadt Dole, dem Geburtsort von Louis Pasteur, zu stärken, indem wir den ganzen Sommer über eine moderne, immersive Show anbieten, bei der viele Menschen ihn entdecken können. Diese drei Ziele konnten wir mit einer Projection-Map-Show erreichen."
Um den Anforderungen gerecht zu werden, ging Pageaux eine Partnerschaft mit Thorsten Hoffmann von ETHA International ein und beschaffte zwei TITAN-Projektoren von Digital Projection zu beschaffen, einem Unternehmen, mit dem IPS seit einem Jahrzehnt eng zusammenarbeitet. Die TITANs, die speziell wegen ihrer außergewöhnlichen Farbe und Leistung ausgewählt wurden, wurden in demselben 6 m hohen Turm installiert und so aufgestellt, dass sie 47 m auf die linke Seite des Hôtel-Dieu projizieren.
Da das Gebäude über einen markanten quadratischen Erker verfügt, der aus der Hauptfassade herausragt, positionierte IPS einen TITAN leicht außermittig. Das bedeutet, dass der vielseitige Projektor nicht nur eine Entfernung von fast 50 m von der Lichtquelle bis zum Zielort abdeckt, sondern auch die durch die zusätzliche Struktur entstehenden rechten Winkel abbilden kann, so dass eine brillante Abdeckung über die gesamte Außenwand gewährleistet ist.
Die Projektoren wurden durch vier Turbosound-Lautsprecher ergänzt, die auf den Balkonen des Hôtel-Dieu aufgestellt waren.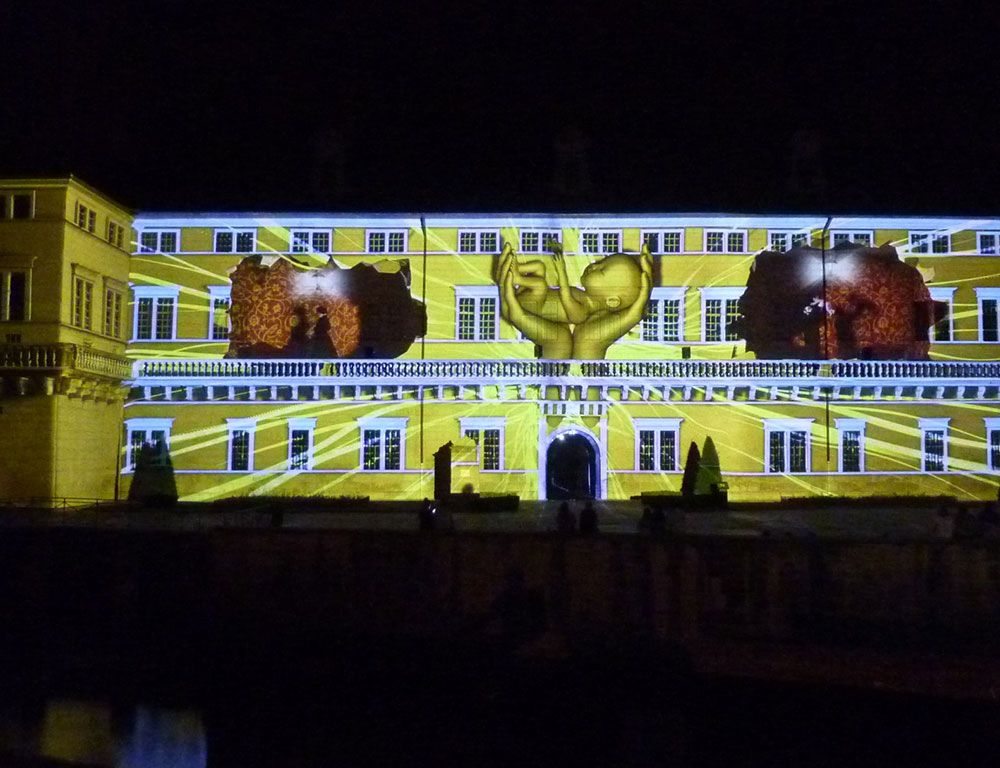 Dank der spektakulären Bilder, die die Digital Projection-Projektoren lieferten, konnte die Ausstellung ein breiteres Publikum erreichen, als dies mit einer herkömmlichen Ausstellung möglich gewesen wäre, so Douzenel. "Diese Technologie hat es möglich gemacht, ernste Themen zu behandeln und trotzdem für die breite Öffentlichkeit zugänglich zu sein", sagt er. "Wir sehen dieses Publikum nicht in Museen oder historischen Ausstellungen, und das ist für mich wirklich der Schlüssel zum Erfolg des Projection Mapping. Wir haben ein Publikum erreicht, das wir mit anderen, traditionelleren Formen der Kunst nicht erreicht hätten."
Die AV-Installation, die von IPS in drei Tagen fertiggestellt wurde, erwies sich als Hit für alle, die die Show besuchten, "eine große Anzahl [von ihnen] kam mehrmals wieder", berichtet Pageaux. "Der Endverbraucher war zufrieden und die Zuschauer waren begeistert – eine echte Erfolgsgeschichte."
"Vor allem aber war es ein Publikumserfolg, der vom Publikum, das in Scharen gekommen ist, um die Ausstellung zu besuchen, allgemein anerkannt wurde", so Douzenel. "Die Kombination von Bildung, historischer Genauigkeit und einem großen Spektakel, das durch modernste Technologie ermöglicht wird, war das Geheimnis des Erfolgs."
Pictures : ©IPS/Pageaux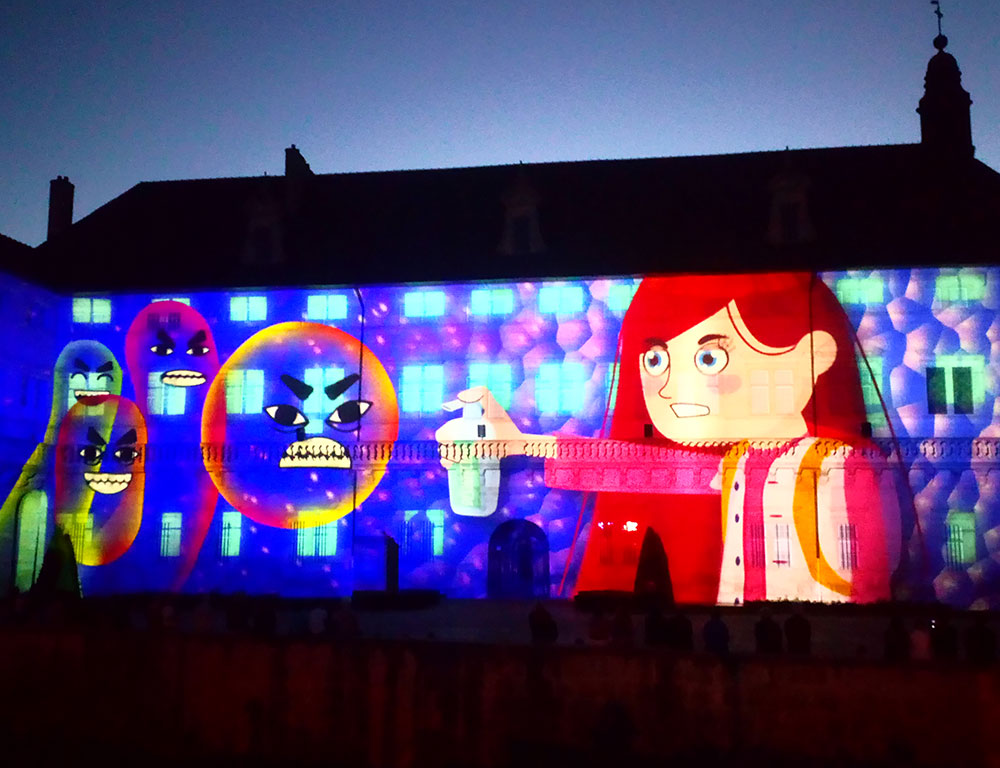 Projektor: TITAN Laser
20.000 Stunden Beleuchtung
TITAN Laser
The Titan Laser 37000 delivers up to 37,000 (WUXGA) or up to 31,000 (4K-UHD) Lumens from a relatively compact chassis, making it the ideal projector for the most demanding of large-venue applications. Where bright, pin sharp images are required there should be no compromise.
Mehr Infos