Radiance LED Creates Top-Tier Pool Space for Luxury Hamptons Home
After a long week at the office, few things compare to a comfortable home, a cold drink, and watching your favorite sports team take on their most bitter rival. For many celebrities and New York City's elite, this often means getting away for the weekend and unwinding in the Hamptons – a community comprised of some of the most sought-after homes in the country. But while the peace and quiet is a welcome respite, these discerning homeowners are also looking for top-tier entertainment technology to match the size and prestige of these high-life houses. So, when the high-end builders at Hamptons Luxury Estates began designing their latest showpiece property, they reached out to Digital Projection to create a stunning, outdoor poolside display that would be the talk of the town.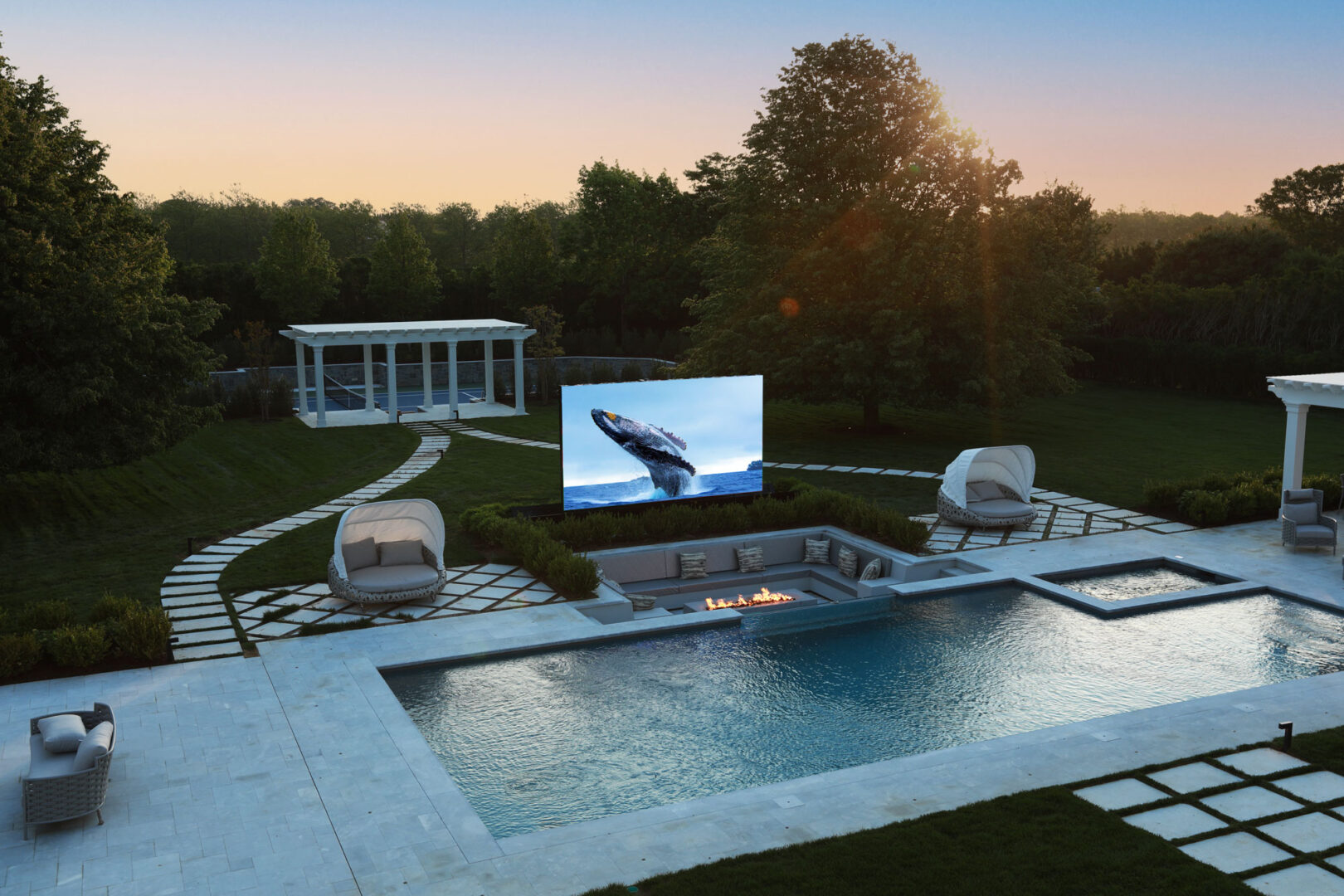 Building Dream Houses
Atypical of most luxury residential developers, Hamptons Luxury Estates LLC takes a more hands-on approach when it comes to building their properties. Owner Yale Fishman describes the company in saying, "Often you'll see companies building 'spec homes' with very similar layouts and amenities. We work with the mindset that we are building our own dream houses – custom homes with beautiful workmanship and high-end finishes."
Drawn up by a team of world-renowned architects and designers, this particular home design boasts an impressive outdoor pool area in an open and inviting backyard space. To match the quality of the outdoor environment, Fishman wanted to compliment the pool with an exceptional entertainment space, complete a with top-of-the-line display. When he contacted the display experts at Digital Projection, he had a unique request; "I need one of your outdoor LED video walls, and I need it to come up out of the ground."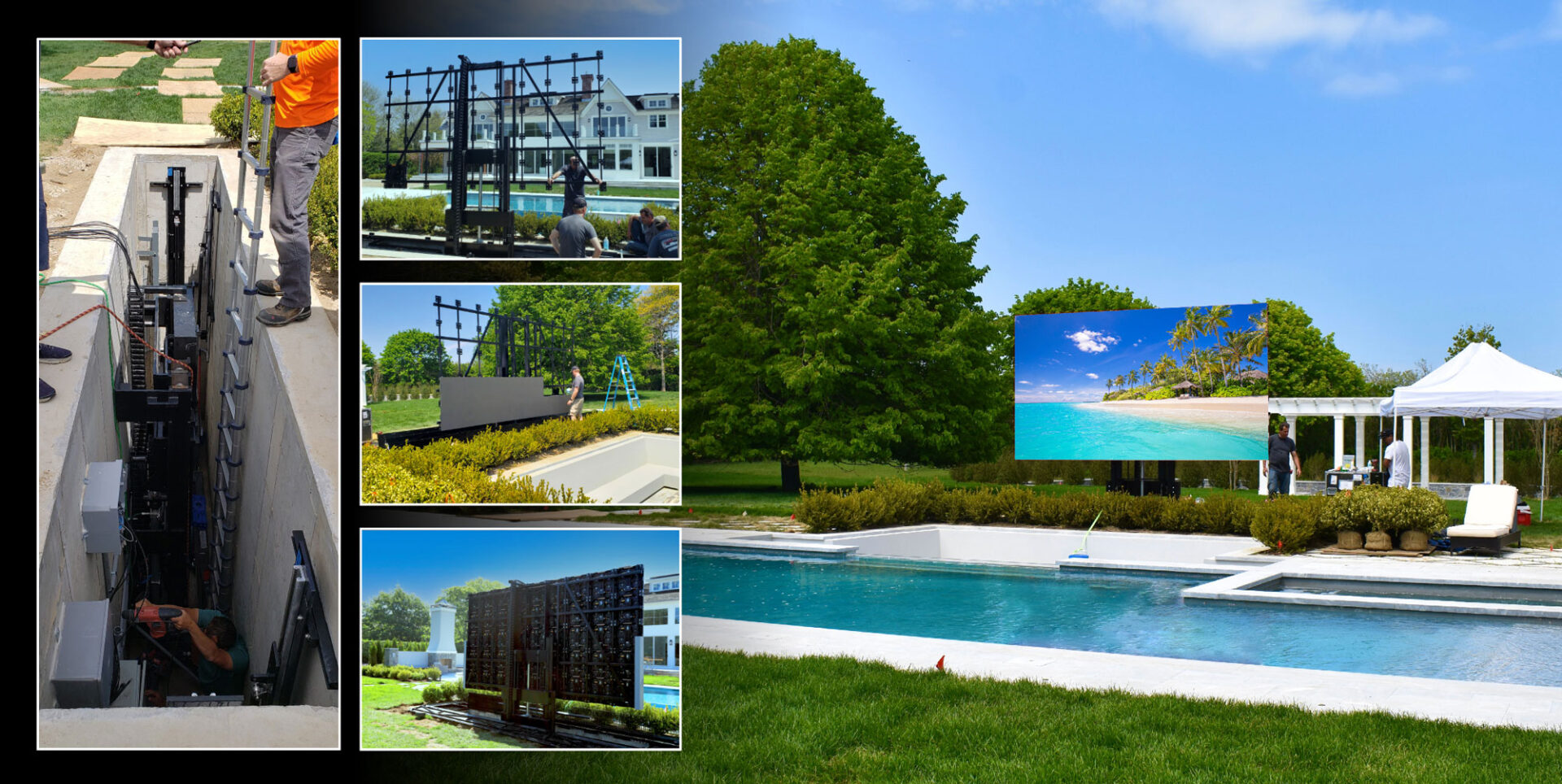 A Not-So-Simple Poolside Display
Working with partners Display Devices, Digital Projection set out to make this challenging request a reality. Eric Perkins, General Manager at Display Devices describes the process in saying:
"This project was unique in that the concept is fairly simple, yet quite challenging to make happen. After discussing our plan with a civil engineer, we essentially built an in-ground vault complete with a hydraulic lift and sump pump assembly to house and mount the LED video wall. This was finished with trap doors and safety sensors to protect house guests and wildlife. We also knew that the final product had to be high-quality and tasteful to meet the discerning needs of home buyers who want the best viewing experiences."
Perkins goes on to add, "Having worked with Digital Projection many times before, we new this combination of lift and display would make something truly impressive!"
"Having worked with Digital Projection many times before, we new this combination of lift and display would make something truly impressive!" – Eric Perkins, General Manager at Display Devices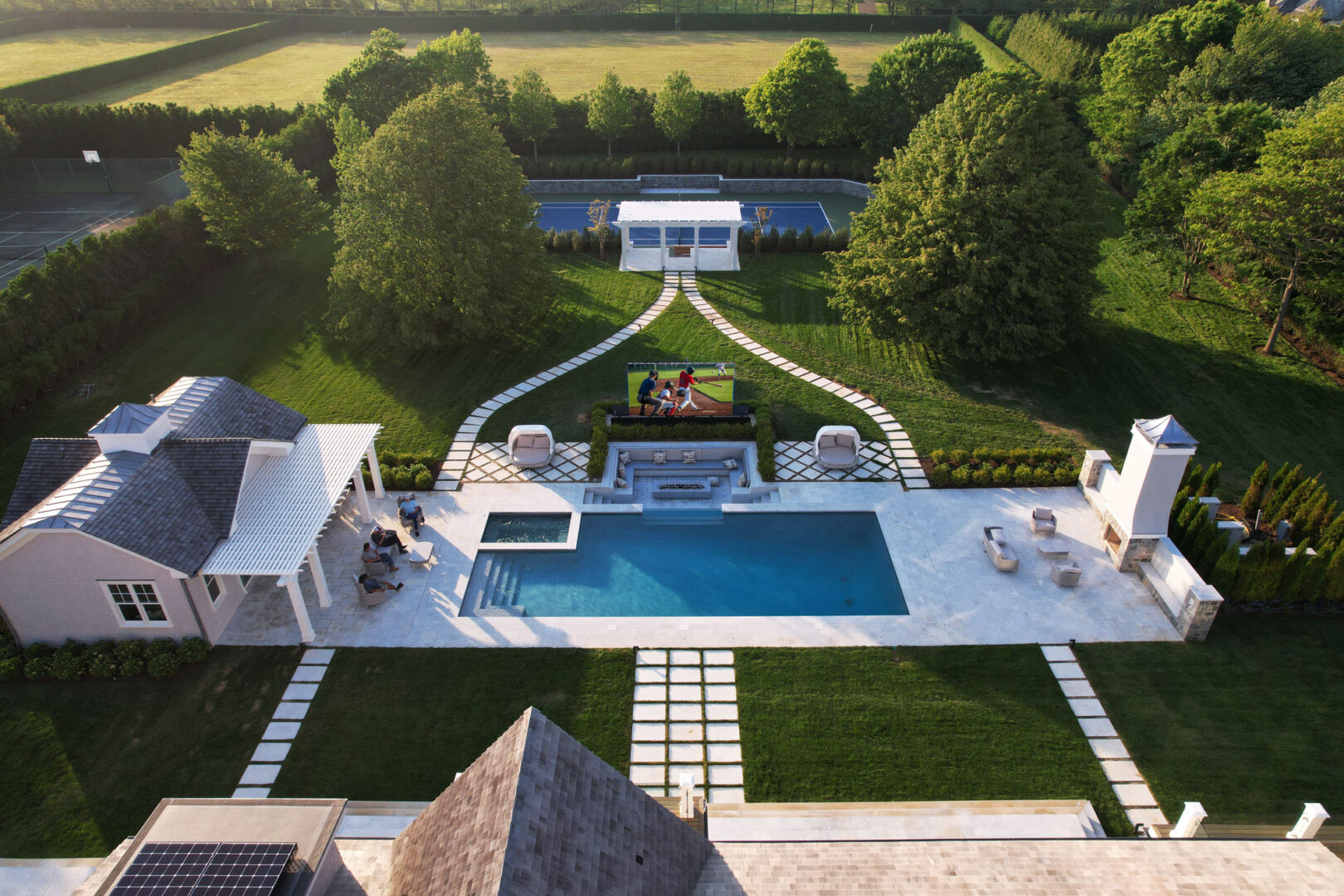 The 'Crown Jewel' in an LED Video Wall
When all was complete, the Radiance LED Outdoor Series display was truly a sight to behold. Measuring 203 diagonal inches, the 14.76ft wide by 8.2ft tall video wall is large enough to be enjoyed from every location around the pool. Fishman describes the environment with, "We built this space to be the total expression of resort-style living. A perfect place for both private, intimate moments as well as sophisticated soirees and grand fêtes – the crown jewel of which is the extraordinary Radiance LED cinema experience."
Richard Hill, National LED Manager at Digital Projection echoes this sentiment with:
"We have been fortunate to create some truly stunning indoor displays with our Radiance LED product line, but our all-weather rated Outdoor Series can now bring that same visual experience to homes with showpiece landscapes and open-air amenities. Set in this beautiful layout, and along with the innovative lift from Display Devices, this house achieves a truly next-level outdoor entertainment space."
Radiance LED Outdoor Series
All-Weather, High-Brightness Displays
Creating displays that captivate and draw attention is easy to do with the Outdoor Series by Radiance LED. Offering up to an astounding 10,000 nits of brightness, this series is perfect for outdoor entertainment, digital signage, wayfinding, and public spaces where the video display must contend with direct sunlight. and still showcase stunning color saturation & contrast.
Find out more
Key Features: Radiance LED Outdoor Series
Engineered for optimal performance in direct sunlight
IP65 rated sealed components for all weather conditions
Up to 10,000 nits brightness
Up to 100,000 hours LED lifetime
Front and rear-service options available – Contact us for more information