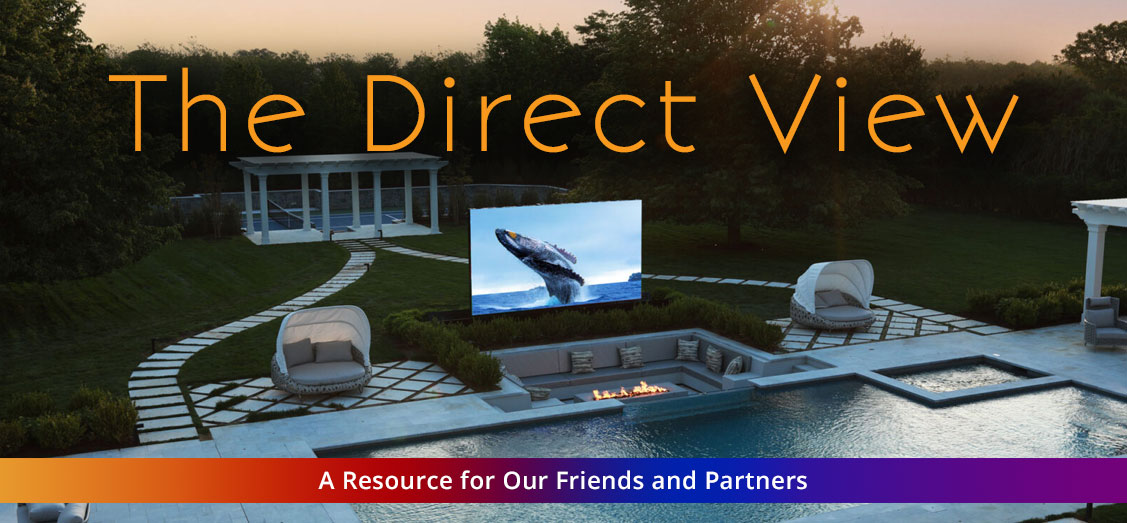 The Direct View:
Spring 2023 Edition
Digital Projection Celebrates 25 Years of Imaging Innovation
Over the past 25 years, projectors, displays, and imaging technologies have progressed beyond the threshold of imagination. Along the way, Digital Projection has been a crucial part of that progress and continues to break new ground in imaging technology, even as we celebrate our momentous silver anniversary!
It's hard to believe that after 25 years in the display technology biz, we're as energized as ever, continuing to refine, grow, and deliver the display solutions you need today. As we enter a new era of imaging excellence, we're firing on all cylinders with exciting product introductions that make a real difference in your clients' entertainment experiences. We've also added new personnel to our sales staff to make your job easier and developed a suite of tools to expand your design and installation expertise.
Our commitment to the residential and commercial imaging industry has never been stronger. Here's to our extremely luminous future!
Stay Informed with 'The Direct View'
To kick off our 25-year milestone, we are reinvigorating our newsletter, The Direct View, to keep you informed of the products, strategies, and people that make DP a force to be reckoned with.
ANNOUNCEMENTS
The Latest Developments at DP
Jeff Schneider Promoted to Director of Sales
Jeff Schneider was recently appointed to Director of Sales for the Northeast and Mid-Atlantic regions. He's been here since DP's infancy, and Jeff knows our business better than just about anyone. "It's an honor to be associated with a company as technologically progressive and in tune with the display market as DP," says Jeff. Jeff will lead these important regions as we introduce innovative new technologies. "Our partners are going to appreciate Jeff's attention to every detail and vast knowledge of the industry," says Chuck Collins. Congrats Jeff!
Based near New York City, Jeff can be anywhere in the area in a matter of hours. He can be reached at JSchneider@digitalprojection.com or 914-645-6850.
ORDER NOW
These deals can be yours!
Hot Pricing on E-Vision Projectors – US Market
Don't miss out on one of the biggest price drops in DP history. We've reduced pricing on several of our popular E-Vision projectors in the US market, making them more palatable to mainstream consumers. This price drop makes the E-Vision line an incredible performance-to-price value, giving our partners power in the marketplace to create additional sales opportunities. We've sweetened the deal by doubling our DP Dollars SPIFF program on most projectors, AND we have plenty in stock. Let's start selling!
OUR AWARDS
For groundbreaking display research and development
New HIGHlite 4K MLS Projection System Wins TNT (Top New Technology) Award
It's clear we have a real winner, here. Our new HIGHlite projection systems were all the buzz at Integrated Systems Europe (ISE), taking home the coveted TNT award from CE Pro magazine. Configured as two separate pieces—the projector head unattached from the light source—HIGHlite simplifies installation. You can put the light engine in another room to reduce in-room noise, and the projector head is small and light enough to fit in spots where other projectors won't!
Check the specs here.
CEDIA – SMART HOME AWARDS
Share Your Smart Home Projects & Win!
You do amazing work. Why keep it a secret? Show off your skills by submitting your best installation to CEDIA Smart Home awards contest. Need help? Our new marketing team at KMB Communications can help you write a winning entry that's sure to WOW the judging panel. Don't delay; the deadline is 5/19/23. Visit https://cedia.net/connection/awards and reach out to KMB@KMBcomm.com for pricing.
CONNECT WITH DP
Where to See Us in 2023
Let's connect! We want to hear about your business, your projection and display needs, and how we can serve you better. So, if you plan on attending any of the following events, be sure to pay us a visit:
CEDIA Tech Summits
April 4, Atlanta
April 6, Charlotte
April 27, Chicago
May 23, Orange County
May 25, Los Angeles
June 7, Salt Lake City
October 10, Fort Lauderdale
October 12, Orlando
November 14, New Jersey
November 16, New York
December 5, Austin
• Click here for info
---
BP Marketing Road Show
April 5, Las Vista, NE
• Click here for info
April 18, Commerce Township, MI
• Click here for info
April 19, Grand Rapids, MI
• Click here for info