Designed for exceptional performance in commercial environments, Digital Projection's' state-of-the-art TITAN 41000 and M-Vision 27000 builds on its legacy of innovation by introducing some more world-firsts.
At InfoComm 2023, Digital Projection is pushing the imaging boundaries with the introduction of two of its most advanced laser projectors to date. The new TITAN 41000 4K UHD and M-Vision 27000 WUXGA projectors are packed with cutting-edge capabilities, including unprecedented brightness, vibrant colour rendering, a more compact footprint and improved, market-leading efficiency, for exceptionally bright, accurate, lifelike images for a wide range of commercial environments.
Engineered with technology to support even the most demanding of applications, the M-Vision 27000 WU boasts an unparalleled 27,000 lumens output and 10,000:1 contrast ratio, bringing budget-sensitive applications a large-screen imaging solution and near 3-Chip performance at a 1-Chip price point.
The new TITAN family of laser projectors, meanwhile, delivers up to 47,000 lumens at WUXGA and 41,000 lumens at 4K-UHD resolutions.
Both models incorporate Digital Projection's ColorBoost+RedLaser technology, which utilises red laser alongside the traditional blue laser phosphor system to display brilliant, vibrant colours.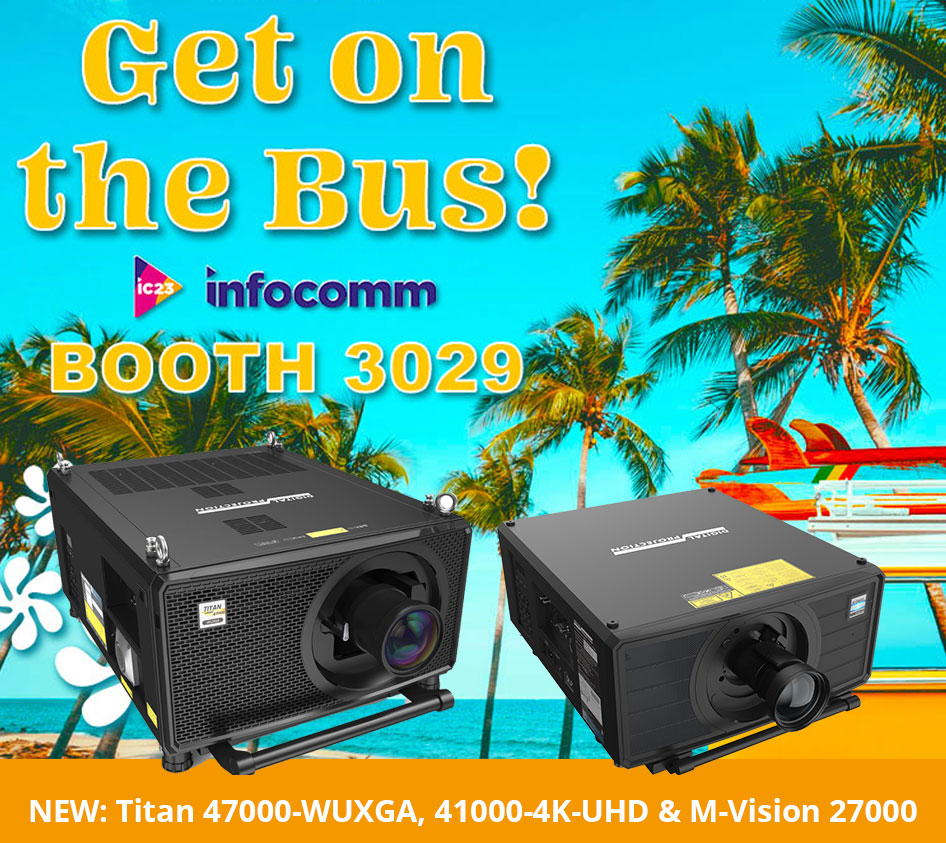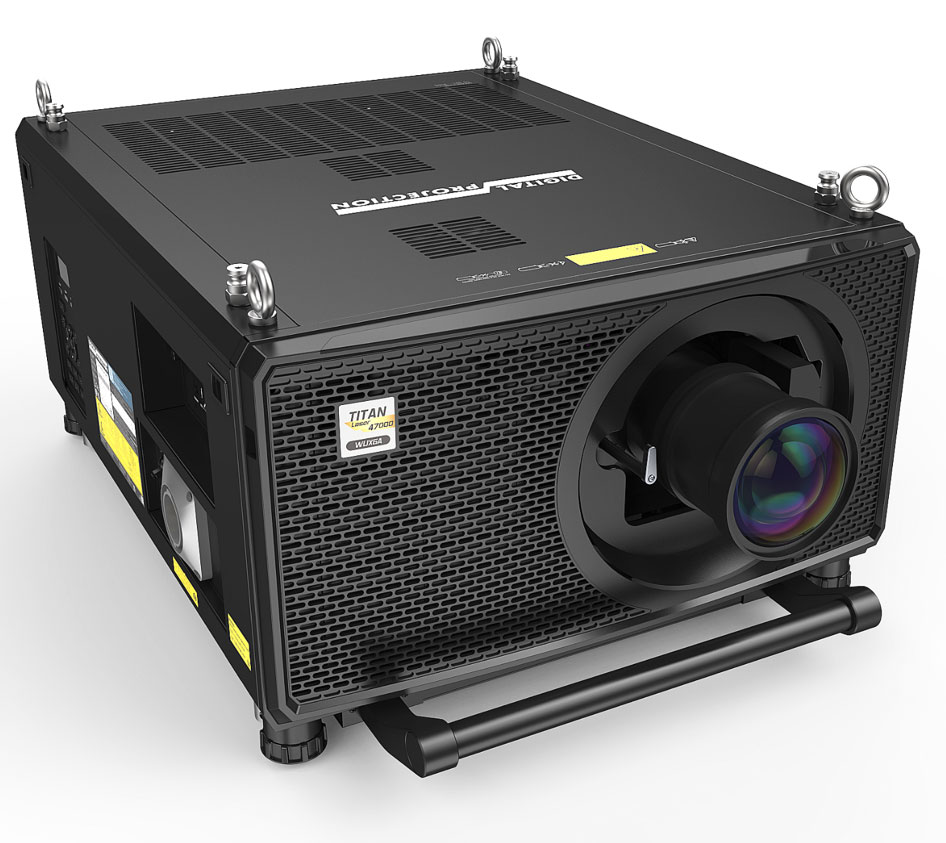 TITAN 41000 4K-UHD & TITAN 47000 WUXGA
Built into the TITAN 41000 4K UHD (3840×2160) projector chassis are several leading-edge technologies that make it a choice imaging solution for higher-end large venue applications, such as auditoria, performing arts centres, visitor attraction venues, houses of worship, and rental and staging.
The new TITAN family is a huge leap forward over the popular current models, with many aspects completely reimagined and redesigned for efficiency and size. The new model is 15% more efficient when measuring the lumens-per-watt output than the current TITAN and better than the closest competitor, firmly putting down the TITAN's green credentials alongside its already legendary status as a projection powerhouse. Add to this the extended 40,000 hours illumination lifetime in ECO mode and the dust-proof, filterless design, the TITAN is designed to run and run with minimal fuss in 24/7 environments.
Quick Links
3-Chip TITAN WUXGA 47000 Lumens
3-Chip TITAN 4K-UHD 41000 Lumens
1-Chip M-Vision 27,000 Lumens
The extra power and capability have also been engineered into a much more compact chassis, meaning it is 27% brighter, 13.3% smaller, 7.4% lighter and 3dBA quieter than the current model. This regains the TITAN's position as the Smallest, Lightest, Brightest and Quietest projector in its class.
Not content with the physical design, a host of new features have been added to the video processing that are built to make installation and operation easier and more reliable. Features such as source redundancy offers peace of mind for those critical live events, while flexible geometry adjustment gives intuitive correction via PC tool or Remote Control.
Also new to the TITAN family is Brightness Sync, where embedded sensors monitor and automatically adjusts the brightness of individual projectors in blended multi-projector installs to ensure that each projected image is perfectly matched.
A standout feature of this high-end 4K-UHD (3840×2160) 16:9 laser projector is the use of both red and blue lasers to produce an exceptionally broad colour gamut. ColorBoost+Red technology enables the TITAN 41000-4K-UHD to produce crisp, clean, lifelike images, while the fast transit pixels ensure smooth greyscaling.
At InfoComm Digital Projection will demonstrate the imaging capabilities of the TITAN 41000 4K-UHD, which features a 2,000:1 native contrast ratio, by pairing it with a 3.5m-wide projection screen in an ultra-short-throw projection configuration.
M-Vision 27000 WUXGA Laser Projector
Also benefitting for a major upgrade in capability is the M-Vision 27000 WU (1920×1200). It embodies many of the same features as the TITAN but in a super-bright, budget-friendly 1-Chip DLP package. Outputting 27,000 ISO lumens, it is the brightest single-chip laser projector on the market and excels in environments with high ambient light. Following the design ethos of the TITAN, it too is 14.8% brighter and 9.2% lighter than its predecessor, with environmental considerations taken into account at every stage with a 23.8% light efficiency improvement over the previous M-Vision.
Also key to its imaging quality, this laser-phosphor projector is charged with ColorBoost+Red Laser technology to provide the most realistic and saturated colours at previously unreachable luminance levels, and a 10,000:1 dynamic contrast ratio delivers deep blacks.
A complete suite of professional lenses now includes the brand new 0.38:1 UST lens with exceptional vertical lens shift, making it even more flexible for installations in tight spaces.
Rounding out the capabilities of the M-Vision 27000 are features usually reserved for high-end 3-Chip products, such as Source Redundancy, Brightness Sync and Auto White Balance Correction, making this is one of the most capable, flexible Single-Chip DLP projectors on the market today.
At InfoComm 2023, Digital Projection pairs the M-Vision 27000 with a projection screen oriented vertically to convey the installation flexibility of this new projector, particularly for the unique video requirements of commercial environments such as retail and hospitality.