Precision projectors for your most demanding Pro AV installations
The pinnacle in projection for the Pro AV market
From corporate boardrooms to outdoor architectural mapping, Digital Projection's high-performance Projectors deliver unparalleled solutions for any commercial imaging need, of any scale, in almost any environment.
A digital imaging pioneer and display industry leader, Digital Projection's cutting edge R&D design an extensive line of high-performance single-chip & 3-chip DLP® projection systems.
Digital Projection's groundbreaking projection research and development has earned the company many awards, including two Emmy® Awards for Outstanding Achievement in Engineering Development by the Academy of Television Arts and Sciences. Digital Projection remains the first and only projector manufacturer to win the coveted award.
Digital Projection's breathtaking imagery is a result of world-class components, efficient design, and expert engineering. Choose a solution from the company with decades of proven imaging excellence to work in your space, and rest assured that you will get the very best in home entertainment, with the entire Digital Projection team ready to ensure your success.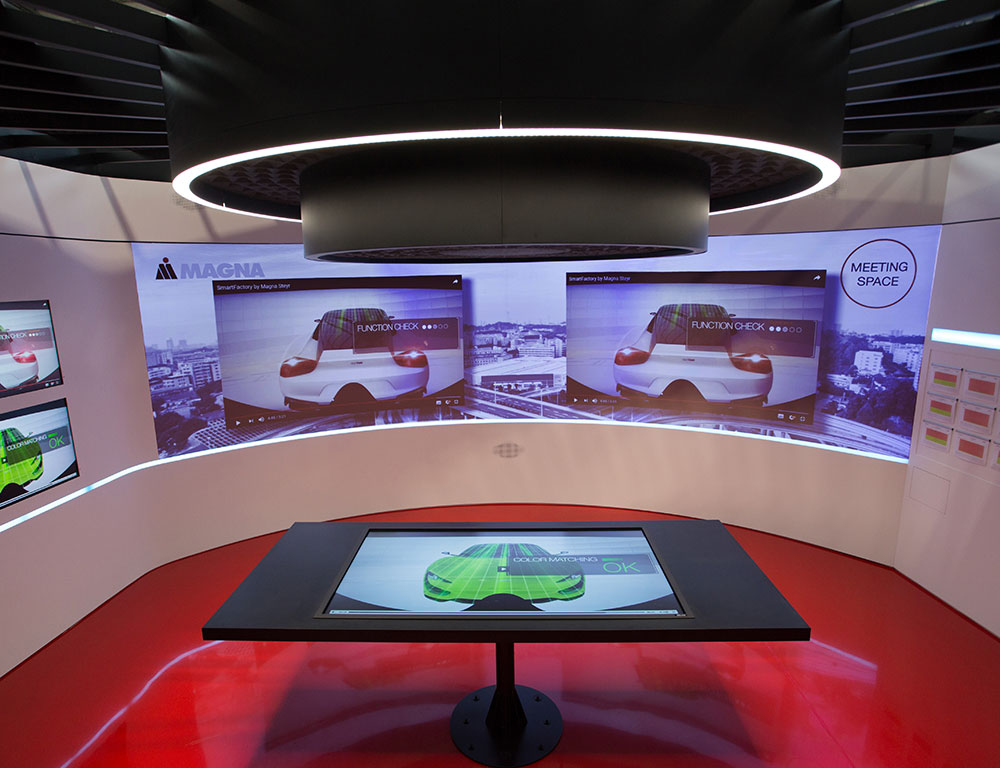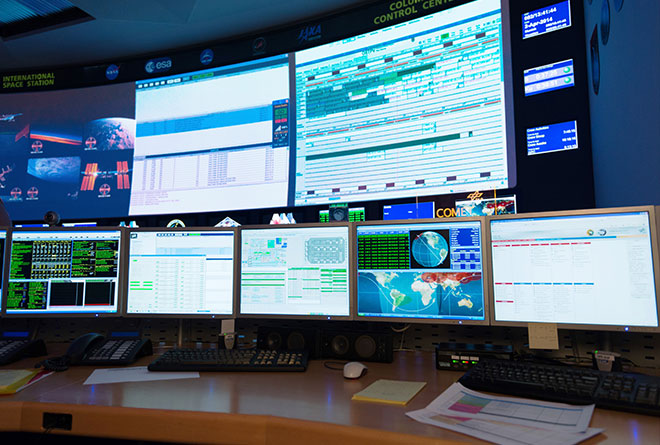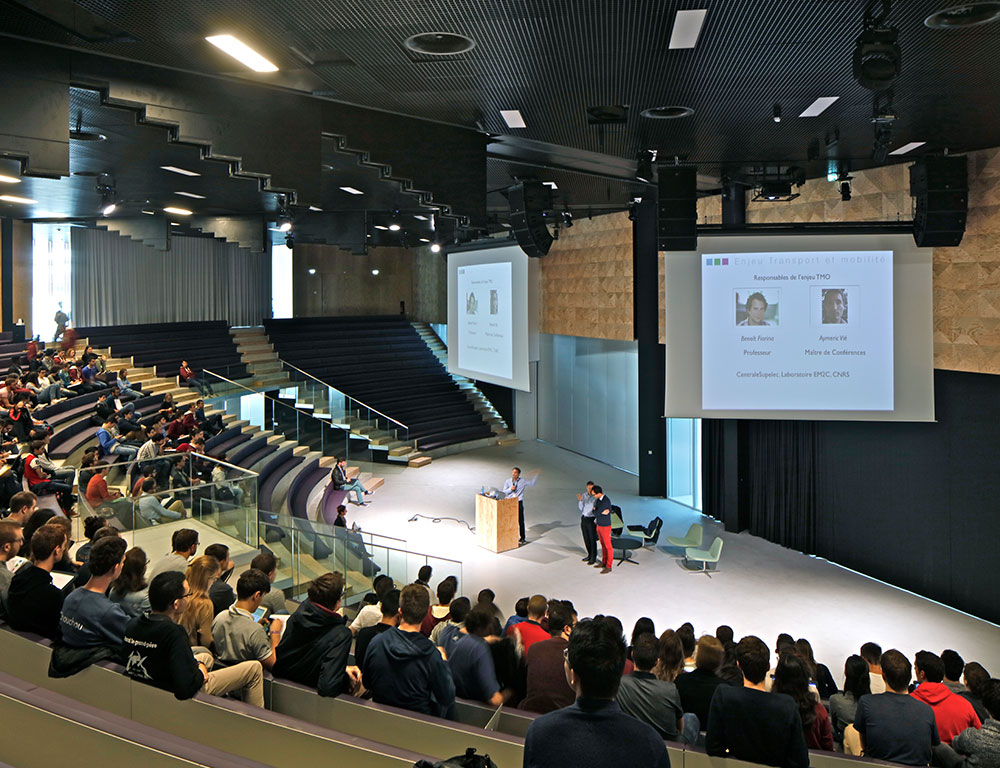 Recent Pro AV Case Studies
Laserprojektoren bei CentraleSupélec
CentraleSupélec, die im Jahr 2015 aus dem Zusammenschluss der beiden führenden französischen Ingenieurschulen Supélec und der Paris École Centrale hervorging, hat kürzlich die Einweihung ihres dritten Campus-Standortes gefeiert: Der Paris-Saclay Campus schließt sich den existierenden Standorten in Rennes und Metz an und bietet ein Jahr nach seiner Eröffnung ein umfangreiches Bildungsangebot für insgesamt 4200 Studenten.
Mehr erfahren
Digital Projection E-Vision Laser hilft…
Mit einer jährlichen Produktionskapazität von über 200.000 Fahrzeugen seit 2018 ist Magna Steyr weltweit der größte Auftragshersteller von Automobilen. Das österreichische Automobilunternehmen hat großen Automobilherstellern wie Mercedes-Benz, BMW, Aston Martin, Audi und Land Rover geholfen, einige ihrer bekanntesten Autos zu entwickeln.
Mehr erfahren
Professional Single Chip & 3-Chip DLP Projectors
WUXGA and 4K-UHD resolution
20,000 hours laser phosphor illumination
Advanced projector control software
Unrivalled pre- and post-sales support from the DLP experts
Featured Single Chip & 3-Chip Projectors for Pro AV
E-Vision Laser 11000 4K-UHD
1-DLP Laserprojektoren mit außergewöhnlichem Mehrwert und erstklassiger Performance
10,500 Lumens
1 Chip DLP
4K-UHD resolution
Fixed & Zoom Lens Options
Find out more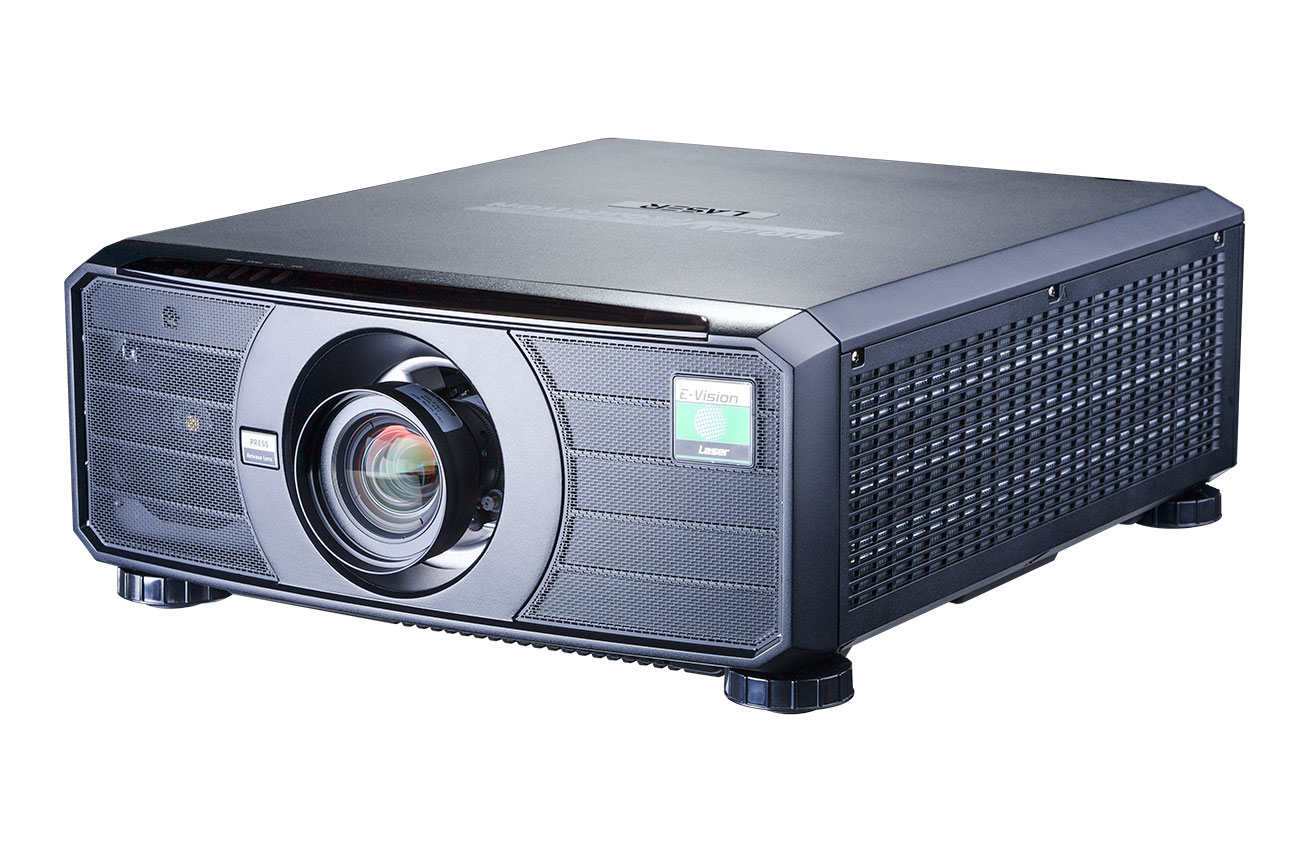 M-Vision Laser 21000 WU
Außergewöhnlich leistungsstarke 1-DLP Laserprojektoren
21,000 Lumens
1 Chip DLP
WUXGA resolution
Colorboost+RedLaser Technology
IP60 Sealed Optics
Fixed & Zoom Lens Options
Find out more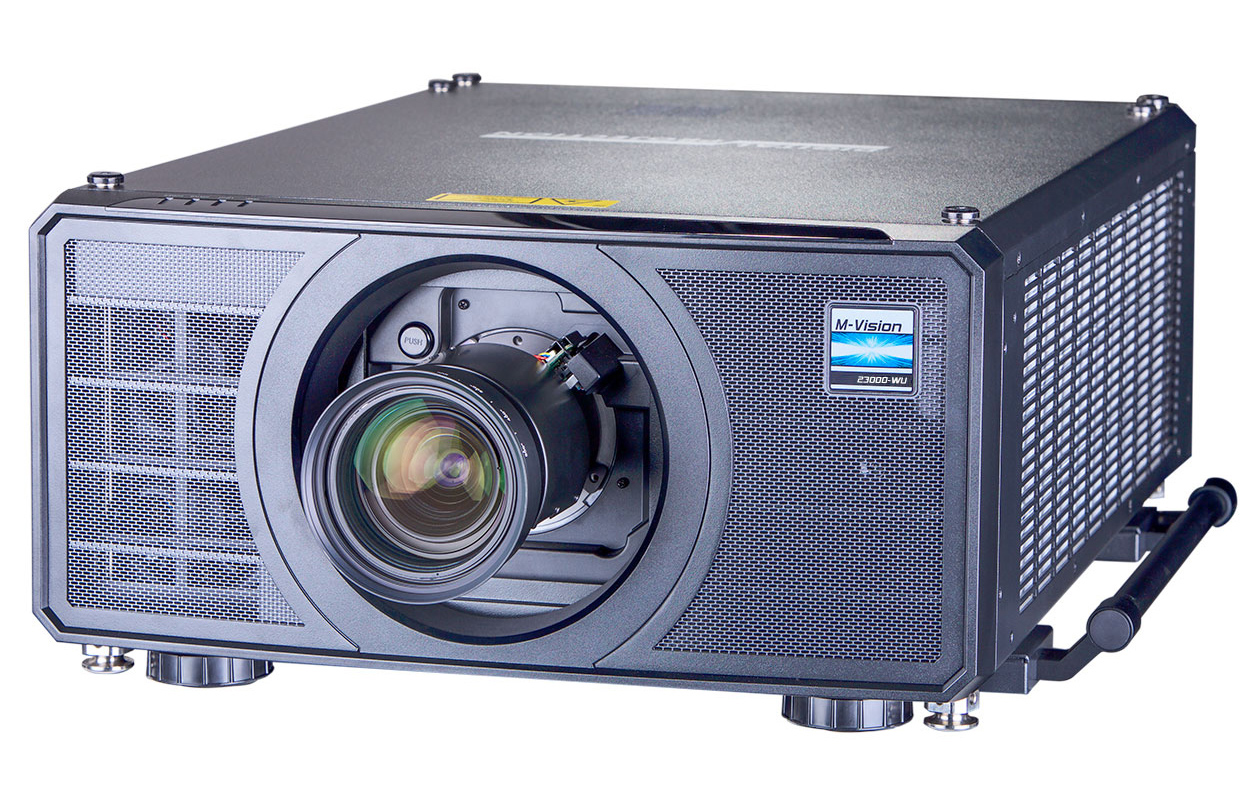 Latest News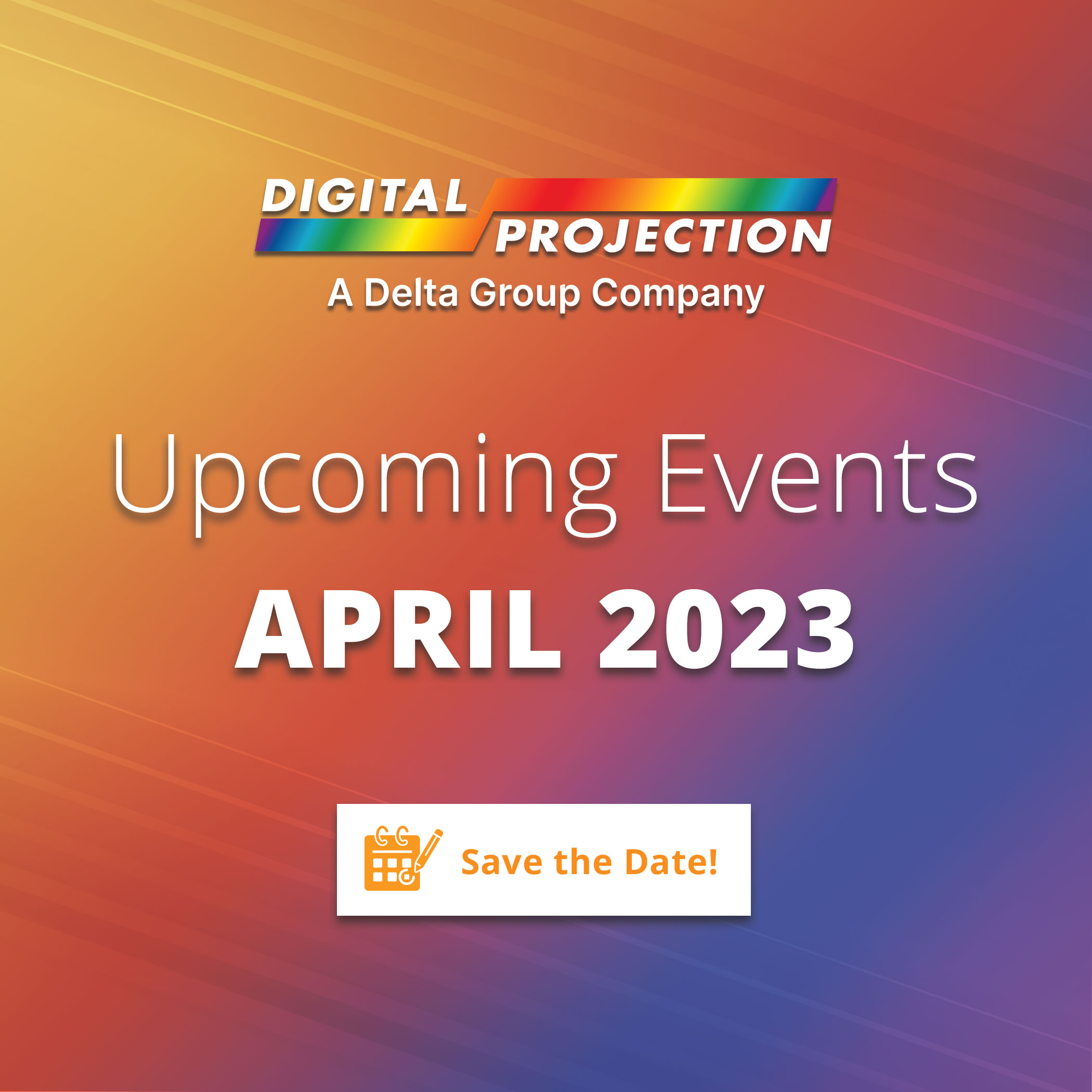 Unkategorisiert
Featured
News
Upcoming Events: April 2023
Digital Projection will be on the road demonstrating our exciting products throughout the USA in April!
Mehr erfahren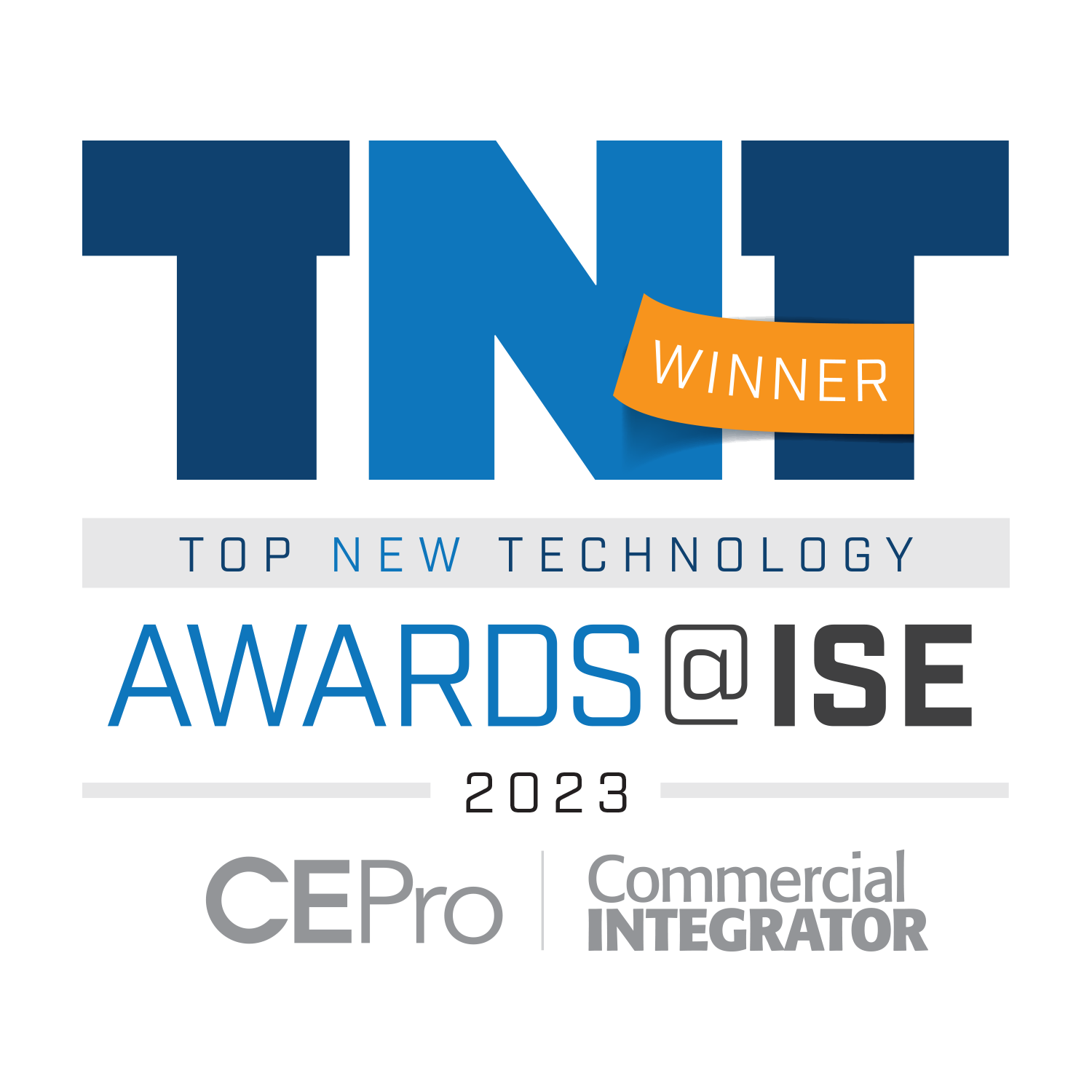 Digital Projection Receives Prestigious TNT (Top New Technologies) Award from CE Pro  
Digital Projection wins TNT Award at ISE 2023
Mehr erfahren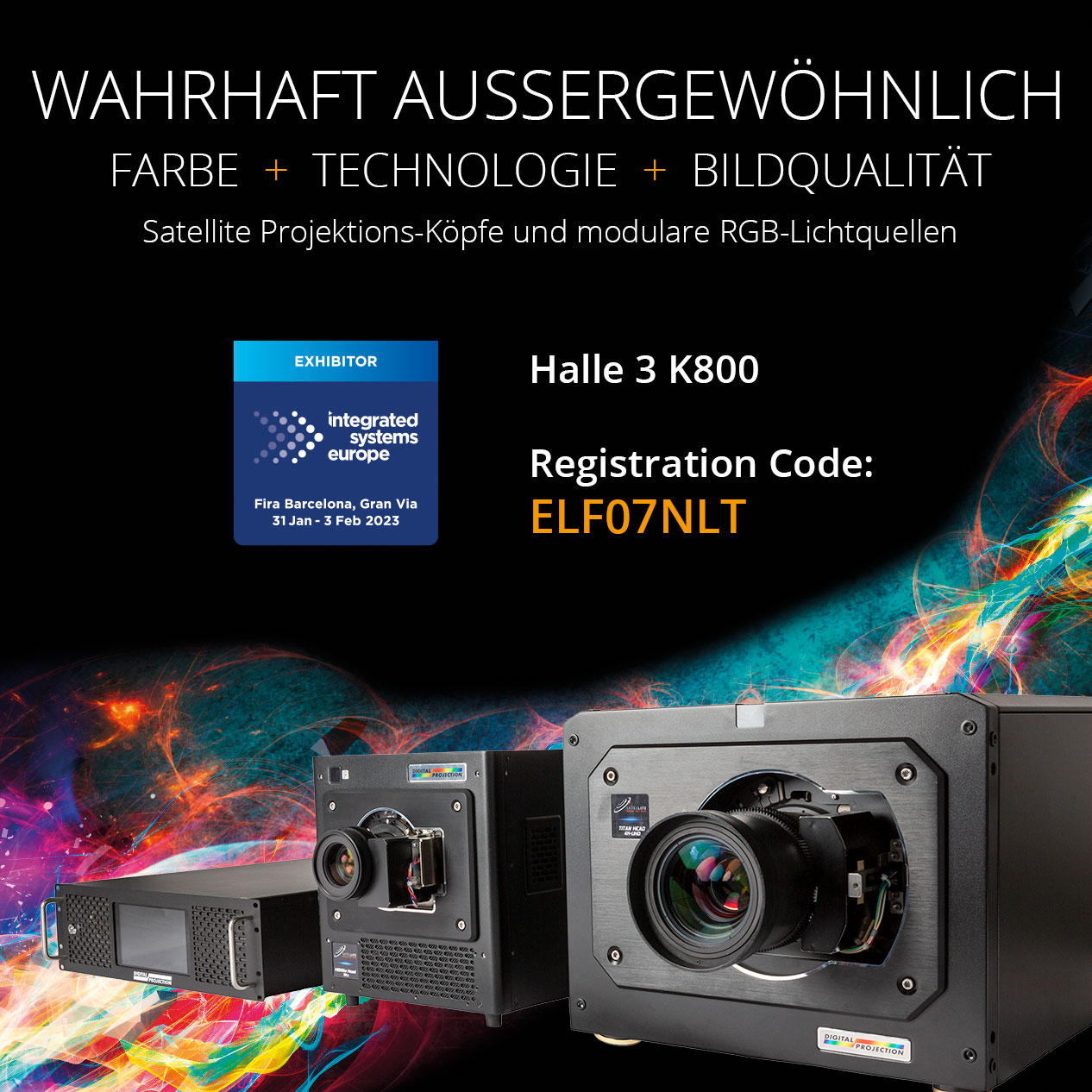 Digital Projection präsentiert auf der ISE 2023 die branchenweit größte Palette an Projektionsprodukten mit hoher Lichtleistung
Digital Projection will again be playing a central role at 2023 Barcelona's Integrated Systems Europe (31 January – 3 February), where the manufacturer will be showcasing its class leading, high-end projection products and technologies, including what is arguably the most important development in projection since the advent of laser light source: Digital Projection's revolutionary Satellite MLS (Modular Laser System).
Mehr erfahren