Digital Projection Help Oslo's Fram Museum Set Sail
Docked in Oslo's Frammuseet museum, the Fram is a ship steeped in rich history. Having voyaged to the Arctic and Antarctic between 1893 and 1912 with its Norwegian crew at the helm, and carried the first person to reach the South Pole in 1911, it came to rest in 1936 – and has since evolved into a much-lauded tourist attraction in the city, with an annual footfall of over 200,000 every year. Drawing visitors from all over the globe, the museum sought to upgrade its offering in 2018 to provide a world-class, immersive experience – turning to UK-based specialist visitor attraction AV integrator Sarner International to lead the ambitious and complex installation project.
With the objective of making visitors feel a part of an arctic adventure, immersive audio and projection were to take centre stage in the renovation. However, the challenge was how to go about delivering this – introducing AV, lighting and multimedia technology without damaging the authenticity and integrity of the vessel – which is a huge draw in itself.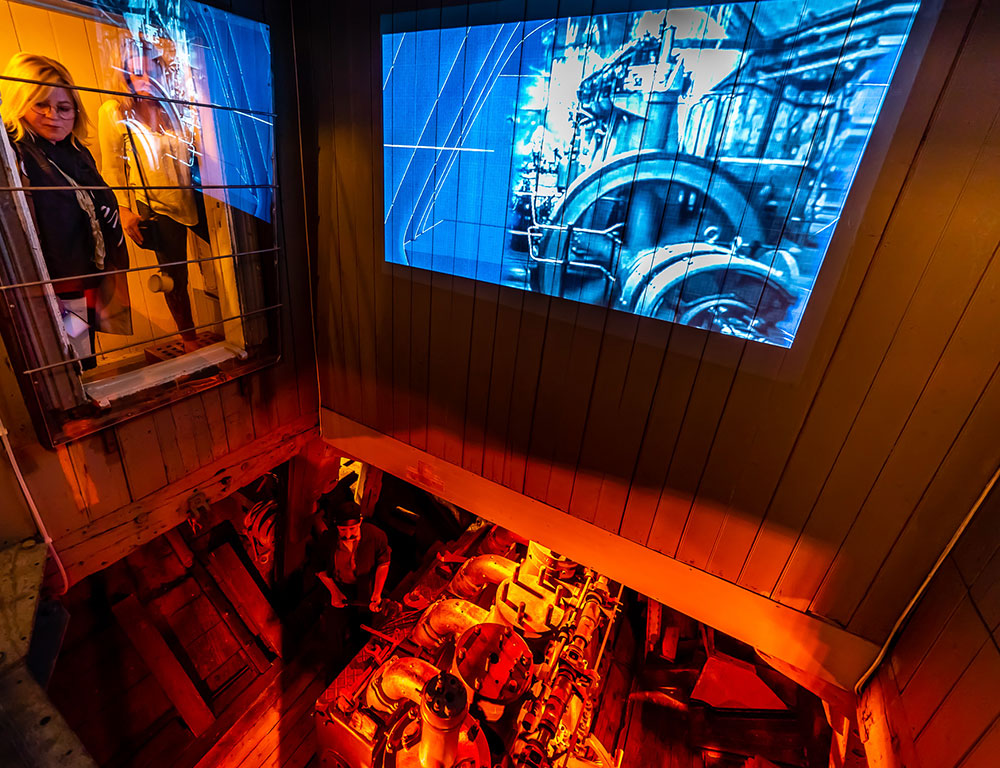 Sarner turned to Mike Ross, director and founder of BlueBox Technology Solutions, bringing him on board as AV consultant to support the delivery of the project end to end. Drawing on over 15 years of experience on installation projects of a similar standing all over the world, Mike turned to host of trusted suppliers, including 7thSense Design, a multi-award winning specialist software and hardware company for media servers; Ohm, manufacturer of custom and high quality loudspeakers; and the undisputed leader in LED professional grade laser projectors, Digital Projection, whose products were up to the rigours of the job.
Ross expands: "The vessel itself sits in a unique triangular building with tiers of walkways providing optics to three sides of the ship. We decided to use the interior walls of the building as a canvas for projections depicting arctic conditions, whilst also bringing the boat itself back to life with atmospheric visuals and sound. And of course, the crown jewel of the museum upgrade is the multichannel projection system that goes all the way around the boat."
To bring the concept to life, 10x Digital Projection E-Vision Laser 10K projectors were custom-mounted to create a glacial backdrop so that visitors feel completely surrounded when on the deck of the ship – each delicately positioned by BlueBox in order to project at the perfect angle and protect the beam whilst circumnavigating the obstacles on board the ship.
The E-Vision Laser 10K range is a single-chip DLP® projector delivering 10,500 lumens and capable of producing over 20,000 hours of constant illumination with virtually no maintenance. Perfect for professional venues and visitor attractions which contend with ambient light such as the Fram Museum, its brightness carries the content to the audience with saturated colours, bright imagery and dark area detail. Running costs are kept to a minimum as regular lamp replacement is bypassed by the solid state illumination system – resulting in a much lower total cost of ownership.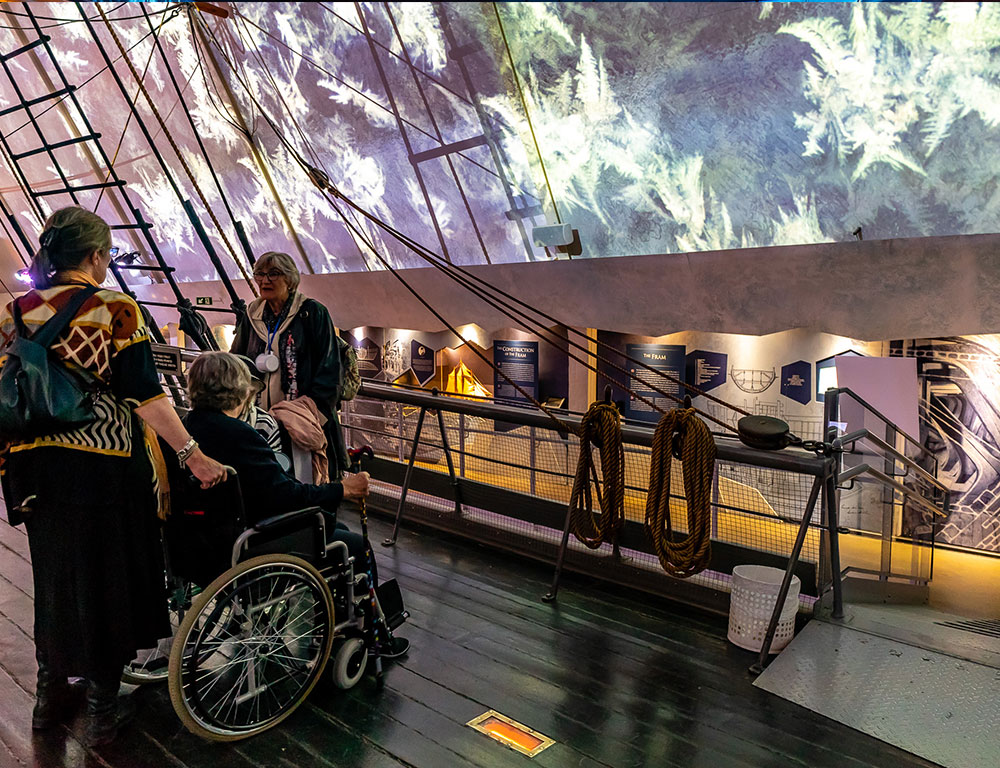 Powering the AV engine room at Fram are 7thSense's media servers. For the wall display, a single 7thSense Delta Infinity media server – the most powerful in its portfolio, widely chosen by attractions worldwide for its performance and dependability – drives a 15-minute sequence of 270-degree content which takes visitors on a journey through arctic conditions culminating in a violent storm and the boat's eventual stall as it freezes in pack ice. The cutting-edge server – into which BlueBox manually programmed blending and geometry – boasts uncompressed media serving, capable of playing up to 16K 60fps uncompressed video content.
The engine room of the Fram vessel now also houses a Digital Projection E-Vision Laser 6500 projector which relays footage on how its engine worked. "The museum wanted to make the engine work again which wasn't possible in this setting, but we were able to bring it to life thanks to projection and light" notes Ross. With the same high specification features as the E-Vision 10K Laser, Digital Projection's Laser 6500 is a compact laser projector model which can be mounted at almost any angle to tackle space limitations. Lighting, smells and movement add to the sensory experience, while four Ohm BRT-6 loudspeakers coupled with an Ohm TRS-218 subwoofer create background engine rumble noise to perfect the visitor's feeling of immersion and reality.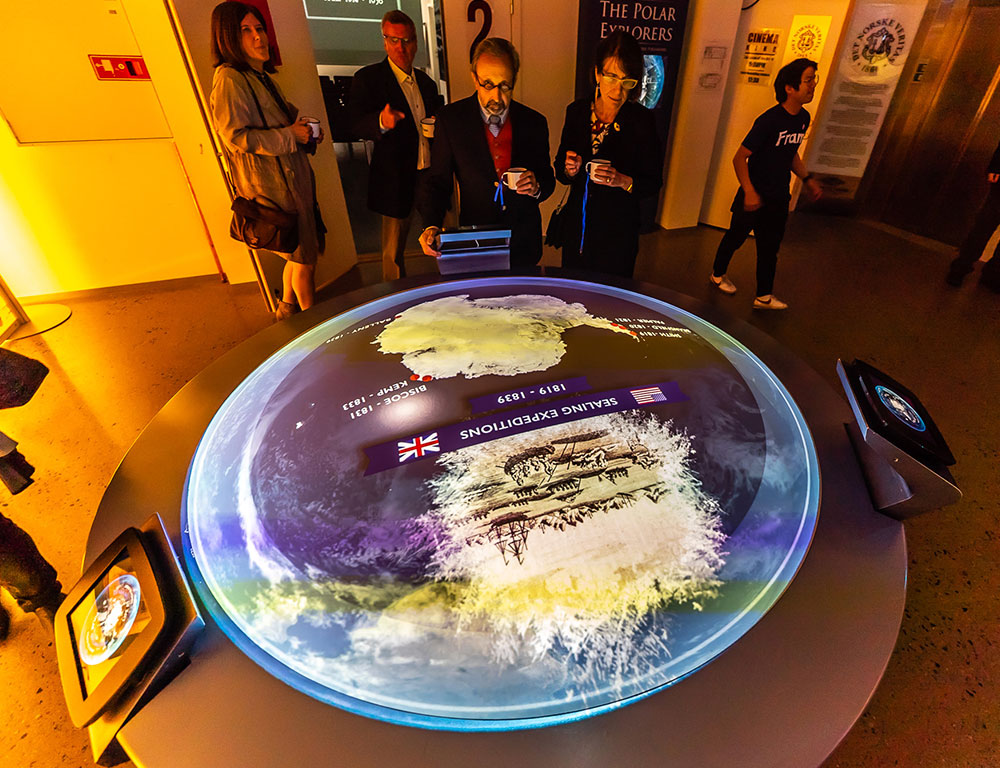 Gareth Coleman, director of international sales at Ohm discusses answering the brief from an audio standpoint: "We've worked with Mike on a number of projects now as the preferred audio supplier, and it was great to pick up such exciting brief. We were asked to aid in the design of a sound system reproduction using our subwoofers to get the deep bass frequencies and vibrations that a historical ship engine would produce. Working in such an environment also came with a unique set of challenges; we needed to accommodate large volumes of sound in a very small space. The TRS-218 was winched deep into the ship's hull, inch by inch near the engine compartment. I'm not sure it will ever come out!"
In the museum's seated presentation area, a 7thSense Delta Nano media server powers two further Digital Projection E-Vision Laser 6500 projectors flanked by two Ohm BRT-6 loudspeakers – a set-up which beams an archival reel of footage. The server deploys technology which supports display configurations requiring lower bandwidth with up to four outputs and is an affordable way of introducing uncompressed media playback into the workflow of museums so visitors can experience the highest quality digital media in every area of the attraction or exhibit, while the compact speaker was selected because it could easily be disguised while producing direct sound to a defined audience area.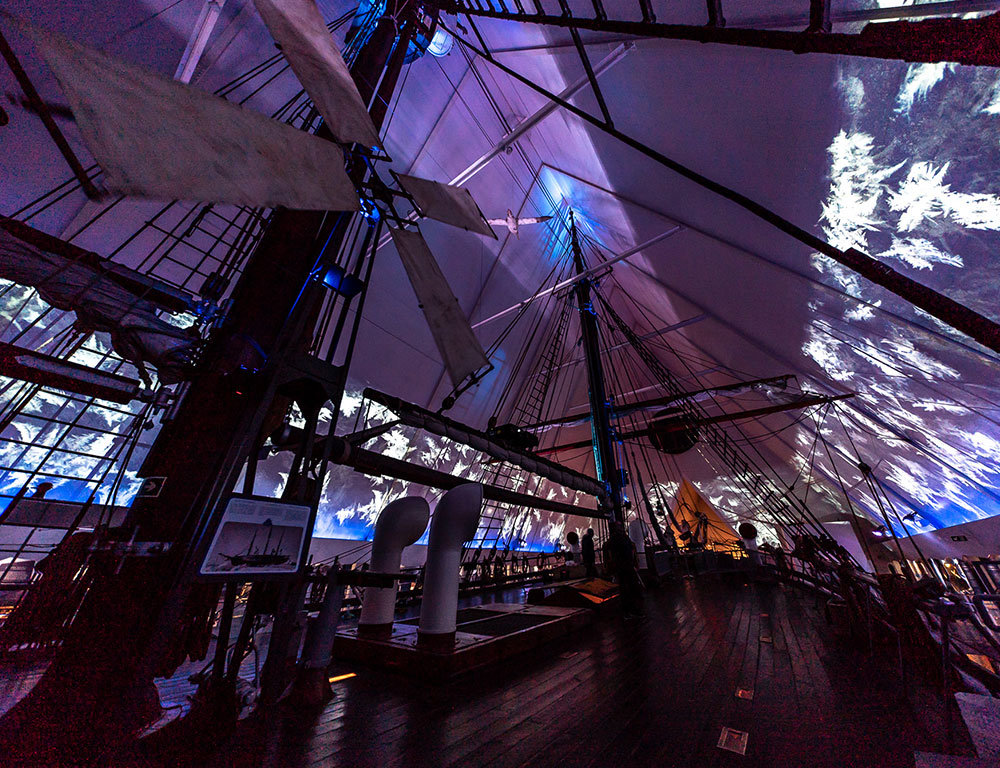 The immersive experience continues in the front hold of the ship which has been opened up for the first time and is now home to four Ohm BRT-6 loudspeakers and a BRS-12 subwoofer to simulate the ship cracking into ice. The museum was extended in 2012 in order to accommodate the Gjøa – the first ship to be sailed through the entire Northwest Passage. An interactive projection table was added to this area featuring another Digital Projection E-Vision Laser 6500 projector.
Reflecting on the innovative but sensitive treatment of the upgrade, 7thSense Design's technical director Richard Brown said: "This has been a beautifully executed project by all stakeholders and in particular Sarner and BlueBox Technology Solutions who have expertly selected technologies that would perfectly complement the attraction. We're delighted that our products have been used to bring something with so much history and cultural importance to life."
Geir O.Kløver, managing director of Fram Museum remarks: "There is no doubt that the addition of this cutting-edge AV set-up has enriched the experience for every visitor, young and old. We've had some incredible feedback since re-opening to the public, with a substantial uplift in footfall. These ambitious upgrades demonstrate our continued commitment to renewing the experience and maintaining the museum's status as one of Norway's must-see attractions. We are delighted with the end result, which has helped us to reinvigorate Fram's legacy for future generations and years to come. We wouldn't hesitate in recommending Bluebox and the products of the chosen suppliers for any similar installation project."
Product mentioned in this case study: E-Vision Laser 10K
20,000 hours illumination
The exceptionally bright single chip DLP E-Vision Laser 10K delivers an amazing 10,500 lumens from a stable solid-state light source, capable of producing over 20,000 hours of illumination. In professional venues such as auditoriums and visitor Attractions that regularly contend with high levels of ambient light, the E-Vision Laser 10K brightness ensures the audience will experience the message with the saturated colors, bright imagery, and dark area detail that you or your client intended.
View Projector