Digital Projection's E-Vision 4000 challenges some of the market's biggest brands for projection supremacy at the $5,000 price point.
Excerpt from review by Bob Archer for CE Pro. The original article can be found here.
About 15 years ago—give or take—Digital Projection burst onto the residential custom electronics scene and quickly won integrators over with its high-performance line of projectors. Today the company makes a range of products to serve not only the luxury side of the market, which is what the company initially targeted when it entered the market, but through its new mid-level priced E-Vision 4000, the company now reaches a much broader consumer audience.
The $5,300 E-Vision 4000 provides integrators with a competitively priced projector that comes from a company with professional video roots. Designed to support a range of home video installations that includes dedicated theater and multipurpose rooms, the reasonably priced projector offers a lot of system flexibility for both integrators and homeowners.
Earlier this year I was first exposed to the projector at Digital Sales Group Metro's grand showroom reopening this past February (2023) in Plainview, N.Y. Intrigued by the unit, I reached out to the company to request a review sample.
Digital Projection E-Vision 4000 Features and Setup
Shipping in a single box, the single-chip UHD 4K projector is approximately the same size as other products in its price class and in the same weight neighborhood too.
After removing my projector and lifting the Digital Projection unit from its box I placed the E-Vision 4000 on my "projector shelf," which is roughly 12 feet from my screen.  I then plugged a FIBBR fiber-optic cable that's running from my Integra DRX-3.4 AVR into HDMI input 1 and plugged the power cable in.
Some of the ways that Digital Projection streamlines the cost of the 4000 unit is through features like the product's manual zoom and focus, as well as its horizontal and vertical lens shift options.
Looking at the foundation of the projector, the Digital Projection product utilizes a single 0.47-inch Texas Instruments DarkChip 3 DMP chip, and a laser phosphor light engine that help the projector produce a UHD 4K compliant resolution and brightness levels up to 3,300 ANSI lumens of brightness/3,800 ISO lumens.
The E-Vision 4000 also offers a pair of HDMI inputs, HDR processing, 3D support, vertical keystone correction, selectable aspect ratio modes, and HDBaseT connection options.
Setting up the projector took no time.
As I noted earlier, unboxing and making the connections were easy. Once I turned the projector on, I also found that setting the screen size, geometry and focus was also easy. The focus and zoom controls are located on rings on the projector lens. The horizontal and vertical shift controls are located on the top of the projector underneath an integrated hidden compartment. I like the feel of manual lens controls when compared to many of the powered lenses on the market. The movements seem more precise, but with that said I do understand that powered lenses are more convenient in situations such as ceiling-mounted projectors.
Not to get off-track, I then proceeded to enter the projector's menu system, which I thought was easy to navigate. In the menu I made my various adjustments, including picture mode, black levels and contrast levels, and aspect ratio.
CE Pro Features
Up to 3,300 ANSI lumens of brightness/3,800 ISO lumens
Contrast ratios up to 500,000:1 (Advanced Black technology)
Laser phosphor light engine with a rated life expectancy up to 20,000 hours
One 0.47-inch Texas Instruments DarkChip 3 DMP chip
UHD resolution of 3840 x 2160
Two HDMI inputs and built-in support for HDBaseT signal transmission
MSRP is $5,300
Performance and Final Thoughts
I will add I didn't fine tune the E-Vision 4000 because my critical evaluation was to take place with a Screen Innovations Zero Edge Pro Pure White fixed screen. Initially, I paired the projector with an ambient light rejecting (ALR) screen to get the Digital Projection review going, however.
Featured Projector
E-Vision 4000 4K-UHD
Exceptional Value & Class Leading Performance • 1-DLP Laser Projectors
3,800 Lumens
1 Chip DLP
4K-UHD resolution
Find out more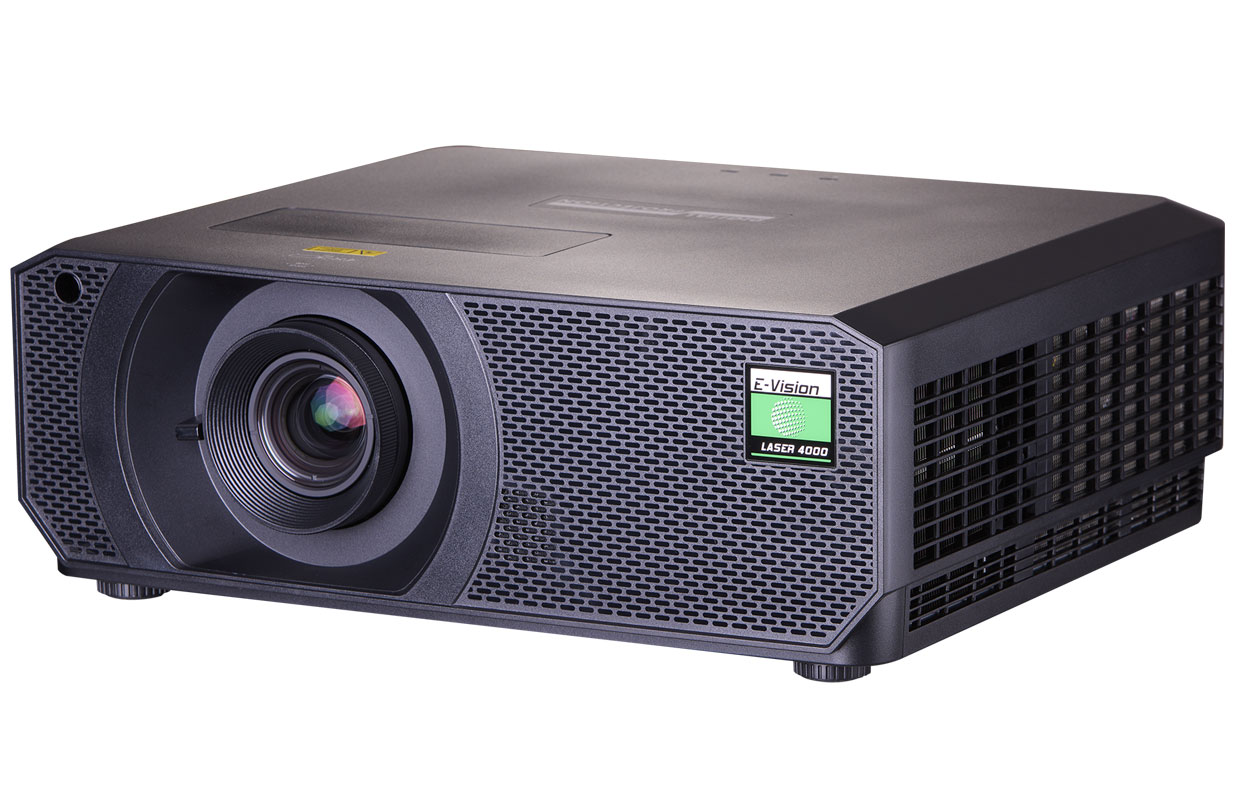 Looking for more information or guidance? Contact us.